Cooperation for facility management is extended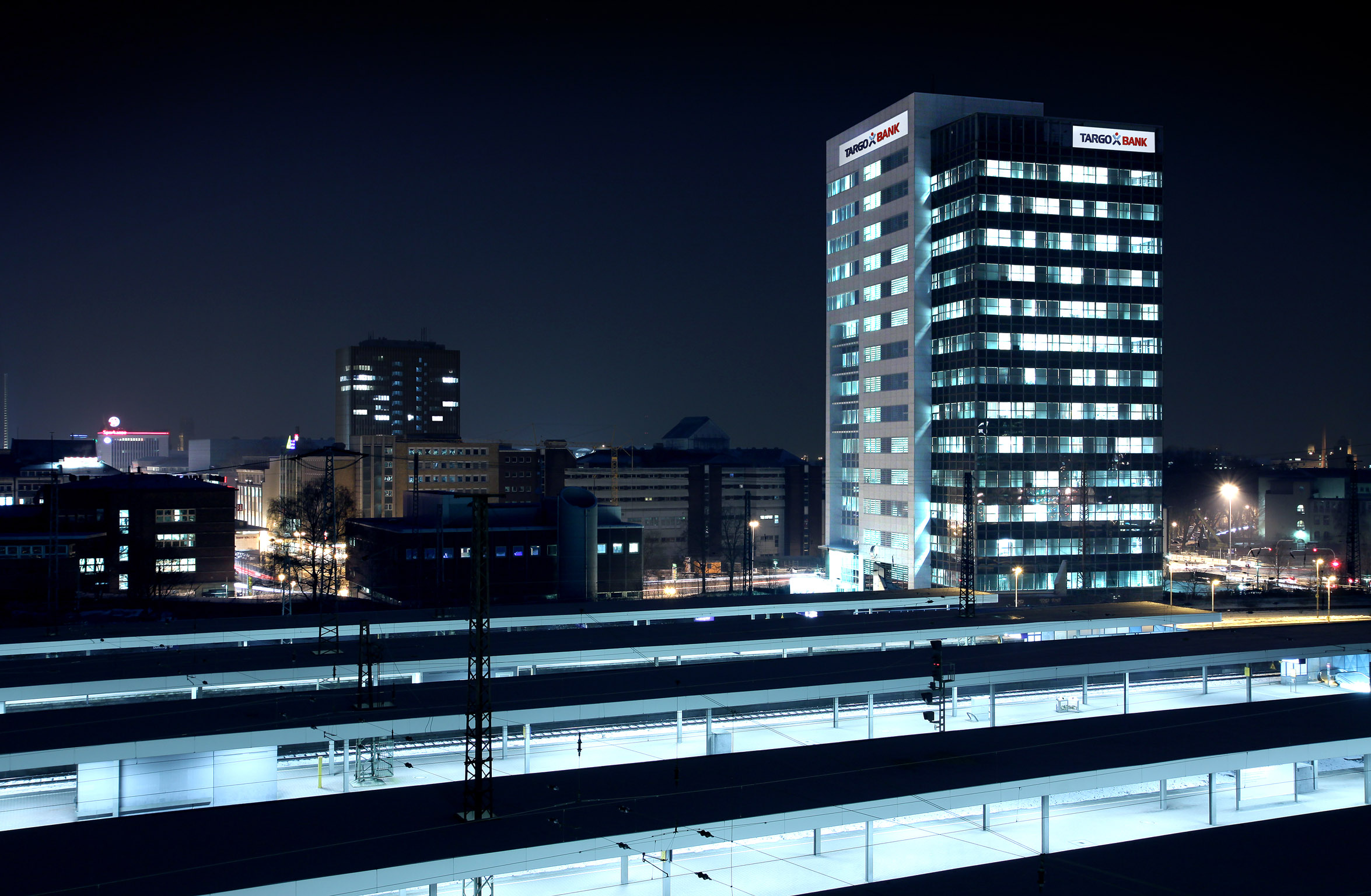 Facility management of the Targobank large building will continue to be operated by ISS Deutschland. The GmbH will provide technical facility management at six locations as well as conference room and reception services at selected locations until the end of 2026.
"We are pleased that Targobank continues to rely on the services of the dedicated ISS team. We have successfully demonstrated quality and implemented many ideas together in recent years and have been rewarded with very high customer satisfaction and a contract for another five years."

-Ralf Kuhlmann, Managing Director
With Technical FM, the bank's sustainability goals are supported by ISS' professional competencies. The focus is on energy-saving potential and resource conservation. ISS supports the energy-efficient operation of technical facilities and promotes the generation of renewable energy. In the coming years, older recooling plants will be converted to adiabatic recoolers with EC fans. In the hybrid technology used, an adiabatic cooling section is provided upstream of the air intake. This reduces the air temperature at higher ambient temperatures, if necessary, even without the use of water. The adiabatic pre-cooling is activated when the temperature rises and the water outlet temperature is higher than required.
In addition, the company supports biocide-free operation of technical systems (spectrum of activity: bacteria, algae, fungi). In system optimizations, such as the conversion of an air washer to silver ionization technology, synergies have already been identified in terms of energy use and environmental compatibility.
"When professional control meets professional reliability, an appreciative relationship of trust can develop – the best prerequisite for lifecycle quality, value retention and, above all, operational reliability," says Sebastian Hedler, asset manager.
The bank has more than 90 years of experience in the German banking market. It serves 3.7 million private, business and corporate customers.
"Our special thanks go to all employees on this assignment, without whose great and tireless efforts this long-term extension could not have been realized," said Francesco Apicella, ISS Key Account Manager.
Digitization for process optimization
Many companies see digitization as an important step for future success. They are therefore trying to optimize their processes in order to strengthen their own market position. For the familyrun company Maschinenfabrik Gustav Eirich, optimizing production processes and intelligently networking equipment is a step towards greater efficiency and sustainability. This creates flexible manufacturing structures, which are highly important in such a dynamic market. With its digital product portfolio, the company has also taken the issue of customer proximity to a new level: from fast spare parts ordering to technical support from the specialist staff at the machine factory, the company wants to offer its customers even more service and threshold-free accessibility through digital offerings. 
"How can a reprocessing plant that we deliver to a customer today, as a system, always move in an optimum without the customer having to resort to experienced experts, who can be found less and less? This knowledge must be implemented in the system by the machine supplier. We see this as a great opportunity and have a responsibility to our customers. With Life Cycle Service and Process Analytics, we offer our focus industries real added value to improve production processes safely and sustainably." 

– Stephan Eirich, Managing Director
Life Cycle Service enables transparent service, via real-time monitoring of plants to an augmented reality maintenance service. The solutions focus on optimizing plant downtime and stoppages: 
– myEirich 
The electronic spare parts catalog enables customers to independently and intuitively identify installed components using visual models. The shopping cart rounds off the ServiceExpert ECD software. Required machine and system parts can be placed there and the ordering process can be triggered directly by e-mail. The application provides real-time information on the processing status of a service order and live tracking of the shipping status. 
– Condition monitoring 
The system is based on recording the condition of the machine by measuring and analyzing physical variables. Sensors provide data in real time. Permanent evaluation makes it possible to show trends and detect possible damage to components even before a failure occurs. Crashes, bearing damage, imbalance, gearbox faults and wear are detected and displayed at an early stage. The customer can order spare parts or contact the service department at an early stage, before the machine breaks down or he has to put up with waiting times for service engineers. 
– Teleservice 
Service without a technician on site with remote service and diagnosis. The automatic acquisition of machine and process data and their analysis enables fault localization from a distance. After the customer's approval, troubleshooting measures can be initiated immediately and a customized update of the software can be carried out without an on-site visit. 
– EIRICH AR Services
Via augmented reality, the specialist can get a virtual overview of the condition of the plant using a smartphone camera and smartglasses. Using advanced 3D object tracking, they can annotate the display with arrows, notes and markers that make it easy for the user to follow the expert's instructions. This maximizes productivity, reduces downtime and, most importantly, saves time and money. 
With digital tools for process analytics, the company offers optimization solutions that safely and reliably improve production processes: 
– QualiMaster with EIRICH ProView.
The individual systems are a guarantee of quality in their respective areas of application. Automatically, the system continuously takes and examines samples from the mix and measures them in a variety of ways. The ProView software visualizes and analyzes this determined data. High user-friendliness, clear display and many setting options give the user a multitude of possibilities to monitor and control process engineering processes. The results can be evaluated by specialist personnel or by artificial intelligence in order to successively improve the subsequent batches. 
New CEO and Chairman of the Management Board 
Now the Hamburg-based family-owned company Pfannenberg has appointed Dr. Tobias Merl as Chief Executive Officer (CEO) of the Pfannenberg Group. On January 1, 2022, Merl will succeed Andreas Pfannenberg, who has led the company as Managing Partner since 1995 and is now moving to the Supervisory Board. 
Founded in 1954 by Otto Pfannenberg, the medium-sized group of companies supplies its customers worldwide with components and system solutions in the field of control cabinet climate control as well as signal technology. Thanks to its global positioning, the company is represented in many industries and today protects people, machines and the environment in numerous manufacturing processes. 
Tobias Merl started his professional career as a management consultant at the Competence Centrum mittelständische Industrie (CCMI) and earned a part-time doctorate in Management & Engineering before joining Pfannenberg in 2016 as Business Development Manager. In this role, he was responsible for building up product management and developing new business areas. Since 2020, he has been a member of the Management Board as Chief Innovation Officer (CIO) and has made a significant contribution to further increasing the company's innovation capabilities. Merl is considered an expert in innovation strategies and transformation processes. 
As part of the family, Merl is continuing the success story of the traditional company in the next generation. The focus here is on the vision of "One Pfannenberg for Our Customers," with which the company is focusing on its strength of bringing forth innovations in close customer contact.
"Specialized teams will ensure that for each product area, the needs and concerns of our customers are clearly put in the foreground and that advice, products and services are geared towards individual added value. Supported by digitalization, we can thus offer a unique customer experience worldwide."

– Tobias Merl
For efficient mixing: The right mix
Result quality and process efficiency are of high importance in industrial mixing and dispersing. Especially for demanding liquids, gases, or solids, Askia now offers tailor-made solutions with the static mixers and mixer-heat exchangers from Sulzer. The tube internals with rigid mixing elements ensure optimal mixing results – even for highly viscous pharmaceuticals and chemicals that are also sensitive to temperature or shear forces. They also enable the mixing of several additives at the same time, even when media have very different viscosities.
With mixers and mixer heat exchangers from the fluid dynamics specialist Sulzer, the company is now expanding its extensive product portfolio of industrial safety technology to include components from process technology. As with pressure relief, control valves, or high-pressure connectors, the engineering company also offers a competent all-round service from a single source for the mixers.
"In Askia, we have found a good partner for the service and distribution of our static mixers and mixer heat exchangers for Germany and Austria. Their extensive experience in chemical and process engineering, the food industry, or in the pharmaceutical and petrochemical sectors ensures that the static mixers are always designed precisely for the specific challenge and meet our high quality standards in the application."

– Marcel Suhner Global Product and Application Management
Wide range of viscosities
With the mixers, almost all media – from pure gaseous substances to very low-viscosity, water-like substances to high-viscosity masses – can be processed into homogeneous mixtures in a continuous process. Granulates and powders can also be mixed reliably. "The Sulzer products complement our portfolio excellently," says Managing Director Torsten Mankertz, pleased about the cooperation. "Sulzer has been the technology and market leader in this field for almost 50 years and offers the most energy-efficient static mixers with the lowest pressure drop."
Users will also be impressed by the compact dimensions and maximum flexibility of the installation position. The tubular elements can be installed in virtually any position in production plants and are generally maintenance-free. All variants are CIP- and SIP-capable; cleaning and sterilization without disassembly simplifies the process, even with hygienically sensitive media, and reduces operating and maintenance costs. The self-cleaning design allows even faster product changes without additional intermediate rinsing.
The mixers are always selected and designed according to fluid group, flow rate and throughput, density and viscosity, temperature range and residence time, and desired coefficient of variation. Two basic types are available for reliable, continuous mixing. Vortex formers generate turbulence that rapidly mixes the medium across the entire cross-section. In layer formers, the medium is repeatedly split and brought together until a homogeneous result is obtained; they are particularly suitable for very slow flow rates. 
Mixing and temperature control combined
Mixer heat exchangers additionally combine rigid mixing elements with shell-and-tube heat exchangers, thus enabling fast and at the same time uniform and reliable temperature control. Here, regular mixing ensures very good heat transfer with controlled residence times and homogeneous heat distribution without hot spots on the contact surfaces or heat exposure over too long a period. During cooling, the mixer-heat exchangers effectively prevent an insulating layer from forming on the cooling surface due to the viscosity change during cooling.
Depending on the application and process medium, V4A or AISI 316 stainless steel are available as materials for all mixing elements and the associated mixing tubes. In addition, the mixers can also be manufactured from customer-specific materials on request. Frequently used diameters with connecting flanges according to DIN or ASME standards can be supplied at short notice at any time.