Manufacturing of late phase


Wuxi Sta forms Partnership with Beta Pharma
Sta Pharmaceutical Co., Ltd., (Wuxi Sta) – a subsidiary of Wuxi AppTec – and Beta Pharma, a biotech company focusing on innovative drug discovery and development in oncology, announce a strategic partnership. Under the terms of the collaboration, Wuxi Sta will become the preferred CDMO partner of Beta Pharma, leveraging its platform to accelerate process R&D and manufacturing of later phase and commercial production – utilizing the Marketing Authorization Holder (MAH) scheme.
Beta Pharma is an emerging specialty pharmaceutical company dedicated to the discovery, development, and commercialization of innovative late stage therapies targeting oncology.
The company has a pedigree spanning some 20 years and its founder Dr. Xiaodong Zhang even participated in the molecular invention, development and listing in China of the first small molecule targeted anticancer drug, Icotinib. Today, Beta Pharma continues to expand its pipeline to integrate anticancer drugs and therapies, such as biopharmaceuticals, into its long-term development planning.
In February 2019, Beta Pharma officially launched the China registered Phase II clinical trial for the target BPI-7711 – a third generation of EGFR TKI that has a highly selective inhibitory effect on T790M mutations and EGFR single mutant tumors after a generation of EGFR TKI resistance. The company also has another target, BPI-1178 undergoing preclinical research and it is expected to submit a clinical application in the first quarter of 2019.
Wuxi Sta was chosen as the strategic partner thanks to its industry leading "end-to-end" CMC platform for new drug development from preclinical to commercial – for both API and finished dosage forms – as well as its expertise and track record for meeting global quality standards.
"We're delighted to partner with such a well-respected, world-class CDMO such as WuXi STA," said Dr. Xiaodong Zhang, CEO of Beta Pharma. "Wuxi Sta's enabling end-to-end CMC platform and efficient, flexible solutions that meet the timeliness of our clinical and commercial use, will enable us to advance our pipeline more quickly worldwide."
"Our mission is to empower and accelerate customers to develop innovative drugs from clinical to commercial – faster and more efficiently. We are delighted to become the strategic partner of Beta Pharma and look forward to helping them advance their drug candidates towards the clinic, bringing innovative medicines for the benefit of patients around the world."

Dr. Minzhang Chen, CEO of Wuxi Sta
Fight metabolic diseases


Servier collaborates with Harvard researchers
Servier and Harvard researchers will embark on a three-year preclinical research project where the ultimate objective is to develop therapeutics targeting the microbiota for the treatment of type 2 diabetes and NAFLD. The work will be conducted by a multidisciplinary team of researchers from both parties. The research team at Harvard University will be led by Emily P. Balskus, Professor of Chemistry and Chemical Biology, and the team at Servier will be led by Philippe Delerive, Head of Research for Cardiovascular and Metabolic Diseases. The collaboration combines the expertise of Servier researchers in the field of metabolism and drug development with Prof. Balskus' expertise in chemical discovery relating to the gut microbiome. Together, the parties hope to make important advances in understanding disease biology and to use emerging technologies to develop new treatment options for diseases with high unmet medical need.
"Gut microbiota is an untapped resource for the identification of novel targets in the field of metabolic diseases. It opens up new perspectives for the development of increasingly precise and personalized innovative therapies. The close collaboration between our researchers and academic researchers from Harvard represents a major step in this direction, for the ultimate benefit of patients," stated Servier Group Executive Vice-President Research & Development, Claude Bertrand.
Non-alcoholic fatty liver disease (NAFLD) affects over 25% of the world's population. The condition, in which too much fat is stored in the liver, is very often linked to excess weight and/or type 2 diabetes. This, in turn, is due to the build-up of fatty acids and scar tissue, which can lead to steatohepatitis (NASH), cirrhosis and, in some cases, to the development of liver cancer. Currently there are no therapies available to patients for this disease.
This collaboration is a project under the strategic alliance established between Servier and Harvard University in 2017. Under the terms of the alliance agreement, Servier will support multi-year research projects initiated by Harvard faculty and focused on the development of innovative treatments in its therapeutic fields of expertise. Servier selected this project through a call for proposals.
Servier has been involved in the research and development of innovative therapeutics against non-insulin diabetes (type 2 diabetes) for over 40 years. Identifying new therapeutic targets in this field is one of Servier's priorities, as well as research of specific therapeutic solutions to diabetes-linked complications such as diabetic nephropathy or non-alcoholic fatty liver disease.
Feeder Design for the Pharmaceutical Industry


Feeding Solution for Demands of Processing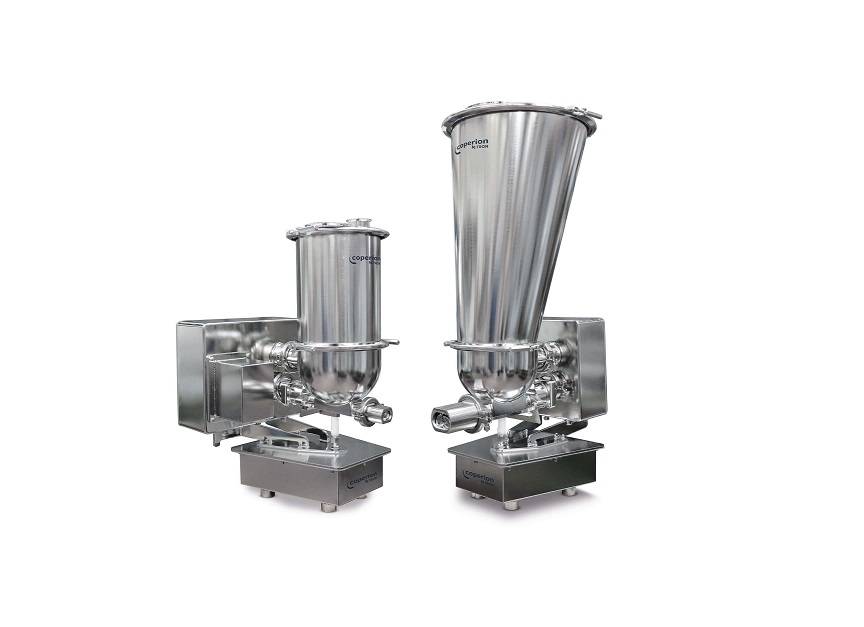 At this year's Interphex as well as at Powtech Coperion K-Tron will display the next generation of its highly accurate, gravimetric K3-PH feeders for the pharmaceutical industry. These modular feeders have been specially designed to meet the growing demands of continuous processing. Thanks to the use of a smaller D4 platform scale incorporating the patented and highly accurate Smart Force Transducer (SFT) weighing technology, they require significantly less floor space compared to previous models. Depending on the process and requirements, several feeders can be grouped into a cluster, for example for continuous processes such as direct compression (CDC), extrusion, wet and dry granulation, and continuous coating as well as traditional batch processes.
Easy handling and better product quality
The modular design of this innovative feeder line simplifies cleaning and reduces changeover times. The "Quick Change" design, whereby the feeder bowl can be quickly decoupled from the feeder drive, also enables simple and fast product changes. By simply releasing two clamps, the used feeding unit can be removed and replaced with a clean one.
The three available Coperion K-Tron feeder types QT20, QT35 and QS60 (twin and single screw) can be used with the same scale and drive units. They are interchangeable, depending on the product to be fed, the required feed rates and the necessary scale resolution. For an optimal Wet-In-Place (WIP) result, every unit has an integral two degree pitch facilitating maximum drainage during the cleaning process. In addition, the feeder bowls and hoppers feature a new improved seal design for optimal product containment. The complete line of equipment is engineered to meet the rigid requirements of the pharmaceutical industry, including strict adherence to cGMP guidelines and standards as well as the use of FDA approved materials of construction. Initial industry reactions to the design include very positive comments on the use of a single gearbox for the complete speed ranges of all feeder models.
High-accuracy weighing with patented SFT technology
The new D4 platform scale features the same state-of-the-art sanitary design of the established Coperion K-Tron D5 scale. Smooth, crevice free surfaces prevent deposit of dust and product residue and enable easy cleaning. The redesign of the scale from a round design to a trapezoid design features a much smaller footprint and facilitates an optimized multi-feeder arrangement. This is especially useful in areas with limited space, where multiple ingredients must be fed into one process inlet. At the heart of the new D4 scale, Coperion K-Tron's patented SFT single wire weighing technology provides a highly accurate weight signal with a resolution of 1:4,000,000 in 80 ms. The electronics include linearization, temperature compensation and a digital low-pass filter to reduce the effect of plant vibration. The 100% digital design eliminates the need for calibration.
Coperion at the Interphex 2019: Booth 2558
Coperion at the Powtech 2019: Hall 4, Booth 290
Merck


All-Cash Proposal to Acquire Versum
Merck, a science and technology company, today delivered a letter to the Board of Directors of Versum Materials, Inc. ("Versum"), outlining the terms of a superior proposal to acquire Versum for $ 48 per share in cash, representing a premium of 51.7% to the undisturbed trading price per Versum share on the trading day prior to announcement of the Entegris, Inc. ("Entegris") transaction (January 25, 2019). Merck's proposal is therefore substantially superior to the Entegris transaction.
"We truly believe in the power of a combined electronic materials portfolio of Merck and Versum. Our attractive cash proposal to Versum's investors underlines that we are fully committed to completing this transaction successfully", said Stefan Oschmann, Chairman of the Executive Board and CEO of Merck. "It is our clear intention to further strengthen our operations in the U.S. We are proud of our nearly 130 years of U.S. market history and already more than 10,000 highly qualified employees today working at more than 50 sites coast-to-coast."
The combination of Merck's and Versum's businesses would create a deep and complementary portfolio of electronic materials, equipment and services for the semiconductor and display industries. The combined R&D capabilities would enable faster innovation cycles and strengthen the product offering to customers. They would offer increased scale, product and service depth, an enhanced global presence and a strengthened supply chain, which would help drive leading innovation supported by long-term tailwinds in the industry. Moreover, they would provide an additional source for innovation through leading positions in attractive segments.
All-cash consideration offering attractive premium
Merck's all-cash proposal represents an attractive premium across key benchmarks:
51.7 % premium to Versum's undisturbed share price, on January 25, 2019, the day prior to the Versum-Entegris merger announcement;
15.9 % premium to Versum's current share price as of February 26, 2019
Additionally, the all-cash proposal offers Versum's shareholders certain value, and does not leave them exposed to integration or other post-merger risks. With Merck's strong credit rating, the transaction will be fully financed and the transaction agreement will not have a financing contingency.
Commitment to strengthen U.S. operations
Merck has a strong reputation for innovation and has demonstrated a robust commitment to R&D spending and capital investment. As the long-term secular trends in science and technology continue to drive lasting demand for electronic materials, the leaders will be those willing to invest, innovate and adapt in this fast-developing environment. Merck believes this philosophy is consistent with Versum's culture and strength of its employees, and as such intends to maintain Versum's Tempe, AZ site as the major hub for the combined electronic materials business in the U.S., complementing Merck's already strong commitment to this important market.
An opportunity for Versum employees
The firm is a long-term oriented, predominantly family-owned science & technology company. "Performance, People & Technology" are its three strategic priorities. In Merck's more than 350-year history, people have always been and will continue to be at the center of everything it does.
Rge company already has a strong footprint in the U.S. and a track record as a top employer. Over the past decade, the company has invested some $24bn in the U.S. through acquisitions alone, including the successful acquisitions of Millipore in 2010 and Sigma-Aldrich in 2015.
Versum employees will become an integral part of a leading electronic materials business and will benefit from new and exciting development opportunities within a truly global science and technology company.
Timing
The company is confident it can close a transaction with Versum in the second half of 2019, assuming expedient engagement by the Versum Board of Directors. Merck's long track record of completing acquisitions, its strong balance sheet and investment-grade credit rating position the combined company well for a future of investment and growth. Unlike the Entegris transaction, the only shareholder approval required by Merck's proposal is that of Versum's shareholders, and Merck fully expects to receive all customary regulatory clearances in a timely manner.