WPL wastewater technology is selected by major logistics hub
Technology from water recycling specialist WPL, a WCS Group company, was selected by DP World London Gateway to provide enhanced ammonia removal to protect sensitive waters in the Thames Estuary. 
DP World London Gateway is a smart logistics center on the north bank of the Thames in Thurrock, Essex, 25 miles from central London. The water recycling specialist will supply a bespoke treatment plant for a new freestanding warehouse for 150 office workers, currently under construction at the logistics center. The plant will be able to handle a flow of 7.5 m3/d for 100 population equivalents.
The treatment plant will discharge into an environmentally sensitive swale that empties into the Thames Estuary and must meet the Environment Agency's stringent standards of 15:15:03 mg/l for ammonia and suspended solids.  The water specialist will provide an underground HiPAF (High Performance Aerated Filter) system for ammonia removal, as well as a metering unit and sand filter to further improve the final effluent in accordance with site-specific permit requirements. The design also includes a small pumping system due to the depth of the incoming effluent and a pumped backflow chamber.
Dominic Hamblin, WPL's technical director, said, "DP London Gateway is a key logistics hub and we are pleased to be able to deliver this environmental solution on site on its behalf.
"WPL's modular HiPAF product range meets the stringent European standards for permitting wastewater without the use of chemicals. The technology is regularly used by UK water utilities and is a good choice for sensitive sites such as marshes, which are shallow and not heavily diluted.
"The HiPAF's compact design allows it to be installed in locations where space is at a premium, such as a busy commercial area. In addition, our sand filters are designed to remove excess suspended solids and biological oxygen demand when permit standards are above what would normally be expected from a biological process. 
"Once operational, the plant will provide robust wastewater treatment while being quiet, visually unobtrusive and easy to maintain. WPL's wastewater treatment plant is being built by Readie Construction. Construction is scheduled to begin before the end of 2021 and is expected to take 12 weeks.
"DP World London Gateway is a high-profile site surrounded by sensitive water bodies. We are therefore pleased to be working with WPL to install on-site wastewater treatment for the new warehouse building."  

– Giuseppe Orlando, Project Manager 
Staying grounded even at altitude
During a demonstration run as part of the DGUV "Aerial Work Platforms" trainer training course, Matthias Müller forgot to test the emergency stop function, got stuck with the scissor lift on several cones and hit his head on a roof beam of the training hall. The academy director did a lot of things wrong during the demonstration – and thus everything right. After all, his goal was to train the participants to evaluate test rides in every detail. This will be part of their daily routine after receiving their certificate. 
Comprehensive starter package
After several days of theoretical and practical training at the modern "Campus M – Home of Safety." at the company's headquarters in Blaustein, they are allowed to instruct and train operators of aerial work platforms and issue certificates of competence in accordance with DGUV Principle 308-008 – for telescopic and truck-mounted platforms and vertical lifts, among other things. The newly qualified trainers can also carry out annual follow-up training, and the company also provided them with a start-up package containing presentations and documentation aids for their own training. 
Designing driving courses
The training also included information on legal requirements for aerial work platforms, on liability and responsibility, instruction in technical basics and the various types of construction and drive, traffic regulations and traffic routes, and the design of driving courses. For Matthias Müller, whose academy also conducts the trainer training in accordance with the IPAF Handbook and in coordination with IPAF Germany, it is clear: "The need to train qualified trainers for MEWP operators arises both from the high risk potential during use and from a large number of relevant regulations."
Guidance on moderation
For Miriam Winter of "Hessen Mobil," this was a wealth of information. By taking on new tasks, the employee of Hesse's road and traffic management department is entering completely new territory for her with the certificate – and immediately felt comfortable at the training as the only participant: "The exchange with colleagues was very good for me. I was able to take away some concrete tips." In addition to the practical practice runs, it was also important for her to learn how to moderate instruction: "At AST, I learned how to lead a group, teach it, and get it excited about a topic." Siggi Kern, on the other hand, is already an "old hand" in the broad field of aerial work platforms. But for him, too, there is always something to learn: "For me, it was important to get into the depths of the legislation in addition to the practical instruction. This allowed me to learn more about the high responsibility of employers and their concern for the physical integrity of employees."
But one thing is clear: MEWP operators must also always be mindful and prudent, and learn that even at heights, you should always stay grounded. 
Occupational safety rethought
The company is one of the leading engineering firms for occupational health and safety in Germany and operates Campus M "Home of Safety.", one of the most innovative training centers for occupational safety in Germany. The company offers an extensive seminar and training program, including virtual reality simulators. The focus is on practical training and further education and trainer certification in the field of safety management and technology – also available as an e-learning offering on request.
Fire protection management and company certifications round off the range of services. The training program, as well as the company itself, are ISO 9001 certified. Founded in 2003 by Angelika and Matthias Müller, the company now employs around 15 people who rethink the area of occupational safety on a daily basis and thus help to make the working lives of many people safer every day.
Inauguration of the modern corporate campus in the greater Houston area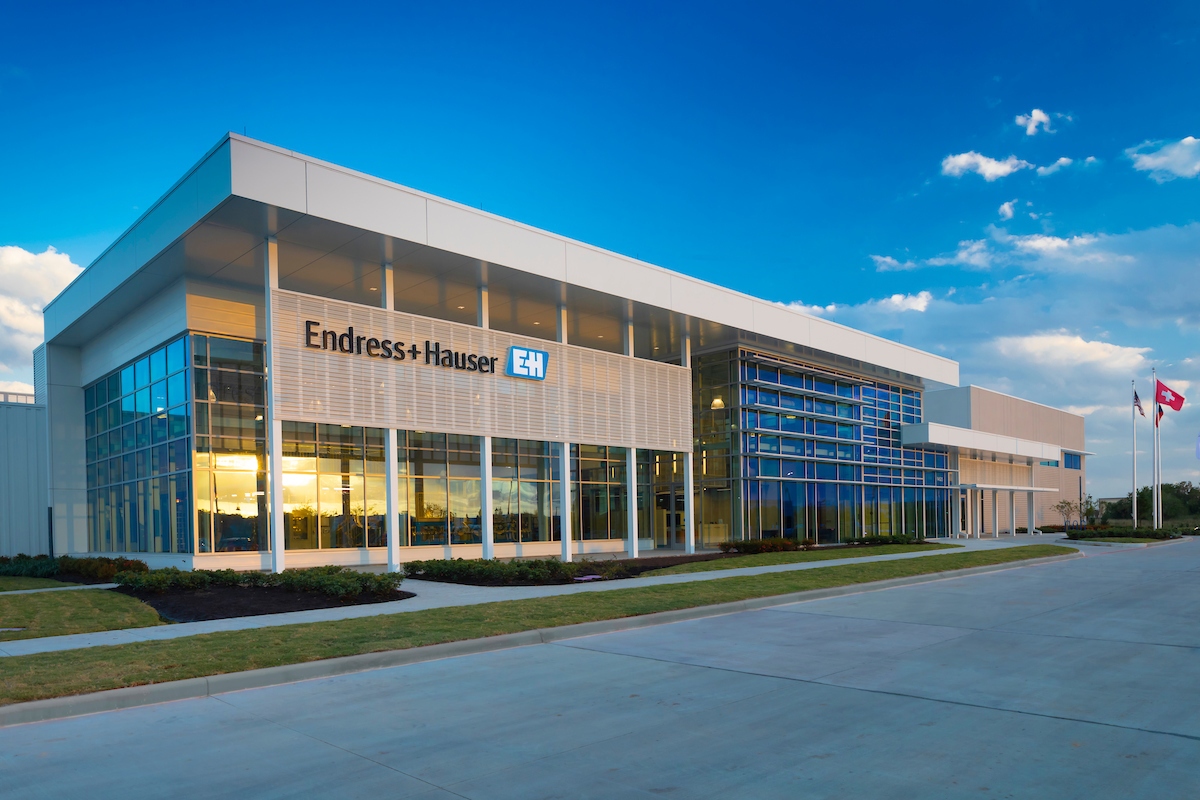 Endress+Hauser has invested $34 million in a modern corporate campus near Pearland, Texas, in the greater Houston area. A large new training center, office space for 110 employees, a calibration laboratory and a repair shop have been built on 112,000 square meters. The new building strengthens the Group's presence in the Gulf region.
Located in Pearland, Texas, the building is in the heart of the economically strong Gulf of Mexico region. "The expansion reflects our strong roots in the USA. It demonstrates our proximity to our customers and helps us to serve them even better in the future," said Matthias Altendorf, Group CEO during the dedication ceremony on October 26, 2021.
Training facility for customer training
The new campus features the largest process training unit in the U.S., with 200 pieces of equipment and seven tanks, as well as a laboratory for metrology and process analytics. Local customers and partners can learn how to use modern measurement and automation technology here in customized training courses.
In addition, the campus is equipped for the accredited calibration of instruments for flow, temperature and pressure measurement. These can be carried out both in the laboratory and with a mobile calibration system at the customer's site. A service workshop completes the range of services.
Sustainable construction in regional style
When planning the campus, the company placed great emphasis on sustainability. The building is already the fifth in the U.S. to be certified according to LEED (Leadership in Energy and Environmental Design) standards for environmentally friendly construction. In addition, regional materials were used in the interior and exterior to reflect Texas architecture.
Cross-company collaboration
The campus provides space for 110 employees. In addition to Endress+Hauser teams, the new building also houses the gas analysis business unit, the laboratory analysis specialists of subsidiary Analytik Jena, and regional sales and service partner Vector Controls & Automation Group.
Decanter for leading paper and packaging manufacturer in South Asia

Two CF 8000 decanters have now been supplied by GEA to ITC Paperboards and Specialty Papers Division in Bhadrachalam, India. The decanters support the modernization and new construction project.
The Paperboards and Specialty Papers Division is a company in the paper and board industry in South Asia. Modern recovery boilers will be installed at the site to improve the ash handling process. The two new CF 8000 decanters are important components of the ash leaching stage of a modern Chemical Recovery Boiler.
The advanced chemical recovery boilers are not only an integral part of the pulp recovery process, but also generate electricity and steam for the entire mill. This project is being carried out by Valmet, the world's leading developer and supplier of process technologies, automation and services for the pulp, paper and energy industries. Valmet, in turn, had contracted GEA to supply the CF 8000 decabnters as part of this overall project.
Serves as immediate and later as long-term solution
The company has already delivered the two decanters. As a first step, they were initially installed to support the three existing, old recovery boilers. When the new boiler is ready, the ash leaching system, including the two decanters, will be connected to it. The installation of the decanters so far is therefore initially an interim solution, but one that will allow ITC to continue production without interruption and without interruption.