World's First Long-Reach, Single-pair Power over Ethernet (SPoE) Solutions for Smart Building and Factory Automation
Analog Devices today announced the world's first Single-pair Power over Ethernet (SPoE) Power Sourcing Equipment (PSE) and Power Device (PD) solutions to help customers drive greater levels of intelligence into smart buildings, factory automation, and other applications at the edge of traditional networks. The new offerings facilitate powered, last-mile connectivity for factory and building automation through real-time power management, telemetry, extremely low standby power consumption, and ease of installation.
"The Intelligent Edge is one of the most exciting developments of the digital era as computing power is pushed to previously inaccessible applications and locations," said Leo McHugh, Vice President of Industrial Automation at Analog Devices. "Analog Devices is committed to delivering the unrivaled technology and solutions our customers need to leverage the full potential of the Intelligent Edge in smart buildings and factories as well as many more applications in the future."
Enabling Digital Buildings of the Future
Analog Devices' new SPoE solutions, LTC4296-1 and LTC9111, address the challenges of providing power and data to devices, even in remote, difficult to access endpoint locations. Analog Devices' solutions aim to help new families of endpoint applications to be seamlessly powered and accessed across the network and used to assess local factors such as asset health, environmental conditions, security metrics, and more. The localized awareness and control they offer are the building blocks of the digital buildings of tomorrow.
Analog Devices' SPoE solutions reduce reliance on localized power and batteries by using a single twisted pair of Ethernet cables to provide efficient, reliable, easily installed power at reduced size and weight. Combined with ADI Chronous ADIN1100 and ADIN1110 10BASE-T1L, Industrial Ethernet solutions, customers can reliably transfer both power and data over one kilometer – a significant increase from previous Ethernet standards.
Interoperable Efficiency
Analog Devices' new LTC4296-1 5-port SPoE PSE with Classification and LTC9111 SPoE PD with Polarity Correction products support both SPoE and Power over Data Line (PoDL) variants of single-pair powering. SPoE augments Single Pair Ethernet (SPE) to provide more reliable, fault-tolerant, and interoperable point-to-point power solutions, delivering up to 52W. Both products are 802.3cg compliant and support Serial Communication Classification Protocol (SCCP).
Technologies Safeguard the Circular Economy of Valuable Metals
While copper and precious metals are essential components in the electronics and semi-conductor industries, lithium has also developed into one of the most important raw materials for rechargeable batteries and therefore the entire consumer electronics sector. The path from ore to metal is still very complicated. In addition to ore production, the extraction of metals to obtain the highest purity is a complex process. Only extremely precise and accurate analysis makes it possible to detect very low and ultra-traces, particularly in metal recycling. Analytik Jena provides an important contribution to a sustainable circular economy with their innovative technologies.
In contrast to precious metals, metals do not exist in their pure form but are bound in minerals and ores – which are sometimes very widely distributed, or sometimes only found in a few areas and in very low concentrations in the ore. Nevertheless, their extraction and recovery are worthwhile, because dwindling resources and an increasing demand for these valuable metals go hand-in-hand. It is therefore absolutely essential to extract and reuse scrap metal within the scope of metal recycling. This sustainable circular economy will continue to become increasingly significant.
However, the production and recovery of metals is highly complex and requires extreme precision to meet the high application requirements such metals need to meet. The accurate quantification of the metal that actually needs analyzing is affected by the content of other base metals such as copper, cobalt, chromium, nickel, iron or zinc and trace elements (through additives or contaminants). Analytik Jena covers the entire analytical process from ore to metal with its methods – from AAS via ICP-OES right up to ICP-MS – and the corresponding instruments.
High-Performance Atomic Absorption with the contrAA and novAA 800 Series
In the initial process steps of the value chain, numerous raw materials must be analyzed to obtain detailed specifications about the starting material. This involves the quantification of the main contents and concentrations of elements, primarily by means of flame AAS (atomic absorption spectrometry). The highly efficient instrument series of Analytik Jena, contrAA and novAA 800, master these tasks easily and cost-effectively. 
Detecting Ultra-Traces with PlasmaQuant 9100 and PlasmaQuant MS
In the further process, the requirements for analytics change. Trace and ultra-trace elements can significantly affect the quality of high-purity metals or alloys, which is why their detection and subsequent elimination require even greater accuracy and precision. This is where the high-resolution PlasmaQuant 9100 ICP-OES series and the highly sensitive PlasmaQuant 9100 ICP-MS series offer maximum performance, and thus reliability and efficiency.
The AAS, ICP-OES and ICP-MS technologies offered by Analytik Jena are extremely well designed for the special requirements that need to be met in the individual phases of the value chain:
Robustness & User Friendliness
Especially the exploration of possible mining sites and the mining itself often take place under harsh environmental conditions and in very remote locations – not infrequently at very high altitudes. Air pressure and oxygen content are very low in such environments and can strongly affect the measurements. Suitable laboratory equipment is also usually rare in such locations. The analysis instruments offered by Analytik Jena are designed for such circumstances: User-friendly, easy to set up and if necessary, easy to use by personnel without in-depth specialist training.
Standardization & Efficiency
The availability of consumer materials at the mining sites is often just as rare as oxygen saturation. Rare or special chemicals are often difficult to obtain. The instruments therefore should not pose unreasonable demands, but should still meet the necessary high requirements. The all-rounder in elemental analysis, the novAA 800, for example, can be operated with LPG gas, which is available even in the most remote places on earth. 
Sensitivity & Precision
The analytical instruments must be highly sensitive, accurate and precise due to the low concentrations of metals in the ores and the adverse effect of other metal present in the sample. The solutions designed by Analytik Jena offer suitable analytical methods for the quantification of even very low metal content in ores, contaminants in pure metals and for monitoring treatment processes. With their high sensitivity and low detection limits, the PlasmaQuant 9100 series and the PlasmaQuant MS series cover the entire concentration range – with peak performance offered by the PlasmaQuant 9100 Elite and PlasmaQuant MS Elite.
Automation & Economic Efficiency
As the quantity of samples for such routine applications is constantly growing, analytical instruments must meet the increased sampling rate through automation and/or innovative analytical techniques. This not only ensures improved throughput rates, it also reduces the overall costs for analysis and opens up resources for the workforce. The high sample throughput, especially of the PlasmaQuant MS Q makes it possible.
You can read about the specifics of how Analytik Jena's instruments can meet all these factors and contribute to sustainable metal extraction and recovery in our detailed eBook "From Ore to Metal".
Expanding product range of industrial ball valves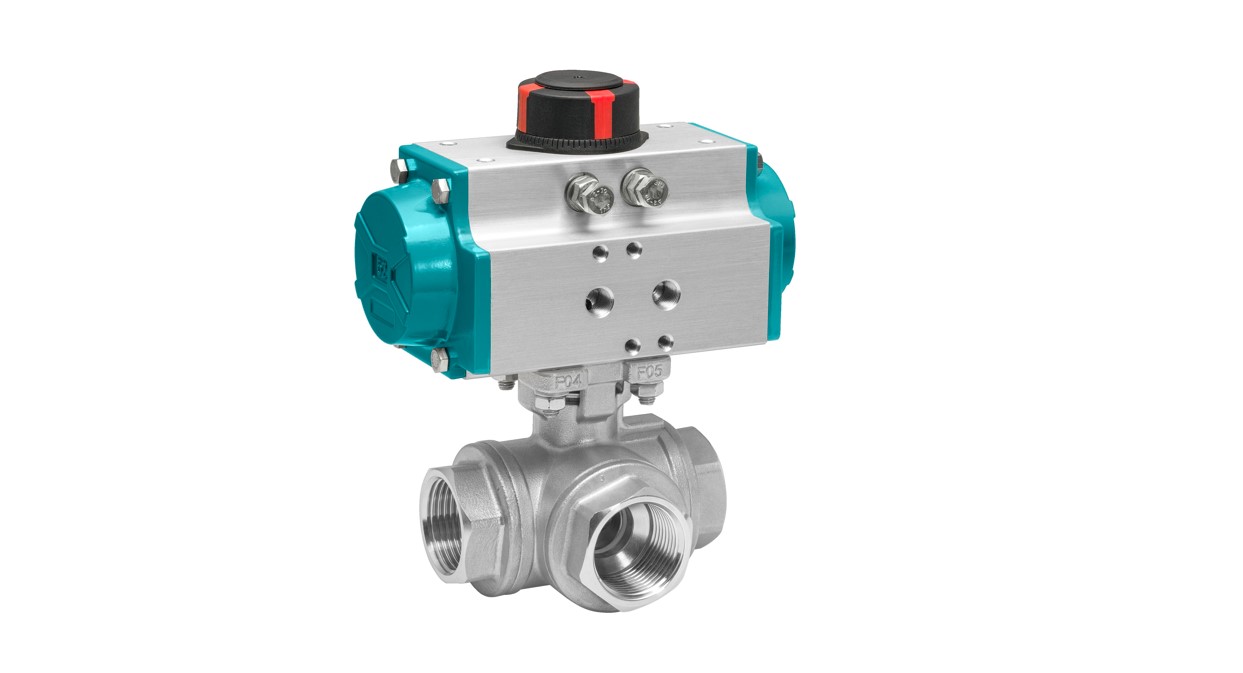 Due to its multi-functional properties, the newly developed GEMÜ BB07 3/2-way ball valve family from valve specialist GEMÜ is suitable for the most varied areas of application. These include chemical processes, industrial water treatment, surface finishing, power generation and environmental systems, mechanical engineering and processing industries.
The GEMÜ BB07 3/2-way ball valve is the ideal valve when it comes to mixing and distribution tasks of media flows, like in the trouble-free change-over of sensitive media in the area of energy or auxiliary materials in the food-processing industry.
A further advantage is that the new ball valve types are available with the threaded socket connection type, which ensures trouble-free installation of the shut-off valve.
The GEMÜ BB07 multi-port ball valves represent a cost effective solution, as multiple valve seats are generally required for mixing and distribution tasks. These seats are combined to make just one subassembly through the use of multi-port ball valves.
The GEMÜ BB07 is versatile in use due to its three outlets. Thanks to the top flange acc. to ISO 5211, simple actuator mounting is possible. The seat seal is made of PTFE. The newly developed GEMÜ BB07 ball valve family is automation-capable, low maintenance and can be used for a vacuum. The new ball valve is selectable as a T or L ball, and is therefore flexible and versatile.
The 3/2-way ball valve is available in the following actuator versions:
GEMÜ BB07 with bare shaft
GEMÜ B47 with pneumatic actuator
GEMÜ B27 with manual actuator
GEMÜ B57 with motorized actuator
The latest cost-effective humidity calibration package from Process Sensing Technologies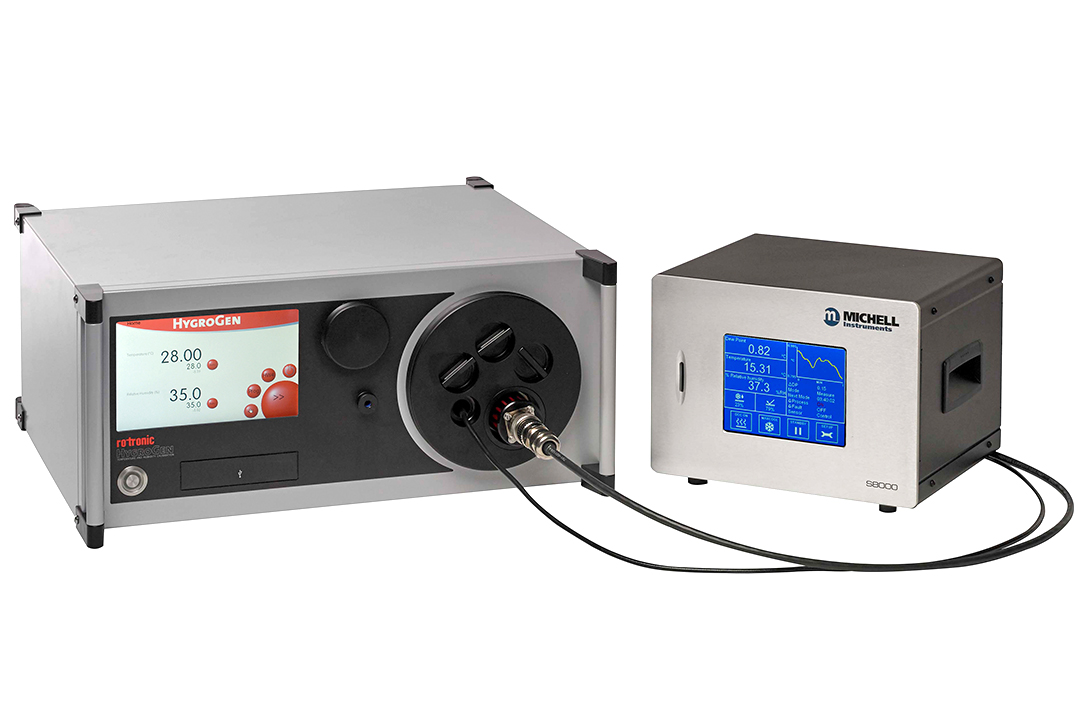 Together, Michell Instruments and Rotronic offer the most comprehensive humidity and dew-point calibration offering on the market today, including some very attractive packages of products – such as the HygroGen2 Humidity and Temperature Calibrator with the Michell S8000 Remote Chilled Mirror Reference Hygrometer.
What makes this such an attractive pairing?
The HygroGen2 satisfies the stringent demands of quality and compliance regulations with its ability to calibrate humidity and temperature instruments over their full working range. As the leading instrument in its class, it is favoured in ISO 17025 accredited humidity calibration laboratories across the world. It is also widely used in the pharmaceutical industry because it is both portable and robust, allowing it to be set up at the installation location to allow for complete system qualification.
Chilled mirror Instruments are widely acknowledged as the definitive humidity calibration reference and are used as the default transfer standard all the way up to the highest level of measurement – National Metrology Institutes, including NPL (National Physical Laboratory), NIST (National Institute of Standards & Technology), PTB, NML. The Michell S8000 Remote is a compact chilled mirror hygrometer with a remote sensor, offering a measurement range from <0.5 %rh to 100 %rh (-40 to +120 °C dew point), with a market-leading accuracy of ±0.1 °Cdp.
The S8000 Remote integrates seamlessly with the HygroGen2 software for automated calibration routines, allowing for complete calibration traceability. The S8000 Remote sensor and PRT have specially designed ports and O-rings to ensure the fit in the HygroGen2 is completely airtight.
As well as use in pharmaceutical plants and calibration laboratories the HygroGen2 and S8000 Remote calibration package is suitable for any application that requires on-site calibration of humidity and temperature instruments.