Corporate Responsibility Performance


Way Beyond Good journey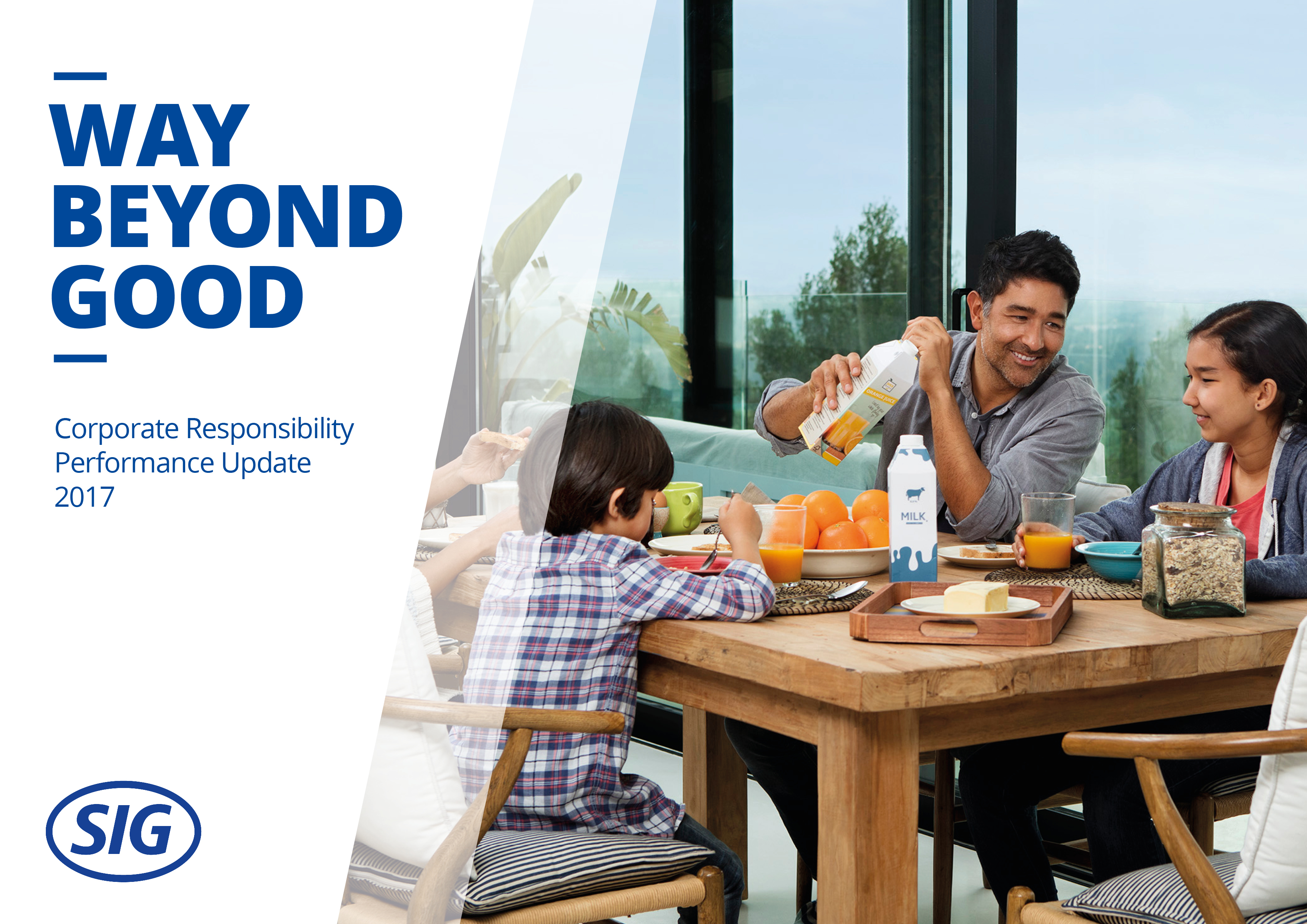 SIG's Corporate Responsibility (CR) Performance Update for 2017, reports progress on its bold "Way Beyond Good" ambitions to contribute more to society and the environment than it takes out.
CEO Rolf Stangl said:
"Our bold Way Beyond Good ambitions are driving progress across all three of our responsibility pillars: company, sourcing and products. We have a long way to go, but I am enormously proud of the strides we have made in 2017. The latest rating from EcoVadis recognises our progress, placing SIG in the top 1% of the 30,000 or more businesses assessed on wide-ranging corporate responsibility topics."
Partnering for progress
The CR Performance Update reinforces SIG's commitment to the principles of the United Nations Global Compact and emphasises its support for the Sustainable Development Goals (SDGs).
SIG stood alongside the Forest Stewardship Council (FSC) and other leading businesses in 2017 to pledge support for the Vancouver Declaration to ensure their use of forest materials contributes to the SDGs.
Through initiatives such as the Net Positive Project, SIG continues to work with partners to help drive progress in its own business and beyond. The company is also inviting input from external stakeholders through its new Responsibility Advisory Group.
Commitment to transparent reporting
Transparency is integral to the firm's ethos as a responsible company. The company is committed to report regularly on performance related to its most material corporate responsibility issues, as identified through a detailed materiality assessment.
The CR Performance Update for 2017 provides an interim report on progress against the 2020 targets set out in the firm's responsibility roadmap, including data on key performance indicators and key achievements from the year. It supplements the companies biennial full Corporate Responsibility Report, produced in accordance with guidelines from the Global Reporting Initiative, which offers more detail on how SIG manages social and environmental issues.
Head of Corporate Responsibility Michael Hecker said: "The CR Performance Update tells our story of the year. It showcases what we have achieved, but it also shows where we have more work to do. I am looking forward to reporting further progress in our full CR Report next year."
The firm's 'Way Beyond Good Corporate Responsibility Performance Update 2017' can be accessed at: http://www.sig.biz/responsibility/way-beyond-good/reporting-on-our-progress
Vacuum technology


Productive 4.0 food industry
Promising to feed the smooth transition towards increasingly intelligent and internet-connected systems in the food industry, Piab is introducing piSMART versions of its most advanced vacuum equipment. Aimed primarily at boosting productivity and energy-efficiency, piSMART systems will also offer new tools for guaranteeing that procedures always adhere to regulations and standards for food hygiene and food safety.
With cleanliness being of vital importance in the food industry, new "big data" analysis tools for condition monitoring and predictive maintenance will be particularly welcome. Data for these tools will be fed from both strategically placed sensors in equipment and from the cloud, supporting both operator-controlled and automatically regulated processes.
Starting with piCOMPACT, Piab's flagship all-in-one vacuum ejector series, the addition of piSMART will eventually also extend to other high-end ejectors as well as conveyors and lifting systems. The piCOMPACT is already available with generic and fieldbus-independent input/output technology IO-Link, enabling a high degree of on-board intelligence. Piab's adoption of IO-Link is an important key to the interoperability required in Industry 4.0 processing units, and the addition of piSMART shows that Piab is now ready for the higher level of process control supported by cloud-based "big data" that this fourth industrial revolution will realise.
Human Machine Interface


Krones wins Design Award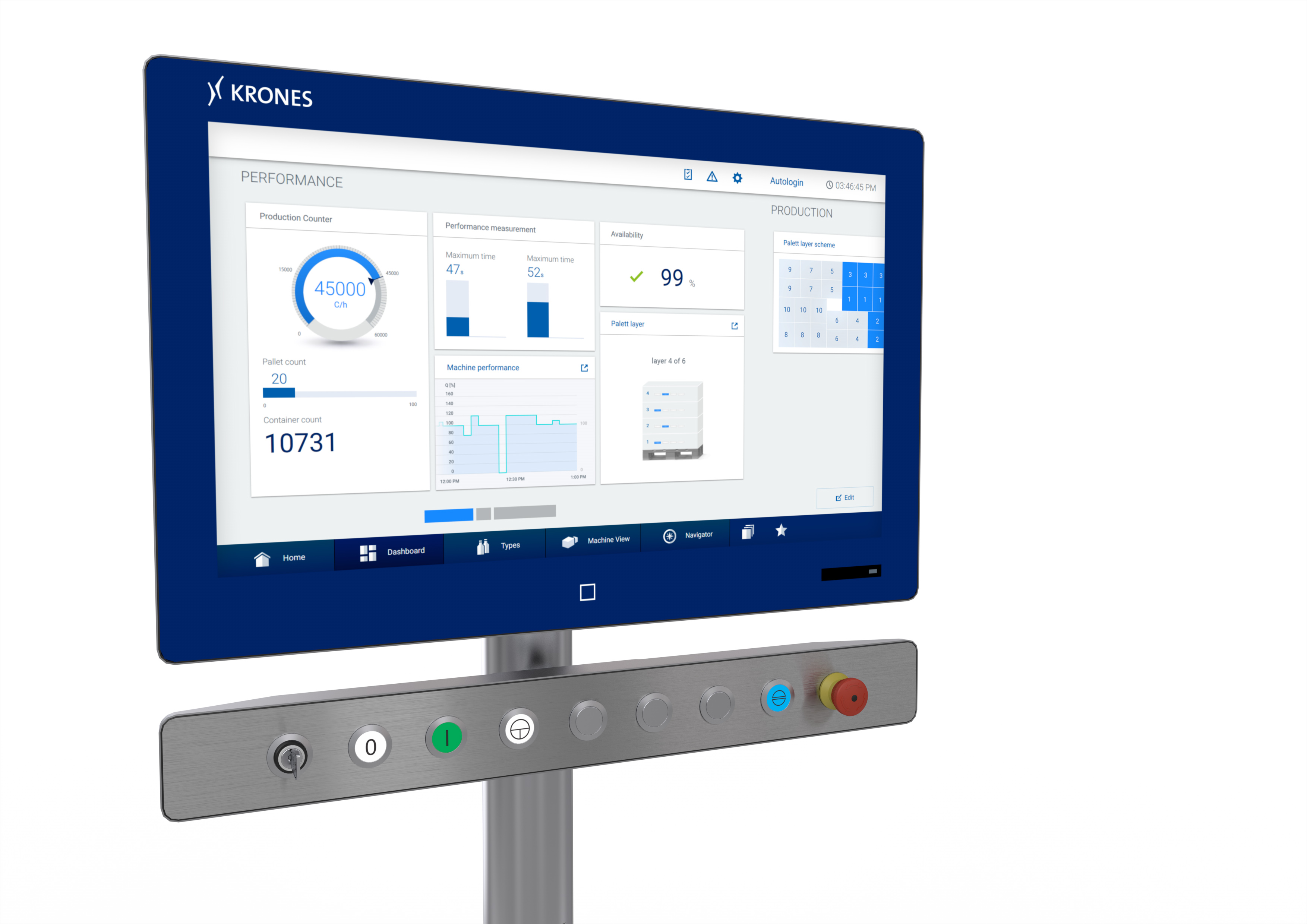 For 65 years now, the iF Design Award has been a globally recognised trademark when it comes to excellent design and outstanding user experience (UX). And that's precisely where the Krones Connected HMI proved persuasive in the communication design category.
The HMI – the Human-Machine Interface – is the link between the human operator and the machine, and ensures that both sides can communicate with each other in fractions of a second without any problems. Its housing has been specially tailored to the requirements encountered in the beverage industry, and thanks to a combination of stainless steel and glass meets Krones' stipulations for a hygienic design.
For the user, the HMI is gaining even more importance as the central point of access to the line's control system, especially while automation and digitalisation are being progressed. An innovative navigational structure renders operator control intuitive, and creates an option for customising the screen's contents by setting up dashboards to suit a client's own particular needs. The large multi-touch display ensures easy-read user-friendly operator control. What looks modern also injects a high degree of digitalisation into the line as a whole: because thanks to open, standardised data interfaces the HMI links up with higher-order IT systems like MES or Share2Act.
Hygienic rotary lobe pump


Smooth design and cleaning advantages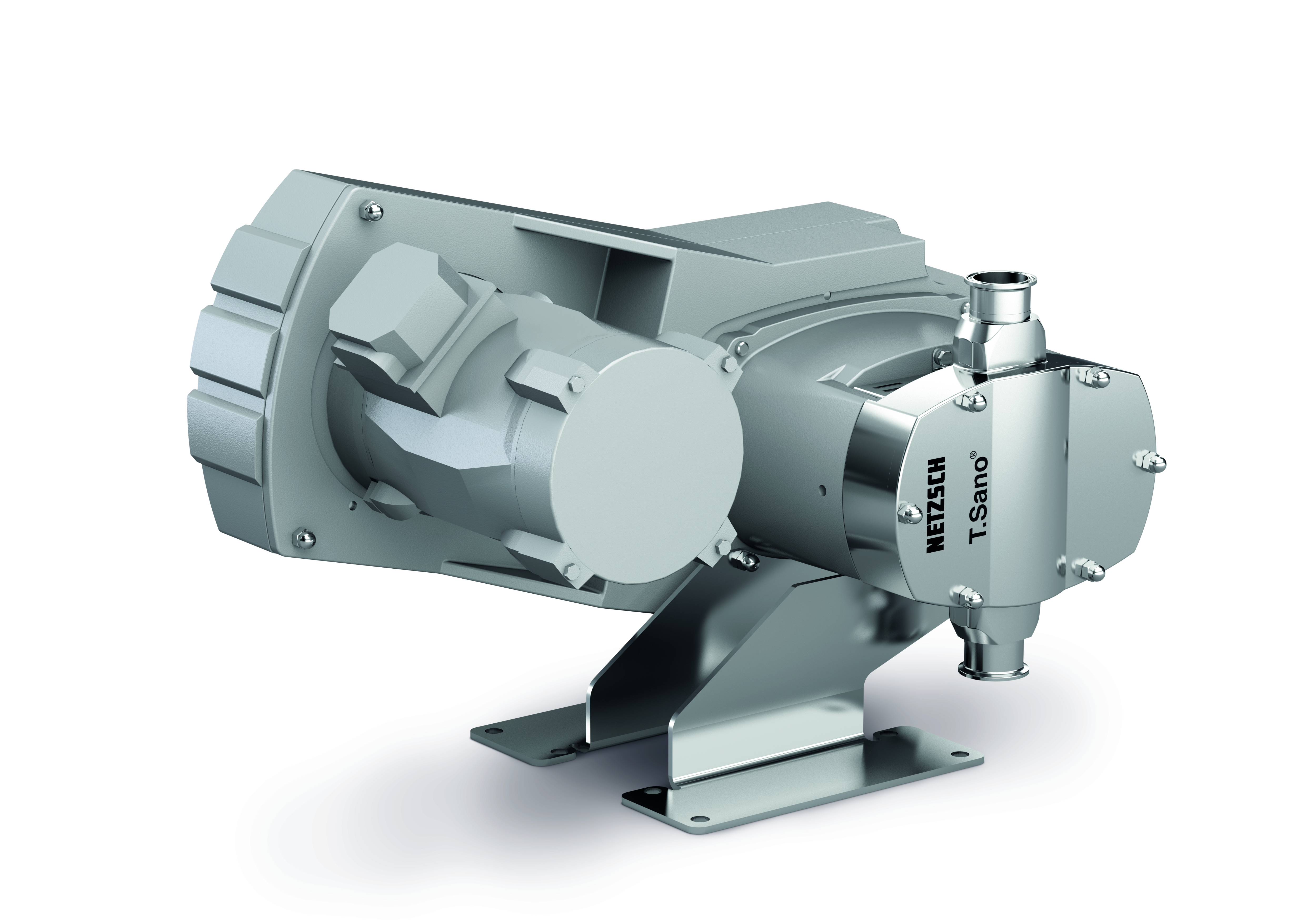 "Smooth design of the Tornado rotary lobe pump T.Sano" means a completely smooth housing which attracts barely any dirt and dust. This design has been specially developed for the hygiene and food industry, because not only the materials and the cleanability of the pump room are subject to strict regulations, but also the outer contours are taken into account. To ensure that no dust can accumulate, the pump housing must also be designed without superfluous corners, edges and dead spaces.
However, this series of T.Sano is generally interesting for food manufacturers due to its pump room without dead spaces and its oil-free belt drive. The pump is absolutely oil-free and almost maintenance-free.