Corporate Responsibility Performance


Way Beyond Good journey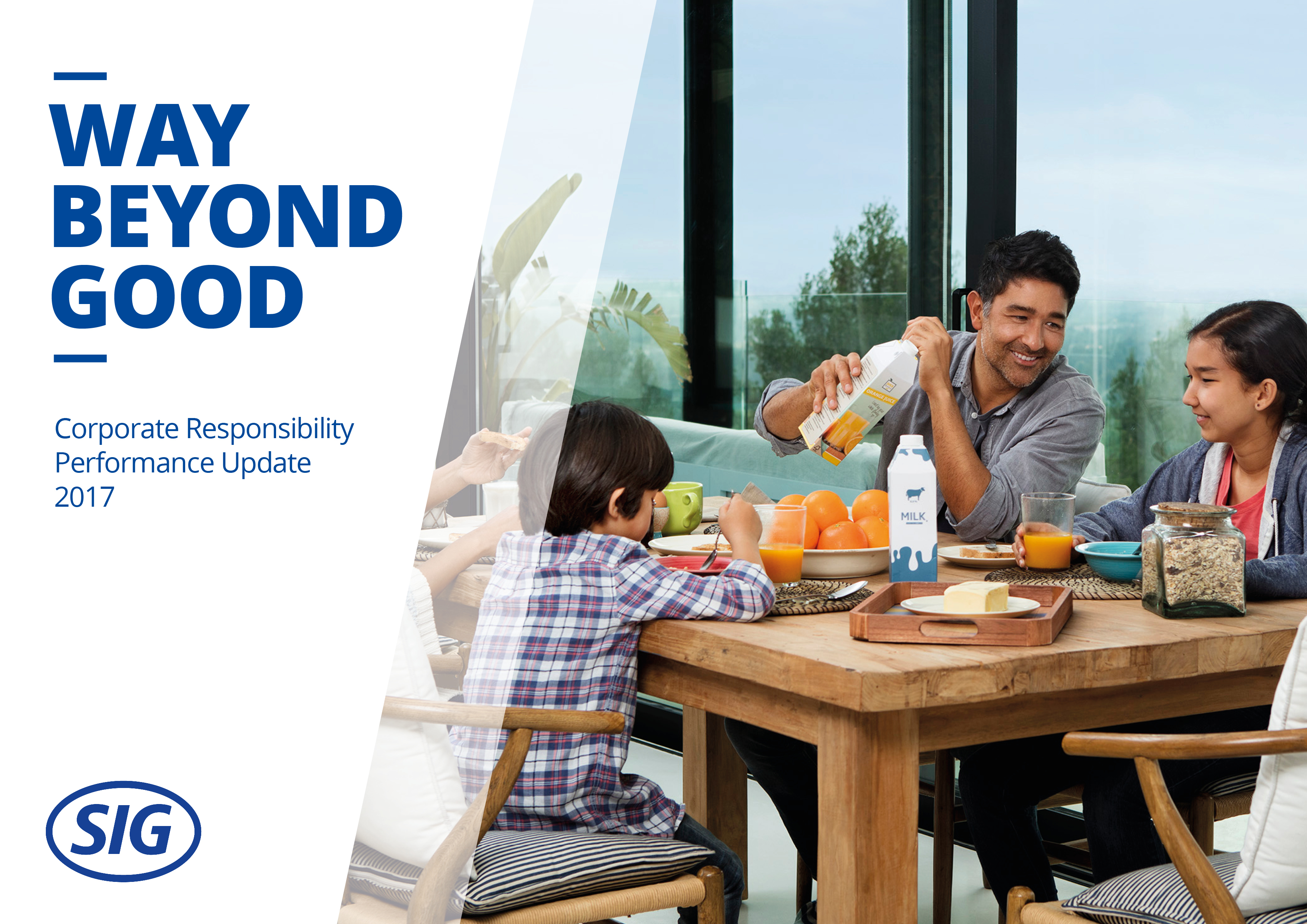 SIG's Corporate Responsibility (CR) Performance Update for 2017, reports progress on its bold "Way Beyond Good" ambitions to contribute more to society and the environment than it takes out.
CEO Rolf Stangl said:
"Our bold Way Beyond Good ambitions are driving progress across all three of our responsibility pillars: company, sourcing and products. We have a long way to go, but I am enormously proud of the strides we have made in 2017. The latest rating from EcoVadis recognises our progress, placing SIG in the top 1% of the 30,000 or more businesses assessed on wide-ranging corporate responsibility topics."
Partnering for progress
The CR Performance Update reinforces SIG's commitment to the principles of the United Nations Global Compact and emphasises its support for the Sustainable Development Goals (SDGs).
SIG stood alongside the Forest Stewardship Council (FSC) and other leading businesses in 2017 to pledge support for the Vancouver Declaration to ensure their use of forest materials contributes to the SDGs.
Through initiatives such as the Net Positive Project, SIG continues to work with partners to help drive progress in its own business and beyond. The company is also inviting input from external stakeholders through its new Responsibility Advisory Group.
Commitment to transparent reporting
Transparency is integral to the firm's ethos as a responsible company. The company is committed to report regularly on performance related to its most material corporate responsibility issues, as identified through a detailed materiality assessment.
The CR Performance Update for 2017 provides an interim report on progress against the 2020 targets set out in the firm's responsibility roadmap, including data on key performance indicators and key achievements from the year. It supplements the companies biennial full Corporate Responsibility Report, produced in accordance with guidelines from the Global Reporting Initiative, which offers more detail on how SIG manages social and environmental issues.
Head of Corporate Responsibility Michael Hecker said: "The CR Performance Update tells our story of the year. It showcases what we have achieved, but it also shows where we have more work to do. I am looking forward to reporting further progress in our full CR Report next year."
The firm's 'Way Beyond Good Corporate Responsibility Performance Update 2017' can be accessed at: http://www.sig.biz/responsibility/way-beyond-good/reporting-on-our-progress
Red Dot Award


Hygienic solution wins price
The WLX, one of FlexLink's hygienic transport solutions and part of the FoodTech offer, won the German Innovation Award within the "Machines and Engineering" category.
The WLX is a safe, clean, wide belt solution with rounded corners and flat surfaces to maximize the hygienic design. Since hollow bodies and crevices are eliminated, pathogens and contaminants do not risk to get trapped, lowering the need of water and detergents in the cleaning process.
The German Innovation Award, was handed out by the German Design Council, whose task is to identify significant and powerful product innovation. The feedback on the WLX has been positive ever since it was launched in 2014, winning several prices before the Innovation Award, including the Red Dot Award, the iF Award and the German Design Award.
At the 2016 Red Dot Award, competing with 5000 products from 57 countries, the FlexLink solution got an "Honorable mention" by the 41 expert's strong, global expert-jury. One year later the WLX won one of the most prestigious and largest design competitions in the world, the iF award, that has been an institution ever since 1953, becoming a symbol of quality and trust.
The WLX adheres to EHEDG and 3A design guidelines and addresses the higher hygienic requirements associated with primary and secondary packaging, setting new standards for cleaning results and cleaning process time in the food industry.
Business Unit Food


Clemens Berger heads Bosch Packaging Technology
On October 1, 2018, Clemens Berger took over the position as head of Bosch Packaging Technology's Business Unit Food. He succeeds Dr. Stefan König, who was temporarily responsible for the tasks alongside his role as president of Robert Bosch Packaging Technology GmbH. "We are delighted to have brought on board an industry expert like Clemens Berger to further strengthen our market position in the food industry," König says.
Berger brings with him extensive experience: from October 2015 he was CEO of Medipak Systems GmbH in Hamburg, Germany, whose products include packaging and inspection technologies for the pharmaceutical industry. Prior to that he held various management positions at Krones AG in Neutraubling, Germany, a manufacturer of packaging technology for liquid food and beverages. Most recently he was responsible for the Business Line Primary Packaging.
"I am looking forward to working with a dedicated team and am excited about the new tasks that await me. The excellent product portfolio is a great basis for successfully developing the Business Unit further," explains Berger. Bosch Packaging Technology's Business Unit Food has more than 3,000 employees worldwide and generates an annual turnover of more than 600 million euros. The Business Unit is a leading global supplier of machines, systems and solutions for horizontal and vertical primary and secondary packaging technology, filling and closing machines for liquid food, as well as process technology for confectionery production. The Business Unit Food is headquartered in Beringen, Switzerland.
FachPack 2018


Positive business trend at Multivac
As part of a press breakfast at FachPack, Hans-Joachim Boekstegers, Director and CEO of Multivac, gave an overview of the current development of the business as well as the packaging trends at Multivac and the company's product highlights on the exhibition stand.
"Contrary to the general market trend, our business continues to develop well," explained Hans-Joachim Boekstegers. "Our production capacity is fully utilised and we are seeing very positive development in all the company's business units. Following 2017, in which our turnover reached virtually the 1 billion euro mark, we are now expecting in the current business year an increase in turnover of up to ten percent. There are however many economic and political risk factors and challenges, which will have an impact on our business in the coming year – these include the isolationist policy of the US Government, the consequences of Brexit, increasing nationalism in countries such as Italy and Poland, protectionist tariffs and highly fluctuating raw material prices."
Opening of the new production site in Bulgaria
In June the official opening of the first production facility in Eastern Europe was celebrated in Bulgaria – and this further expanded the company's global production network. The Bulgarian site, which is located close to the capital Sofia, comprises a factory building for the production of parts for the Group, a state-of-the-art warehouse and logistics centre, a training facility and an administration building. In addition to the Bulgarian Sales and Service company, an international Shared Service Centre for IT, Strategic Purchasing, Design and Service is also housed in the new complex. "Working on a treble-shift basis, our highly qualified personnel are now producing machine parts and modules. There we are using state-of-the-art turning and milling machines, just as we also use at our headquarters in Germany. All our capacity is now fully utilised," explained Hans-Joachim Boekstegers.
EU Plastics Strategy
Thanks to Multivac's existing packaging technology, it is already possible today to have pack concepts, which provide reduced consumption of resources as well as dramatically increased recyclability. "Our machines are designed in such a way, that they can run a wide range of packaging materials with ease. We are also consistently striving to reduce the packaging material used in the production of packs, by utilising specific equipment options and optimised pack design. And last but not least, we are working with leading packaging material manufacturers to develop new packaging concepts, such as for example the use of recyclable materials like mono films or fibre-based packaging materials," said Hans-Joachim Boekstegers.
MultiFresh PaperBoard vacuum skin packs
PaperBoard offers a wide range of solutions for producing packs based on paper fibre, which can fully meet the requirements of recyclability. Thje company works with leading manufacturers on suitable materials, which can be run on standard packaging machines. The thermoforming packaging machines and traysealers can be individually customised to the particular output requirements of customers. The carrier material can be run in the form of either rolls or pre-cuts, and pre-made trays can also of course be used. All the materials can be separated into their respective parts by the end user, and the paper carrier and plastic film can then be put separately for recycling.
Full-wrap labelling offers a wide range of design options
The trade fair highlights also include a labelling solution for the D labelling of packs, which is marketed under the name "Full-wrap labelling". As with a banderole or sleeve, the label is completely wrapped around the pack, and this offers many possibilities for different types of pack design, as well as increasing the attractiveness of the packs at the point of sale. In conjunction with UPM Raflatac, the company has defined a standard range of label materials, which can be run on the L 310 conveyor belt labeller as printed full-wrap labels.
Added value through digitalisation
Multivac is demonstrating its expertise in digitalisation and Industry 4.0 at the trade fair with the new X-line generation of thermoforming packaging machines. Thanks to its comprehensive sensor system, the X-line is equipped for digitalised production and future technology, and it sets a new benchmark in the market.
Packaging concept for medical and pharmaceutical products
With Snapsil the company is showing an innovative packaging concept for medical and pharmaceutical products, which is ideally suited to packing products such as syringes, tablets, plasters, injectors, catheters etc. With their integrated "snap-opening" function, Snapsil packs offer an innovative opening aid, which enables the packs to be used more easily, even by elderly or disabled persons. When it comes to the hectic activity of everyday life in hospitals and care homes, it is simple and quick to open the packs and remove the product easily in a controlled way. Snapsil packs can be produced on Multivac thermoforming packaging machines and traysealers.