Corporate Responsibility Performance


Way Beyond Good journey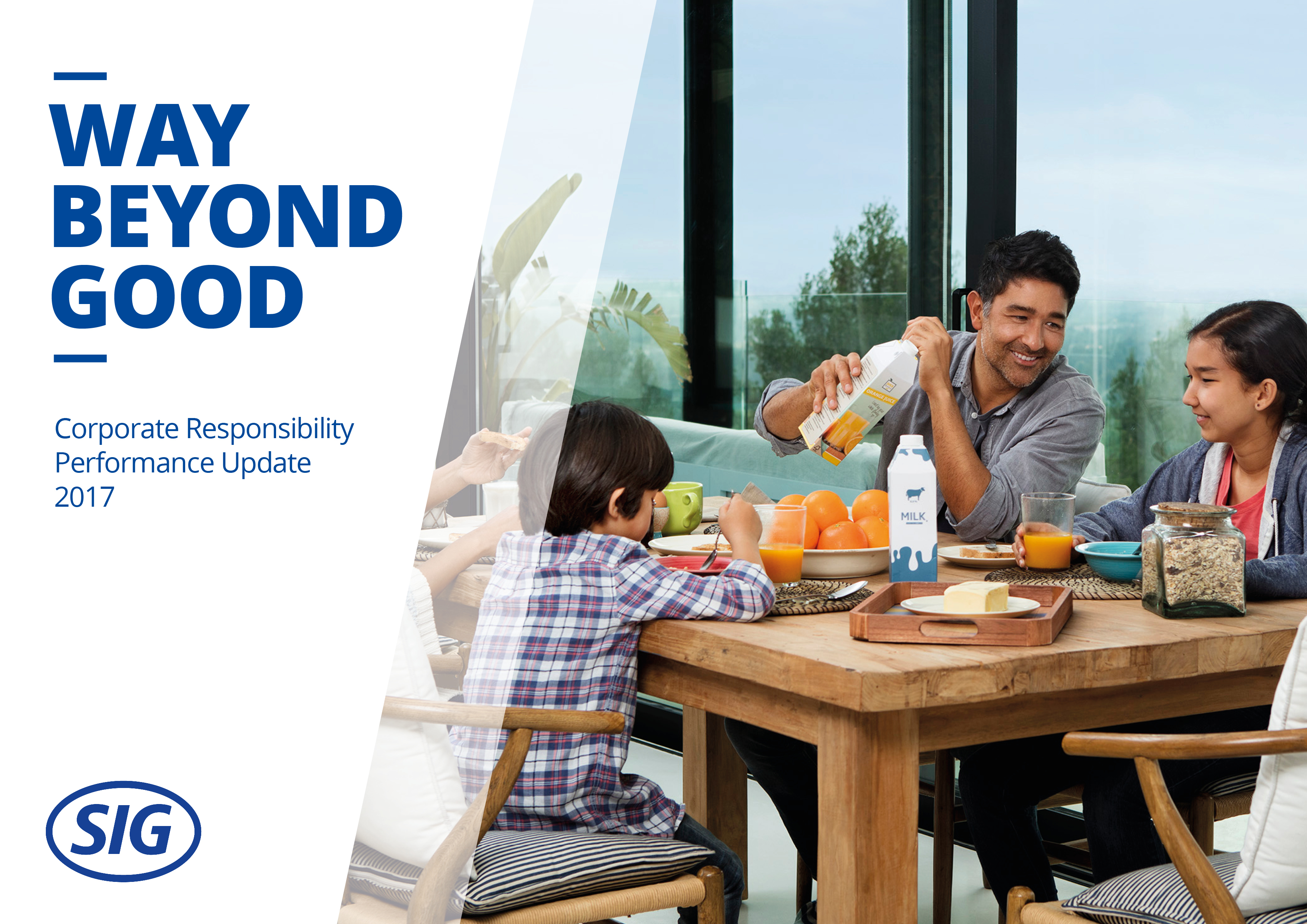 SIG's Corporate Responsibility (CR) Performance Update for 2017, reports progress on its bold "Way Beyond Good" ambitions to contribute more to society and the environment than it takes out.
CEO Rolf Stangl said:
"Our bold Way Beyond Good ambitions are driving progress across all three of our responsibility pillars: company, sourcing and products. We have a long way to go, but I am enormously proud of the strides we have made in 2017. The latest rating from EcoVadis recognises our progress, placing SIG in the top 1% of the 30,000 or more businesses assessed on wide-ranging corporate responsibility topics."
Partnering for progress
The CR Performance Update reinforces SIG's commitment to the principles of the United Nations Global Compact and emphasises its support for the Sustainable Development Goals (SDGs).
SIG stood alongside the Forest Stewardship Council (FSC) and other leading businesses in 2017 to pledge support for the Vancouver Declaration to ensure their use of forest materials contributes to the SDGs.
Through initiatives such as the Net Positive Project, SIG continues to work with partners to help drive progress in its own business and beyond. The company is also inviting input from external stakeholders through its new Responsibility Advisory Group.
Commitment to transparent reporting
Transparency is integral to the firm's ethos as a responsible company. The company is committed to report regularly on performance related to its most material corporate responsibility issues, as identified through a detailed materiality assessment.
The CR Performance Update for 2017 provides an interim report on progress against the 2020 targets set out in the firm's responsibility roadmap, including data on key performance indicators and key achievements from the year. It supplements the companies biennial full Corporate Responsibility Report, produced in accordance with guidelines from the Global Reporting Initiative, which offers more detail on how SIG manages social and environmental issues.
Head of Corporate Responsibility Michael Hecker said: "The CR Performance Update tells our story of the year. It showcases what we have achieved, but it also shows where we have more work to do. I am looking forward to reporting further progress in our full CR Report next year."
The firm's 'Way Beyond Good Corporate Responsibility Performance Update 2017' can be accessed at: http://www.sig.biz/responsibility/way-beyond-good/reporting-on-our-progress
Brewery


Gloriously glacial gratification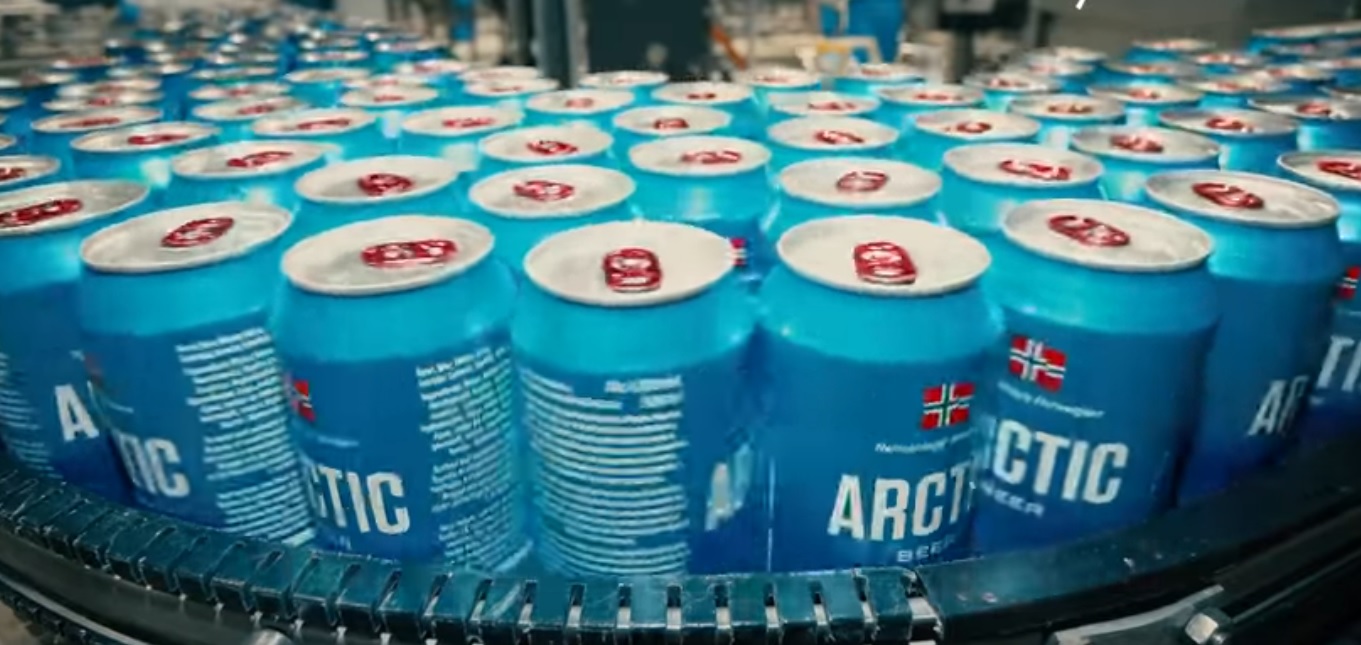 When it comes to brewing, the Mack Brewery in Norway has long since been putting its trust in Krones' technology, most recently for canning as well. This means Krones is handling the brewery's core remit, since cans account for over 90 per cent of total beer sales.
Packaging Equipment Market Past $78 Billion by 2022


Technology Innovation Spurs Food & Beverage Processing
Growth in the global food and beverage processing and packaging equipment market looks promising over the next four years. Frost & Sullivan's latest analysis reveals that improved economic conditions in emerging nations, changing dietary preferences globally, and a rising demand for nutritious and ready-to-eat food products are driving demand for food processors and boosting growth in the packaging equipment market. The global food and beverages processing and packaging equipment market is expected to expand at a CAGR of 4.1% from 2017 until 2022 and reach $78.6 billion.
"With increasing food and beverages product demand and a growing emphasis on food safety, food processors are reliant on equipment manufacturers to provide processing and packaging equipment that is agile and utilizes advanced technologies to minimize energy usage, operate at a higher efficiency, and improve yield," said Arun Ramesh, Team Lead, Agriculture and Nutrition, Visionary Science, Frost & Sullivan.
The global demand for food products has led equipment manufacturers to acquire, merge, and partner with companies to leverage technology innovation. To remain competitive in an evolving market, Ramesh recommends that players create smarter products by investing in new capabilities such as advanced data and analytics, robotics and automation, and extend their capabilities to offer full solutions, including installation, monitoring, services, and integration. Additional factors imperative to growth include:
Equipment manufacturers upgrading to advanced machinery for processing and packaging to cater to changing consumer preferences and consumption patterns
Using machine learning and other tools to predict process delays, make improvements to engineering and optimize equipment design
Refreshing operating models with an emphasis on enhanced after-sales and growth-focused strategies
Global Food and Beverages Processing and Packaging Equipment Market, Forecast to 2022 market intelligence examines global growth opportunities in the food and beverages processing and packaging equipment market in detail with an emphasis on key growth factors across end-application segments, global and regional market trends, technologies, and product innovations.
Hose Solutions


More Food Safety at Christmas Markets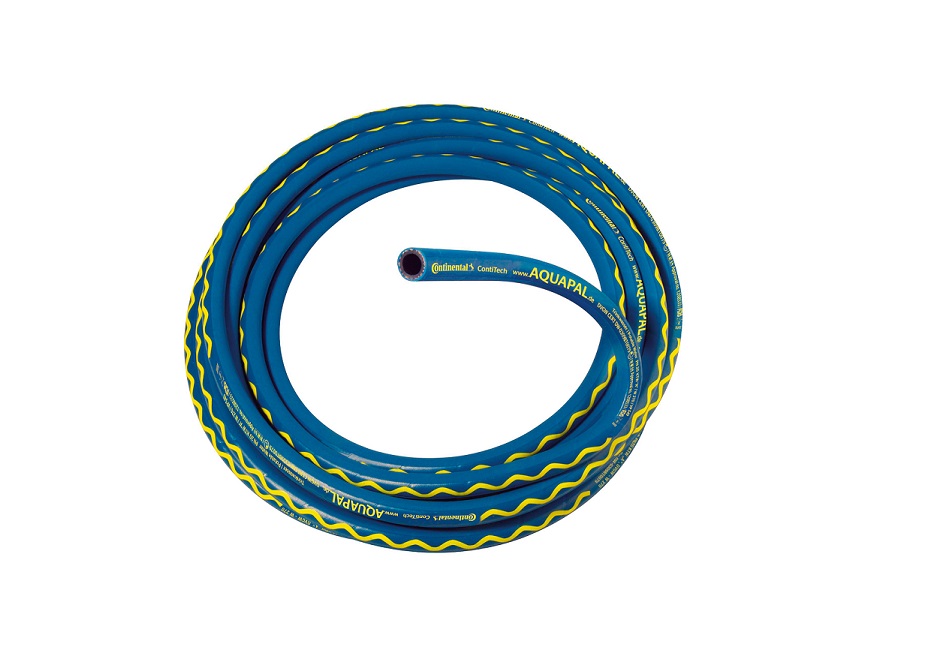 Who doesn't enjoy spending a congenial evening together with friends, colleagues or the family at a Christmas market? Not only do Christmas markets have a very special atmosphere with their illuminated stands, the scent of burnt almonds and mulled wine booths, they are also a long-standing tradition in German-speaking countries. As long ago as the 14th century, toy makers, basket weavers and confectioners were permitted to offer the small items for sale at markets during the Advent period that children were given for Christmas; roasted chestnuts and other nuts including almonds were also said to have been sold. Today, the markets are a firm fixture in the run-up to Christmas, and the 1,500 large and around 1,000 smaller Christmas markets in Germany attract more than 85 million visitors a year, according to the Deutscher Schaustellerbund e.V., the organization representing the market traders. In addition, German-style Christmas markets also take place in many other countries around the world. For instance, a "Christkindlmarket" based on the traditional Nuremberg market has been held in Chicago since 1996, while the Frankfurt Christmas market has run a UK offshoot since 2001 in Birmingham that pulls in almost six million visitors every year. European-style Christmas markets have even established a foothold in China. The most authentic Christmas market can be found in Shanghai, where the visitors can enjoy, among other things, German lebkuchen (spiced biscuits), German bratwurst (fried sausages) and, of course, glühwein (mulled wine). After all, what would a visit to a Christmas market be without mulled wine?
Cloves, cinnamon and citrus fruit
In Germany, the Christmas market world champion, market researchers estimate that some 50 million liters of mulled wine are drunk each year. Much of this popular winter drink is delivered via wholesalers to the Christmas markets in huge barrels, each holding up to 1.000 liters. Hoses are an essential flexible transport link to transfer the wine into the barrels. Very strict regulations and hygiene specifications are in place to prevent the contents from being contaminated. High-quality materials, extruded inner linings for a longer service life and comprehensive quality controls ensure that Continental beverage hoses are safe, durable equipment. They meet all the statutory regulations and hygiene requirements applicable to food and beverage hoses. They are easy to clean and disinfect. Their homogeneous white inner lining is odor and taste-neutral, which means the special spiced aromas of the mulled wine are not impaired.
Mobile drinking water supply for hygienically clean mulled wine mugs
Mulled wine mugs with winter motifs are very typically available at Christmas markets. For some Christmas market visitors they are very popular as souvenirs, so not every mug finds its way back to the booth. Cold or hot drinking water has to be available at the market booths so that the mugs – as required by food hygiene regulations for glasses, cutlery and other equipment – can be thoroughly washed. The hoses used to deliver water must be approved for carrying drinking water and must be correspondingly marked. They must also be undamaged. The Aquapal hose from Continental has been tested by accredited institutes and is one of the very few hoses on the market that is also approved for carrying drinking water in accordance with the new version of the Drinking Water Regulations. The excellent flexibility across a broad temperature range and a weatherproof outer rubber lining that is resistant to oils and fats make it an ideal drinking water hose for almost every application – including outdoors.