Corporate Responsibility Performance


Way Beyond Good journey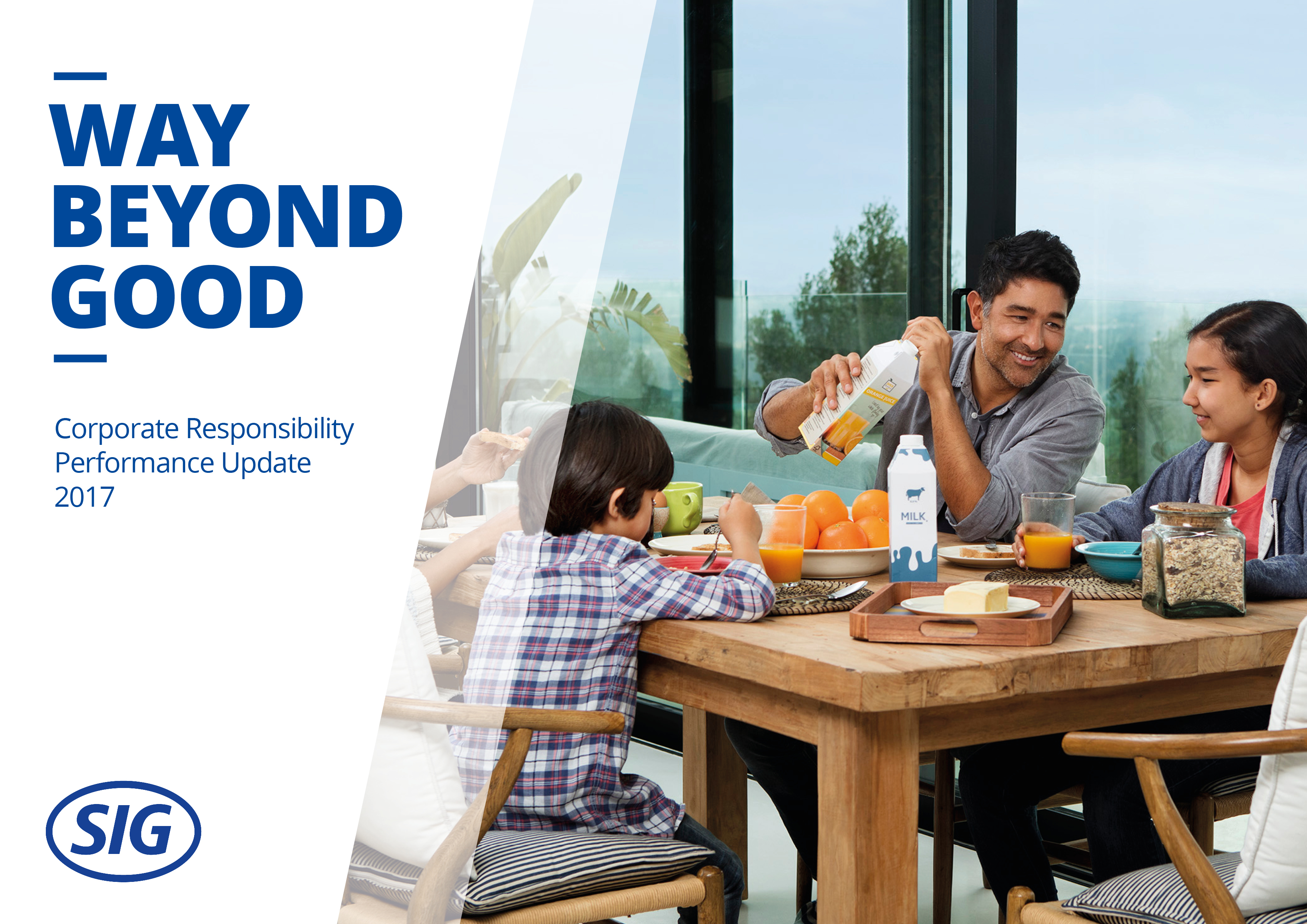 SIG's Corporate Responsibility (CR) Performance Update for 2017, reports progress on its bold "Way Beyond Good" ambitions to contribute more to society and the environment than it takes out.
CEO Rolf Stangl said:
"Our bold Way Beyond Good ambitions are driving progress across all three of our responsibility pillars: company, sourcing and products. We have a long way to go, but I am enormously proud of the strides we have made in 2017. The latest rating from EcoVadis recognises our progress, placing SIG in the top 1% of the 30,000 or more businesses assessed on wide-ranging corporate responsibility topics."
Partnering for progress
The CR Performance Update reinforces SIG's commitment to the principles of the United Nations Global Compact and emphasises its support for the Sustainable Development Goals (SDGs).
SIG stood alongside the Forest Stewardship Council (FSC) and other leading businesses in 2017 to pledge support for the Vancouver Declaration to ensure their use of forest materials contributes to the SDGs.
Through initiatives such as the Net Positive Project, SIG continues to work with partners to help drive progress in its own business and beyond. The company is also inviting input from external stakeholders through its new Responsibility Advisory Group.
Commitment to transparent reporting
Transparency is integral to the firm's ethos as a responsible company. The company is committed to report regularly on performance related to its most material corporate responsibility issues, as identified through a detailed materiality assessment.
The CR Performance Update for 2017 provides an interim report on progress against the 2020 targets set out in the firm's responsibility roadmap, including data on key performance indicators and key achievements from the year. It supplements the companies biennial full Corporate Responsibility Report, produced in accordance with guidelines from the Global Reporting Initiative, which offers more detail on how SIG manages social and environmental issues.
Head of Corporate Responsibility Michael Hecker said: "The CR Performance Update tells our story of the year. It showcases what we have achieved, but it also shows where we have more work to do. I am looking forward to reporting further progress in our full CR Report next year."
The firm's 'Way Beyond Good Corporate Responsibility Performance Update 2017' can be accessed at: http://www.sig.biz/responsibility/way-beyond-good/reporting-on-our-progress
Microwavable Heat&Go carton


Microwaveability solution to carton packs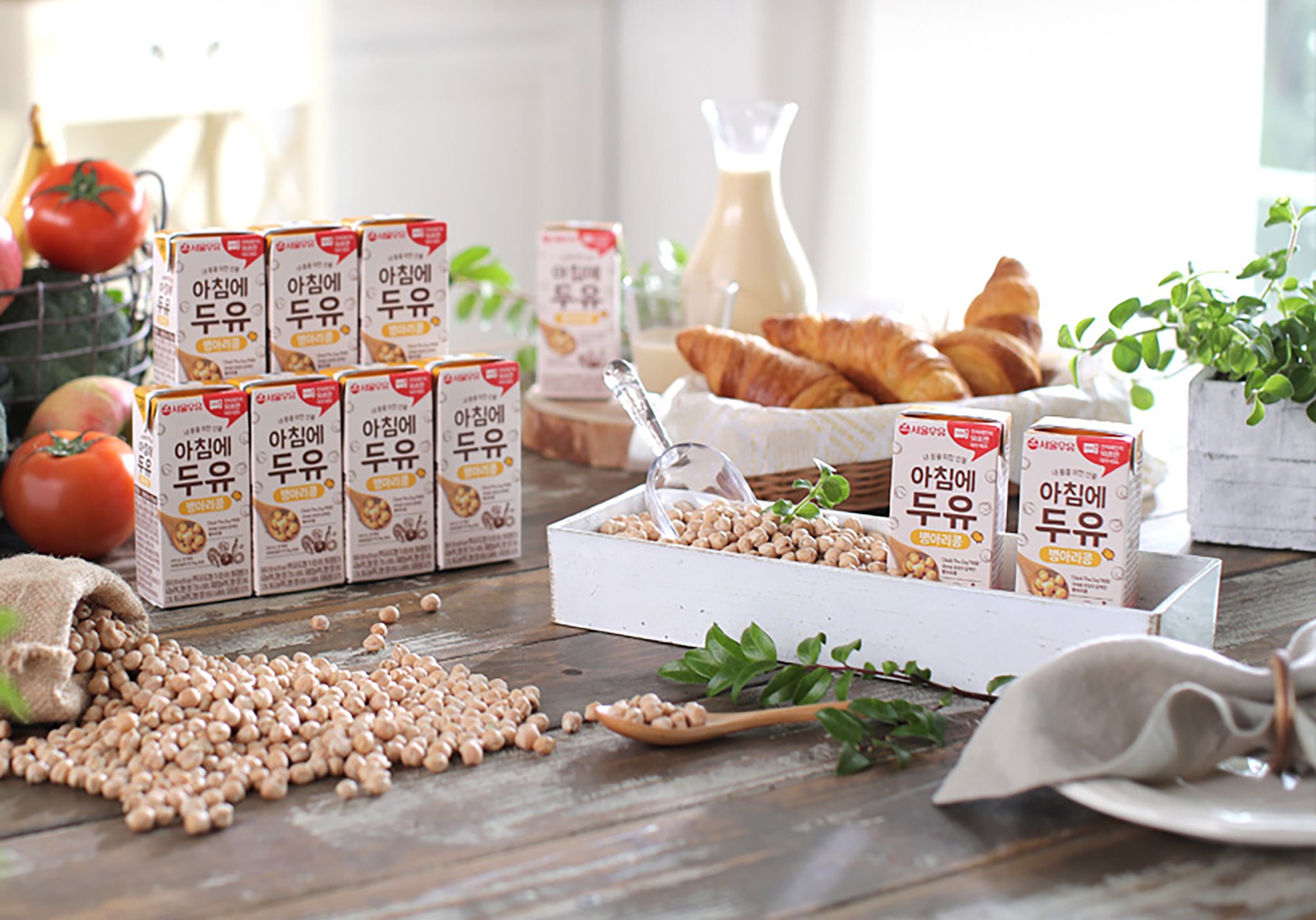 South Korea's Seoul Dairy Cooperative (SDC) is launching 'Achimae' Soymilk (meaning Morning Soymilk), a nutritionally-rich, morning soy milk drink with chickpea protein, designed to be served as a warm, on-the-go breakfast. This is the first product to appear on store shelves in SIG's innovative Heat&Go packaging, with world leading technology of microwaveable aseptic carton pack.
Consumers in Asia prefer hot drinks when it is cold outside, especially when they are out and about. While many such drinks are bought from cafés and convenience stores, this packaging innovation opens up a new channel for hot vending and using microwave ovens in the workplace. The alternative is to first pour a packaged product into a microwaveable or heatable beaker or flask, but that requires pre-planning while being cumbersome and inconvenient especially on-the-go.
The morning chickpea drink, containing a blend of soy milk, fruit and vegetables, is currently sold online through home shopping channels and is now expanding into grocery and convenience stores. It has already received considerable acclaim for its high nutritional content. It delivers high protein content with chickpeas, soymilk, cabbage, tomato, broccoli, carrot, apple and banana, blended together in a convenient 200ml combiblocMini microwaveable pack.
The carton can be heated up to 60°C although most drinks taste best at around 50°C. A fail-safe mechanism has been incorporated into the package, so that if the product was overheated in the microwave, excess pressure would be released with gradual opening of the top seal preventing sudden ruptures.
Beverages can be filled in Heat&Go carton packs on standard SIG filling machines with a simple upgrade so that the filler can run standard and aluminum-free material interchangeably.
State-of-the-art line integration


Plant integration increases plant efficiency
Germany, a traditionally strong beer-producing and -drinking country, where selecting a beer brand is often a very emotional choice – almost a form of regional patriotism – has numerous regional breweries and microbreweries that produce speciality beers. One of these regionally very popular brews is the Rothaus Pils Tannenzäpfle, produced by Rothaus Brewery, successfully on the market since 1956.
High-quality beer calling for continuous investments
Today, the Badische Staatsbrauerei Rothaus AG (Baden State Brewery Rothaus) is recognised as a notable example of success; the reasons for that lie in the premium quality of its beer, the foundation of which are modern brewing facilities. The bottling facility at Rothaus has some of the most advanced technologies available. This is how the brewery can satisfy the high requirements of sanitation and guarantee that customers will always be able to enjoy high-quality beer.
Gebo Cermex, long-term partner in line engineering
As a case in point in their continuous investment strategy, Rothaus decided to work together with their longstanding partner Gebo Cermex to solve the most recent challenges the brewery was facing. They wanted to replace an ageing bottling line – which in the medium term could no longer guarantee the high hygiene and quality standards of the company. Additionally, they were receiving many returnable glass bottles from other producers that they could not process according to the top productivity control routines they have, as such potentially compromising the high efficiency target of their new filling line. The latter situation was proving particularly harsh in the summer season, when the infeed of bottles typically increases, while the number of operators at the brewery is reduced.
The Gebo Cermex team supplied the integration services for setting up a new sorting and a new bottling line. Working closely with the customer, the company managed to fully integrate 30 different machines from more than a dozen different suppliers, creating a new line that can sort an impressive 3,200 crates per hour and bottle up to 76,800 bph. Additionally, Gebo Cermex provided the crown feeders and the conveying components, including pallets management within the brewery.
Maximum uptime regardless of irregular bottles
The Gebo Cermex solution is able to deliver reliability and efficiency nearly regardless of the percentage of irregular returnable bottles. This means the crates can contain, on average, 40% and in peak times up to 80% of bottles from other producers without causing issues. In addition, the sorting line can run at 85% efficiency in twelve different modes to sort bottles and crates, fill used or new crates – with used or new bottles – and create stocks of empty crates. All of that contributes to a performance increase of the bottling lines, with the one installed most recently working at 90% efficiency.
Advanced design


Modern dairy processing plant
Gea has worked with Almarai Company in Saudi Arabia to build the nation's largest and most modern dairy processing facility. The new plant at Al Kharj includes multiple production lines for a wide range of milk and yoghurt products. It has the capacity to process two million liters of milk a day.  The project has already been successfully completed and the plant is in operation.
Key features of the plant at Al Kharj include separators with integrated direct drive that have fewer moving parts and so reduce friction losses. They also use asynchronous motors that are extremely robust for maximum machine availability. To reduce the environmental impact and energy consumption, the plant is equipped with the firm's latest energy recovery technology.
Furthermore, the company has built in the latest control systems and operating protocols in line with Industry 4.0.  These include the interoperability of the equipment, the transparency of information, autonomous decision making where possible and the highest level of technical assistance. Gea's Management Execution System captures data such as KPIs and utilization levels to allow comprehensive monitoring of the entire plant operations and energy usage. The plant also features end-to-end track and trace for ultimate quality control and a plant-wide uninterruptable power supply.