Wastewater management and hydrogen supply
Intensive research and development work is at the heart of decarbonizing industrial production and implementing the circular economy. At FILTECH 2023, international universities, research institutions and companies will show how the green transformation can succeed – including current contributions from the Fraunhofer Institute for Ceramic Technologies and Systems IKTS. The industry of the future is low-carbon and circular.
Lectures, presentations, poster sessions: Scientific exchange is traditionally the focus of the FILTECH congress area. Numerous research institutes stand with their contributions at FILTECH 2023 for a program that guarantees valuable information from all areas of the industry. From February 14 to 16, 2023, the most important international meeting place for filtration and separation of all types of media will again take place at the exhibition center in Cologne.
Visitors to FILTECH find out about trends in research and development. The importance of filtration and separation for the green transformation of the industry is illustrated by two contributions from the Fraunhofer Institute for Ceramic Technologies and Systems IKTS (Fraunhofer IKTS). Together with partner institutes, the institution has founded a test and innovation platform for the treatment of industrial wastewater, in the context of which innovative water treatment technologies and forward-looking circular concepts for water use are being tested under real-life conditions. The platform on the plant site of the Bitterfeld-Wolfen joint wastewater treatment plant in Germany comprises several test containers and flexibly usable test facilities for the development, testing and transfer of new technologies for the desalination of water, the recovery of process chemicals and raw materials, and water from complex industrial wastewater.
Fraunhofer IKTS will also present research results for the establishment of a hydrogen economy at FILTECH. Researchers at the institute have developed a technology based on carbon membranes that can be used to efficiently separate hydrogen and natural gas. The membrane technology thus makes it possible to transport the two substances together through the natural gas network and to separate them from each other at the destination according to demand. Due to their high stability even at high temperatures, the carbon membranes are also suitable for separating carbon dioxide from industrial gases.
Innovation Guide for filtration and separation
The special feature of FILTECH is the combination of trade fair and congress: Current research results are as much part of the program as market-available innovations. The Innovation Guide provides an overview of all the solutions on display for current and future challenges: It shows visitors targeted filtration and separation solutions for all industries. To prepare for the visit, the guide is available on the FILTECH website.
After more than 14,000 visitors last time, the organizer expects even more participants at FILTECH 2023 – both in the exhibition area and at the congress. In a dynamic environment, FILTECH thus continues to maintain its role as a focused trade show with comprehensive information on all aspects of filtration and separation. Visitor registration is open; until January 14, 2023, visitors benefit from an Early Bird offer.
FILTECH 2023 – the facts
Venue: Cologne Exhibition Center (Germany), Halls 7 and 8
Event date: Tuesday, February 14 to Thursday, February 16, 2023
Exhibition frequency: every 1.5 years
Opening hours:
February 14: 9 a.m. – 6 p.m.
February 15: 9 a.m. – 6 p.m.
February 16: 9 a.m. – 5 p.m.
Decarbonisation and Sustainability Targets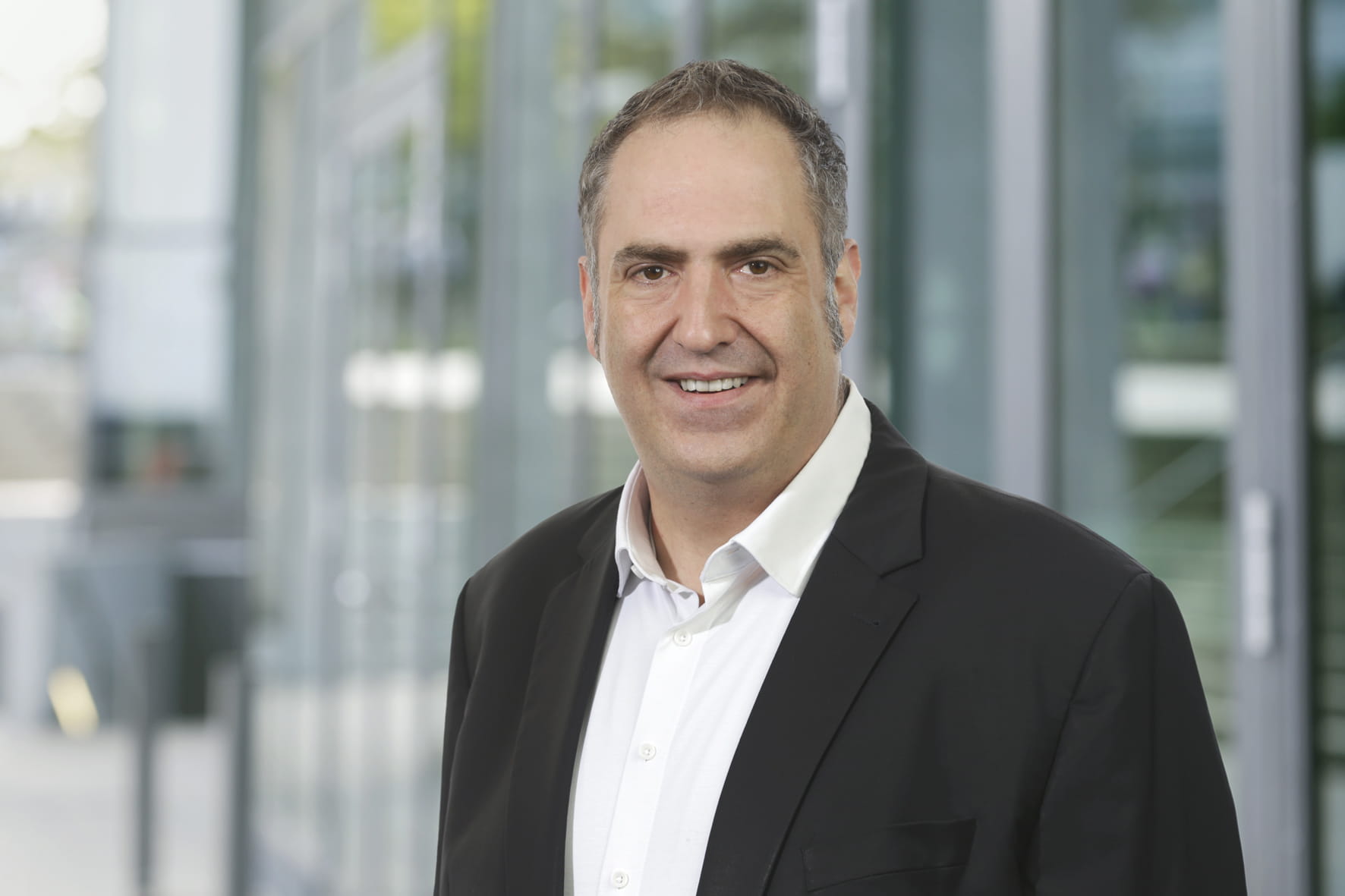 TÜV SÜD provides a wide range of services to support companies aiming to gain compliance with statutory carbon reduction requirements and achieve further-reaching decarbonisation and sustainability objectives and targets. decarbXpo, held in Düsseldorf in Germany from 20–22 September 2022, will provide the setting where the experts from the testing, inspection and certification company will present their products and services – from "C" for "carbon footprint" to "V" for "veriX". (Hall 9, Stand C36)
ts-pr-thore-lappIndustrial operations account for over 40 per cent of global carbon emissions. Given this, the sector will need to introduce fundamental change if global targets for sustainability and decarbonisation are to be achieved. The dual drivers of this change are increasingly rigorous statutory requirements on the one hand, and companies' own ambitious targets on the other. "Many sectors of industry and companies are now aware that they can notch up a significant advantage over their global competitors by proactively pursuing sustainability and decarbonisation targets", points out Thore Lapp, Manager of TÜV SÜD's Business Unit Green Energy & Sustainability. A prime example is the steel industry, currently the scene of an intense race to maximise the sustainability of production processes.
TÜV SÜD supports companies in the majority of sectors with an extensive portfolio of services that enables them to furnish proof of their implementation of statutory requirements and assists them in realising and documenting their own decarbonisation plans. These services include verification of carbon footprints, carbon neutrality certification in accordance with the global PAS 2060 standard, greenhouse gas inventories under the ISSC and REDcert2 schemes and comprehensive sustainability assessments based on the United Nations' Sustainable Development Goals (SDGs). TÜV SÜD's veriX Edition product family, an in-house development, provides further options for companies to validate the carbon footprint of production processes and document their progress towards decarbonisation from a defined baseline.
Talks given by TÜV SÜD at decarbXpo
How local carbon emissions are verified, and future improvements become visible through validation, Gerhard Kirner, 21 September 2022, 11:30 am, Hall 9, Forum 1;
Hydrogen Supply – Approaches for trading green hydrogen in line with the market, Michael Landspersky, 21 September 2022, as part of the Hydrogen Session, 11:40 am to 2:10 pm, Hall 9, Forum 2
Selig Group Presents Largest Range at Fachpack
Selig Group is pleased to announce its largest range of flexible packaging, liners and vents is on show at Fachpack 20022, offering manufacturers even more choice. From Selig's Ecoflex highly recyclable flexible packaging and newly available in Europe PreVentorTM Press-Fit vents to the expanded range of foam liners, there is a packaging solution for every requirement.
Selig Ecoflex flexible packaging
On stand is Selig Flexibles' highly recyclable solution, Ecoflex, that is proving popular with baby food, confectionery, snacking, and pharmaceutical manufacturers alike. A range of trials were run with customers in 2021 that have resulted in them making the switch to more sustainable packaging. Selig's Ecoflex flexible solutions are made from a PP single-material packaging material for recycling (cold seal applications), that is made of recyclable polypropylene and that provides an excellent barrier against oxygen, water vapour and most mineral oils.
Ecoflex can be processed at high speed on most packaging equipment and thermal damage is avoided, due to the cold seal application. The packaging also offers very good puncture resistance, and thickness differences in overlap seams are well compensated. In addition, the printed packaging is detectable in most sorting plants in Europe and can be assigned to the PP recycling stream and recycled. Thus, valuable plastic is recovered from the packaging material.
Expanded range of liners
Following recent acquisitions, such as MGJ – a leading supplier of foam-based liners worldwide, Selig Group, now offers one of the most extensive ranges of primary seals, induction seals, glue applied, induction bond and vented sealing solutions. On stand at FACHPACK are the company's oenosealÒ, tresyleneÒ and Uni-FoamÔ liners. Oenoseal offers wine producers the ability to seal screwcap bottles cost-effectively, whilst helping the wine to age to perfection. Tresylene, an expanded polyethylene foam coated on each side with a polymer film, can be tailored to suit the specific the barrier requirements of the pharmaceutical, cosmetic and agrochemical markets. Uni-Foam, a robust, non-absorbent expanded polyethylene lining material, is compressible and resistant to microbial growth. It offers a highly efficient and reliable barrier to aqueous, acidic, or oil-based liquids.
Pushfit vents
Selig has begun stocking the company's highly successful push fit PreVentorTM Press-Fit vents in Europe. The range has been developed to allow containers to breathe and equalise pressure, without risk of leakage or contamination. Developed around Selig's world-class package venting design, the vents not only resolve off-gassing problems but can be used to lightweight packaging.
Holger Alvensleben, Sales Director at Selig Flexibles, comments: "We are bringing our biggest range of packaging solutions to this year's Fachpack. Producers can now resolve their sustainable packaging, sealing and container bloating and paneling issues more easily and quickly."
Solutions for sustainable supply chains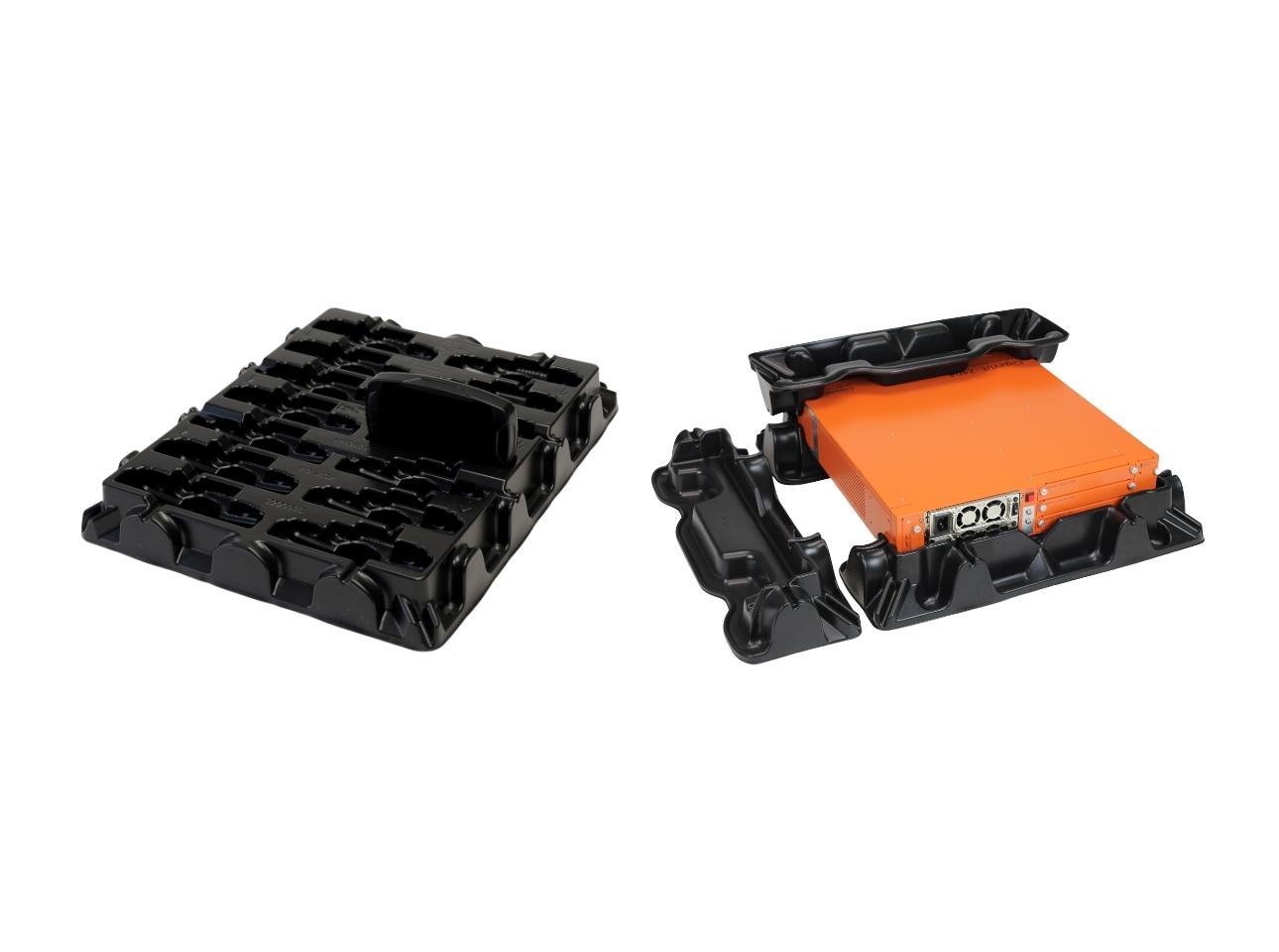 Nefab, a leading global industrial packaging and logistics services company, will present at Fachpack 2022 (September 27-29, 2022, Nuremberg, Germany) complete packaging solutions that can help optimize and future-proof supply chains. With a focus on saving resources in supply chains – both financial and environmental, Nefab will showcase at booth no. 515 in hall 9 its recyclable thermoformed plastic and fiber-based products as well as digital logistics solutions paving a way for the economy of tomorrow.
"Taking care of the world's natural resources has always been a part of Nefab's heritage. We have set the objective to create a range of packaging and logistic solutions to support the transformation of modern supply chains to become more sustainable and environmentally friendly. To set an example, by 2026, Nefab plans on saving 10 million CO2 emissions in customer supply chains", said Oscar Gestblom, EVP People and Brand, Nefab Group.
Going digital saves costs
Reducing the number of materials and resources needed to design and ship packaging is one of many ways businesses can generate savings while minimizing their green footprint. An efficient way to reduce the use of resources is to add connectivity to returnable flows and pools and this way boost efficiency by as much as 65%, hence contributing to saving resources in the supply chains. With a broad portfolio of connected devices, Nefab can trace packaging around the world in real time, measure its temperature, shock, humidity and more to assure the optimal conditions during shipment.
Another digital tool that Nefab will present during the show is GreenCALC, a Life Cycle Analysis (LCA) tool that identifies potential CO2 and cost savings of a packaging solution. GreenCALC looks at the total lifecycle of a material from cradle to grave and calculates the environmental impact for the packaging production phase, transport phase and end of life.
Sustainability refined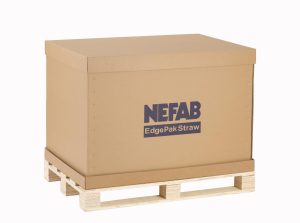 Visitors at Fachpack 2022 can also learn how to generate savings while switching to fiber-based packaging, such as EdgePak Straw, an awarded solution by German Packaging Awards 2022 that provides stacking strength and easy handling at a low carbon footprint. Comparably strong and moisture resistant as plywood, it is a reliable solution not only for light but also heavy cargo and can be used to ship products in demanding supply chains by road, sea, and air. Made from agricultural waste, it is easy to recycle in existing paper streams and minimizes the landfill. To increase safety of the working environment, EdgePak can be handled and assembled without the use of nails or tools.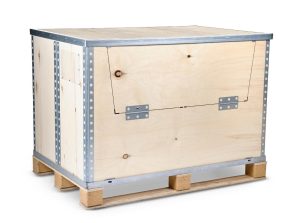 For shipments requiring stronger product protection during transportation to far-away destinations, Nefab also offers RePak, a lightweight plywood box with collapsible hinges to ensure ease of handling, assembly, and recycling. Ideal for large returnable flows, the box is equipped with steel components to reinforce its longevity and strength for multiple uses.
Committed to change
Visitors at Fachpack will also have the chance to discover Nefab's newly launched range of sustainable plastic packaging, including thermoformed trays and cushioning applications. Both made primarily from recycled plastics and 100% recyclable materials, they are an efficient alternative for both one-way flows, as well as return and circular flows. Ideal for automated lines that require precision packaging due to robotic handling, they are engineered to be highly protective and to match specific product requirements and regulations.
These product developments are a result of two important acquisitions between 2020 and 2021 – Szkaliczki and Partners Plastic Processing Ltd (Szkaliczki) and Reflex Packaging (Reflex). While Skaliczki secures Nefab's leading position in technology and engineering capabilities for thermoformed trays, Reflex secures Nefab's global leadership in sustainable cushioning solutions. Combining these new capabilities with Nefab's global footprint, the company can now support customers in managing their packaging waste and creating a truly sustainable supply chain.
"We can collect and regrind the thermoform waste into raw material that can be thermoformed again into the same or different solution. This way we can increase CO2 savings up to almost 60%. With a wide range of both digital and sustainable material packaging solutions, we are innovating to lead the way towards a more sustainable tomorrow", stressed Oscar Gestblom.
If you want to learn more, visit Nefab's booth no. 515 in hall 9 at Fachpack 2022 in Nuremberg, Germany, from 27th to 29th September.