Plus Axitinib Combination


Treatment of Patients with advanced renal cell carcinoma
Merck and Pfizer announced that the European Commission (EC) has approved Bavencio (avelumab) in combination with axitinib for the first-line treatment of adult patients with advanced renal cell carcinoma (RCC). The approval was based on positive interim results from the Phase III Javelin Renal 101 study, which demonstrated that Bavencio in combination with axitinib significantly lowered risk of disease progression or death by 31% and nearly doubled objective response rate compared with sunitinib in patients with advanced RCC regardless of PD-L1 status. The study included patients across International Metastatic Renal Cell Carcinoma Database Consortium (IMDC) prognostic risk groups. Improvement in progression-free survival (PFS) was observed across pre-specified subgroups in patients receiving the treatment combination.
"There is a high incidence of kidney cancer in Europe, and for the most common type, renal cell carcinoma, we continue to need additional treatment options, particularly for patients with advanced disease, where outcomes are poorest," said Professor James Larkin, Consultant Medical Oncologist at The Royal Marsden NHS Foundation Trust and Professor at the Institute of Cancer Research (ICR). "We've seen a demonstrated efficacy benefit and safety and tolerability profile for avelumab in combination with axitinib across all prognostic risk groups in patients with advanced renal cell carcinoma, so today's approval in Europe brings an important option that can help healthcare professionals optimize treatment strategies across risk stratification."
In 2018, an estimated 136,500 new cases of kidney cancer were diagnosed in Europe, and approximately 54,700 people died from the disease.2 Many patients living with advanced RCC do not go on to receive additional treatment after first-line therapy, for reasons that may include poor performance status or adverse events from their initial treatment. The five-year survival rate for patients with advanced RCC is approximately 12%.
"This first European approval of an anti-PD-L1 as part of a combination treatment for advanced renal cell carcinoma builds on our commitment to bringing innovative treatment options to patients with hard-to-treat cancers through our extensive Javelin clinical trial program," said Rehan Verjee, Global Head of Innovative Medicine Franchises for the Biopharma business of Merck. "RCC is the most common form of kidney cancer, accounting for 90% of diagnoses. We are now working to make Bavencio in combination with axitinib available for patients with advanced renal cell carcinoma as quickly as possible."
"The European Commission approval of Bavencio in combination with axitinib has the potential to bring even more patients with advanced renal cell carcinoma a new first-line treatment, and it allows us to continue to deliver on our more than decade-long passion to do more for patients with kidney cancer," said Andy Schmeltz, Global President, Pfizer Oncology. "We thank all of the researchers, doctors, advocates, patients and their families who helped get us here today, and we will continue in our fight against this advanced cancer."
The EC's decision follows the U.S. Food and Drug Administration (FDA) approval of Bavencio in combination with axitinib for the first-line treatment of patients with advanced RCC in May 2019. A supplemental application for Bavencio in combination with axitinib in unresectable or metastatic RCC was submitted in Japan in January 2019.
Additionally, with this approval, the posology section of the Summary of Product Characteristics for Bavencio has been updated. The recommended dose of Bavencio as monotherapy is 800 mg administered intravenously over 60 minutes every 2 weeks. Administration of Bavencio should continue according to the recommended schedule until disease progression or unacceptable toxicity. The recommended dose of Bavencio in combination with axitinib is 800 mg administered intravenously over 60 minutes every 2 weeks and axitinib 5 mg orally taken twice daily (12 hours apart) with or without food until disease progression or unacceptable toxicity.
Syntegon


Processing and Packaging Technology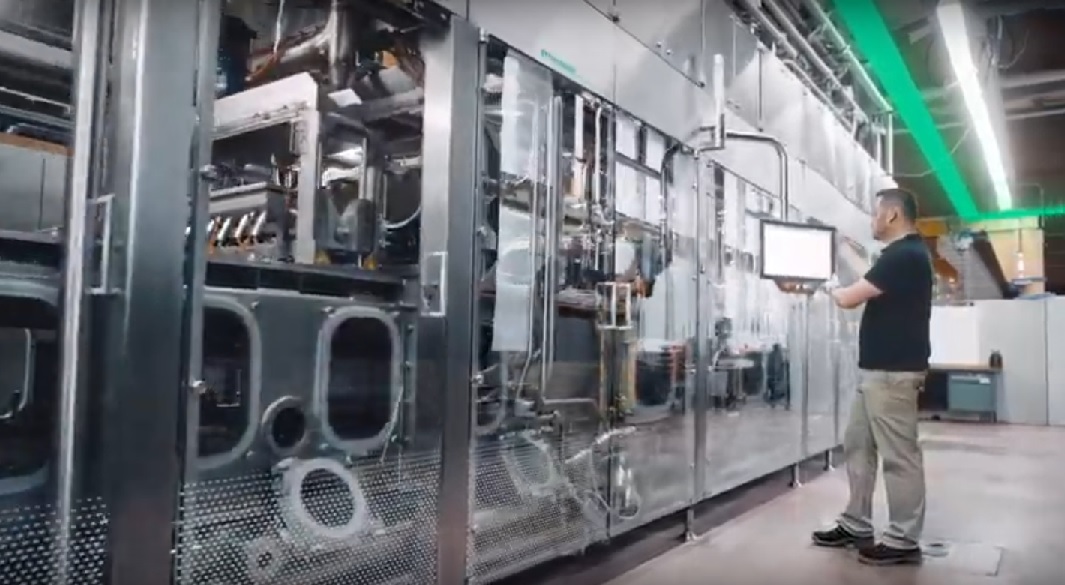 Syntegon – the new name in processing and packaging.
Formerly Bosch Packaging Technology – Today: Syntegon. Your global partner for processing and packaging technology in the pharmaceutical and food industries.
Syntegon is a supplier of process and packaging technology. Wether it is dry, liquid, aseptic, clean or ultra-clean we have the perfect solution to pack your valuable goods and if needed we track them around the world. Processing and packaging for a better life. That´s what Syntegon Technology stands for.
New, cost-effective barrier film addresses industry


Pharma packaging innovation with Aclar Accel
Honeywell unveiled Aclar Accel, a new, cost-effective thermoformable barrier film for pharmaceutical packaging that provides faster service to companies at a lower cost while maintaining patient safety through increased protection for medicines. Aclar Accel, which expands Honeywell's line of Aclar films with two new gauges, was introduced at this year's Pharmapack Expo in Paris.
With two new clear and opaque laminated options for its high-moisture barrier films, Honeywell's Aclar gives companies cost-effective alternatives for product packaging with shorter lead times to increase shelf life, decrease operating costs and protect drugs in climates throughout the world. While the original Aclar is clear and customizable, Aclar Accel 1700 maintains the clarity, but has a standard size that allows for faster production and delivery to companies at a lower cost. Aclar Accel 5400 is designed for opaque laminates and offers an even denser, moisture-rich barrier to companies seeking a more cost-effective solution to protect drugs than cold form foil in aluminum blister packaging, which has higher production costs and slower output.
"Pharmaceutical companies are seeking new packaging technologies that allow them to get their drugs to market faster and reduce operational costs and Aclar Accel addresses those needs," said Ken West, vice president and general manager, Packaging & Composites, at Honeywell. "Companies have trusted Aclar for more than 40 years to provide the highest quality protection for their drugs and Aclar Accel gives them new choices. Now, in addition to the customized options of the original Aclar, they can select standard sizes for packaging with these new films and receive them in half the time."
In comparison to packages made of cold form foil, Aclar enables smaller blister pack sizes that reduce shelf space, usage of raw materials and lower transportation costs. Available in many thickness grades and a wide range of moisture barriers, Aclar provides flexibility to optimize moisture protection across different climate conditions.
Honeywell's Aclar films are based on polychlorotrifluoroethylene (PCTFE) fluoropolymer technology. They are crystal clear, biochemically inert, chemical-resistant, nonflammable, and plasticizer- and stabilizer-free. The films can facilitate increased patient compliance with doctor prescriptions with see-through, portable and patient-friendly pack presentations. Today, Aclar thermoformable films are used in a broad range of markets including originator and generic pharmaceutical, over-the-counter (OTC) pharmaceutical and animal health packaging.
Multivac cooperates with Bell-Mark
With immediate effect Multivac has the exclusive rights to market the Inteli Jet HD series of printing solutions from the US manufacturer Bell-Mark Sales Co. The inkjet printers are based on the piezo technology, and their main features include a large print area and excellent print quality on a wide range of materials. They can either be integrated into new packaging lines or retrofitted to existing ones.
"Bell-Mark is a leading manufacturer of digital printing systems for packaging machines, and the company has established itself as a reliable partner with many of our customers," says Luc van de Vel, Vice President of the MCP (Medical, Cosmetics and Pharmaceuticals) Business Unit, explaining the reasons behind this strategic step. "Thanks to this cooperation, we can now offer high-performance digital printers for challenging requirements within the packaging process, particularly in the sectors of medical products, pharmaceuticals and cosmetics."
The Inteli Jet HD series of printers are drop-on-demand digital printers, which can be configured for either one or two colours or even the full CMYK colour scale. In contrast to CIJ (Continuous Ink Jet) printers, which produce a continuous jet of ink, the nozzles of DoD printers only supply the ink drops that are actually required for the print. This is very efficient and therefore particularly cost-effective.
Thanks to its print resolution of up to 600 x 600 dpi and a printing speed of up to 150 metres per minute, the technology enables texts, logos, variable data and various codes to be printed precisely and cost-effectively on a wide range of materials such as paper, Tyvek, film or aluminium. The high-quality UV inks dry very quickly with state-of-the-art UV LED lights, and the ink spread remains very small even with the coarse-fibred Tyvek material, so that even small icons and text can be reproduced perfectly. The Inteli Jet HD printers are designed for a large print area and can print films either completely or partially with a high level of accuracy. The modules can be fitted with up to twelve printing heads, so that a complete blank film with a width of up to 630 millimetres can be printed.
Companies in the medical and pharmaceutical industries in particular benefit from the printing system's high degree of flexibility, which is becoming increasingly important in view of the requirements of the UDI Regulations as well as serialisation.
All Bell-Mark models can be integrated into Multivac packaging lines. Customers also have the opportunity of having their existing lines retrofitted with the printing system by Multivac.
The printers and the corresponding consumable materials will be marketed by the more than 80 subsidiaries within the Multivac Group. Multivac is the exclusive sales partner of Bell-Mark for all regions worldwide – with the exception of the USA, Canada, Mexico, Puerto Rico and the Dominican Republic. The specialists at Multivac Marking & Inspection will undertake the complete after-sales service as well as the supply of spare parts, consumables and user training. Thanks to their many years of experience in printing with a wide range of technologies, they can ensure that the maximum reliability and durability of all installed solutions is achieved.