GlobalData


Treatment of age-related macular degeneration
The age-related macular degeneration (AMD) market has been dominated by big pharma companies and their pipeline candidates are ensuring a share of this lucrative market, in spite of patent expiries of their highly-priced products, according to GlobalData.
Roche and Novartis' Lucentis (ranibizumab) was the first anti-VEGF monoclonal antibody designed specifically for the treatment of the wet form of AMD. Currently these companies sponsor the highest number of clinical trials to reclaim their top position in the AMD space.
"In recent years Regeneron and Bayer became top sellers in the AMD space with their anti-VEGF, Eylea. However, Novartis is planning to launch its new anti-VEGF, brolucizumab in 2019, while Roche will compensate for its loss through the launch of faricimab, first-in-class bispecific antibody in 2024 designed for the treatment of wet AMD."

Dr. Edit Kovalcsik, Managing Pharma Analyst at GlobalData
While both Bayer and Regeneron are among the top seven industry sponsors of clinical trials in AMD, neither of these companies have an AMD drug in late stages of development (Phase IIb/ Phase III) and GlobalData expects that they will not launch a new product by 2026.
The current AMD market is rather sparse, comprising of only five available drugs in the US, 5EU, and Japan and four in China. One of the marketed anti-VEGFs, Roche's Avastin (bevacizumab), is used off-label for wet AMD, mainly due to its vastly lower price-tag.
Kovalcsik continues: "All three anti-VEGF therapies are highly effective to prevent central vision loss; however, major draw-backs include needing frequent intravitreal (IVT) injections, which results in poor compliance and risk of vision loss. Another problem is the price, which healthcare providers have been trying to minimize through the off-label use of Avastin, which is a cancer treatment."
According to GlobalData's report: 'Age-Related Macular Degeneration: Competitive Landscape to 2026′ the AMD pipeline consists of 236 drugs spanning all stages of development. Drugs inhibiting angiogenesis remain the major focus of drug developers for wet AMD as they account for close to 40% of the pipeline.
Kovalcsik explains: "Companies developing new anti-VEGFs are trying to address the burden of frequent IVT injections on the patient and the physician, as well as on the hospital resources. Novartis' brolucizumab will potentially reduce the dosing frequency for many more patients than currently available anti-VEGF therapies."
The other form of the late stage of AMD is a dry or athropic form, called geographic atrophy (GA), for which no effective treatments are available, and therefore these patients remain underserved.
Kovalcsik concludes: "The AMD pipeline is strong although the attrition rate is high, particularly in dry AMD, for which all drugs have failed at the clinical stage of development.
"Out of the eleven drugs in late-stage clinical development, only two are being developed for the treatment of GA: Apellis' APL-2, and Ophthotech's Zimura. The majority, about 70% of the drugs in clinical stages of development, are designed to treat wet AMD, which leaves plenty of opportunities for developers to come up with effective treatments against GA."
287 patents in 2018


Patent portfolio expands further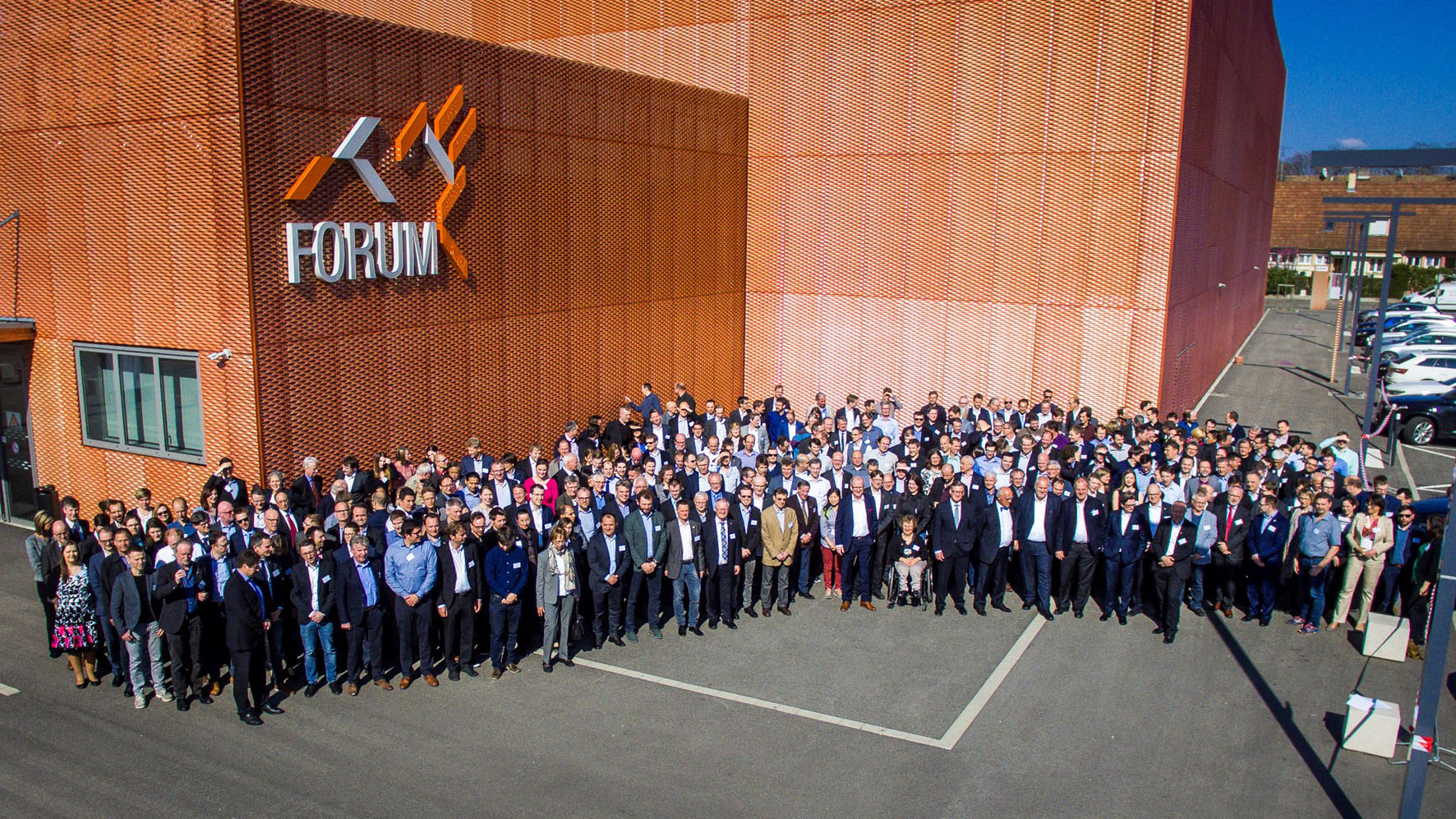 The number of patents submitted by the Endress+Hauser Group continues to rise. As reported during the annual Innovators' Meeting held this year in France, the Group submitted 287 initial patents in 2018, a new record. Endress+Hauser owns nearly 7,800 active intellectual property rights worldwide.
"This year we once again achieved a record number of innovations, both in the number of patent filings and the number of approved patents."

Angelika Andres, Corporate Director, Intellectual Property Rights at Endress+Hauser
While the 309 invention disclosures are a sign of the company's ongoing innovation capability, the 537 granted patent applications also represent an all-time high.
Roughly one-third of the patent filings are related to the Industrial Internet of Things, digital communications and instrument diagnostics. Under the motto #empowerthefield, in 2018 the measurement engineering specialist began to bundle its digital activities with a focus on Heartbeat Technology, as well as the recently introduced Netilion IIoT ecosystem.
Patent department in the US
Each invention undergoes a multistage internal evaluation process before submission to the patent office, usually within four months. To handle the stream of innovations, in 2016 an internal patent department was created in the US, one of the Group's most important markets. Four specialists at the Greenwood, Indiana location are responsible for protecting the technical innovations. This team has full responsibility for handling all patent filings from the Group companies located in the US, plus up to 80 percent of the overseas filings.
Innovation spirit in the spotlight
Under the motto 'Innovation – what makes us human', Matthias Altendorf, CEO of the Endress+Hauser Group, as well as other members of the Executive Board, welcomed more than 300 guests to the annual Innovators' Meeting, which was held in late March in Saint-Louis, France. Employees involved in patent filings presented their innovations during the company's traditional get-together. Exceptional innovations were recognized with special awards.
NSK Europe


New Chief Operating Officer
On 1 February 2019, Dr Ulrich Nass assumed the position of Chief Operating Officer at NSK Europe. The appointment reflects the company's ambition to build further on its growth trajectory in Europe, the Middle East and Africa
Bringing decades of leadership experience in technology companies, primarily in the automotive industry, Dr Ulrich Nass has a proven track record in key NSK Europe markets. Prior to joining NSK, he served at Brose Group where he was Senior Vice President of Product Group Door Modules, and before that as Managing Director of the Product Unit Closures Systems.
Until 2012, Dr Ulrich Nass worked in various senior management positions at Kiekert AG, a specialist in side door and tailgate latches for automobiles. His final position at Kiekert AG was as Executive Vice President Global Product Development and Program Management.
Dr Ulrich Nass completed a master's degree in mechanical engineering and did his PhD on the wear of worm gears at the Ruhr-University Bochum
Agriculture business


G&G partners with Camellia GroupPicture
Green & Gold Macadamias (G&G) and AIM listed Camellia Group Plc announced their strategic macadamia marketing partnership. This adds to G&G's extensive processor and producer partner network in key growing territories including Australia, South Africa, Kenya, Malawi and Brazil. Both organisations take a long view of the macadamia market: continued growth in supply, together with changing consumer demands, means planning for the future central to philosophy.
"We are delighted that Camellia has taken the decision to market their macadamia brand, Maclands through G&G. The addition of their produce now makes us responsible for selling 20% of the globe's kernel crop in all markets around the world. Quality predicates who we do business with, and Camellia represents a trusted partner in this regard. Guaranteed increase in quality supply creates the opportunity to scale vertically into new product markets and horizontally into new geographies."

Brian Loader, CEO, G&G
A unique aspect to this sector is the parallel rise of both supply and demand for product. Consumer trends around plant based and healthy eating are growing: and they are here to stay. Additionally, today's customer is discerning and sensitive to sustainable, ethical and traceable food production. Global supply of macadamias has increased over 50% in the last 5 years to 210,000 tonnes in-shell. According to the International Nut Council, the crop is projected to double again by 2023. G&G's focus is to innovate in how and where this future supply is absorbed into market.
Macadamias, currently predominantly consumed as a snack, hold a premium perception. Prospectively G&G is carving the way for new products in a variety of sweet and savoury foods like butters, milks, cheese and yoghurts to biscuits and ice cream, amongst others. Unilever's Magnum ice cream brand has recently launched a macadamia ice cream in Australia, Indonesia and Thailand, using G&G's macadamias. Investment into infrastructure to support these future market changes is ongoing. The nut's oil is also of interest to the food, cosmetic and health industry.
"G&G is specialist in what they do: a highly professional macadamia marketing company with a large network of reputable producers and an established, strategic customer base, in a variety of segments around the globe. The organisation also has cultivated longstanding direct relationships key customers and leading retailers. This market diversification, together with our aligned vision for value add and vertical integration, places G&G in a strong marketing position for years to come. This partnership allows us to be well placed to market our growth in product over the next ten years." says Graham Mclean, Managing Director of Agriculture, Camellia.
Camellia has long-standing macadamia operations that started in Malawi in the 1980's. Over the years the Group has invested in orchard growth and processing infrastructure. Its reach extends, in varying stages of maturity, across 1400 hectares in Malawi, 1100 hectares in South Africa and currently 1000 hectares in Kenya, with plans to increase Kenyan orchards to 1500 hectares over the next ten years. This makes Camellia one of the world's largest macadamia producers.