FDA accepts sBLA


Treatment of Advanced Renal Cell Carcinoma
Merck and Pfizer Inc. announced that the US Food and Drug Administration (FDA) has accepted for Priority Review the supplemental Biologics License Application (sBLA) for Bavencio (avelumab) in combination with Inlyta (axitinib)* for patients with advanced renal cell carcinoma (RCC). The application has been given a target action date in June 2019.
"The combination of Bavencio with Inlyta builds on Pfizer's significant heritage in advancing standards of care for patients with advanced RCC and has the potential to make a meaningful impact for the lives of patients. We look forward to working with the FDA to bring this potential new treatment option to patients as quickly as possible."

Chris Boshoff, M.D., Ph.D., Chief Development Officer, Oncology, Pfizer Global Product Development
"Our alliance is focused on the development of potential new treatment options for patients with cancers that have high unmet medical needs, including the broad spectrum of people living with advanced RCC," said Luciano Rossetti, M.D., Executive Vice President, Head of Global Research & Development at the Biopharma business of Merck. "This regulatory milestone, which closely follows the acceptance of our application in Japan, represents an important step forward for science and for patients."
The submission is based on data from the pivotal Phase III Javelin Renal 101 trial, which were presented in a Presidential Symposium at the European Society of Medical Oncology (ESMO) 2018 Congress in Munich. In December 2017, the FDA granted Breakthrough Therapy Designation for Bavencio in combination with Inlyta for treatment-naïve patients with advanced RCC.
Despite available therapies, the outlook for patients with advanced RCC remains poor.1 Approximately 20% to 30% of patients are first diagnosed at the metastatic stage.2 The five-year survival rate for patients with metastatic RCC is approximately 12%.
The clinical development program for avelumab, known as Javelin, involves at least 30 clinical programs and more than 9,000 patients evaluated across more than 15 different tumor types. In addition to RCC, these tumor types include breast, gastric/gastro-esophageal junction, and head and neck cancers, Merkel cell carcinoma, non-small cell lung cancer, and urothelial carcinoma.
*The combination of Bavencio and Inlyta is under clinical investigation for advanced RCC, and there is no guarantee this combination will be approved for advanced RCC by any health authority worldwide. In the US, Inlyta is approved as monotherapy for the treatment of advanced RCC after failure of one prior systemic therapy. Inlyta is also approved by the European Medicines Agency (EMA) for use in the EU in adult patients with advanced RCC after failure of prior treatment with Sutent (sunitinib) or a cytokine.
For the polymers, chemical, pharma and food industry


Next Generation of High Accuracy Vibratory Feeding Technology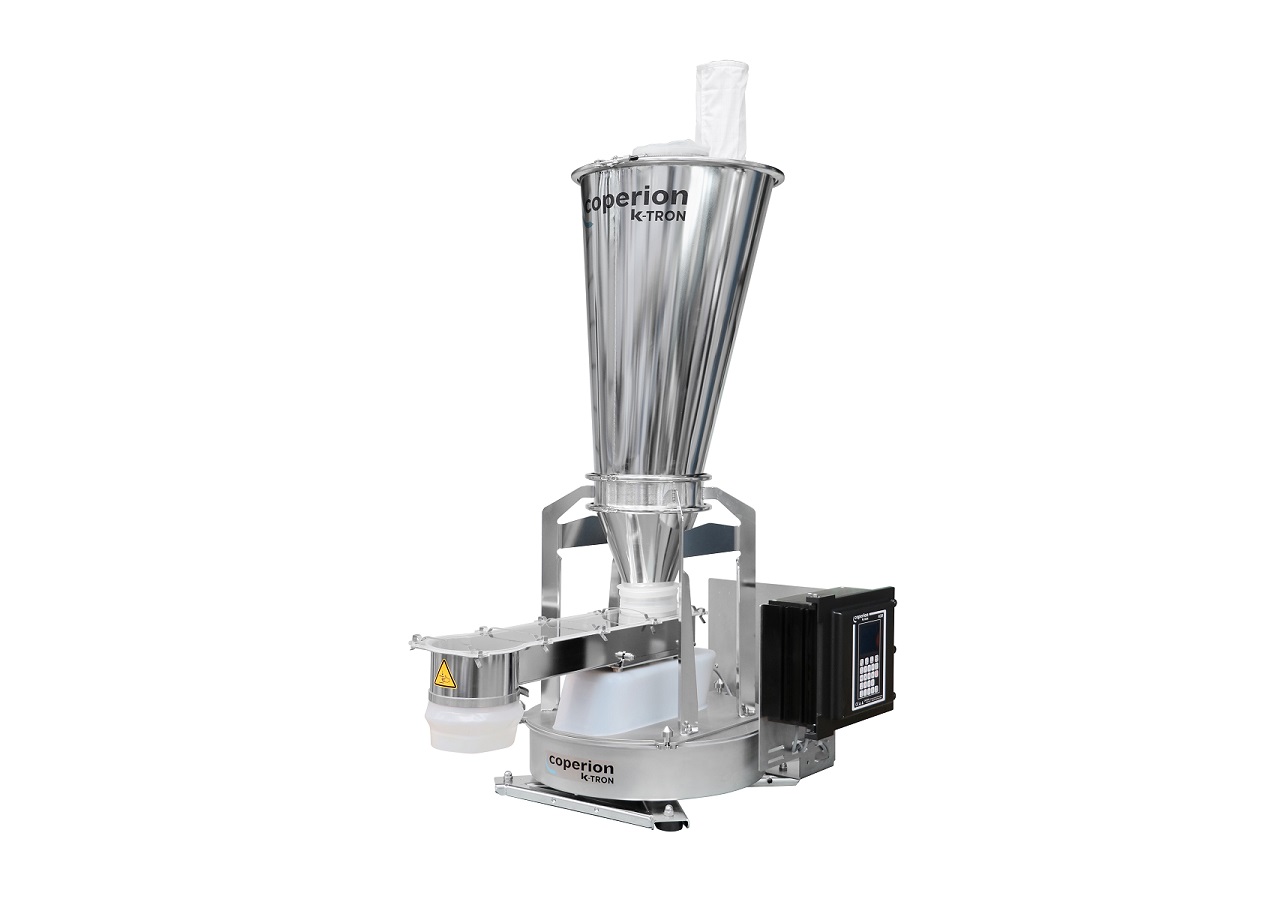 Coperion K-Tron is proud to announce a completely new K3 line of vibratory feeders for dry bulk solids.  The innovative new feeder design features a unique, patent-pending drive system combined with an advanced control package.  The new K3 vibratory feeder is able to achieve accuracies averaging 35% better over traditional vibratory technologies. This revolutionary new generation of Coperion K-Tron loss-in-weight vibratory feeders offers gentle handling of the bulk material, higher accuracy and faster product changeover, resulting in less product waste, less downtime and better end product quality as well as improved sustainability.
New technology brings significant advantages
These advantages are possible thanks to groundbreaking new technology. The key to achieving high accuracy is the ability to deliver a continuous, even product discharge with minimal pulsations. The new K3 vibratory drive is able to do this thanks to a completely new shock absorber design. Conventional vibratory feeders use rubber or spring shock absorbers, which allow movement of the drive in all directions, resulting in rotational motion. In contrast to these conventional shock absorbers, the new K3 line uses a unique flexible pendulum technology which provides shock absorption only parallel to the desired direction of motion, eliminating rotational movement. This parallel motion ensures an even material flow of the product along the entire length of the tray.
The advanced control system and feeder electronics include internal sensors which measure acceleration, displacement, load, current and temperature at rates of up to 25,000 times per second. The fast-acting controller then adjusts the vibratory drive signal to maintain clean sinusoidal displacement for optimal mass flow. The combination of this unique drive with the Coperion K-Tron SmartConnex control system also results in extremely low energy consumption as compared to other feeding technologies. Power consumption can be as low as 20 Watts for feed rates as high as 6,000 kg/h, thus making it ideal for improved production sustainability and minimal heat dissipation.
The typical feeder package consists of a feed hopper, vibratory tray and vibratory drive mounted on a weighing system featuring patented, high accuracy Smart Force Transducer weighing technology and combined with SmartConnex controls. The mechanical package is modular in design, and versatile in that it can accommodate custom tray configurations and lengths, offering the user more flexibility.  A special quick-release clamp mechanism on the feeder tray allows for quick product changeover. The absence of mechanical wear parts results in lower maintenance requirements and ensures gentle handling of the bulk material. In addition to the standard design, a line of hygienic, easy-clean configurations is also available. These include a hygienic silicone cover to enclose the complete drive assembly, making it also suitable for food and pharmaceutical applications.
Ideal for gentle handling of difficult bulk materials
Vibratory feeders are ideal for the gentle handling of a wide variety of materials, including friable products, abrasive products, products with non-uniform shapes, and glass fibers. They are ideally suited to applications such as the high accuracy feeding of finished food products to packaging lines, uncoated tablets to coating lines, as well as difficult feeding of pellets or regrind to plastic extrusion lines, for example in plastic recycling applications.. Vibratory feeders can often be a viable alternative to screw feeders for difficult materials, where gentle vibratory feeding may allow feeding without build-up which can occur on screws and screw tubes.
Coperion at the K 2019: Hall 14, Stand 14B19
Certec


Production of the ceramic pressure measuring cell
Filtech 2019


Visit the trade show for filtration and separation technology
Filtration and separation techniques are among the most important basic procedural operations in all process industries. Most raw materials and products are mixtures of substances and must therefore be filtered or separated for further processing. Filter solutions play also an important role in achieving hygienic production environments, as required in the pharmaceutical and other process industries.
International Trade Show for Filtration and Separation
At the Filtech show, which takes place from 22 to 24 October 2019 in the Cologne trade fair, filter and separation solutions will take center stage. Due to this trade fair, Cologne will once again become the meeting point of the global filtration and separation industry with experts, users and suppliers from all relevant sectors. The organizer expects more than 400 exhibitors on 14,000 square meters of exhibition space. The Filtech Fair is the largest event in the world that focuses entirely on all aspects of filtration and separation
The exhibitors from all around the world will present the entire range of relevant products. Filter materials, media and auxiliaries such as textiles, cloths and mats, bags and tubes, metal mesh, glass fiber, activated carbon, paper and sieves form the basis. These are supplemented by filter elements, housings, plates, frames and other components. Users will also find manufacturers of complete filter systems for all media, as well as dryers and centrifuges. Machines for the production of filters complete the offer.
The Filtech trade show will take place this year from October 22 to 24, 2019, on the grounds of Koelnmesse in the district of Cologne-Deutz. The humble beginnings of the fair with 6,200 visitors in 2011 are now far behind. Last year, 14,000 people attended the event, more than half of whom came from abroad. The organizer Filtech Exhibitions expects that the number of visitors will increase again this year. The exhibition organizers are expecting more than 400 exhibitors this year and have significantly increased their exhibition space by expanding to the second level of Hall 11 of Koelnmesse.
In addition to the actual fair, Filtech offers a range of accompanying events. An extensive conference program will take place on all three days of the fair. For this program, the organizers were able to win prominent experts from academia and industry. In addition to top-class keynotes, workshops and lectures on a variety of relevant topics are offered.
The fair also offers one-day courses on selected topics. This year, short courses for solid / liquid separation and fine dust separation will be offered on October 31st.
Visitors of the fair can pre-register on the website of the fair. https://filtech.de/exhibition/visitor-registration . One-day tickets cost € 20.00, two-day tickets € 25.00, and one ticket for all three days € 30.00,