Award for Young European Investigators


This year's research prize goes to Austria
In 2019, the Hamburg life science company is presenting its highly prestigious research prize for the 24th time. The independent Eppendorf Award Jury chaired by Prof. Reinhard Jahn selected Dr. Georg Winter, Principal Investigator at the CeMM Research Center for Molecular Medicine of the Austrian Academy of Sciences, Vienna, Austria, as the 2019 winner of the Eppendorf Award for Young European Investigators.
The Award ceremony took place at the EMBL Advanced Training Centre in Heidelberg, Germany, on June 27, 2019. The laudatio honoring Georg Winter's achievements was held by Award Jury Chairman Prof. Reinhard Jahn of the Max Planck Institute for Biophysical Chemistry, Göttingen.
Georg Winter, born 1985, receives the € 20,000 prize for his pioneering work developing a method for targeting specific proteins for degradation using heterobifunctional chemical compounds to specifically recruit ubiquitin E3 ligases to the intended protein target for destruction.
The Jury: "This powerful system enables targeting of previously undruggable targets and shows promise both in cells and in vivo in model systems as an emerging therapy." Georg Winter's work has led to a fury of excitement across pharmaceutical companies and has resulted in several patents; it holds promise to yield novel therapies for cancer and other diseases of unmet need.
"I felt incredibly honored and humbled when I learned that I will be awarded with the 2019 Eppendorf Award. This price recognizes our work in innovating a generalizable solution to targeted protein degradation in vivo. We are pursuing this new therapeutic paradigm towards our ultimate goal of degrading disease-relevant proteins that are thus far deemed 'undruggable'. My contribution to this exciting field would not have been possible without groundbreaking work from esteemed peers, the amazing support from mentors, and close and fruitful collaborations with colleagues in the lab."

Georg Winter, Principal Investigator at the CeMM Research Center for Molecular Medicine of the Austrian Academy of Sciences

With the Eppendorf Award for Young European Investigators, which was established in 1995, Eppendorf AG honors outstanding work in biomedical research and supports young scientists in Europe up to the age of 35. The Eppendorf Award is presented in partnership with the scientific journal Nature. The Award winner is selected by an independent committee composed of Prof. Reinhard Jahn (Max Planck Institute for Biophysical Chemistry, Göttingen, Germany), Prof. Dieter Häussinger (Clinic for Gastroenterology, Hepatology and Infectiology, Düsseldorf, Germany), Prof. Maria Leptin (EMBO, Heidelberg, Germany), Prof. Martin J. Lohse (Max Delbrück Center for Molecular Medicine in the Helmholtz Association, Berlin, Germany), and Prof. Laura Machesky (Cancer Research UK Beatson Institute, Glasgow, UK).
Fast and competent repair centers


Flender and Wikov announce service cooperation
Flender, Bocholt and Wikov Industry a.s., Prague announce a comprehensive service cooperation for gear units from other manufacturers. Both companies look forward to this long-term and sustainable partnership. Plant operators will benefit from Flender's and Wikov's comprehensive service portfolio, now also available for gear units from other manufacturers. The key objective is to provide customers a one-stop-service, globally.
Plant availability is the key driver of economic success across many industries. Frequently, components from multiple manufacturers are deployed in a single application, which increases complexity of maintenance for operators. Flender's and Wikov's cooperation will enable their customers to benefit from a one-stop-service. Both companies are leading gear unit specialists, and well known for their comprehensive and competent service portfolio.
By combining resources, their customers will benefit from Flender's service network with more than 50 repair centers globally. Short distances between a customer's plant and a service center are a cornerstone of the business model, which ensures flexible and fast execution combined with Flender's proven highest quality.
"Our global set-up enables us to serve customers fast, and exactly according to their needs. This is key to further increase our customers' plant availability." says Nevzat Oezcan, General Manager Flender Customer Service.
Wikov has extensive and long-lasting experience regarding spare parts for gear units from other manufacturers, and hence can provide these with highest quality in short time. "Our engineering know-how enables us to offer customers our comprehensive service portfolio for all gear units, irrespective of the manufacturer." states Antonín Růžička, Managing Director of Wikov.
Customers across the globe now can rely on a single service partner for all gear units, due to the combination of customer proximity, highest quality and availability of spare parts, and the long-lasting service experience from Flender and Wikov. In addition, both companies will continue to offer their service portfolio for their original products.
100 years of Kaeser Kompressoren


A tradition of innovation
The history of the Coburg compressed air specialist, Kaeser Kompressoren truly is a remarkable story. Although many a company celebrates its centenary, they cannot all boast such sustained and continuously positive development. A look behind the scenes.
Kaeser is active all over the world in its centenary year, 2019. However, the general public rarely comes face to face with the compressed air specialist's products. Only the portable compressors catch the eye with their black and yellow livery and attractive design, when used for road construction work. Compressed air stations tend to be hidden away in outbuildings. Yet Kaeser compressors are just as likely to be found in power stations in Australia as in Peruvian gold mines, used by aerospace engineers in the US, fish farms in Norway, car manufacturers in Germany, at the Cern particle accelerator in Switzerland, on ski pistes in Austria, on Arabian oil fields or the weaving mills in Asia. Compressed air is just as vital as electricity. No company with an industrial production line can get by without compressed air. Today, Kaeser has a global presence. Its customers range in size from craftsman's establishments to large-scale industry.
It all began in a small workshop in Coburg's Hahnweg. The old buildings are still standing in which Carl Kaeser senior started producing spare parts and engines for cars, along with gear wheels and special machines for the glass industry, with a team of eight employees and two apprentices in June 1919. Business was booming. Within a few years, the company was to employ a 150-strong workforce. After World War II, virtually the entire customer base fell by the wayside as most were located in Thuringia and Saxony – and thus on the other side of the border. Taking advantage of the available automotive expertise, production was adapted without further ado to similar products: reciprocating compressors. Thus began Kaeser's successful focus on compressed air. In 1948, the first reciprocating compressor rolled off the Hahnweg production line as the company continued to evolve.
Further challenges emerged during the mid-1960s. In retrospect, it may perhaps be described as the first technological shift. Screw compressors came onto the market. Once again, Kaeser spearheaded the change with its very own invention: Sigma Profile was born. Developed in-house, it is a rotary screw airend with a special energy-efficient rotor profile that was groundbreaking at the time. Since then, Sigma Profile has been the centrepiece of every Kaeser rotary screw compressor; needless to say, it is also refined on an ongoing basis. Screw rotors are interconnected spirals with helical lobes.
This innovative spirit pervades the company to this day, resulting in a steady stream of innovations in compressed air technology and applying equally to hardware, software and services. From the refrigeration dryer to revolutionary controllers (Sigma Air Manager 4.0), from the portable compressor to completely new business models, where the customer basically only purchases the compressed air, through to digitalisation and Industrie 4.0, Kaeser still blazes a trail in the industry for the cost-effective, reliable, efficient generation and use of compressed air, thanks to its innovative, top-quality products and services. Most production facilities are located in Germany, with sales and service available in every corner of the globe.
The company's early international expansion was a vital aspect of its growth. The first branch opened in Switzerland in 1978, with Austria and France following hot on its heels. Today, Kaeser has more than 50 own subsidiaries and is represented by exclusive contract partners in over 100 countries. Kaeser Kompressoren employs in excess of 6000 staff worldwide, many of whom have been loyal for decades.
How was this achieved? The company's secret recipe is an unwavering passion for innovation, sound engineering expertise, close customer contact and an awareness of their needs, combined with exceptional quality standards, a good dose of common sense and the main ingredients: excellent teams and strong family ties. However, family does not just refer to the owner family, Thomas Kaeser and Tina-Maria Vlantoussi-Kaeser, now the third generation to manage the company, while the fourth has also just come on board, in the form of their son Alexander Jan Kaeser. All staff are considered family at Kaeser. This is evident in the high apprenticeship rate, well above average, and the extremely long service record of the employees, usually more than 30 years. But it is also reflected in the company's business development: for 100 years without fail, the operating result has been positive. Even in 2009, the year of the global crisis. From Anchorage to Auckland, Coburg or Kauai, Kaeser is a family-owned company with strong ties to Germany; it views the entire world as its home turf and offers 'Made in Germany' quality from start to finish. The next innovative chapter is just waiting to be written.
Dialogue between manufacturers and users


Satisfied customers through integration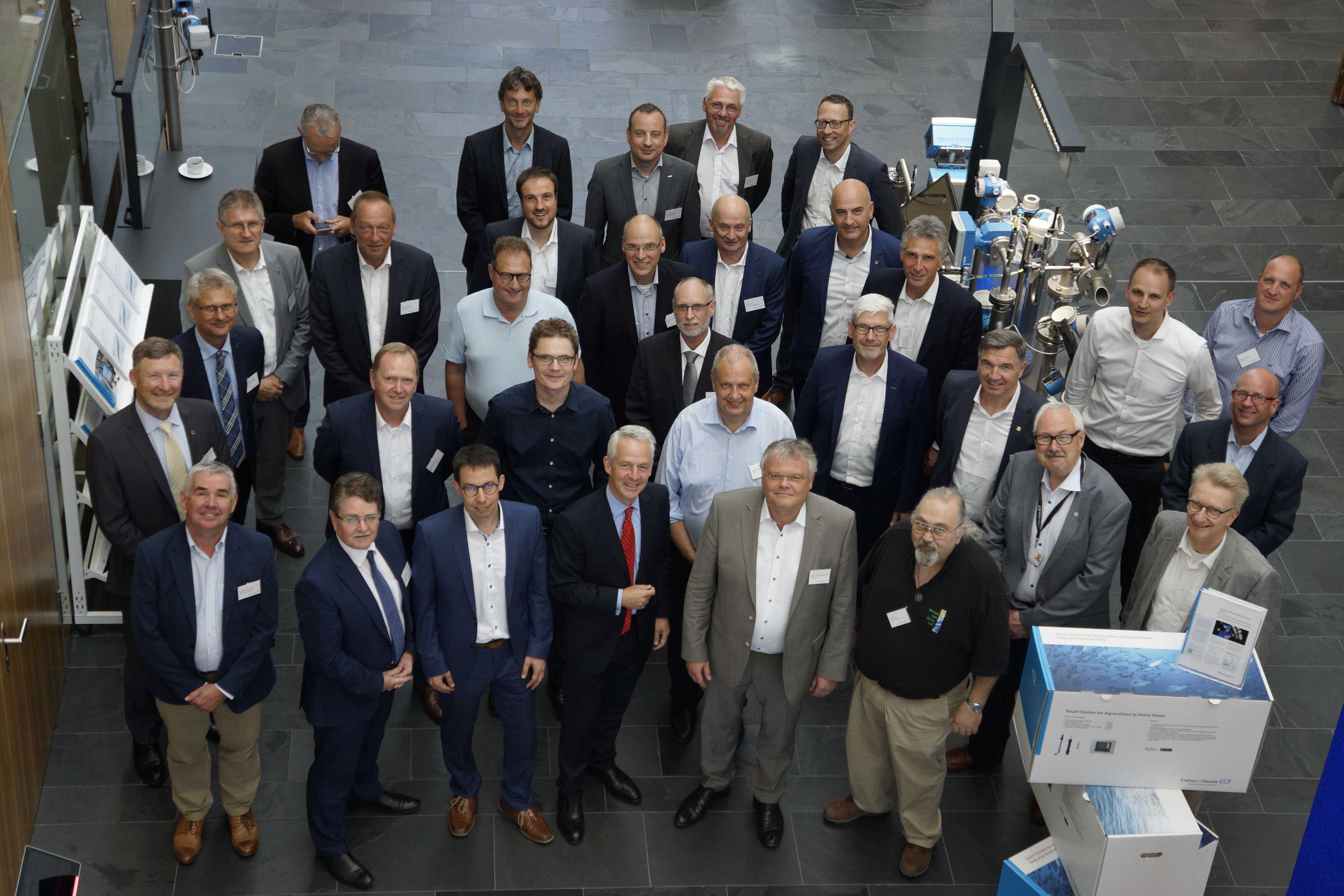 35 Open Integration partners gathered together at Endress + Hauser in Reinach, Switzerland, to share their experiences and thoughts for the first time. A highlight of the event was a presentation from representatives of the chemical and pharmaceutical industries outlining how they benefit from the partner program during digitalization of their processes – and what they would like to see in the future.
The goal of the Open Integration program initiated by Endress + Hauser can be summed up quickly: the simple, fast and manufacturer-independent integration of components and devices into various automation systems. And, almost more importantly, satisfied customers.
While it sounds simple in theory, when it comes to day-to-day system operation, it's far from that. Even the most experienced automation specialists have great respect for multi-vendor systems. That also applies to complete solutions "from a single source." After all, digital communications – a precondition for the extensive use of existing intelligence in field devices and systems – places serious demands on integration.
With its Open Integration partner program, Endress + Hauser is inviting providers of control technology, fieldbus infrastructure, measurement technology and actuator systems to test and document the interaction of their products even more extensively in the interests of their customers. The cooperation partners include Auma Riester, Bürkert, Festo, Flowserve, Hima Paul Hildebrandt, Honeywell Process Solutions, Mitsubishi Electric, Pepperl + Fuchs, Phoenix Contact, Rockwell Automation, Schneider Electric and Turck.
Open standards as a basis
The foundation of this effort is open communication standards (Hart, Profibus, Foundation Fieldbus, EtherNet/IP or Profinet), as well as open integration standards (FDT, EDD, FDI). With a nearly unlimited selection of options, the reference topologies represent practical combinations suitable for applications in the chemical, life sciences, food & beverage, oil & gas, power & energy, primaries & metal and water & wastewater industries.
The reference topologies take into account industry-typical requirements such as explosion protection, availability and redundancy. Each topology is thoroughly tested and documented in the lab in Reinach in conjunction with the partners, after which the recommendations are published.
Interoperability tests create added value
And how do customers benefit from the Open Integration partner program? Every problem that the integration experts discover prior to commissioning can be resolved at a much lower cost compared to fixing the issue in the field at some later point. Customers receive concrete, validated recommendations for automating their systems, which go well beyond established conformity and interoperability testing while ensuring seamless integration. Last but not least, they save time and money.
With developments such as IIoT and APL, users will face new challenges, plus integration testing will be given added weight. This makes it even more important for the Open Integration partners to work together over the long term. The participating customer and provider representatives were in full agreement on this point. Cyber security, in addition to the issue of connectivity, will play a key role in the future. They furthermore agreed that effective strategies need to be developed to counter new entrants in the automation industry such as IBM or Amazon.
Customer-driven developments
One thing was clear during the get-together in Reinach in early June: the process control industry wants open, interoperable systems instead of proprietary solutions. One of the users wants uniform, structured access to static information via QR- and RFID-supported type plates in accordance with DIN 91406. Standardized diagnostics in line with NE 107 is also at the top of the wish list.
In the near term, Endress + Hauser wants to work with its partners to address these and other open issues with the aim of utilizing Open Integration to offer customers even more value-add during digitalization of their processes. The common goal: satisfied customers who can extensively utilize the opportunities that digitalization brings with little risk.