Double eccentric, metal sealing


The new High Performance-Valve
ARI-Armaturen is presenting for the first time a double eccentric, metallic sealing High Performance-Valve: the new Zedox. It is a durable, energy-efficient valve with perfect handling and represents the economic alternative along with reliable tightness for high requirement applications. Together with the successfully established triple offset process-valve Zetrix and the standard butterfly valves Zesa, Gesa and Ziva – ARI provides an even more comprehensive butterfly valve portfolio.
In contrast to centric butterfly valves, the double eccentric sealing principle of the new Zedox (double shift of the pivot point) reduces the angle of the disc when it enters into contact with the seat sealing ring and relieves that metallic sealing when opening. By reducing the contact pressure and minimizing friction that way, Zedox offers a long service-life. The streamlined bearing and shape of the valve-disc stands for a high-energy efficiency. Its longer lifetime achieves Zedox also by protecting the seat sealing ring against negative medium flow influences. The low torques guarantee a perfect handling. Another advantage for example is the high functional safety even at challenging requirements. Zedox is reliably tight at temperatures from -40°C up to +260°C (max. 400°C with special design), for pressure classes PN 10 to PN 40 plus ANSI Class 150.
Zedox accomplishes leakage rate A acc. to EN 12266, API 598 (bi-directional), soft-sealing or rather alternative metallic-sealing with leakage rate B (optional rate A). The blowout proof shaft provides extra safety. The Zedox pressure/temperature rating follows company standard and EN 1092. Besides a Foresave certificate, an ATEX version is also available. The High Performance-Valve can be easily automated– when replacing the gearbox – by pneumatic, electrical or hydraulic actuators (actuation interface acc. ISO 5211).
The Zedox-Design is in compliance with EN 12516, PED and API 609. Available with weld ends (from DN 80 to DN 1600), double flanged (DN 80 to DN 1200) or wafer (DN 80 to 800), fulfilling the pressure classes PN 10 to PN 40 as well as Class 150. Materials are e.g. cast carbon steel 1.0619+N, SA216 grade WCB) and cast stainless steel (1.4408, SA351 grade CF8M). The manufacturer reports different versions and materials are available upon request. Zedox can be used for fluids, steam, gases and vapors.
The new Zedox fills the gap between the already existing centric soft sealing butterfly valves and the triple eccentric process valve. From now on, the ARI customers benefit from a complete butterfly valve portfolio underlining the manufacturer's One-Stop-Shop approach. Zetrix – the process valve available in weld ends, double flanged and fully lug-type version up to Class 600, PN 63 and 100 from DN 80 – 600. Zedox – the high performance butterfly valve available in weld ends, double flanged and wafer-type version up to PN 40 and DN 80-800 (1600). Zesa/Gesa/Ziva – the economic centric butterfly valves – available in lug and wafer-type versions up to PN 16 and DN 25-500 (600).
Protection class IP 66


New product for monitoring emissions in shipping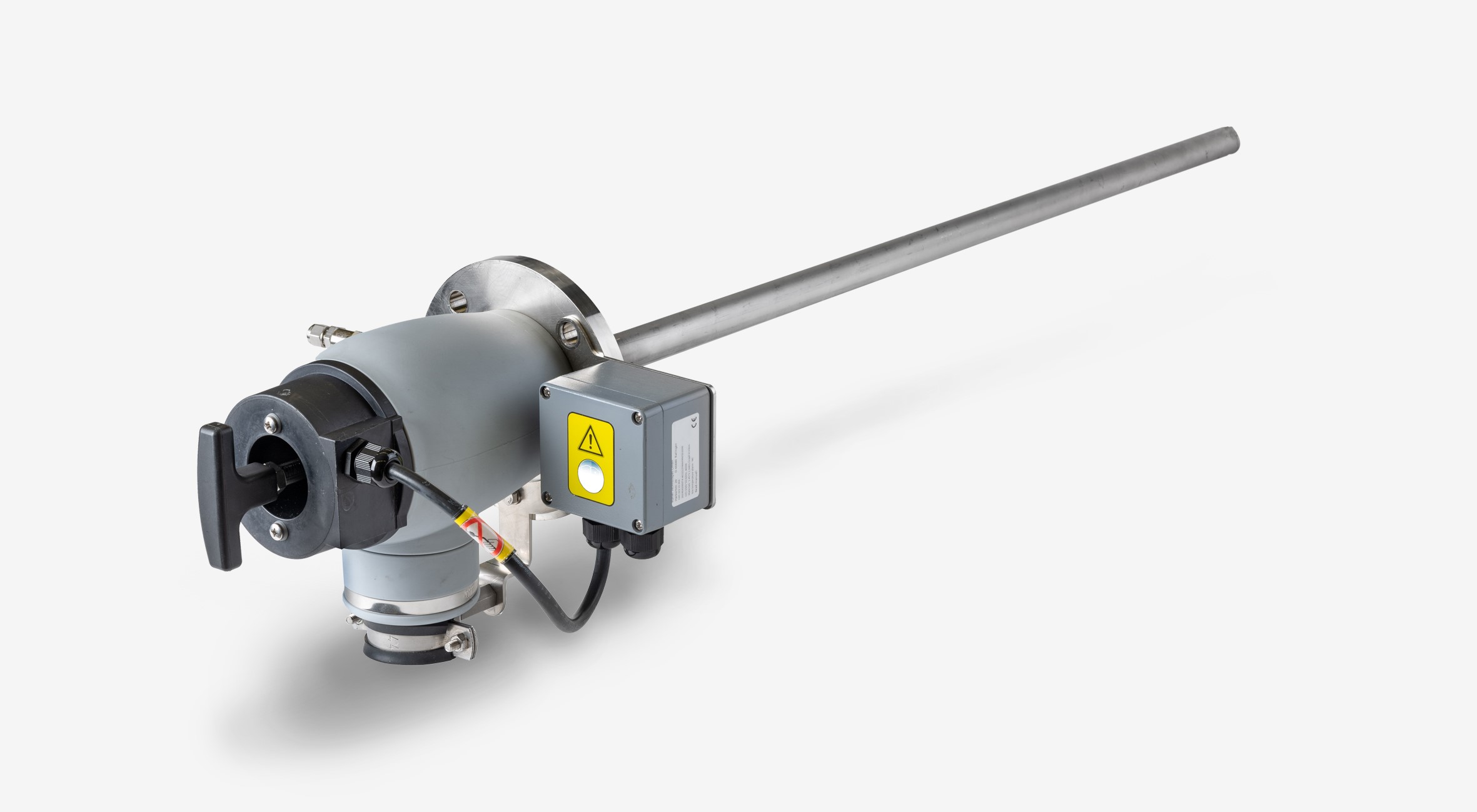 The GAS 222.15-MA model by Bühler Technologies is a new, innovative product to improve emissions monitoring in shipping.
In the interest of protecting the environment, monitoring emissions in shipping is gaining importance. Here the initial focus is on large-scale emitters such as cruise ships, container ships and tankers.
Depending on the fuel quality, in addition to CO2 and H2O, these ships emit a mix of various pollutants. Similar to large combustion plants, gas analysis in maritime applications also serves monitoring pollutant emissions as well as controlling the combustion process.
Bühler Technologies is one of the worldwide leading suppliers of gas analysis components and systems. However, maritime applications pose additional requirements with respect to equipment and components compared to stationary applications. For example, although the hulls are certainly designed for the specific requirements with respect to strength, much like the element they travel, they are never at rest. Due to the water movement and particularly the running machines, the entire ship is always more or less vibrating. Sometimes even at the multiple of gravitational acceleration. There's a good reason why the marine and off-shore sector require certified products.
Another requirement is based on the moisture in the ambient air. In addition to other extractive gas analysis components, Bühler Technologies has now developed a probe approved for this application. The 15-MA version of the GAS 222 series meets the broader requirements yet still offers the well-known benefits such as toolless filter change and very compact size. With the newly designed insulation and the convenient terminal box, the protection class was raised to IP 66.
Mining in focus


Process belt solutions for added productivity and yield
At Filtech, the leading trade fair for filtration and separation technology, the stand of leading international technical weavers GKD – Gebr. Kufferath was a real magnet for the international specialists in attendance. The integrated solution competence in filter media and process belt solutions drew visitors from numerous sectors and countries. Interest in the process belts primarily revolved around solutions for increasingly challenging processes in the mining industry. The core focus was on gypsum drainage in phosphoric acid extraction, potash fertilizer, and flue gas desulphurization, as well as dewatering of lithium carbonate on continuous vacuum belt filter systems.
"There was so much going on during the first two days," says Helmut Jakob, Senior Sales & Application Manager. The entire stand, which was double the size of last year's, was full to bursting on all three days. Many visitors were looking for particularly fine and porous filter media, which they found in GKD's industrial meshes. However, demand for solutions for dynamic belt filters was also high. With the Vacubelt range of filter belts, GKD offers products that guarantee high efficiency and safety in demanding dewatering processes. Developed and produced in Germany, they impress with their high transverse stability and very good directional stability. This stiffness protects against creasing in the area of the intake channel in particular. In addition, the smooth surface guarantees accordingly good cake discharge and excellent cleaning performance. One major source of inquiries during Filtech was fine process belt mesh. This reflects the challenge that the extractive industry is facing to increase productivity and yield. Vacubelt filter belts respond to this need with pore sizes designed to suit specific processes. For example, a Vacubelt 2015 with 50 µm aperture is used for dewatering lithium carbonate. This belt type has proven its worth around the world in similar types of processes such as gypsum drainage in flue gas desulphurization. It also offers a decisive advantage over competitors' products: Even on large system widths of up to 4.35 meters and belt lengths of over 70 meters, this fine belt loses none of the stability for which Vacubelt filter belts are known. In addition to the Vacubelt 3354 and 3356 belt types for phosphogypsum dewatering, GKD also offers the 1003 screen belt successfully used in sewage sludge dewatering. These single-ply vacuum filter belts are tailored to the respective process and the grain size distribution of the gypsum and then thermally treated. They therefore guarantee constant high dewatering performance. The Vacubelt 5060 filter belt has been well established in potash fertilizer production for years thanks to its high temperature and abrasion resistance.
Problem solutions for many applications
The efficiency of this belt range is also highly valued beyond mining applications, with several visitors to the GKD stand inquiring about the belts for applications in entirely different industries. For instance, the Vacubelt 3354 is a proven alternative to common products made of polypropylene in cooling lubricant filtration. This belt type reliably retains swarf and particles abraded from the grinding wheel without the addition of filtration aids, even with thin filter cakes. "The visitors had done their homework ahead of time and were really looking for a solution for their application at our stand," says Michael Seelert, Head of Process Belts, summing up his impression of this year's Filtech. He confirmed the quality of the conversations held at the fair. There were many interesting inquiries ? even about new applications, for instance from the construction industry. During discussions, the belt experts developed initial approaches for solutions which will be firmed up following the trade fair. Michael Seelert also considered the participation of the Institute for Textile Technology (ITA) from RWTH Aachen University to have enriched the whole experience. GKD gave the ITA – one of the largest institutes in the mechanical engineering faculty – the opportunity to present its research topics at the trade fair stand. This gave rise to interesting additional starting points for discussions with customers and manufacturers.
On-site Test Lab


Advance ventilation quality and longevity
Global ventilation fans and systems manufacturer, TLT-Turbo, has spent the past five years investing in and equipping its on-site test lab. The test lab now provides streamlined processes for research, advancing product quality and expanded capabilities for material testing. With a focus on particle impact wear testing, the test lab is driving innovation forward at TLT-Turbo as the results help improve product reliability, quality and performance in their final operating environment.
Patrick Baumgärtner a Research and Development Engineer – and expert in wear and corrosion protection – at TLT-Turbo, has played an instrumental role in building up the test lab – located at the TLT-Turbo Development Centre in Zweibruecken, Germany – to its current capabilities. Together with Sabine Groh, Industrial Fans Product Manager at TLT-Turbo, they have been spearheading the current research.
Currently, the core field of research at the test lab is the testing of new wear-resistant materials and coatings for fan components. Baumgärtner says that the testing takes place in the lab's solid particle impact wear test bench. There, various types of dust or abrasive particles are blasted onto the test material, varying the angle and speed of the blasting to observe the resulting wear. "We also carry out caking tests in which we select, for example, anti-adhesive layers for our fans, in order to find suitable solutions for customer applications. A further main focus is the analysis of process residues that can have an abrasive or corrosive effect. Here the composition, size distributions, pH value and conductivity in the eluate are determined," Baumgärtner explains.
TLT-Turbo's approach is to continuously test materials, coatings and components in order to produce fan components that are designed for performance excellence in any operating environment – no matter how abrasive. This testing is applied to current and new products in development but also to samples that are brought in from client sites in order to establish the wear patterns caused by their specific environment. In this way, the company is able to provide each client with a customized solution that will last longer and require less maintenance.
The test lab now offers facilities for metallography, a stereomicroscope, a pycnometer for determining the density of materials and coatings, and an automated solid particle impact wear test bench. "The capabilities of the test lab open a lot of doors for advanced research that will make a positive contribution to the engineering community at large as well," says Baumgärtner. "Under my supervision, studies and thesis research takes place in the laboratory in cooperation with local colleges and universities. For me, this is the basis for successfully researching and developing new solutions in our field."
According to Groh, the test lab has almost endless possibilities for the improvement of product delivery to clients. "Our customers are often operating TLT-Turbo fans in abrasive and/or corrosive environments. To develop suitable solutions that match the wear resistance against particle impact we use our automated solid particle impact test bench. Compressed air accelerates a defined mass flow of abrasive particles to velocities up to 300 m/s and propels them onto a piece of sample material. This leads to material loss and wear that we can examine.  It is even possible to use original dust from a customer's plant to evaluate the most suitable solution for them. By varying the impact angle we can observe system characteristic wear curves. With this knowledge we can provide customized solutions for many processes."
These customized solutions can be best illustrated in the selection of coatings. This, says Groh, has an immensely positive impact for TLT-Turbo clients. "If we were to propose a new coating for a customer, the wear rate of the coating would be determined first. That is the main scientific-based decision criteria for wear resistant coatings. If the coating has a superior wear rate compared to other coatings or at least a wear rate that is on par with other coatings and another beneficial quality such as anti-stick effect, corrosive resistance or a cost advantage it will be implemented into TLT´s coating portfolio."
Groh says that they have also conducted tests that have led to the development of completely new proprietary coatings. "During the manufacturing process, coatings were tested to see the influence of welding heat on coating qualities – such as the development of cracks – to ascertain how to avoid damage caused by heat or weld splashes. We conducted research and testing on combining welded coatings and thin layer coating into a Hybrid Coating which can dramatically increase the operational lifespan of TLT-Turbo fans at their clients' plants."
This is one of numerous examples of how TLT-Turbo's testing capability can positively impact ventilation systems across all applications. "Due to the broad database of wear tests on various materials and coatings, we are able to offer tailor-made wear protection solutions for various processes of our customers," Baumgärtner acknowledges.
Groh agrees, adding that the wide variety of chemical compositions and coating conditions such as acceleration of coating powder and heat development make it extremely difficult to objectively find the best coating by carrying out testing at a customer plant. "The process of reaching just initial findings in these conditions is very time consuming. In addition to this, there is a broad variety of conditions to contend with at different customer plants that hinder an accurate comparison of different coatings at different plants. If you test different coatings on one machine you might get a rough estimation what coating is superior, however different wear rates of coating cause imbalances in the impeller and vibrations at the fan."
She elaborates by explaining that finding a precise comparative measurement on different coatings is impossible without being able to analyse how the wear rate changes at different angles. "At the test lab we can control the conditions to find precisely what we are looking for in a shorter timeframe. Additionally we are able to replicate the fan's operating environment. We can run tests using dust collected from the client site while simulating particle speeds that match the client's environment to precisely simulate wear rates."
In the laboratory environment, the TLT-Turbo team is also able to determine additional coating properties as they have the capability to run additional experiments, e.g. corrosive resistance, anti-stick effect, robustness, heat resistance, suitable application methods, and combination possibilities like hybrid coatings.
The test lab has afforded TLT-Turbo engineers a deeper understanding of the mechanisms behind wear and the effects of specialized solutions. This has led to new approaches in product advancement and development that are grounded in providing solutions that meet market requirements.
This has also had an impact on TLT-Turbo's aftermarket service offering. The test lab, has allowed for new customer services can be generated, such as the performance of specific tests for customers. "The development of new solutions for specific customer problems is now much faster and more accurate. Also the suitability of low cost approaches or solutions that allow for wear induced damages to be repaired on-site integrate effortlessly into TLT-Turbo's existing solutions," Groh concludes.
The test lab enables TLT to continuously improve their solution portfolio for different customer problems with a focus on wear. The combination of understanding the client's exact requirements and challenges and having a tool that allows engineers to find the best solutions from a scientific basis are a key factor for success in the market and play an important role for TLT-Turbo's on-going product development and quality client delivery.