Tailor-made packaging solutions from a single source
At this year's interpack Multivac will be exhibiting packaging solutions for sensitive products. The highlight will be the RX 4.0 thermoforming packaging machine in GMP design, which will be presented to the visitors for the first time. In conjunction with an integrated handling module and an InteliJet HD printer from Bell-Mark, it forms an efficient solution for producing and printing combi packs containing a syringe, filter and vial.
RX 4.0 in GMP design for producing combi packs
The packaging solution is completely enclosed in a housing. In addition to the machine's comprehensive sensor system, the new generation of intelligent dies also contributes to the high level of efficiency, process reliability, and operating security. Thanks to their highly developed actuating system, the RFID-coded X-tools enable the die to be changed quickly and reliably during product changes. The packaging solution in Düsseldorf will be used to produce a combi pack. The RX 4.0 is equipped with an InteliJet HD printer from Bell-Mark for coding the packs. An integrated H 242 handling module in the outfeed area removes the packs from the machine.
Carousel system for the separating and controlled loading of syringes
Multivac is also showing a carousel system with integrated H 242 handling module for loading syringes into combi packs. A high-performance vision system will be used on the carrier system. This ensures that, even at high throughput, all the packs are inspected for completeness, and it also checks whether the individual products are loaded correctly into the pack cavities.
Wrap-around labelling of cylindrical containers
Among the other exhibits is a compact solution for the wrap-around labelling of glass or plastic bottles. The L 320 conveyor belt labeller, combined with a MRT 100 rotating infeed table and an outfeed table, will be on show in Düsseldorf. The L 320 was specially developed for rapid and precise labelling of round or oval bottles, pots, or glass jars. Since the labeller is constructed of standard modular elements, it can be perfectly designed for the requirements of the particular sector. The model is also very versatile when it comes to label positioning. Labels can be positioned on all sides, as well as over the pack edges or as wrap-around labels. The application of sealing labels is also possible. Thanks to a minimum of format parts, which can be changed very quickly, the L 320 can be converted to different products within a short period of time. The rapid change of label rolls, together with the use of low-maintenance components, also contribute to the labeller's high level of availability.
Silage Wrap Stretch Film Capability


Coveris further expands
Building on its longstanding expertise of more than 35 years as a leading supplier of stretch films, Coveris now expands its capacities and further invests in its Kufstein plant. Following on from the recently announced major investment programme in Winsford UK, the second phase of this programme is now launched which expands and upgrades the technical capabilities in Kufstein, Austria through investment in a 5-layer specialist Agri Extrusion line.
The Winsford UK investment in new generation extrusion and pre-stretch assets creates a dedicated UK cell for stretch film production, expanding its industrial capacity and extending its capability to manufacture agricultural stretch film applications in the UK.
The 5-layer extrusion investment in Kufstein significantly enhances its position as Centre of Excellence for Agri production and will allow Coveris to extend its product range to include additional premium quality silage films for high speed wrappers and challenging bale sizes. The new equipment will be installed and commissioned during quarter two 2020, and together with the Winsford investment increases Coveris silage wrap capacity to ~30k tons.
"This investment of 5-layer extrusion capability into Kufstein is an exciting development for Coveris as we seek to significantly expand our offering within the Global Agri films market. We now have Agri manufacturing centres in both Austria and the UK, allowing us to offer our clients a wider service proposition to add to our outstanding product and technical know-how built up over many years. Our reputation for high quality products can now be enhanced further through accelerated product development and innovation", comments Martin Davis, President Business Unit Films on the Agri investment programme.
Deliberately produces creases


Unique labeller for unique containers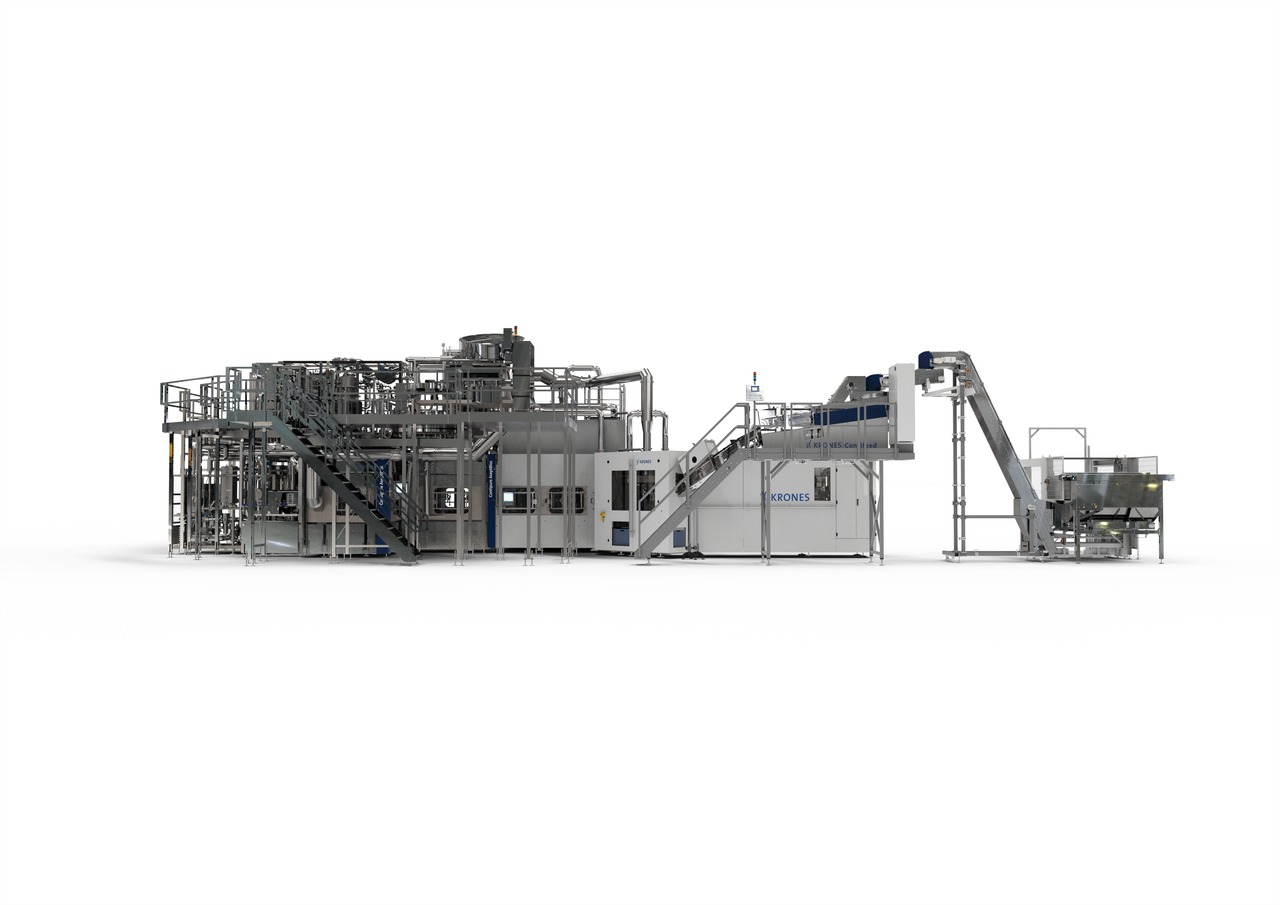 A label with creases, and a labeller that deliberately produces these creases – what for most beverage producers is a no-no was one of the paramount requirements of Mozart Distillerie in Salzburg. A look at the container's shape explains the paradox: the liqueur bottles are spherical, to connote the world-famous "Mozart-Kugel". The label, made of aluminium-coated paper foil, is required to fit snugly round the container – and to look as if it had been applied by hand.
Hitherto, Mozart Distillerie had been using what is meanwhile a 30-year-old labeller from a customised-machine manufacturer, which Plant Manager Friedrich Guggenberger had progressively individualised over the course of time with numerous design enhancements of his own. But the output no longer sufficed – and Mozart Distillerie was looking for a partner to jointly develop a new machine.
Numerous customisation features combined
Because Krones' corporate roots, of course, originate in labelling technology, the firm accepted the challenge – and combined the long years of practical experience and visions contributed by Friedrich Guggenberger and his team with the technical expertise of Krones' own labelling specialists. And the results are truly impressive: a combination of features for precise container positioning, several inspection systems, and a multiplicity of technological customisation improvements ensure that Mozart Distillerie's requirements are translated into engineered reality. For labelling, Krones is for the first time deploying a combination of one cold-glue and one wrap-around Contiroll labelling station, and pressure-sensitive body labels are applied to a sloping area. For affixing the foil, Krones developed a patented combination of a servomotor that turns the bottles, and linear motors that in twelve press-on operations use sponges to carefully press the foil onto the containers.
In order to ensure that the closure cap is correctly positioned as well, Krones has specially developed a guide rail that uses the sloping label area as an orientation reference point. These rails can be re-adjusted with only a few manipulations, so that all six sizes – from the small 50-millilitre to the large one-litre bottle – can be handled with the same system.
The new line is currently dressing around 5,000 bottles per hour, with an option for increasing the output to as much as 9,000 bph. It embodies two antithetical characteristics: the technology is fully automated to the latest state of the art, while the results, by contrast, reflect Mozart Distillerie's craft philosophy.
Nestler Wellpappe opts


Better quality, lower energy consumption
The name Nestler is not only an institution in Lahr, but also in the world of corrugated board. As one of the largest and most efficient corrugated board plants in Germany, the company regularly sets new benchmarks. Innovation and sustainability are the drivers behind the success of this long-established company, which is part of the Palm packaging group. In the heating and traction part of the corrugated board plant (CBP), a heating belt from GKD – Gebr. Kufferath AG contributes towards this success.
With around 400 employees, Nestler Wellpappe produces 140 million square meters of corrugated board per year. Founded in 1871 as a brewery in Lahr, Nestler started afresh in 1923 as a corrugated board plant. In 1999, the Palm Group acquired the family company, which has deep roots in the Black Forest region and has retained its original name to this day. The company's affiliation with the Palm Group is reflected in the exceptionally broad range of services it provides. The different categories of corrugated board include fine, medium and coarse corrugation with single to triple walls ranging from 0.8 to 15 millimeters in thickness and with different corrugation profiles or corrugation combinations – all made with paper from the Palm Group. The paper used is almost exclusively recycled paper. Virgin fiber is only added to increase stability for special applications such as for frozen food. The range of high-quality printed packaging, displays and exacting packaging constructions also includes many variations. From the size of a cigarette box to the size of a pallet container: As packaging for transportation or shelf-ready packaging, as collapsible boxes, die-cut, heavy-duty, hazardous goods or combination packaging – customized products from Nestler can fulfill any such challenging tasks. This versatility of production in large and small batch sizes for countless special applications and maximum value creation makes Nestler the partner of choice for around 1,400 customers in the south of Germany, Switzerland and the Alsace region. More than half of these customers are companies from the electrical engineering, mechanical engineering, chemical, paint and varnish, rubber, wood and paper industries – often with very complex requirements.
In addition to the extensive production range and decades of expertise, a further USP of Nestler is its extraordinary service capabilities. Large customers from industry and the mail order business benefit from a warehousing and delivery service with which they can receive their products within 24 hours. "More and more customers are counting on this adherence to desired delivery dates," explained Nestler CEO Andreas Jung. He added: "For us, OTIF (On-Time-in-Full) is therefore one of our most important strategic goals." This is guaranteed thanks to the fleet of 30 company-owned trucks. If desired, Nestler can also provide complete assembly and optimization of packing processes as a service. The company is continuously striving to improve productivity, cost-effectiveness and sustainability of the solutions. "We optimize products and processes based on the STEAM principle, Save The Earth And Money, to reduce their carbon footprint," explained Andreas Jung. Three core areas are given particular attention: The optimized interaction of area, weight and stability reduces the material consumption of conventional constructions. Improved layout reduces clipping, processing time and energy costs. Resource consumption and the CO2 impact are also reduced thanks to cleverly devised truck loading, which results in fewer trips.
On course to save energy in the CBP
Nestler also puts these ideas into practice in the heating and traction section of the 120 meter long corrugated board plant of BHS. The CBP has a working width of 2.50 meters, with two one-way machines as well as pull strips and reinforcement fibers. It works at a speed of 350 meters per minute and, thanks to an optimized steam system, enables cooler corrugating. This means it is possible to reduce the steam pressure to 0.5 bar – whereas minimum values of two to three bar are usual in the industry. As a result, it was possible to reduce the specific energy consumption by ten percent, which is also reflected in an eight percent reduction in glue consumption. The 16 meter long heating and traction section is equipped with 18 heating plates and works with a plate-roll clamping system, which combines contact shoes and rollers. For optimized point loading, however, the first three heating sections have only rollers. Whatever the product, the heating belt transports an average of 30,000 square meters of single and double-wall corrugated board an hour. Depending on the product mix, the board is exposed to a steam pressure of up to 16 bar – with surface weights of up to 1,400 grams. Nestler's expectations of its dimensional and tracking stability are correspondingly demanding.
In 2015, the corrugated board manufacturer switched from a conventional heating belt to the Conducto 3313 heating belt, which at the time had been newly launched by the technical weavers GKD – Gebr. Kufferath AG. This decision was taken due to the claim that this belt would enable significant savings in terms of drive energy. "This is not insignificant where the CBP is concerned," said Eva Labusga, Head of CBP, Planning and Production Control, explaining the motivation for the switch. The construction of polyester monofilaments with aramide reinforcement in the edge area and bronze wires interwoven in the running direction makes the Conducto 3313 significantly lighter in comparison with other products on the market. Thanks to special thermosetting, it is also permanently dimensionally stable. Despite the low weight, the belt's robust design guarantees the required even pressure for optimal contact between the corrugated board and the heating plates. The open mesh structure ensures immediate full-surface moisture evaporation of the corrugated board. Due to the faster drying and resulting improved flatness of the corrugated board, Nestler was able to increase the process speed by eight percent. "We are able to run the system faster because the condition of the board allows it," said the Head of Production.
The GKD belt also surpassed the previously used conventional model by far in terms of running performance: 180 million running meters in three years without a single downtime caused by the belt speak for themselves. "That's really, really good," said Eva Labusga. "The previous belt lasted for a maximum of two years." In addition, this self-cleaning belt exhibited no soiling – neither superficial adhesions of paper and glue nor clogging. Based on targeted measurements on the conventional and new belt, Nestler tested the consumption of drive energy, which was relevant in the decision to switch: Due to its lighter weight, the Conducto 3313 achieved a 15 percent energy saving over the previously used belt.
Top values also with the latest generation of belts
Nonetheless, they stopped running this GKD belt after three years, even though it was not showing any signs of change despite the long runtime. "I actually wanted to keep using it, to see how its end-of-life would exhibit itself," said the Head of Production. "But after these good experiences, we chose instead to test the new belt from GKD, the Conducto 3322." This further developed belt promised two improvements which were of interest for Nestler too: The smooth surface of the 3313 had initially caused problems in terms of traction. This was gradually corrected through the application of silicone strips and grinding. In addition, the operating staff had found the noise level of the 3313 uncomfortable. To check, Nestler took noise measurements: In the comparison, both the conventional belt and the 3313 had the same decibel values, but the frequency of the GKD belt was slightly higher. That's why the noise level immediately after installing the belt was perceived as louder. After a week of running time, however, the level balanced out to the usual level.
With the development of the Conducto 3322, GKD has permanently resolved these two issues. Its construction of two and a half-ply hybrid mesh combines an internal structure of polyester monofilaments and additional bronze wires in the running direction with a warp of staple fiber yarn. The edge is reinforced with aramide, as with the predecessor model. The textile material means grip is significantly better. "We no longer have to roughen the belt," said Eva Labusga. In addition, it is quieter than the 3313 and therefore comparable with conventional belts from the outset in terms of noise level. Its 1.1 millimeter larger thickness (Conducto 3313: 4.6 millimeter, Conducto 3322: 5.7 millimeter) makes no difference in operation. Conventional belts are up to eight millimeters thick. The smaller belt thickness makes it significantly easier to handle during replacement, so that assembly is significantly easier and quicker: "The belt can be replaced in three to four hours. That's half the time you need for conventional belts," said Eva Labusga. The thinner format of the GKD belts also had a positive effect on the seams, which are much finer as a result. Having said that, some improvements were required at the beginning: "A non-marking seam is generally very difficult, and with fine corrugation on white paper, it comes down to tenths," explained the Head of Production. That's why choosing the right clip for the seam on the 3322 initially required some effort. But the experienced expert sees this as "all part of the development work." With this new belt from GKD too, she sees the fast, even evaporation as the main advantage: Despite its textile share, the Conducto 3322 is in no way inferior to the Conducto 3313 in terms of air permeability. "It maintains the top values that we have already achieved with the predecessor model in terms of drive energy (15 percent saving), and there are also no differences between the two GKD belts as far as the consumption of steam energy and glue are concerned." For her, one things is for sure: "Both belts definitely represent a quality improvement. The significantly better flatness in all qualities increases the processing quality and therefore also the quality of the end product." However, thanks to its self-cleaning surface, the Conducto 3313 stood out as far as superficial adhesions were concerned. The 3322 requires a high-pressure cleaner to remove adhesions. Unlike conventional belts, however, neither of the GKD belts has any tendency to blockage. Eva Labusga's verdict on the heating belts from GKD is therefore accordingly positive: "Using it as the upper belt has only been of benefit. Not for one second have I regretted taking this path together!" That's why she can also imagine soon testing the Conducto 3322 as a lower belt. "I have only ever had good experiences with the GKD belts. So I'm always open to test new products. GKD has always delivered on its promises."