With maximum port density


Switches for industrial communication applications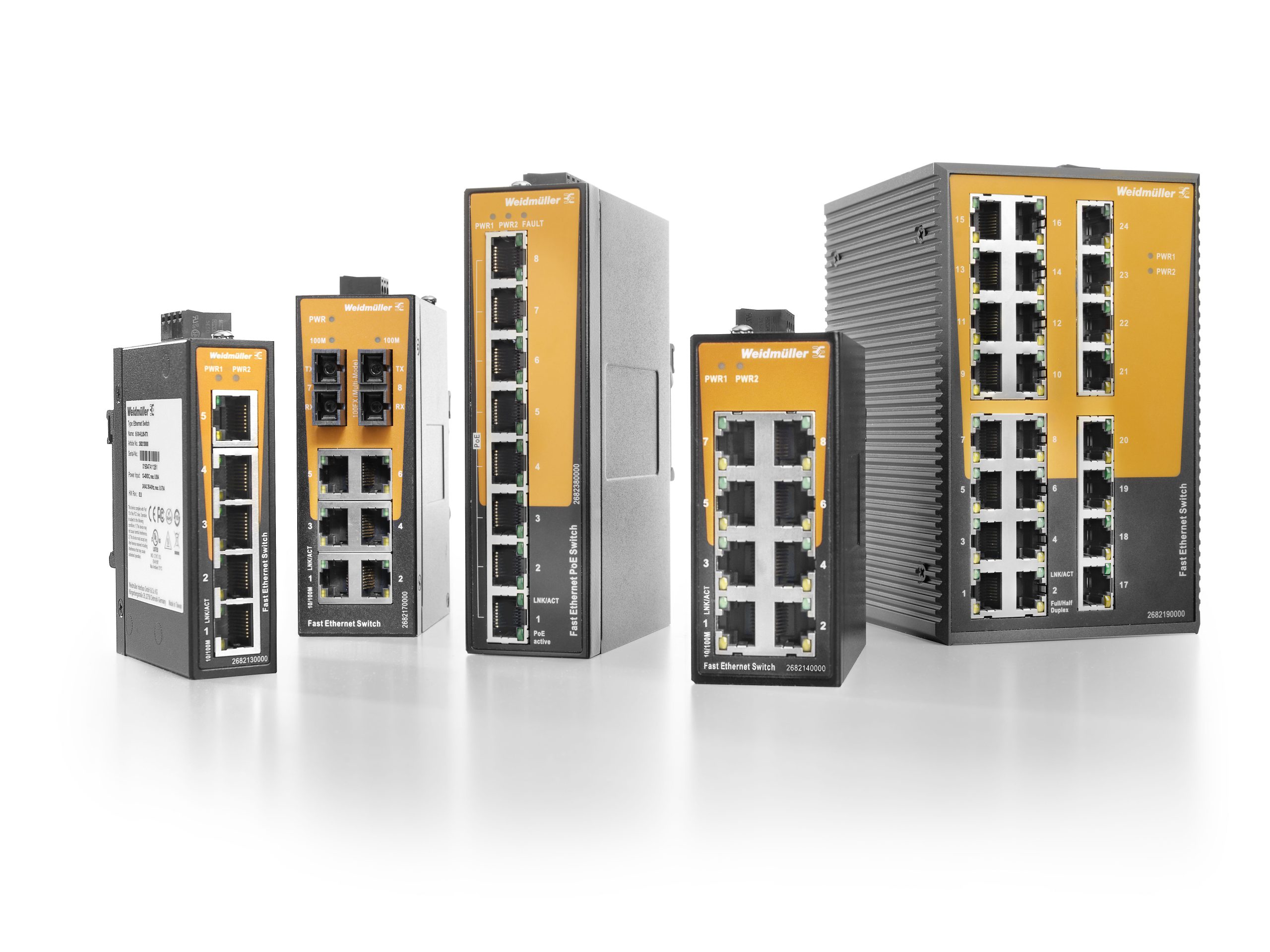 The future of industrial communication lies in a holistic approach – in a network. This brings about uninterrupted communication right down to production level and your machines and systems. When setting up these communication systems, it is important to connect devices to one another to create networks, and to transmit data as efficiently as possible. Seamless Ethernet communication simplifies and accelerates processes, creates transparency and reduces costs.
The new Ethernet Switches from Weidmüller have been specifically developed for small industrial networks. They offer secure and reliable communication between Ethernet-based machines and systems as well as allowing for the connection of Ethernet devices to a higher-level network.
The unmanaged Plug-and-Play switches mean that network connections can be directly extended to include multiple devices. The switches with 5 to 24 ports allow users to tap into the benefits offered by standardised Ethernet communication and industrial automation technology.
Depending on the particular version, the switches are fitted with a number of combinable copper or fibre-optic interfaces, meaning that different media can be used and large distances covered. All Ethernet switches have an industrial IP30 metal housing with integrated clip-in foot for easy installation on the terminal rail (TS35). The integrated clip-in foot has been specially optimised for simple installation. The sturdy housing design and the high port density combined with particularly compact dimensions means that the space in the control cabinet can be put to optimal use. This applies in particular to the 5-port switch, one of the smallest switches in terms of density and a switch that is particularly well-suited to the tight spaces in control cabinets. The largest configuration level contains 24 ports.
In addition to its high density, the switch is also characterised by its large temperature range. The switches can be used in environments from –40 to +75 °C. This allows for operation both within production and in the field. In line with the motto "an LED for each port", the integrated LEDs provide a simple display of the speed and status of the port.
Flexible and future-proof with SFP slots
Whether multi-mode or single-mode, 500 metre or anywhere up to 20 km – the SFP slots help guarantee flexible use. SFP stands for Small Form Factor Plug-In, and these slots make it possible to combine network components such as switches with optical cables. This allows them to convert electrical Gigabit signals to optical signals and vice versa. To do so, the matching transceiver simply needs to be plugged in. It is therefore also possible to change the technology at a later point in time.
The wirespeed-compatible switches support auto-negotiation, which is a procedure whereby two connected Ethernet ports automatically determine and configure the maximum possible transmission rate. The integrated auto-crossing function also ensures more simple installation while also preventing error sources as there is no longer any need for crossover cables. The switches with this standard detect the paired transmission and reception lines and automatically and correctly assign the pair internally.
The modules have input current limitation and reverse polarity protection. The Eco Line switches are connected via the removable 3 or 4-pin plug-in connectors. The comprehensive range contains Fast Ethernet and Gigabit variants as well as PoE models with 802.3 af.  Most variants have a redundant power input of 24 VDC. The 5 and 8-port copper models can also be operated with a 24 VAC power supply, making them suitable for use in building automation.
Thanks to their international approvals and conformity certificates in accordance with CE and UL, the Ethernet switches are suitable for industrial applications all over the world. The key benefits of the unmanaged switches include their good price-to-performance ratio as well as their particularly space-saving design.
Customized Solutions


Tailor-Made in Many Ways
Pepperl + Fuchs has developed an individual sensor solution for the company montratec based on innovative Pulse Ranging Technology, or PRT. Modifications to the design, hardware, and software have transformed a portfolio sensor into a solution that is tailored precisely to the shape of the shuttle.
Power Supply Product


1U half-rack programmable DC power supplies deliver 1,500W
TDK Corporation (TSE 6762) announces the introduction of the GH1.5kW series of 1,500W rated, 1U high half-rack wide, programmable DC power supplies. This latest extension to the TDK-Lambda Genesys+ series has the same functionality and programming as the standard full rack 1.7kW to 15kW models. Applications include bench-top or rack mount laboratory use as well as component, automotive and aerospace testing, semiconductor fabrication, solar array and battery simulation, plating and water treatment.
Ten models are available rated at 0V to 10V, 20V, 30V, 40V, 60V, 80V, 100V, 150V, 300V and 600V, with output currents of 0-2.6A to 0-150A. All models are capable of operating in constant voltage, constant current and constant power modes. Up to four power supplies can be connected in parallel with an advanced master/slave system that provides dynamic load response and ripple and noise characteristics comparable with that of a single power supply. The input voltage range is 85 to 265Vac facilitating global use.
Excluding the busbars, the GH1.5kW measures 214mm wide, 43.6mm (1U) high and 441.5mm deep. Two units can be mounted side by side in a standard 19" rack, with the GH/RM option kit. The Genesys+ half rack units weigh less than 3.5kg for easy movement or installation. A blank front panel option (with no metering or control functions) is available where user access is not required or needs to be restricted. Snap-on dust filters can also be added to restrict airborne contamination.
Programming is standardised across the Genesys+ series by either utilising the front panel controls, remotely via LAN (LXI 1.5), USB 2.0 and RS232/485 communications, or by using the isolated analogue control and monitoring (0-5V, 0-10V) which are provided as standard. Optional interfaces include a choice of GPIB (IEEE488.2) and the Anybus CompactCom interface platform for EtherCAT, Modbus-TCP and other interface options as they are released. Software drivers, a waveform creator and a virtual front panel GUI are provided in the software package. Safety features are standard in all GENESYS+™ power supplies, providing Safe/Auto Re-Start, Last Setting Memory and built-in protection functions. Control of voltage and current slew rate, internal resistance simulation and display brightness control are all standard features.
The five year warranty series is safety certified to IEC/EN/UL 60950-1 (61010-1 pending), is CE marked to the Low Voltage, EMC and RoHS Directives and is compliant to the industrial IEC/EN 61203-3 standard for conducted EMI, radiated EMI and EMC immunity.
Suspensions, emulsions, powders and bulk solids


Fast analysis of particle shape and size
The Fritsch Analysette 28 ImageSizer for dry and wet measurement is the ideal Particle Sizer for all applications that require accurate and reproducible measuring results for both particle shape and size. The optical process of Dynamic Image Analysis provides results for a wide measuring range, delivers multiple shape parameters and evaluation possibilities for particle size. The measuring time depending on the sample quantity, is under 5 minutes. And the result is available immediately.
Your advantage: Great flexibility for different measurement tasks for particle sizes of 20 µm – 20 mm in quality control, research and laboratory – and is a very easy and cost-effective alternative to sieving.
Easy wet measurement of suspensions and emulsions
The Analysette 28 ImageSizer is in combination with the corresponding wet dispersion unit ideal for measurement of particle shape and size of suspensions and emulsions.
Wet dispersion is particularly suitable for fine particles, poorly flowing, fine-agglomerating or sticky materials, which do not react in water or other liquids.
Your advantages
Extra wide measuring range of 20 μm – 2.8 mm
Strong, freely adjustable ultrasonic power for deagglomeration
Extremely quiet dispersion with strong pumping power
Benzine, alcohol and many organic solvents can also be used as suspension liquid as a standard feature
Automatic rinsing cycle
No dead space in measuring and rinsing circulation system
Fast and consistent cleaning
Efficient dry measurement of powders and bulk solids
The Analysette 28 ImageSizer is the ideal Particle Sizer for fast analysis of particle shape and size of dry, free-flowing materials. Via the optical analysis of the particle shape and particle size, you can identify damaged particles, contaminates, agglomerates or oversized and undersized particles accurately and fast and view them completely uncomplicated in single images.
Your advantages
Extra wide measuring range of 20 μm – 20 mm, individually adjustable
3 telecentric lenses are available
Up to 75 images per second
Agglomerates are preserved
Practical Clean Design of the measuring chamber
Optimal number of particles due to automatic adjustment of the feeder
Easy handling
State-of-the-art, simple and fast evaluation via Cloud and Gallery
The evaluation of the measuring results is uniquely simple with the Analysette 28 ImageSizer. The evaluation software ISS displays each recorded particle clearly as a data point in the immediately available Fritsch Cloud as well as in the Fritsch Gallery. You freely choose which statement is of interest to you: for example the Sphericity in regards to the Minimum Feret Diameter, the aspect ratio, applied on the porosity, or the convexity as a function of the particle Cross Section. Or display the particle size distribution as a cumulative curve, as a bar chart or in a table form.
Each particle can be clicked individually
The state-of-the-art of uncomplicated evaluation: For fast single image viewing, each individual particle can be opened directly with a mouse click from the clearly arranged Fritsch Cloud. The really important information for you about the morphology will be shown by the position of the data point in the Cloud. Without time-consuming search, you can immediately analyse, evaluate and delete individual selected particles. All available size and shape parameters are automatically displayed.