New system solution


Sustainable MAP packaging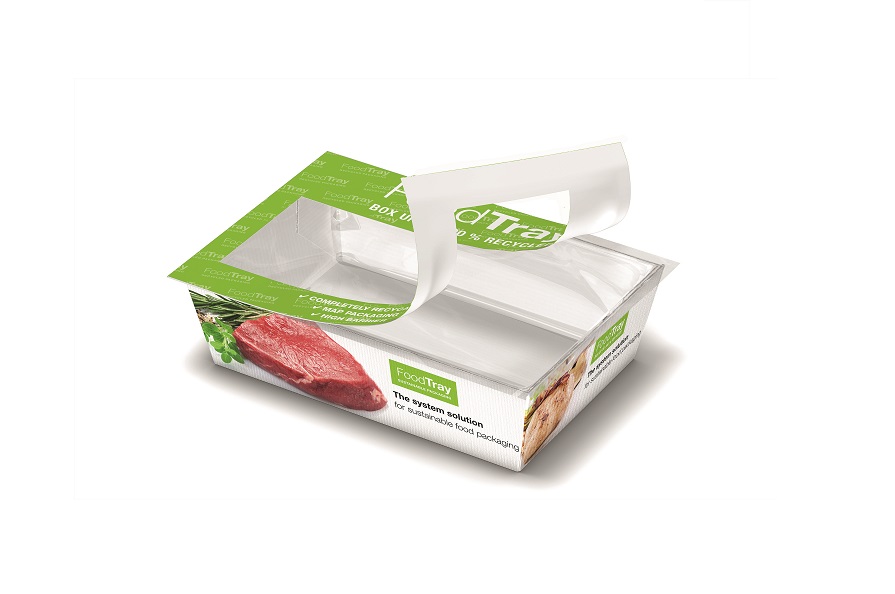 Gea presented a new combined solution for sustainable food packaging at IFFA 2019 in Frankfurt. The new packaging law, which came into force in Germany on January 1, 2019, requires significantly higher recycling rates for plastic packaging and will have far-reaching consequences for industry. Together with partner companies, Gea developed an ecological carton/film composite solution, known as FoodTray. The two components, which are assembled on a Gea thermoforming packaging machine, can be easily separated later by the consumer in a single motion.
Supplying a growing world population with fresh food only works with the support of safe and secure packaging. The challenge is the consumption of resources, which is constantly rising and yet must be minimized. The German packaging law stipulates recycling quotas which, for example, requires 63 percent for plastics by 2022. "The question is what the packaging industry can do to meet these requirements and how it can ultimately replace plastic," says Hans-Günter Donges, who is responsible for overarching developments in process technology at Gea.
Bundled know-how for greater efficiency and sustainability
As a result, food manufacturers are making challenging demands on machine technology. The company has offered a proven alternative to pure plastic packaging for years with a carton/film composite solution, which has now been further adapted to market requirements and guarantees maximum flexibility. Initially, the concept focused on creating a tray from corrugated board that could also meet the requirements of modern food packaging. Thanks to the cooperation with diverse specialists from the corrugated cardboard, film and mechanical engineering sectors, including the Roba Group, Schur Flexibles Germany and Van de Velde Packaging, the requirements could now be met. FoodTray is a system packaging that combines the criteria of product claim, haptics, safety, sustainability and industrial production processes.
Composite packaging solution, yet still separable
FoodTray is a packaging solution made from the basic materials: corrugated cardboard and film. Corrugated cardboard is the most widely used packaging material worldwide and is made almost entirely of natural raw or recycled material. The film provides an outstanding barrier, helping extend food shelf life.
The FoodTray system consists of corrugated cardboard carton with film on the inside, combining the advantages of both cardboard and plastic. "We've reduced film content by up to 70 percent," explains Donges. "At FoodTray, fossil-based raw materials are replaced with fibers from renewable raw materials; the recycled content is more than 80 percent. At the same time, we make no compromises in terms of stability. Likewise, the cardboard and film can be easily separated and recycled by the consumer."
The film is thermoformed and sealed directly to the inside of the corrugated cardboard box. After this, the customerspecific packaging process can take place. "The investment costs are low and the result is ecologically sustainable packaging," summarizes Donges. MAP packaging heights range from 20 to 60 mm and skin versions up to 20 mm, with corrugated cardboard used on the outer box.
The brand information can be printed over the entire surface, enables high-quality product presentation and meets increasing product labeling demands. Likewise, companies have the opportunity to demonstrate their commitment to using resources more mindfully by investing in this sustainable solution. "At our production site in Wallau, Germany, we have put a sample system into operation where diverse customer-specific solutions can be tested," concludes Donges invitingly.
Fachpack 2019


New dimension in pack labelling performance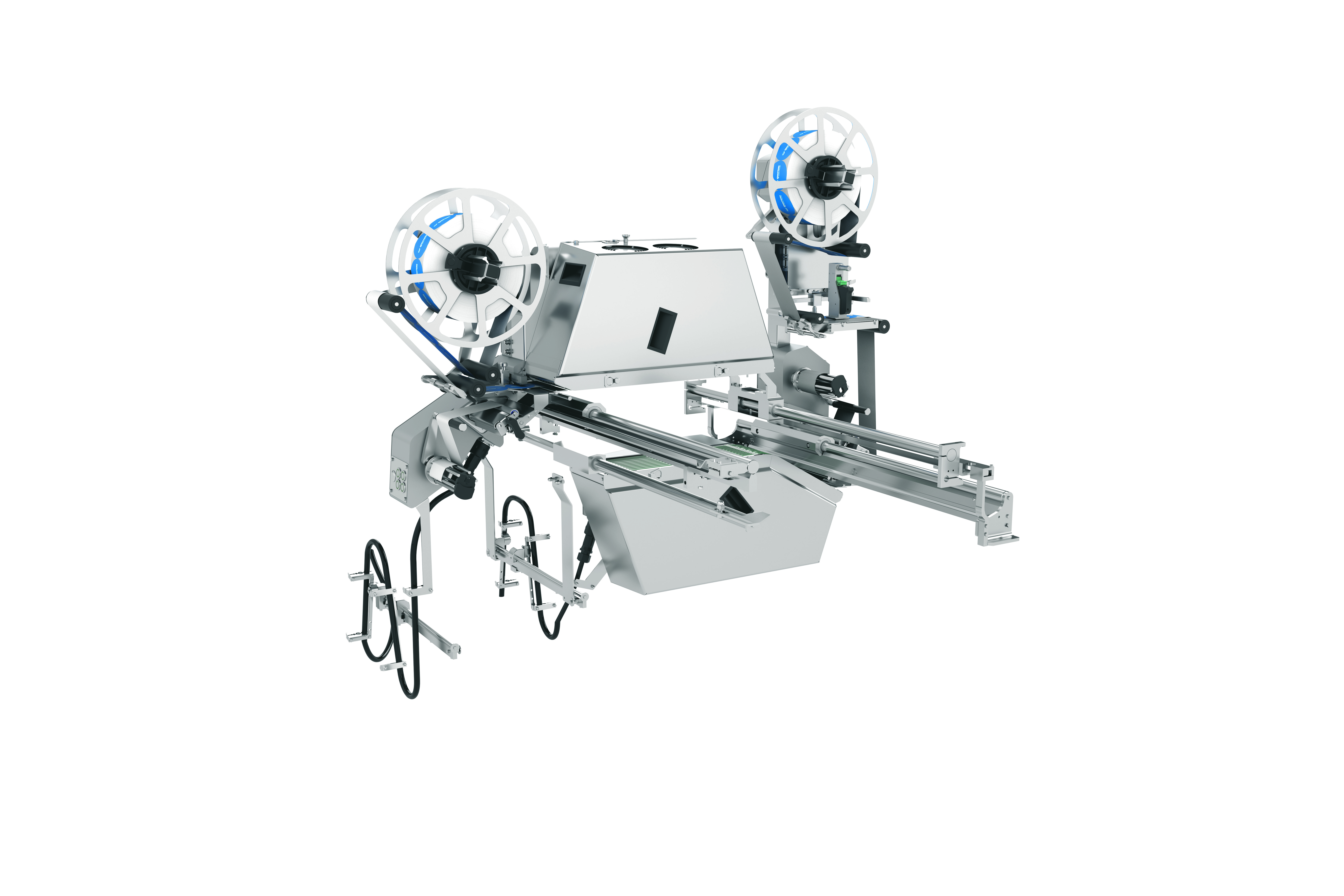 At Fachpack 2019 Multivac will be presenting a new generation of cross web labellers. In addition to improved performance and operating reliability, one of the features of the new models compared to the previous labelling solutions are their lower life cycle costs. The use of state-of-the-art communication standards such as IO-link and EtherCAT ensures that they are equipped for the future. This enables additional sensor systems for example to be used, such as those for labelling inspection or predictive maintenance.
The new cross web labellers are process-controlled. Individual movements are overlaid as much as possible, so that an optimised and therefore significantly faster labelling process is achieved. Servo drives on all axes, as well as the virtually continuous operation of the longitudinal shift unit, ensure that the cycle output is increased still further.
Higher performance, compact design
The new labellers have been fitted with the latest generation of label dispensers, which also contribute to a higher cycle output thanks to their sophisticated servo motor technology. The use of servo drives also offers the benefit, that no reference runs have to be performed before the labelling operation is begun – and this means that set-up and conversion times are reduced, so that the labellers are operational more rapidly.
The robust construction of the new machine generation also makes a contribution to increasing the cycle output. The axis of the longitudinal shift unit is for example designed with even greater torsional rigidity than previously. The machines operate with significantly less vibration, and their travel range can be completed in a shorter time. The simplified construction with its fewer number of deflection rollers accelerates label roll change and makes it even easier, so that downtime is also reduced. In addition to these benefits, the more compact design also means a reduction in space requirement.
Greater ease of operation, high level of efficiency
The new machine generation from Multivac also sets the benchmark in the market for its ease of operation. Menu guidance has been optimised and equipped with an integrated wizard function. The system only needs the required number of cycles to be entered – after that all the relevant speed and acceleration parameters are adjusted automatically. The Quick Control panel is also integrated in the labeller housing, so that the operator has less distance to cover.
Removal of the vacuum box hood and access to the pusher plate set is quick and easy, and this can be performed without any tools. The necessary service work can be carried out in a user-friendly way and above all very rapidly. The reduction in time and effort increases efficiency and makes itself felt immediately in the life cycle costs.
Maximum reliability, high level of availability
Particular importance was attached to machine reliability, especially in view of the high cycle speeds. The constant monitoring of travel speeds and torque ensures that the highest level of process and operating reliability is achieved even at maximum output.
Thanks to targeted minimisation of potential faults, Multivac has significantly increased the reliability and availability of the labelling system. The reduction in moving parts and an improvement in the cable feed also make a significant contribution.
Equipped for the future
The new cross web labellers are already designed for the demands of tomorrow. State-of-the-art communication standards such as IO-link and EtherCAT enable the machines to be equipped with the latest sensor technology. Additional solutions for labelling inspection can also be easily retrofitted, since the corresponding interfaces are already integrated. And last but not least, the labellers are designed for predictive maintenance.
Multivac at the Fachpack 2019: Hall 1, Stand 221
Environmental impact study


Cartons in comparison with reusable glass bottles
A state-of-the-art environmental lifecycle assessment (LCA) has confirmed that single-use beverage cartons compare favourably with reusable glass bottles – and outperform single-use PET bottles – across the fresh milk, juice and UHT milk market segments.
The results of the critically reviewed LCA study are based on an in-depth analysis of the German beverage packaging market, with expert review and oversight by the German Federal Environment Agency (UBA). The conclusions are globally relevant and support the findings of previous critically reviewed LCAs that beverage cartons offer environmental advantages to alternative forms of packaging for liquid dairy and juices.
SIG Chief Executive Officer Rolf Stangl commented: "The latest LCA confirms once again that beverage cartons are the preferred environmental choice for milk and juice packaging. The high proportion of renewable content in single-use beverage cartons puts them on a par even with glass bottles that can be reused multiple times. These results are based on standard beverage cartons that are around 75% renewable and SIG already offers customers innovative products that are linked to up to 100% renewable content."
Rigorous assessments for informed decision-making
SIG is a member of the German Beverage Carton Association FKN, which commissioned the LCA study to support informed decisions on packaging by food producers, consumers and policymakers based on a robust scientific comparison of environmental impact.
The LCA was conducted by the Institute for Energy and Environmental Research (IFEU) in accordance with the recognised ISO 14040/44 international standards. It is the first study to meet the new requirements stipulated by the German Federal Environment Agency (UBA) for beverage packaging life cycle assessments in Germany.
Benedikt Kauertz, Scientific Director at IFEU said: "IFEU supported the UBA in developing its minimum requirements for LCAs for beverage packaging. The study commissioned by FKN is the first to implement these requirements and adopt such a robust approach. The results show that beverage cartons for milk and juice are advantageous compared with single use PET bottles. For milk, beverage cartons are even better than the reference system, reusable glass bottles, and for juices beverage cartons perform on a par with the reference system. For UHT milk, where no reusable packaging option is available, beverage cartons perform better than the single-use PET bottle alternative."
Environmental advantages of cartons confirmed
Reusable packaging options, such as glass bottles that are returned to food or beverage producers to be used again, are often assumed to be the best option for the environment. That is why reusable options, where available for a particular market, are used as the reference system for comparison.
Based on an in-depth analysis of all three market segments – fresh milk, juices and UHT milk – the beverage carton performs at least as well, or in the case of fresh milk, even better than reusable glass bottles. The latest study also confirms that both beverage cartons and reusable glass bottles outperform PET bottles for fresh milk, juice and UHT milk. Where no re-usable system is installed, beverage cartons are clearly advantageous.
Cartons perform significantly better than the alternatives on climate change – the category given highest ecological priority by the UBA. The climate impact results for cartons are 78% lower than reusable glass bottles for fresh milk, 37% lower than reusable glass bottles for fruit juices and 71% lower than PET bottles for UHT milk (for which no reusable options are available).
The high proportion of renewable material used to make beverage cartons – 75% on average – contributes to their strong environmental performance, together with their highly efficient design which reduces impacts from transport and distribution. The favourable results are underpinned by the industry's commitment to sourcing from responsibly-managed forests.
LCAs support responsible product innovation
LCA is fundamental to SIG's robust approach to product responsibility and informs the focus of the company's product innovation. This latest study confirms the important contribution that renewable materials make to the excellent environmental performance of beverage cartons and SIG is working to increase the proportion of renewable content in its packs. SIG's Eco Plus pack is 82% renewable and its Signature Pack 100 is the only aseptic beverage carton to be linked to 100% forest-based materials, using an innovative mass balance approach. These innovations are part of SIG's commitment to go Way Beyond Good by putting more into society and the environment than it takes out.
Management change


Multivac sets a course for the future
After more than 18 years as CEO of the Multivac Group, Hans-Joachim Boekstegers will hand over the business on 1 January 2020 to his director colleagues, Christian Traumann and Guido Spix, and bow out of the company. Mr Traumann and Mr Spix will manage the company jointly in future.
Hans-Joachim Boekstegers joined the Multivac Group as CEO on 1 April 2001 and has since played a determining role in driving forward the successful development of the company. Mr Boekstegers was responsible in particular for the systematic expansion of the product portfolio and Multivac's sales and service network. With 85 of its own subsidiaries, Multivac is today one of the leading manufacturers worldwide of packaging and processing solutions. During this time the company's turnover was more than quadrupled, reaching some 1.1 billion euros at the end of 2018, and the number of employees rose from 1,600 to around 5,900.
With effect from 1 January 2020 Christian Traumann and Guido Spix will take up dual leadership of the Multivac Group. Mr Traumann will assume responsibility for Sales and Finance, while Mr Spix will become responsible for Technology and Production.
Christian Traumann had been Commercial Head of the Multivac Group since the beginning of 2002, before being appointed as Director and CFO for the Group in August 2008. Guido Spix joined the company as Director in March 2009 and has since assumed the position of CTO/COO.
In order to ensure that there is continuity in Multivac's strategic direction, the course is already being set with an extended planning phase for the transfer of responsibilities to Mr Boekstegers's successors. Mr Boekstegers will continue until the end of the year to guide Multivac's destiny as usual, and he will remain on friendly terms with the company after this period.