New system solution


Sustainable MAP packaging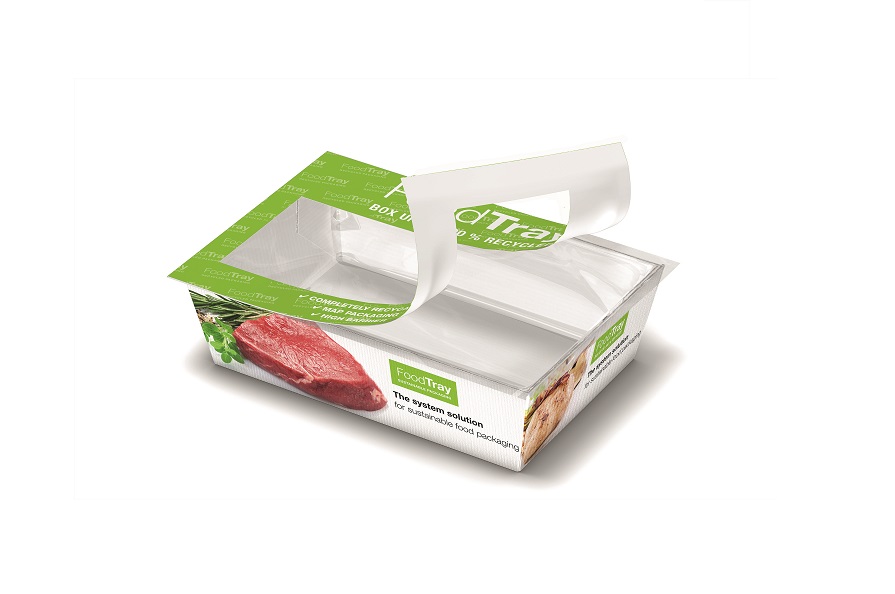 Gea presented a new combined solution for sustainable food packaging at IFFA 2019 in Frankfurt. The new packaging law, which came into force in Germany on January 1, 2019, requires significantly higher recycling rates for plastic packaging and will have far-reaching consequences for industry. Together with partner companies, Gea developed an ecological carton/film composite solution, known as FoodTray. The two components, which are assembled on a Gea thermoforming packaging machine, can be easily separated later by the consumer in a single motion.
Supplying a growing world population with fresh food only works with the support of safe and secure packaging. The challenge is the consumption of resources, which is constantly rising and yet must be minimized. The German packaging law stipulates recycling quotas which, for example, requires 63 percent for plastics by 2022. "The question is what the packaging industry can do to meet these requirements and how it can ultimately replace plastic," says Hans-Günter Donges, who is responsible for overarching developments in process technology at Gea.
Bundled know-how for greater efficiency and sustainability
As a result, food manufacturers are making challenging demands on machine technology. The company has offered a proven alternative to pure plastic packaging for years with a carton/film composite solution, which has now been further adapted to market requirements and guarantees maximum flexibility. Initially, the concept focused on creating a tray from corrugated board that could also meet the requirements of modern food packaging. Thanks to the cooperation with diverse specialists from the corrugated cardboard, film and mechanical engineering sectors, including the Roba Group, Schur Flexibles Germany and Van de Velde Packaging, the requirements could now be met. FoodTray is a system packaging that combines the criteria of product claim, haptics, safety, sustainability and industrial production processes.
Composite packaging solution, yet still separable
FoodTray is a packaging solution made from the basic materials: corrugated cardboard and film. Corrugated cardboard is the most widely used packaging material worldwide and is made almost entirely of natural raw or recycled material. The film provides an outstanding barrier, helping extend food shelf life.
The FoodTray system consists of corrugated cardboard carton with film on the inside, combining the advantages of both cardboard and plastic. "We've reduced film content by up to 70 percent," explains Donges. "At FoodTray, fossil-based raw materials are replaced with fibers from renewable raw materials; the recycled content is more than 80 percent. At the same time, we make no compromises in terms of stability. Likewise, the cardboard and film can be easily separated and recycled by the consumer."
The film is thermoformed and sealed directly to the inside of the corrugated cardboard box. After this, the customerspecific packaging process can take place. "The investment costs are low and the result is ecologically sustainable packaging," summarizes Donges. MAP packaging heights range from 20 to 60 mm and skin versions up to 20 mm, with corrugated cardboard used on the outer box.
The brand information can be printed over the entire surface, enables high-quality product presentation and meets increasing product labeling demands. Likewise, companies have the opportunity to demonstrate their commitment to using resources more mindfully by investing in this sustainable solution. "At our production site in Wallau, Germany, we have put a sample system into operation where diverse customer-specific solutions can be tested," concludes Donges invitingly.
Bosch Packaging


Coffee packaging system solution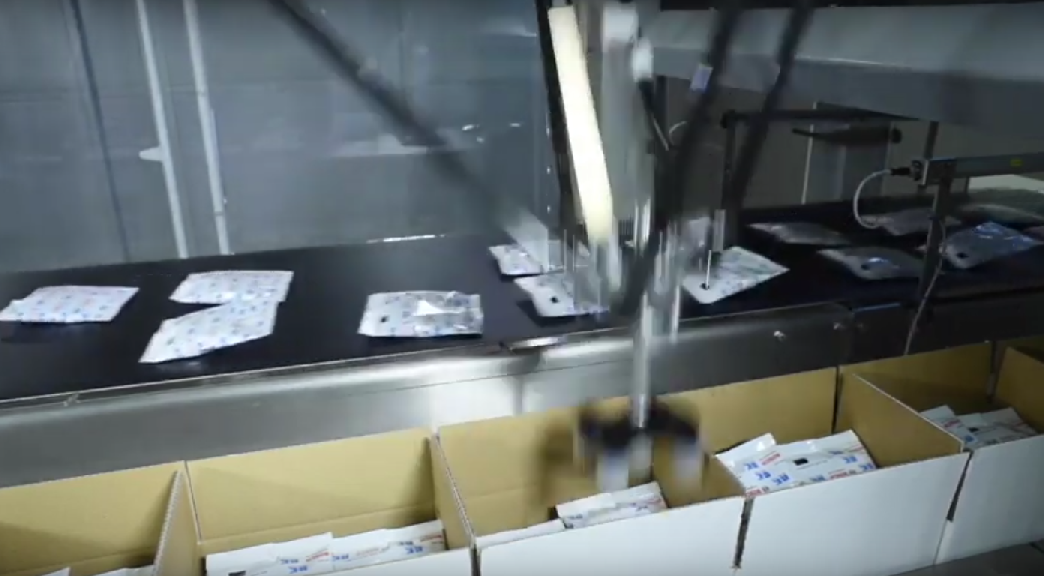 Increase the efficiency of the coffee production with up to 300 sachets per minute, which the visually controlled Paloma Top Loader precisely positions in packs.
La Huerta Grows with Key Technology


New Vibratory Shakers
La Huerta, processors of frozen fruits and vegetables, added their third production line in 2016 and their fifth automated packaging line in September 2018. Looking for world-class performance, including superior sanitation and rugged reliability, they've turned to Key Technology many times along the way. Now, Key's Iso-Flo vibratory shakers can be found on every processing and packaging line at La Huerta.
"Every year, the demand for food safety gets stricter, with higher standards for microbiology and sanitation and more requests for audits. In this environment, our relentless focus on quality sets us apart," said Carlos Gutierrez, Plant Manager at La Huerta. "Our equipment from Key helps us achieve our high product quality objectives at the same time it increases our efficiencies by maximizing uptime and reducing labor."
La Huerta installed Key's Veg-Mix in 2006, followed by an Iso-Flo dewatering shaker and an Iso-Flo fines removal shaker the next year. Since then, they've installed two integrated packaging distribution systems that each feature several Iso-Flo Smooth-Cycle™ scale-feed conveyors with pneumatic slide gates and an Iso-Flo collection shaker. They added another dewatering shaker in 2016 and a bar-style size grader, also based on Key's versatile Iso-Flo design, in 2018.
"The quality of Key's equipment is far better than any competitive solution that we've used. As our other shakers reach the end of their life, we plan to replace them with Iso-Flo," noted Luis Picazo, Project and Maintenance Manager at La Huerta. "Key customizes each of these shakers for our processes so they work perfectly, and they're designed to be easy to clean and hygienic. The support we've received from Key has also been great. Whenever we have questions or need anything, they're very responsive."
Iso-Flo shakers have always been recognized for sanitation and reliability, and Key is continuously working to improve their designs with new features that exceed rising food safety standards. In addition to stainless steel construction, smooth beds and durable StrongArm spring arms that have helped define Key's vibratory shakers over the years, La Huerta's newer Iso-Flo shakers also feature 100 percent continuous welds, no-pinch slide gates, stainless steel motors, self-draining surfaces and the elimination of laminations, which can trap bacteria. Every element of every Key system is designed for performance and sanitation.
Featuring independent frame-mounted drives and spring arm assemblies, Iso-Flo shakers distribute energy equally to all parts of the shaker bed in a controlled natural-frequency operation. This operating principle minimizes the vibration that is transferred to structural support and the floor, which cuts the cost of installation, reduces energy use and offers quiet operation. Key's contoured StrongArm spring arms, made with propriety composite material, offer an operational life that is up to twice the life of traditional, straight spring arms. The stainless steel Iso-Drive adds to Iso-Flo's extreme dependability, reducing maintenance and improving performance and uptime.
"La Huerta has been in the 'healthy food business' since we were founded by Jose Arteaga Campos in 1957. Today, under the leadership of his son, Jose Arteaga Niepmann, we remain true to our original principles of respect, integrity, responsibility and teamwork while we evolve," said Katrin Derntl, International Sales Manager at La Huerta. "After growing our sales volume on average 10 percent annually over the last five years, we're producing more than 60,000 metric tons of finished product a year and exporting more than 40 percent to 11 countries, including the U.S., Canada and Japan, where customers have the highest quality standards. Our products go to market under our own brand and under private label customers' brand names, as well. In Mexico, the La Huerta brand is by far the market leader in the frozen vegetable category with over 70% of market share in retail."
La Huerta installed Key's Veg-Mix on their packaging lines to produce bags of mixed fruits or vegetables. This system receives each product in a separate infeed hopper, then de-clusters, meters, mixes and conveys the mixed product to packaging. The hopper design minimizes product 'sticking' to eliminate the buildup of thawed product. A long-span frame and integrated Iso-Flo collection conveyors allow for minimal supports to the floor, which makes the system easy to install and easy to clean. The master override adjusts total line flow while maintaining preset mix ratios. Independent, 'on-the-fly' adjustment of the Cluster Breaker and Vari-Feeder enable quick, reliable change of product mix and metering. "Our Veg-Mix ensures the right amount of each product in the mix so we're sure to stay within specifications," explained Picazo.
The two Iso-Flo packaging distribution lines at La Huerta feature several Iso-Flo Smooth-Cycle shakers with no-pinch sliding gates. One distribution system feeds product to three multi-head weighers that each feed a VFFS machine. The other feeds semi-automated packaging stations. Designed specifically for feeding applications, Smooth Cycle conveyors include controls that manage the flow of the product on the shaker, speeding up and slowing down as needed, to eliminate the mechanical stop/start transients common in these applications.
Turning the first spadeful


New Center of Excellence for meat portioning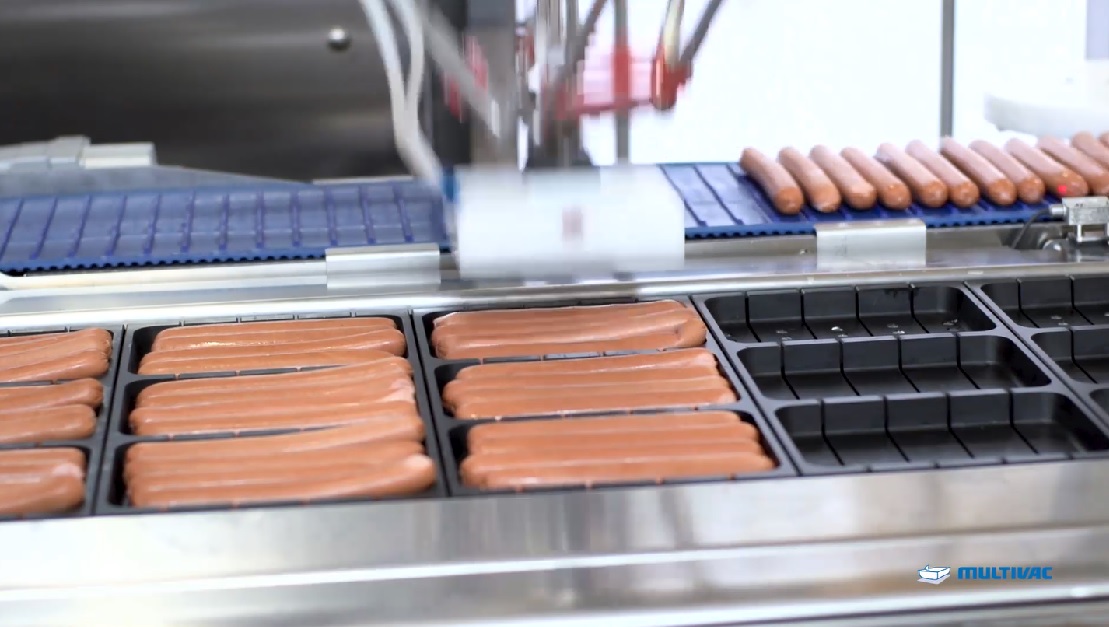 As part of an official celebration, the first spadeful of earth was turned today for the construction of a new factory at TVI Entwicklung und Produktion GmbH in Bruckmühl. A state-of-the-art complex covering around 9,000 square metres of available space will be built there, and it will include an office building and Customer Center as well as the production hall. Completion is planned for May 2020, and the total investment amounts to approx. 17.5 million euros.
TVI is the market leader in meat-portioning machines and complete portioning lines. The product portfolio includes solutions for tempering, pressing, portioning and automating, as well as grill stick winders and equipment for producing kebab skewers. Since January 2017 Multivac has held a majority share in the company – and with the construction of the new building it is now creating the ideal conditions for further sustainable growth.
A large number of guests took part in the celebrations at Bruckmühl, among them Richard Richter, Mayor of Bruckmühl, Alois Allgaier and Thomas Völkl, the two CEOs of TVI, as well as Multivac Directors, Guido Spix (CTO/COO) and Christian Traumann (CFO).
Continuing to expand the position in precision meat portioning
"The Portioning Machinery Business Unit is developing in a very satisfactory manner. By investing in the new factory, we are facilitating the expansion of our product portfolio and at the same time enabling TVI's leading position in precision meat portioning to be consolidated," explained Guido Spix, CTO and COO of Multivac. "The number of employees is due to increase from the current 120 to around 250 in the coming years."
The new Center of Excellence for meat portioning will include a production hall of around 5,600 square metres for the Pre-fabrication and Assembly areas as well as the Logistics, Warehouse and Development departments. The new factory will use a deep-well system to ensure that the building is cooled by ground water.
In addition to this, there will be a three-storey office building with a total area of 1,920 square metres, in which a modern canteen, high-quality offices and a recreation room will be housed. "When designing the new facility with its state-of-the-art working environment as well as its various functional areas and meeting places, it was very important for us to create an environment for our staff, in which they feel at ease and can find all the requirements for their work," explained Alois Allgaier, CEO of TVI.
A two-storey Customer Center covering an area of around 1,400 square metres, including several demonstration rooms and a Customer Lounge, rounds off the new complex. "This will enable us in future to offer our customers the ideal conditions for discussing and demonstrating our high-performance portioning solutions under real conditions," said Thomas Völkl, CEO of TVI. "It will also be possible to carry out individual trials with customers' own products, as well as testing the solutions for feasibility, output, return on investment, give-away and other critical factors."