Successful Exit from Global Olive Oil Producer
Gulf Capital, a leading thematic Private Equity firm investing across the Middle East and Southeast Asia, announced the successful completion of its exit from CHO Group, a fully-integrated producer and global exporter of olive oil and the largest operator in North Africa. This investment reflects Gulf Capital's strategy of increasing its investments in food security and sustainability across the Middle East and Southeast Asia.
During the partnership period with Gulf Capital, CHO Group expanded its production facilities and grew its local and global footprint through local acquisitions, backward vertical integration and expanding rapidly its global export markets. As a result, the Company grew its revenues by circa 33 percent, doubled the number of countries it exports to, extending its reach to a record 50 countries across North America, Europe, Asia and Africa, while maintaining double digit EBITDA margins.
Founded in 1996 as an olive oil bulk trader operating a single crushing mill, CHO Group today manages one of the largest 'farm-to-fork' operations in the sector globally, using sustainable farming methods. CHO Group has demonstrated its societal and environmental commitment by supporting Tunisian farmers and millers and by promoting various forms of awareness-raising "good behaviour" practices in sustainable farming. CHO Group is committed to putting in place a sustainable development strategy which is essentially based on new plantations for the minimization of its carbon footprint and the promotion of investments in regional development areas for the creation of new business opportunities, employment, and wealth.
Chris Foll, Senior Managing Director, Growth Capital at Gulf Capital, said: "Our strong focus on food security and sustainability, as well as CHO Group's market leadership in Tunisia, its vision and growth plans, and its talented management team made the Company highly investable with favourable growth prospects. What made the investment even more attractive to Gulf Capital was the strong focus CHO Group placed on sustainable farming and supporting local job creation. CHO Group proved us right. This sense of purpose led the company to become one of the pioneers in sustainable farming in North Africa, and more specifically in Tunisia, and to eventually become one of the leading global players in the integrated olive oil production sector."
Gulf Capital's and other investors' participation also encouraged CHO Group to launch notable diversity initiatives, even at the board level. Today, women represent 25 percent of the company's top management and 45 percent of the full time workforce, up from a low percentage a few years ago.
With the help of Gulf Capital's growth capital investment, CHO Group has backward integrated over 3,200 hectares of land, which produce olives to be used by its processing facilities and is planning on increasing this to 4,200 hectares over the next couple of years. In the face of increased competition and inflationary raw-material cost pressures, backward integration would help CHO Group to maintain its strong position and grow its margins despite a high inflation environment and spiralling energy costs. Research shows that about one-third of food costs are energy-related, with transportation and packaging costs representing the bulk of the rest.
Mr. Abdelaziz Makhloufi, Co-founder and CEO of CHO Group, said: "Demand for food is going to continue to increase over the next decade, driven by population growth and other factors. Supported by Gulf Capital and our other investors who believed in us and shared our vision and values, CHO Group has been cultivating its growth on solid grounds and is now ready for its next phase of growth.  I want to thank Gulf Capital for their support and for providing us with the growth capital necessary to fund our rapid expansion and global exports." The World Economic Forum (WEF) expects that demand for food in 2050 will be 60 percent greater than it is today.
Miray Zaki, Managing Director at Gulf Capital, who heads the Firm's North Africa operations and heads investments in Sustainability, added: "Throughout our partnership, we never stopped to be impressed by the way CHO Group was able to build business resilience through enhancing its sustainable management of resources across its production and supply chain processes, leading to boosting efficiencies throughout its operations. The Company was on a consistent mission of improving its sustainability through production, productivity, energy efficiency, diversification, inclusiveness, and capacity development, while creating new jobs and generating shared value for its employees, workers, and investors. The world-class management team have truly been the best partners an investor would hope for.  We wish CHO Group all the best on their next phase of growth."
Strictest quality specifications for Wheaty products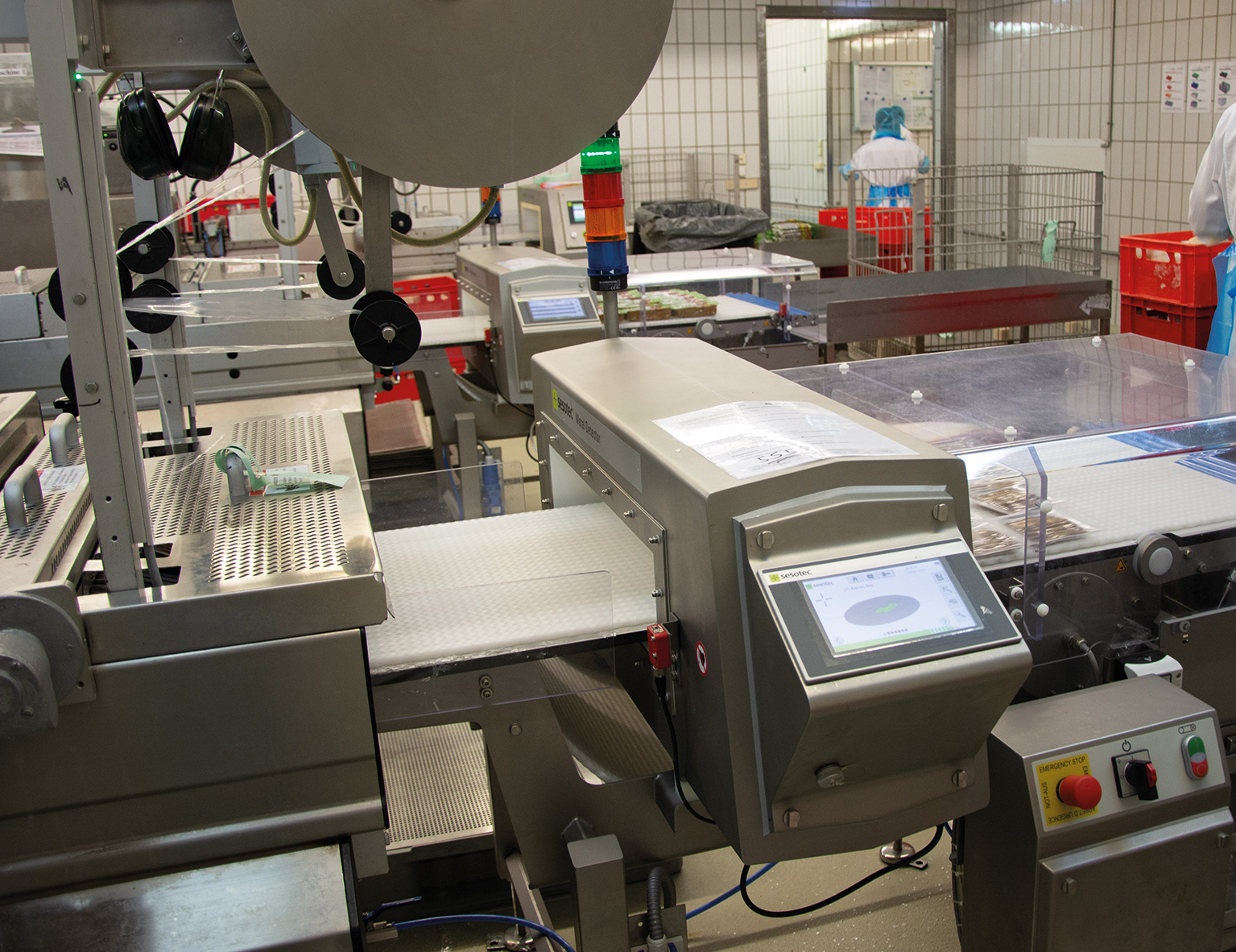 The family business Topas produces vegan meat and cheese alternatives in Kernen, Germany, including the well-known Wheaty brand and is a pioneer in the field of vegan nutrition. With around 100 employees, 50 different products and deliveries to 16 European countries, Topas attaches great importance to the highest quality and continuous further development.
Produced exclusively in Germany using regional raw materials, the products meet the most stringent ecological quality requirements and are certified according to the IFS. Since the foundation until now with the second family generation in the company management, constant development in the areas of product and technology plays an important role.
All Wheaty products are based on organic wheat protein, so-called seitan. During its production, the wheat grains are first processed into flour, which is washed and kneaded several times with water until the starch is washed out and only wheat protein remains. Cooked with various ingredients and spices, the result is seitan, a wet mass that has a meat-like consistency.
Water content and ambient conditions affect the accuracy of metal detectors and cause false alarms
When using metal detectors in the food industry, it is important to keep in mind that many foodstuffs exhibit a so-called product effect. This product effect is caused for example, by a high water or salt content, which leads to the so-called intrinsic conductivity. This impairs the metal detection in that the detector may report a metal signal even though no metal is present in the product. The result: false triggering occurs, and a perfect product is rejected. Vibrations in the vicinity of metal detectors can also cause false resolutions.
In the case of products with a high product effect (intrinsic conductivity), the sensitivity of the metal detector is reduced. However, this increases the risk of metal contamination in the end product.
Combination of conveyor belt and metal detector with AI
The Sesotec complete metal detection system UNICON+ for dry or wet area consists of a conveyor belt, the INTUITY metal detector (coil and control unit), and as optional with reject system. The metal detection system can be integrated into different production stages. The INTUITY coil technology with extremely short metal-free zone enables shortest conveyor belt lengths, which is very important due to the limited space available at Topas.
The INTUITY metal detector uses THiNK technology, which is based on AI (Artificial Intelligence) methods. Products with high and/or fluctuating product effects can be examined better and more stable with THiNK. Sesotec THiNK can detect "false" interference signals caused by the product effect. The advantages: Metal particles are reliably detected and there are fewer false alarms.
The metal detection system, which is installed after packaging, inspects the finished products at the last CCP (Critical Control Point) for metallic foreign bodies (stainless steel, ferrous and non-ferrous), thus guaranteeing pure products for consumers.
Fewer complaints due to highest detection performance
As a food manufacturer, Topas has to comply with strict guidelines and standards regarding Food Safety. With THiNK, the product effect can be almost eliminated, which enables a high sensitivity setting with which Topas can detect the smallest metal particles. The advantage for Wheaty products: greater safety, fewer complaints and less product loss.
"All in all, it was a great project with Sesotec. From our side, there were several different requirements for the metal detectors, which were well solved by Sesotec. Stability, sensitivities, integration – these were all factors that presented us with challenges that are now no longer an issue. We can fully concentrate on our products, which is the most important thing for us", says Mr. Behne, plant manager at Topas.
Natural ingredients for crispier creations – Crunch time
When it comes to crisp baked goods such as wafers, the sound while eating is key to consumer acceptance. And that's because perception of product quality, and even taste, are closely connected to acoustics. To demonstrate how calcium carbonate can easily improve mouthfeel without negatively impacting taste, Omya carried out a sound analysis which showed a clear correlation between audible crispness and the content of Omya Calcipur in a wafer.
Autonomous Sensory Meridian Response (ASMR) is on the rise: This trend highlights the link between pleasant joyful feelings and specific auditory and visual stimuli. With Mukbang, Korean consumers perfectly illustrate ASMR by publishing clips on social media to document the recording of special eating experiences. And this trend is the perfect opportunity to explore how Omya Calcipur can help support appealing – and audible – crispness.
As a real all-rounder suitable for different technical processes, Omya Calcipur has a positive impact on not only health but also sensory qualities, mouthfeel and colour in numerous applications. When used in snacks and cereals, the particles provide better extrusion and intensify the perception of salty or sweet tastes. A trial with baked wafers has revealed how a specific amount of Omya Calcipur can reduce the mass of the wafer by lowering moisture content due to increased heat transfer, ultimately resulting in a crispier end product. The higher thermal conductivity of Omya Calcipur compared to flour can be advantageous for manufacturers as it allows for a reduction in cooking time. Measurements taken during the trial were weight, texture analysis, moisture content and food consumption noises. Wafers containing three different amounts of calcium carbonate (0 percent, 1 percent and 1.5 percent were prepared in a norming process, cut into squares of 55 x 55 millimeter and their weight measured. A combination of force measurement and acoustic detection was used to assess crispness, using an Acoustic Envelope Detector (AED) and a Texture Analyzer.
Crispness was defined by the number of sound peaks detected during the structural breakdown of the wafer. The texture analysis proved that the firmness of the wafer was not affected by adding calcium carbonate: the maximum force referred to the hardness of the wafer, which stayed constant. The sound analysis demonstrated that the addition of calcium carbonate significantly elevated the number of peaks and thus the crispness of the wafers. The addition of 1 percent calcium carbonate enhanced the number of peaks by 29 percent, while 1.5 percent addition of calcium carbonate resulted in a 48 percent increase.
Renata Negrini, Technical Service Manager Food, at Omya, says: "Eating as a means of wellbeing is as old as time, but in a world of mass consumption it's more important than ever for manufacturers to create products that stand out from the crowd. Here, Omya Calcipur is key, as it's an ingredient that not only helps optimise formulations and production process, but is also natural and healthy."
New analytical instrument unites 3 measuring tasks in 1 instrument
The new instrument analyzes liquid, translucent samples for their optical spectrum, color, and water parameters. Or any of the three. Operators speed up their processes and improve the quality of the results using Easy VIS. They, therefore, save money, time, and space.
The compact Easy VIS by Mettler Toledo efficiently analyzes fluid and translucent samples. As a true all-rounder, it covers three measuring tasks in one instrument.
The instrument takes over the measuring tasks of up to three instruments: a colorimeter, a spectrophotometer, and special measuring methods for water testing, such as titration. All this power rests in one instrument about the size of a notebook. The results appear on screen in trustworthy accuracy, precision, and repeatability – within seconds. That saves money, time, and space. The instrument's name is Easy VIS, one of the next-generation EasyPlus UV/VIS spectrophotometers produced by Mettler Toledo.
Ease of use in a new dimension: Closing the lid of the Easy VIS spectrophotometer produced by Mettler Toledo automatically starts the measurement.
Manufacturers benefit in many ways
A typical place for Easy VIS is the QC lab at small manufacturers in the food and beverage industry, environmental testing labs, or any industry needing quality control and supervising their process- or wastewaters. The Easy VIS is used during multiple steps of the production process: For inspection of raw materials, quality control of semi-finished and finished products, or testing the water quality of wastewater.
This streamlines the production processes considerably. Those who used to send their samples to an external laboratory profit even more, as they can now analyze most samples independently at an internal cost.
The visual user interface with workflow guidance allows you to simply scan and measure. Even untrained staff can operate Easy VIS intuitively. This increases the integrity and repeatability of the analysis and saves training time.
Easy VIS operates within a wavelength range of 330 to 1,000 nm. The light source is an easy-to-replace tungsten lamp, which any operator can replace within no time.
The partner device, Easy UV, covers the full UV/Vis spectrum with a wavelength range from 190 to 1,000 nm to cover additional applications in the UV range. Plus: The Easy UV runs with a power-saving and maintenance-free xenon-flash lamp.
Analytic precision in three fields of expertise
25 standard-compliant color scales in the visible range come pre-installed and can easily be used. Some examples are ICUMSA for sugar color, ESBC for beer quality analysis, or OIV CIELab for wine color determination. The results reveal the quality of the product within seconds.
Water analysis shows, for example, the concentration of Aluminum, Ozone, Chlorine, or Polyphenol. This reveals whether the water is fit for human consumption or can be used in further production. Is the wastewater safe to release? With its numerous built-in water testing methods, the spectrophotometer can quickly provide the answer.
For spectrophotometry, the sample is analyzed at the wavelengths where the sample has its characteristic absorption of light. The Easy VIS measures the transmitted or absorbed light and the reading reveals the sample's concentration or purity.
The PathDetect function of the compact Easy VIS spectrophotometer produced by Mettler Toledo recognizes which path length is measured and reduces errors.
A typical analysis with the Easy VIS
The testing procedure is very simple: One cuvette holds the blank measurement, and another is prepared with the sample. After choosing the desired analysis method, the cuvette is placed in the cuvette holder. The PathDetect function recognizes which path length is measured. Closing the lid automatically starts the blank measurement. (By the way, the blank measurement is stored for seven days. So, this step can be neglected during the rest of the week unless the measurement parameters change). After determining the blank, the sample cuvette is brought into the measuring position. The measurement starts again automatically after closing the lid. Within seconds, the results show up on the screen. Now Easy VIS is free to analyze other samples or to start a different analysis method. With the EasyDirect software, these results may be automatically saved or exported to an external storage device or exchanged with a data management system (for example LIMS).
Conclusion
Easy VIS has the potential to replace up to three other instruments, performing color measurement, water analysis, and spectrophotometry. It does so with trusted accuracy and precision – within several steps of the production process. All this saves money, time, and space. Check with your local Mettler Toledo representative about how unique the price performance is!
Good to know
Mettler Toledo's new EasyPlus instrument line embraces the Easy VIS and Easy UV spectrophotometer. Both instruments offer equal benefits to their operators in accuracy, speed, and compactness. They differ in two aspects: wavelength range and light source. The Easy UV is of special interest to those working within the UV range from 190 to 1,000 nm. Its xenon-flash lamp is maintenance-free and requires no changing.