DuPont Personal Protection


Study on reusable cleanroom clothing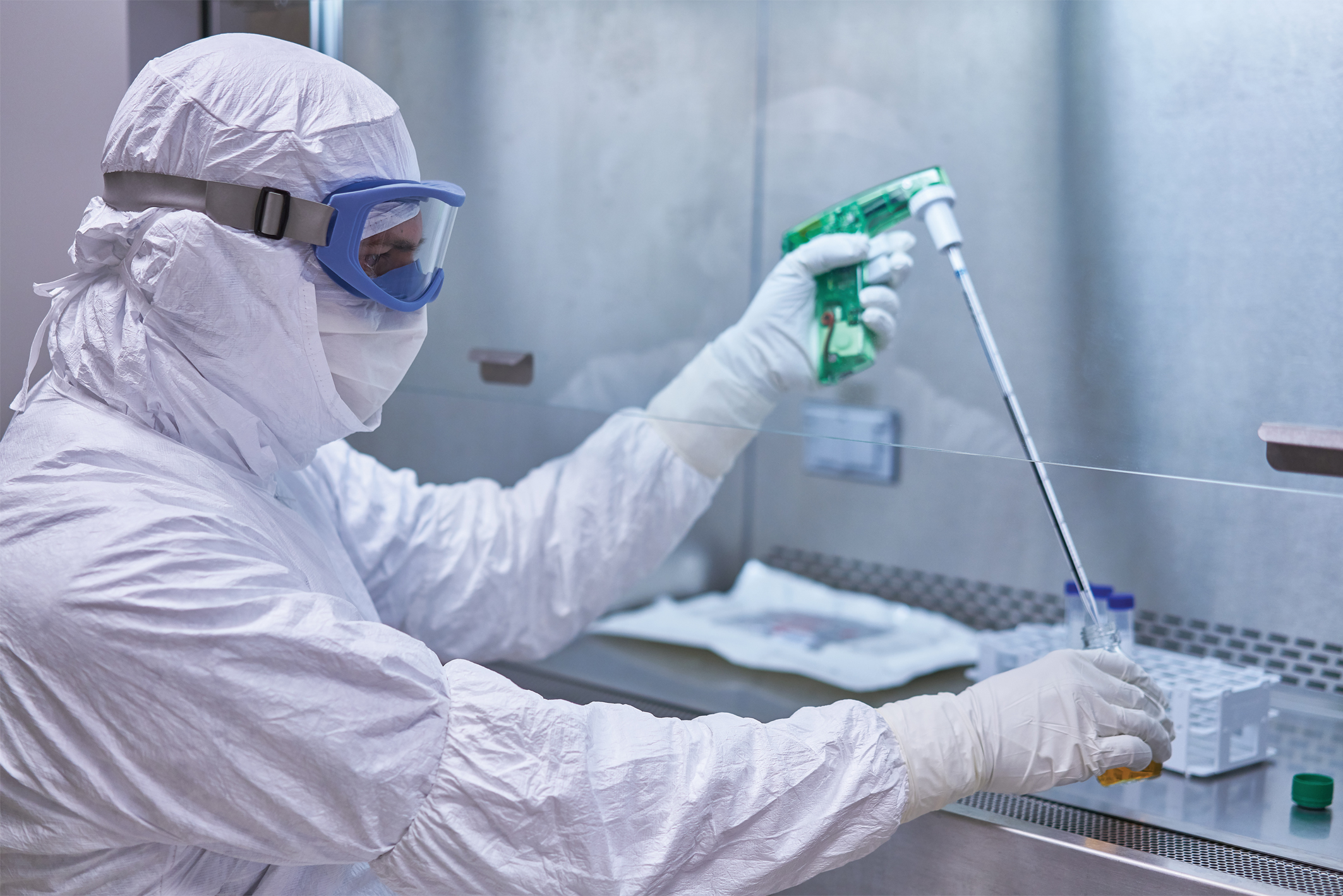 A new study by DuPont Personal Protection which assesses the performance of reusable garments for cleanroom applications could lead to a radical change in controlled environment practices.  The results, which the company has published in a whitepaper, confirm that reusable garments are vulnerable to damage from laundering and sterilization – and that the evidence that a garment has been compromised is often invisible to the naked eye.
The results could have far-reaching implications, particularly for those working in the medical devices manufacturing, pharmaceutical, biotechnology and research industries. Still a relatively new introduction, single-use textiles such as Tyvek IsoClean reduce the risk of contamination and will become an increasingly important element of any contamination control strategy.
Reusable garments used in sterile and aseptic production require repeated laundering and sterilization cycles to maintain their effectiveness, using such techniques as gamma radiation. Physical property data are often available for new cleanroom garments: however, there are less data available throughout the entire garment life. DuPont's new study is intended to address this information gap.
Says Jean-François Teneul, Global Business Manager for the Controlled Environments section of DuPont Personal Protection: "Most contamination within aseptic processing areas is caused by the humans working in the cleanrooms. When selecting reusable garments for use in controlled environments, it is important to understand how they will perform over their intended lifecycle. In addition, for potent product handling, cleanroom garments must perform a dual role: not only to protect the product from the operator, as with aseptic processes; but also to protect the operator from the hazardous chemicals. We felt it was necessary to provide these professionals with data on which to base a more informed choice."
DuPont conducted the study to map the properties of reusable garments typically used in cleanrooms when exposed to repeated laundering and gamma radiation, in order to learn how the performance of those garments changes with each cycle. The scientific study focused on fabric performance and examined garment properties such as polymer structure, permeation, tear strength and Bacterial Filtration Efficiency (BFE) to determine how they are negatively impacted by cleaning and sterilization regimes over time. The tests, which were undertaken by third party laboratories, revealed significant impacts on critical aspects including protection of the process and the wearer, durability and comfort.
Among the key findings were:
Changes in polymer structure: while gamma radiation is effective for sterilization it can also impact polymers that make up reusable garments. Changes to the polymer matrix will ultimately affect the properties of the fibres that make up the garments, and the garments themselves.
Breathability and barrier: barrier decreases while air permeability increases, which means the garment is providing less protection over time.
Particle shedding: as exposure to gamma radiation and laundering increases, so does the amount and variability of particle generation.
Tear strength: increased gamma radiation and laundering exposure reduces tear strength.
Bacterial Filtration Efficiency: with a BFE higher than 98%, single-use textile Tyvek IsoClean has the ability to better filter out bacteria compared to reusable cleanroom textile, which has a BFE below 70%.
These changes are not always visible to the naked eye, so visual garment inspection alone may not be sufficient to understand garment performance. Based on these findings, the study offers the following recommendations:
Consider performance data over the entire garment life cycle.
Enact testing protocols to monitor the performance of garments as they age, based on the risk assessments and needs of each individual cleanroom.
Establish criteria for taking garments out of service when they no longer meet functionality requirements.
In conclusion, Jean-François Teneul says: "Based on the results of our scientific study – and in the context of the draft version of the revised GMP Annex 1, which includes more Quality Risk Management (QRM) principles – the focus will have to be not only on the behaviour and gowning procedure of the personnel, but also on the performance of the cleanroom clothing system and the specific risk assessment of cleanroom garments. The study data will allow the responsible person to make a proper assessment of the contamination risks and costs involved in their applications and to decide whether reusable cleanroom garments or single-use cleanroom garments are the right choice."
The whitepaper 'To Reuse or Not to Reuse: A Life Cycle Assessment of Reusable Garment Properties' contains full details of the methodology and results from the reusable garment study. It is available as a free download here: www.tyvek.co.uk/invisible
WeHealth by Servier and the Massachusetts Institute of Technology


The emergence of connected homecare
WeHealth by Servier, Servier Group's Digital Health business unit, and the Massachusetts Institute of Technology (MIT), announced today a collaboration agreement to define new market paradigms of home technologies.
WeHealth and the AgeLab will interact together through the AgeLab C3 Connected Home Logistics Consortium, along with other industry leaders, to conduct collaborative research to envision the development of home services to tackle the growing challenge of connectivity, convenience and care to improve individual health and well-being in elderly people.
"This partnership is an unprecedented opportunity to synergize our forces for advancing healthcare" said Dr. David Guez, General Director of WeHealth by Servier. "This follows our open innovation approach, which we firmly believe is an efficient way to accelerate the development and commercialization of solutions that will benefit patients and healthcare professionals."
Through its research, which aims to understand the impact of global demographic change on consumer behavior, AgeLab MIT believes that tomorrow's home will no longer simply be a place to live, but will become a platform of services and experiences provided by an interconnected ecosystem of technologies.
"Recent efforts to address challenges brought by the aging of the population have looked at technology as a possible solution", said Dr. Joseph Coughlin, Principal investigator of the C3 Consortium Program. "The introduction of ambient intelligence throughout the time, empowered by machine learning algorithms, is especially well positioned to motivate healthy behavior and proactively reduce the probability of catastrophic event such as missed doses of medication and falls".
In a context of increasing chronic diseases and an aging population, the development of home health care is a significant issue. E-Health makes it possible to provide innovative and effective solutions that meet the evolving needs of patients. It facilitates patient's distance care and assistance and care pathway in terms of prevention, compliance and homecare services.
E-Health also reflects a change in the behavior of patients who are increasingly involved in their health and treatment plans by being better informed – via specialized websites and mobile health – and better self/ remotely monitored, thanks to the emergence on the market of connected devices (i.e. glucose meter, portable ECG, treatment reminders, sensors) and affordable home diagnostics tests.
Data analytics is the common denominator to all digital technologies. The solutions designed as part of the partnership between WeHealth by Servier and AgeLab MIT will meet with new health needs and requirements in a secured manner to protect and respect patient confidentiality. The innovations will also ensure data interoperability between the different solutions on the market and broader health data (i.e. Electronic Medical Records), ultimately breaking down siloes of data while improving access data by patients and healthcare professionals.
Bilfinger 2018


Strong order book driving profitable revenue growth
Industrial services provider Bilfinger continued to grow in the financial year 2018. Relevant key figures improved across all business segments, meeting the forecasts and in some instances even outperforming them. The Strategy 2020 stabilization phase has been completed, the set milestones have been reached: Orders received, revenue and earnings developed positively, while the Group's liquidity and return on capital employed were at levels above those of the previous year.
"We delivered on our 2020 strategy and on our commitments to both internal and external stakeholders. I am particularly pleased with the successful conclusion of the DPA and our Monitor's Certification that Bilfinger is on an irreversible course towards compliance self-sufficiency. I think we can confidently say that 2018 was a year of achievement for Bilfinger."

Tom Blades, CEO Bilfinger
The business environment continued to be robust in our six focus industries, particularly in Chemicals & Petrochem, Oil & Gas and Pharma & Biopharma. Demand for engineering and maintenance services continued to build on top of growing mechanical construction opportunities in the United States.
Strengthening the sense of purpose
Bilfinger continues to fine tune and adopt its 2-4-6 Strategy to better serve customers and drive margin development. Its engineering resources delivering both project management consulting and maintenance engineering have now been fully integrated into the regions to enhance Bilfingers end-to-end EMC capabilities. Consequently, the divisions are renamed E&M effective January 1, 2019. The technology companies delivering Energy & Emissions, Biopharma and Automation products remain grouped together and serve Bilfinger customers globally from their European manufacturing base. Together they form the Technologies division also effective January 1, 2019.
Outlook 2019
In connection with the described adjustment to its organizational structure, Bilfinger is also adjusting its reporting segments as of the beginning of 2019. The forecasts and statements related to the expected development of the Group are made within the scope of these reporting structures.
In the Technologies segment, a significant increase in revenue (2018: €499 million) is expected as a result of growth in order backlog. This is subject to continued and anticipated strong orders received in the course of the year. Bilfinger expects stable revenue development in the Engineering & Maintenance Europe segment (2018: €2,732 million). At Engineering & Maintenance International, the Group sees positive momentum in the markets and therefore expects significant revenue growth (2018: €763 million).
FDA accepts sBLA


Treatment of Advanced Renal Cell Carcinoma
Merck and Pfizer Inc. announced that the US Food and Drug Administration (FDA) has accepted for Priority Review the supplemental Biologics License Application (sBLA) for Bavencio (avelumab) in combination with Inlyta (axitinib)* for patients with advanced renal cell carcinoma (RCC). The application has been given a target action date in June 2019.
"The combination of Bavencio with Inlyta builds on Pfizer's significant heritage in advancing standards of care for patients with advanced RCC and has the potential to make a meaningful impact for the lives of patients. We look forward to working with the FDA to bring this potential new treatment option to patients as quickly as possible."

Chris Boshoff, M.D., Ph.D., Chief Development Officer, Oncology, Pfizer Global Product Development
"Our alliance is focused on the development of potential new treatment options for patients with cancers that have high unmet medical needs, including the broad spectrum of people living with advanced RCC," said Luciano Rossetti, M.D., Executive Vice President, Head of Global Research & Development at the Biopharma business of Merck. "This regulatory milestone, which closely follows the acceptance of our application in Japan, represents an important step forward for science and for patients."
The submission is based on data from the pivotal Phase III Javelin Renal 101 trial, which were presented in a Presidential Symposium at the European Society of Medical Oncology (ESMO) 2018 Congress in Munich. In December 2017, the FDA granted Breakthrough Therapy Designation for Bavencio in combination with Inlyta for treatment-naïve patients with advanced RCC.
Despite available therapies, the outlook for patients with advanced RCC remains poor.1 Approximately 20% to 30% of patients are first diagnosed at the metastatic stage.2 The five-year survival rate for patients with metastatic RCC is approximately 12%.
The clinical development program for avelumab, known as Javelin, involves at least 30 clinical programs and more than 9,000 patients evaluated across more than 15 different tumor types. In addition to RCC, these tumor types include breast, gastric/gastro-esophageal junction, and head and neck cancers, Merkel cell carcinoma, non-small cell lung cancer, and urothelial carcinoma.
*The combination of Bavencio and Inlyta is under clinical investigation for advanced RCC, and there is no guarantee this combination will be approved for advanced RCC by any health authority worldwide. In the US, Inlyta is approved as monotherapy for the treatment of advanced RCC after failure of one prior systemic therapy. Inlyta is also approved by the European Medicines Agency (EMA) for use in the EU in adult patients with advanced RCC after failure of prior treatment with Sutent (sunitinib) or a cytokine.