Krones


Special hops for the BrauBeviale
100th MCC wrapping machine sold


High flexibility convincing to customers
Six wrapping styles for a variety of products at maximum performance – this is what the continuous-motion high-performance MCC machine from Theegarten-Pactec stands for. The MCC wraps a wide variety of product dimensions, especially sensitive products such as chocolate-coated jelly products or soufflé (whipped egg white foam). A successful combination, as it turns out: the MCC and its six folding types was first presented at interpack 2008. Now, the 100th MCC machine has been sold. The machine's flexibility promises high investment security, as the MCC can be efficiently converted to other types of folding and product dimensions.
The MCC wraps products in six different folding styles – Double Twist, Top Twist, Side Twist, Vienna Fruit Fold, Foil Wrap and Protected Twist. Theegarten-Pactec thus offer confectionery manufacturers a wrapping machine that combines continuous high performance and flexibility. This unique combination has won over customers from around the globe. The first MCC was sold in 2008 to Polish praline manufacturer Mieszko – and the 100th machine is currently being delivered to the Middle East.
Whether jelly products, all types of soft caramels or chocolate products with or without filling, and even featuring irregular geometries – the MCC is a jack of all trades. It boasts a nominal wrapping output of up to 1,200 products per minute for Double Twist and Foil Wrapping. Up to 800 products per minute are possible with Side Twist, Top Twist and Viennese Fruit Fold. The MCC also features automatic ejection of spliced products and products which are not true to the print image.
The MCC's modular design enables a quick change of the product dimension and folding type. A change in dimension can be completed in three to four hours. Only a single shift is needed to change the wrapping type.
Efficient and gentle on the product
The MCC offers optimized product closure with its additional Protected Twist folding type (sealed double twist wrap). A separating plate prevents the sealing masks of the wrapping material from sticking together prematurely and consequently slipping. This results in a nearly wrinkle-free longitudinal seam, even in the event of large product tolerances. This represents a significant advantage for products without folding edges as well as for coated goods.
The servo-motor driven wrapping material feed with continuous cutting length adjustment as well as servo-motor driven wrapping material knife guarantee optimum wrapping material consumption via the laser-controlled functionality "No product – no wrapping material." Furthermore, this achieves high print image accuracy and cutting length consistency.
Depending on the product to be wrapped, the gentle product feed takes place via a multi-stage accumulation conveyor or a lug chain.
"The high number of MCCs sold confirms that we've correctly recognized the market's needs with the combination of high performance and flexibility. We're known for producing solid machines in terms of quality and longevity and for continuously optimizing them," explains managing director Markus Rustler. "The flexibility of the MCC is an attractive investment for customers since the machine can be inexpensively enhanced and reconfigured in the event of a change in product range or seasonal production."
Perfectly combined


Innovative assembly and testing solutions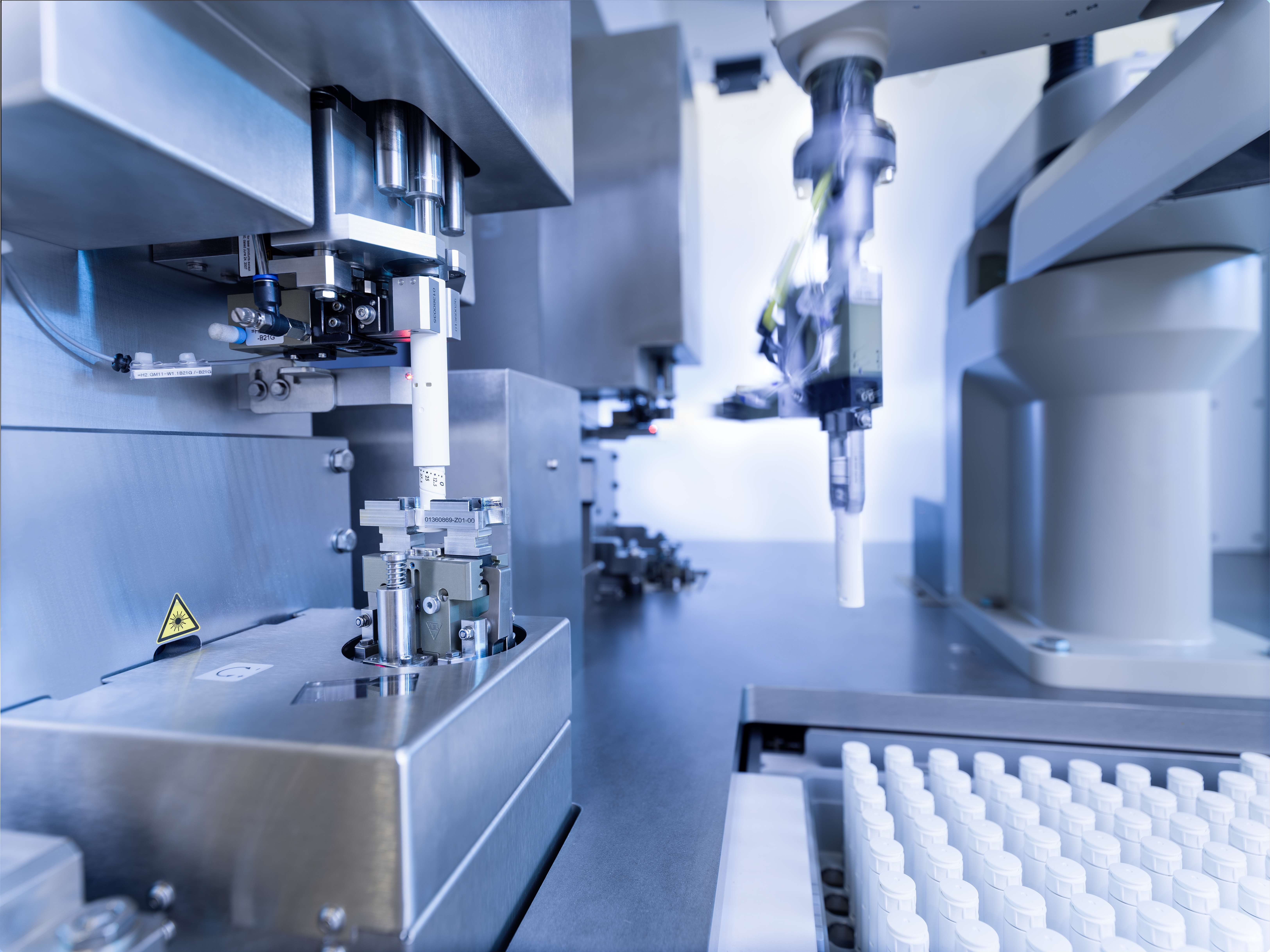 Teamtechnik has further developed its competence in the assembly and testing of injection systems. The German-based production system builder will demonstrate its innovative production and testing systems for pens, auto-injectors and syringes for medical applications at the Pharmapack trade fair on February 6 and 7, 2019 in Paris.
The company offers manufacturers of medical devices extensive engineering experience and expertise in the process technology field. Within its medical engineering division the company places a clear emphasis on assembly and test lines for injection systems. Accordingly, the market-leading system builder has developed a new solution suitable for series production based on LED technology for hardening the glue used for attaching cannulas in glass syringes.
Teamtechnik has developed its own platform for offline testing of injection systems. This fully-automated standard solution enables individual assemblies to be tested, such as dosing mechanisms, through to complete testing with drug release. The testing precision for the torque of a pen may be of the order of newton-millimeters. The TEAMED TEST platform is adaptable to a wide range of product types and customer requirements. Over 30 systems have already been supplied.
The current generation is equipped with a successful package of test software. This allows users to compile testing cycles and to optimize them without programming knowledge. For years the company has invested intensively in know-how for host PC and test software. 'For reliable series production of injection systems we offer a comprehensive, worry-free package': Assembly, feeder technology, test system and software all come from the same source and have already proven themselves successful', says Peter Ritter, Executive Vice President Medtech Division at Teamtechnik.
Electronica 2018


Power Electronics, Cooling Systems and Integrated Power
Delta, a provider of power and thermal management solutions, presented its wide range of innovations at Electronica 2018. These will include high voltage power supplies, programmable power sources, EC fan cooling systems, lithium-ion battery energy storage cabinets, CellD telecom power systems and integrated power solutions that boost energy savings and optimise performance, especially for highly demanding applications that are paving the transition towards Industry 4.0 and 5G communications. Delta's wide portfolio, ranging from component devices to system solutions, enables one-stop shop for customers in industrial, telecom, appliance sectors, among others.
Plasma High Voltage High Power DC Power Supply
Delta's HPH-20KA01KAT high voltage DC generator is designed for meeting the requirements in sputtering systems. Tight regulation, accurate output, small output ripple, and superior arc quenching deliver remarkable process consistency in most plasma-based applications, such as physical vapor deposition and surface treatment application. The arc energy of the Delta DC generator is less than 1mJ per KW with 1usec arc detection and Delta-patented arc handling technology. On top of that, the highest ignition voltage and widest full power operation impedance in the industry can help users to handle different targets easily. And with the benefit of an advanced switching device, SiC mosfets and soft switching technology, efficiency at rated load is higher than competing products. High efficiency, low temperature stress and a highly integrated power module make it more stable, reliable, and ensures a longer product lifetime. FPGA-based digital control provides users with an accurate, repeatable and quick output response. Active front panel, multiple serial and analog interfaces enable users to enjoy an easy and flexible control over power supply.
Programmable Power Sources
Delta's brand new selection of Programmable Power Source Solutions – with up to 9000W of power generation applicable in testing for verification or mass production applications, including general commercial products, power electronics, industrial, aviation, military electronics and regulation tests will also be showcased.
Delta's DME-D751ABS A DC Source, a high performance switching mode power supply that can operate across a wide range of mains worldwide, will also be shown. It ensures that there is no need for an input voltage selection switch. The LED front panel continuously displays the output voltage and its current and operation status. Users can set the output voltage and current level, protection trig level (OVP, UVP, OCP) and preview these settings from the front panel. The back panel includes necessary connectors so the voltage and current output control and monitor can be done by analog signal or RS232/GPIB.
EC fan Cooling Solution
Delta is widely recognised as a prominent provider of switching power supplies and DC brushless fans. Using its considerable experience and knowledge, Delta combined the advanced technology in power electronics and brushless DC fans to develop the Electronically Commutated (EC) fan series. In recent years, Delta's fan development groups have been committed to improving energy efficiency, optimizing configuration design and control technology to improve the products' performance, solve noise and vibration problems, and provide an intelligent control interface. Compared to a traditional AC fan, Delta's Electronically Commutated (EC) fan series provide a better solution to ventilation and thermal management requirements in industrial and commercial applications.
CellD Systems
One of Delta's telecom power highlights is its CellD Systems – the most compact on the market, which offer extremely high power density. The CellD units can be installed alongside other equipment in an existing rack. They work seamlessly at optimal efficiency up to 98% with Delta's EnergE rectifiers and advanced controllers. This configuration ensures a reliable system operation and generates savings in OPEX and CO2 in turn maximising the battery lifetime.
Lithium-ion Battery Energy Storage Systems
Delta's Lithium-ion Battery Energy Storage Cabinet is designed for peak-shaving and time-shifting to limit feed-in power to the grid and maximize the portion of renewable power generation that they consume themselves to lower electricity costs. Delta's energy storage systems also stabilize grid voltage and can be installed in parallel for modular expansion. Each energy storage cabinet can be configured as 43.5kWh and 49.7kWh featuring long lifecycle of more than 4,000 charging cycles. The system is often installed in various of applications like communities, remote islands, academic institution, hospital and shopping mall. Customers are able to select different energy storage modules, high voltage module (DBSHV60S series) and 48V (DBS48V60P parallel), into cabinets based on their application requirements.