Songflame


Songwon expands its range
Following the launch of SONGFLAME® at K-2019, Songwon has further developed its proprietary halogen-free technology and is adding a new product to its portfolio of flame-retardant synergists.
Songflame WB 201 solvent-free, aqueous, flame-retardant dispersion is designed especially for the coatings, adhesives, sealants and elastomers (CASE) market and is also highly suitable for textile applications requiring flame-retardant properties. The benefits of the new product include easy handling for customers working with waterborne systems, low viscosity and a high active content.
"Songflame products provide a powerful building block for formulators of halogen-free materials. They allow our customers to achieve an ideal balance between increasingly stringent market requirements and overall cost efficiency," said André Le Gal, Leader Market Center Flame Retardants at Songwon. He added: "There has been significant progress since the launch of the Songflame range in terms of project momentum and technical approvals despite the challenging market conditions for our customers resulting from the impact of COVID-19."
In keeping with its commitment to help improve sustainability throughout the value chain, Songwon has built up the new flame-retardant synergist portfolio with a view to promoting the growth of halogen-free solutions.
New pusher centrifuge with multiple functions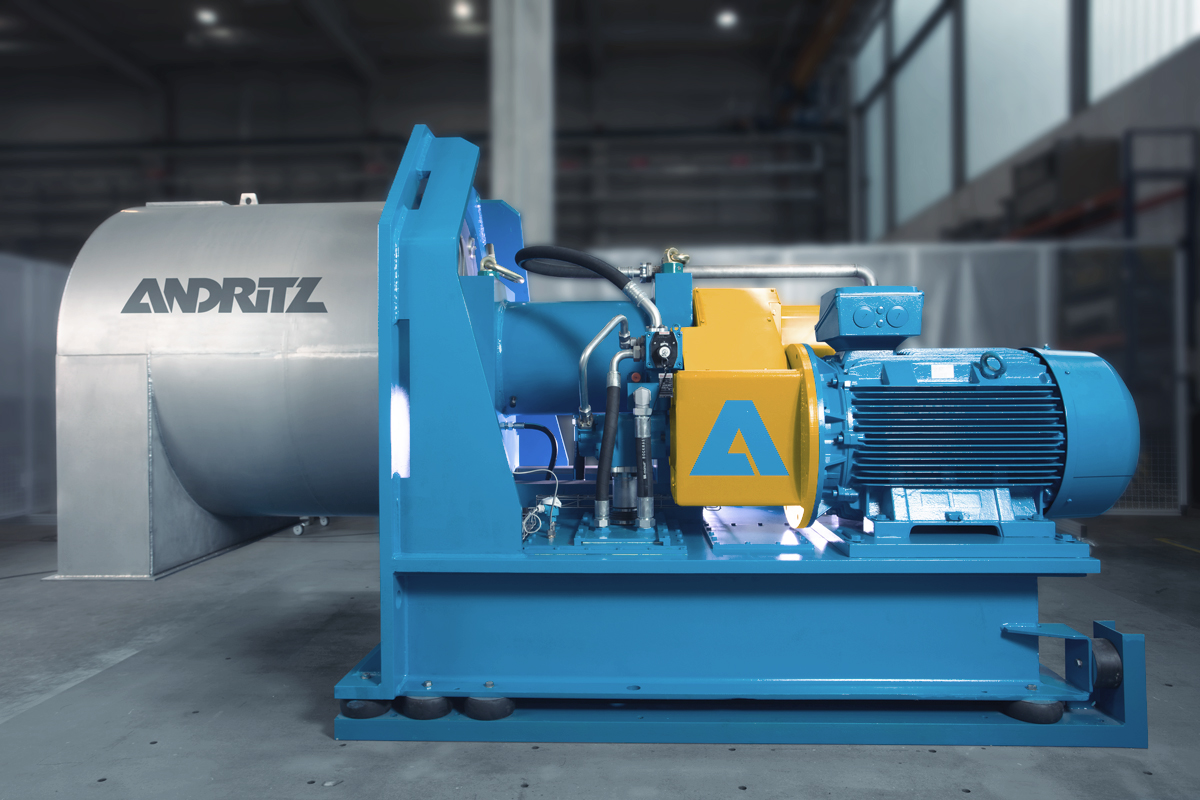 The new producte of the company ANDRITZ has only one motor for both functions, thus significantly reducing installed power and power consumption. Pusher centrifuges with two motors generally only require the full power of the drive motor during the start-up process, and the drive motor usually operates at partial load during steady state operation. Conversely, the pusher motor runs at virtually no load during machine start-up because there are no solids in the machine yet to be pushed. Hence, the pusher motor does not operate under load until stationary operation begins.
Therefore, it allows the reserve capacity available for pushing to be used for accelerating the basket during the start-up process, while the reserve capacity available for the start-up process can be used for pushing during stationary operation. This results in significantly lower installed power and a motor that operates in the optimum efficiency range at all times. Total power consumption is thereby reduced by around 10 to 20%, while the installed power is reduced by around 20-40%. Furthermore, the new high-pressure pushing system cuts hydraulic fluid use by up to 40%.
The new pusher features innovative technologies such as the GentleFeederTM wear-reducing feed system, the PreFiltration technology for integrated thickening as well as the unique cartridge technology to reduce downtime. With this system, the entire rotating unit can be pulled out of the centrifuge in one piece without having to detach the machine's pipework, with the result that operations are generally down for less than a single shift. What's more, the baskets in an ecoOne pusher centrifuge are designed so that the centrifuge can easily be converted from two-stage to three-stage design and vice versa. This gives the centrifuge unrivalled flexibility because the design can be adjusted as upstream requirements change or if the centrifuge is used for campaign-based operations.
Suitable for bulk chemicals, technical salts and agrochemicals as well as plastics production, the latest innovation of the company retains the reliability and washing efficiency of traditional pusher centrifuge technology while increasing energy efficiency, flexibility, and ease of maintenance, thereby reducing operating costs and downtime. In addition, the weight of the ecoOne pusher centrifuge is significantly lower and its space requirement and environmental footprint are substantially smaller than those of previous generations.
Cementing the deal


Mondi signs supplier agreements cement producers in Egypt
Mondi Paper Bags, part of Mondi Group, a leading global packaging and paper manufacturer, has acquired two paper bag lines from Helwan Cement Company and InterCement Sacs, two major cement producers in Egypt. The acquired production lines will increase Mondi's capacity by approximately 60-80 million bags annually and strengthen Mondi's position in the Middle Eastern bag market, particularly in supporting suppliers to the construction industry.
Mondi Paper Bags, a global producer that operates two plants in Egypt, will also become the exclusive supplier of paper bags to Helwan Cement Company and InterCement Sacs.
"We are excited to have signed long-term supply agreements with two of our biggest customers in Egypt further securing our position in the Middle Eastern market. These collaborations will offer Helwan and InterCement access to our latest innovations, industry expertise and our strong plant network and customer service in the Middle East. Thanks to Mondi's vertical integration, our partners will further benefit from our high quality kraft paper," said Claudio Fedalto, Chief Operating Officer of Mondi Paper Bags.
"Building sustainable partnerships is InterCement's tagline, and it is exactly what this deal represents. It is a long and fruitful partnership, in which we will focus on our cement production, while Mondi is supplying us with high quality bags and comprehensive customer service," said Paulo Dall'Aqua, Legal & Administration Director, Amreyah Cement.
"We are delighted to continue our relationship with a reputable and reliable global paper bags supplier like Mondi, while we can focus on our core operations, the production of grey cement and ready-mix," said Jose Maria Magrina, Managing Director, Suez Cement Group.
Wastewater treatment


Czech town welcomes wastewater treatment installation
A new wastewater treatment system installed in a town in the Czech Republic will protect valued fishing ponds and raise the quality to required EU environmental standards. Packaged wastewater treatment plant provider WPL installed a below-ground system in Klimkovice, in the country's Moravian-Silesian region, as part of a municipality-led project to construct a first-time sewerage network to serve 340 of the town's residents.
Some 110 properties will connect to the new system, replacing ageing septic tanks that had been seeping into streams which flowed into the popular fishing ponds, impacting the quality of the waters, which have protections under the EU's Water Framework Directive. The project was welcomed by the local community and its successful completion marked with an opening ceremony.
Frantisek Lindovsky, WPL's manager for central Europe, said: "It was the municipality's aim to protect the ponds and provide a clean and healthy environment for the fish, which is why the decision was taken to invest in a new sewer network and sewage treatment plant. WPL's technology was considered the most suitable because our treatment units are modular, compact and ready-to-use.
"The completed system, which will be fed by the town's new sewer network, will significantly improve the quality of the local streams and fishing ponds and ensure they meet the environmental standards set out by the EU."
The project team had to overcome significant challenges caused by high groundwater levels, which hindered installation of the treatment tanks.  To manage this, engineers built a temporary well so that water could be continually pumped out and levels kept down throughout construction.
The installed treatment plant – WPL's Hybrid-SAF biological system – comprises units designed to control chemical oxygen demand (COD), biochemical oxygen demand (BOD) suspended solids, and ammonia. A remote monitoring system was also installed.  The high environmental standards required included 30mg/l BOD, 110mg/l COD, 40mg/l suspended solids and 20mg/l ammonia.
To protect the below-ground units from excess groundwater the excavation was fully backfilled with water-resistant concrete.  A small biological pond was also constructed by a municipality-sourced supplier to provide tertiary treatment and extra capacity was built into the system to cater for population growth. The scheme was financed by the EU Cohesion Fund, which aims to promote sustainable development, and the Ministry of the Environment of the Czech Republic.
The mayor of Klimkovice, Jaroslav Varga, said: "The area's fishing ponds are used for fish farming as well as leisure, so it was important to protect them.  Installation of the project was executed without any problems and WPL worked with us very proactively. We're happy they will assist us in the first few months of operation."
Lindovsky said: "The mayor considered this to be a very successful project because it was on time and within budget and they wanted to celebrate completion with drinks and a speech. As wastewater treatment specialists it is very satisfying to see the pride taken in the new system and the level of appreciation for the environmental benefits it will bring." The site will be managed by the municipality with WPL providing supervision and support.