Mobile filling solution for communities


Solution for food loss
The SIG Way Beyond Good Foundation has launched its flagship Cartons for Good project in Bangladesh. Cartons for Good applies SIG's technology to empower communities to reduce food loss, support farmers' livelihoods and promote children's nutrition and education. The project will provide healthy school meals for underprivileged children in partnership with leading development NGO, BRAC.
Established in 2018, the SIG Way Beyond Good Foundation envisions a future in which good nutrition and clean water will be available to everyone and natural habitats will be preserved for future generations. Cartons for Good is the foundation's flagship project.
Turning food loss into nutritious school meals
Almost 20% of the population in Bangladesh suffers from malnutrition and almost half the children are underweight. At the same time, food is going to waste because each harvest produces more than farmers can sell locally and they have no way of preserving surplus crops.
SIG set out to use its expertise as a leading systems and solutions provider for aseptic packaging to create an innovative mobile filling solution that communities can use to turn this food loss into nutritious meals that are preserved in SIG cartons for later use.
Rolf Stangl, Chairman of the Board of Trustees of the SIG Way Beyond Good Foundation and CEO of SIG said: "Our Cartons for Good project is a perfect example of turning a big dream into reality. This is a true innovation outside our traditional core business, but perfectly in line with SIG's purpose of bringing nutritious food products to consumers around the world in a safe, sustainable and affordable way."
The packaged food is distributed to BRAC's schools to provide nutritious meals for underprivileged children. Named the world's #1 NGO four years in a row, the SIG Way Beyond Good Foundation's project partner BRAC brings valuable expertise and insights into local development challenges, helping to enhance the impact of Cartons for Good.
Mohammad Anisur Rahman, Director Dairy and Food at BRAC, said: "We run schools for underprivileged children across the country. Often, they cannot afford to pay for their education or even for food. Most of them drop out of school because they need to go out and work to buy food for themselves and for their families. Giving them meals at school means that not only will they learn, they will also have something to eat. BRAC is happy to be partnering with the SIG Way Beyond Good Foundation and we will work together to make this project successful on the ground."
From concept to reality
In just two years, the SIG Way Beyond Good Foundation has turned a bold idea into a practical solution to help communities prevent food loss and malnutrition.
SIG's expert engineers adapted the company's proven filling technology to create a mobile unit where meals can be cooked using local recipes and preserved in long-life cartons. Housed in a shipping container on a trailer, the unit is designed to travel from one community to the next to preserve surpluses at harvest time. The initial pilot is in the region of Balia.
Farmers are paid for their produce, providing them with much-needed income, and the packs of food are used by local schools to provide a healthy, hot meal for children every day.
The first meals created in this unique mobile filling unit are already being distributed to BRAC schools in impoverished communities in Dhaka, where many children drop out of school because they need to work to feed themselves and their families. After use, the empty cartons will be recycled at a local facility.
Cartons for Good is part of SIG's commitment to go Way Beyond Good by contributing more to society and the environment than it takes out. Developing this flagship project is a key focus of the SIG Way Beyond Good Foundation.
Uhlmann


Blister line BEC 400
The BEC 400 is the ideal line for the processing of all common solid dose products and types of forming material in batches of up to 150,000 packs. Particular characteristics of the compact combination incorporating a blister and a cartoner module include a high level of flexibility and very fast format changeovers.
Beverage industry


Multi-functional Visitron Filler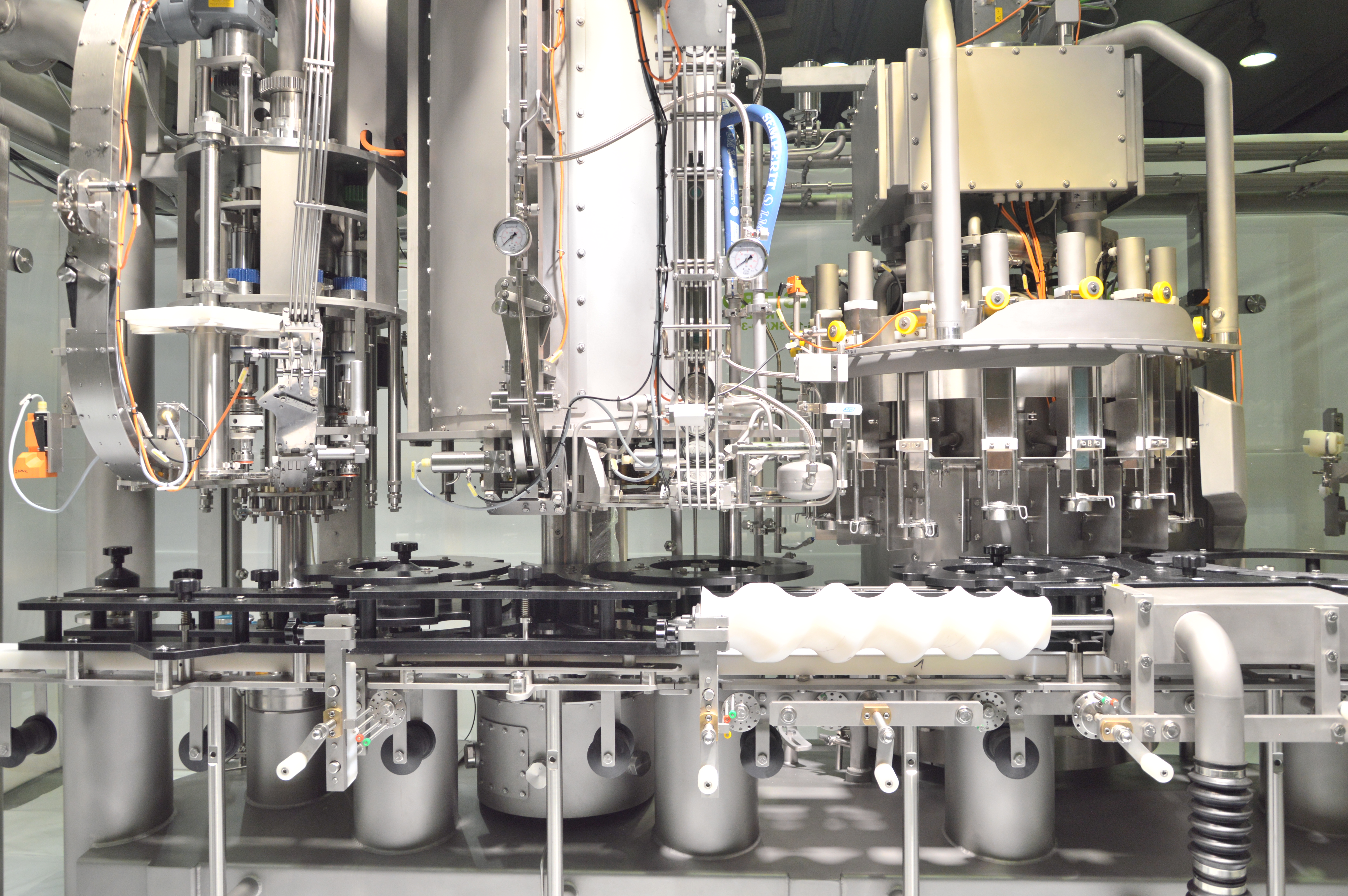 Gea will present its highly efficient, multifunctional processing technology for the beverage industry at this year's leading trade fair, BrauBeviale, in hall 7 under the motto: "Refreshingly Different." On display will be the Gea Visitron Filler All-In-One, which can fill bottles, cans and PET containers on a single filler. BrauBeviale in Nuremberg is a short stopover for the filler before it continues on its way to Australia – where Gea customer, Moon Dog Craft Brewery, is eager to integrate the ultra-flexible filler into its new plant.
Moon Dog Craft Brewery is independent, Australian-owned and fast approaching its 10th birthday. Originally set up in the Melbourne suburb of Abbotsford, Moon Dog has now outgrown that facility and is on the move to Preston where the team has just opened a 12,000 m2 facility. The site will house a unique 725-person venue with a large new brewing facility about to be commissioned, which will allow them to produce over 10 million liters per year. Moon Dog is known for pushing the limits with beer styles and flavours and the new facility with a designated souring kettle will allow them to continue to diversify and grow marketshare within Australia and globally. Seeing the need to bring more efficiency into its processes, Moon Dog ordered a Gea Visitron Filler All-In-One in August 2019, as well as a water deaeration system Varidox, a Dicar-B carbonation system, an Eco-Flash pasteurizer and a Plug & Win 100 centrifuge from the technology group.
Sustainable bottling and canning
Breweries are particularly interested in Gea Vipoll filling equipment because this sector typically has the highest demand for glass bottles and cans. Customers benefit from Gea's commitment to support and improve production processes end-to-end, from brewing to bottling and storage. Likewise, Gea offers many solutions to help breweries lower their CO2 emissions, which is critical for helping this high-consumption sector meet the ambitious climate protection goals it has set for itself. Highly efficient manufacturing as well as responsible packaging methods are therefore key, which means glass containers and cans will play an even greater role in global environmental strategies; refillable bottles will become a cornerstone of reuse initiatives and cans a valuable recyclable material
One for all
Gea Vipoll developed the All-In-One monoblock filler as a direct response to sustainability requirements and is a prime example of just how lean and flexible filling solutions can be: the compact All-In-One rinses, fills and caps products all within a small production footprint. Its sophisticated process design saves time during filling and format changeovers; within a matter of minutes, the machine can switch to handle different products and container formats. This is made possible by the All-In-One's multifunctional elements: the rinser is equipped with universal grippers; the filler uses an electro-pneumatic filling valve and a single capping turret is able to accommodate different closure types.
"We chose Gea because the company has a great reputation for manufacturing high quality machines. The All-In-One filler allows us to operate a single filling line for both cans and bottles with quick change over between formats. This gives us benefits in terms of floor space utilization, and simplicity in maintenance and operation," says Josh Uljans, Co-Founder and CEO of Moon Dog Craft Brewery.
"The All-In-One's multifunctional system is unique in the world, because it allows for an unprecedented level of flexibility; it can be used to fill glass, cans and PET containers; handle different formats and seal them with diverse cap types; can fill carbonated or still drinks, using a hot or cold fill method," points out Jakob Salamun, Sales Manager at Gea Vipoll.
Small to medium-sized batches


Flexible packaging solutions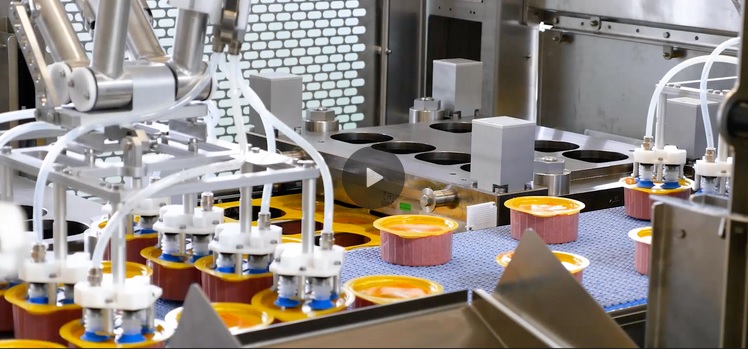 At Compamed, which takes place from 18 to 21  November, Multivac will be showcasing its comprehensive expertise in automation and packaging of medical products in small to medium-sized batches. These efficient solutions are ideally suited to packing a wide range of products in many different pack formats.
One of the Multivac highlights at the exhibition is a packaging line for sterile medical products, which is equipped with an automatic infeed system for loading pre-filled glass or plastic syringes. The heart of the line is a R 245 thermoforming packaging machine, which is capable of being freely configured. The infeed system, which brings the products directly into the pack cavities in a very controlled and reliable way, consists of a shaft infeed system, a separating wheel, a transport conveyor and an H 242 handling module. For printing the packs with variable production data, a high-performance digital printer from Bell-Mark is used, which features a large print area and excellent print quality on a wide range of materials. A visual inspection system from Multivac provides automatic monitoring of quality and print. All the components are synchronised with the thermoforming packaging machine, and they can be operated conveniently and reliably via its control terminal.
Among the other exhibits is the R 081 thermoforming packaging machine. This compact model is ideally suited to producing small batches, or as an entry-level solution for companies making the transition to automated packaging. The machine can be used for producing both vacuum packs and modified atmosphere packs with reduced residual oxygen content. Flexible and rigid films as well as Tyvek and paper-based packaging materials can be run with ease. At Compamed the R 081 will be equipped with the DP 230 direct web printer, which has a TTO 06 network-enabled thermal transfer printer. The DP 230 can print the packs in both the film running direction and across it, and it is therefore ideally suited to machines equipped with multi-row and multi-track dies.
The company will be showing the C 300 TC chamber machine for packing sterile medical products in pre-made pouches. It enables packs to be produced either as vacuum packs or with modified atmosphere and reduced residual oxygen content. A temperature-controlled and permanently heated sealing bar ensures that this cleanroom-compatible machine achieves reproducible sealing quality, and the whole process can be calibrated and validated.
And last but not least, the firm will also be presenting a solution for the semi-automatic packing of small to medium-sized batches in trays. The compact model offers a high degree of process reliability, reproducibility and quality.
In Düsseldorf Multivac will also be showcasing Snapsil, an innovative concept, which was developed in conjunction with the Snapsil Corporation for producing packs with different functions to simplify opening and reclosing. The Snapsil packs, which can be produced on thermoforming packaging machines and traysealers, are suitable for a wide range of medical and pharmaceutical products, such as for example syringes, tablets, plasters, injectors and catheters etc. Thanks to their integrated "snap opening" feature, the packs are simple to open in the hectic everyday life of hospitals and nursing homes, and they can also be opened easily by elderly people or those with disabilities. If the packs are equipped with a "click-to-close" feature, they can be easily opened and reclosed securely for multiple use. In addition to this, tamper-proof protection ensures that maximum product safety is maintained.
Multivac at the Compamed 2019: Hall 8a, Stand H01