Mobile filling solution for communities


Solution for food loss
The SIG Way Beyond Good Foundation has launched its flagship Cartons for Good project in Bangladesh. Cartons for Good applies SIG's technology to empower communities to reduce food loss, support farmers' livelihoods and promote children's nutrition and education. The project will provide healthy school meals for underprivileged children in partnership with leading development NGO, BRAC.
Established in 2018, the SIG Way Beyond Good Foundation envisions a future in which good nutrition and clean water will be available to everyone and natural habitats will be preserved for future generations. Cartons for Good is the foundation's flagship project.
Turning food loss into nutritious school meals
Almost 20% of the population in Bangladesh suffers from malnutrition and almost half the children are underweight. At the same time, food is going to waste because each harvest produces more than farmers can sell locally and they have no way of preserving surplus crops.
SIG set out to use its expertise as a leading systems and solutions provider for aseptic packaging to create an innovative mobile filling solution that communities can use to turn this food loss into nutritious meals that are preserved in SIG cartons for later use.
Rolf Stangl, Chairman of the Board of Trustees of the SIG Way Beyond Good Foundation and CEO of SIG said: "Our Cartons for Good project is a perfect example of turning a big dream into reality. This is a true innovation outside our traditional core business, but perfectly in line with SIG's purpose of bringing nutritious food products to consumers around the world in a safe, sustainable and affordable way."
The packaged food is distributed to BRAC's schools to provide nutritious meals for underprivileged children. Named the world's #1 NGO four years in a row, the SIG Way Beyond Good Foundation's project partner BRAC brings valuable expertise and insights into local development challenges, helping to enhance the impact of Cartons for Good.
Mohammad Anisur Rahman, Director Dairy and Food at BRAC, said: "We run schools for underprivileged children across the country. Often, they cannot afford to pay for their education or even for food. Most of them drop out of school because they need to go out and work to buy food for themselves and for their families. Giving them meals at school means that not only will they learn, they will also have something to eat. BRAC is happy to be partnering with the SIG Way Beyond Good Foundation and we will work together to make this project successful on the ground."
From concept to reality
In just two years, the SIG Way Beyond Good Foundation has turned a bold idea into a practical solution to help communities prevent food loss and malnutrition.
SIG's expert engineers adapted the company's proven filling technology to create a mobile unit where meals can be cooked using local recipes and preserved in long-life cartons. Housed in a shipping container on a trailer, the unit is designed to travel from one community to the next to preserve surpluses at harvest time. The initial pilot is in the region of Balia.
Farmers are paid for their produce, providing them with much-needed income, and the packs of food are used by local schools to provide a healthy, hot meal for children every day.
The first meals created in this unique mobile filling unit are already being distributed to BRAC schools in impoverished communities in Dhaka, where many children drop out of school because they need to work to feed themselves and their families. After use, the empty cartons will be recycled at a local facility.
Cartons for Good is part of SIG's commitment to go Way Beyond Good by contributing more to society and the environment than it takes out. Developing this flagship project is a key focus of the SIG Way Beyond Good Foundation.
Smart Factory Solution


Integrated asset performance and field service management
SIG is set to deliver the first integrated APM (asset performance management) and FSM (field service management) digital solution for the food and beverage industry. Developed in partnership with GE Digital, the Plant 360 Asset Management will feature a range of on-demand digital services designed to help manufacturers reach new levels of efficiency, productivity and connectivity in their operations.
SIG Plant 360 Asset Management is being co-developed with GE Digital in response to increasing demands in the food and beverage industry, particularly the need for higher productivity, quality and uptime. With this innovative and integrated solution comprised of GE Digital's APM and ServiceMax's FSM software, SIG will offer state-of-the-art digital tools to help its customers boost production, reduce downtime and ensure even greater quality to meet ever-changing consumer needs.
"Equipment manufacturers like SIG are increasingly leveraging Industrial Internet of Things solutions to differentiate themselves through superior after-sales service," said Dan Lohmeyer, SVP Digital Product Management at GE Digital. "GE Digital's Asset Performance Management and ServiceMax's Field Service Management software help OEMs ensure their installed base of equipment is performing optimally, and their field service resources are managed efficiently. Our integrated solution allows SIG to detect and correct potential equipment issues in advance, before they result in unplanned customer downtime, delighting end-customers through improved OEE and driving improved NPS scores for SIG."
A modular solution for maintenance
Plant 360 Asset Management is a modular solution designed to improve filling line reliability and availability while reducing costs. The Connector module enables the collection of digital data, which is loaded into the Predix Cloud – GE Digital's cloud platform. From here, the data can be retrieved and evaluated at any time by SIG's reliability engineering team. This module can also be used for SIG's other Smart Factory solution, Plant 360 Controller, which enables manufacturers to monitor, control and optimise every angle of their filling plant operations.
The Smart Maintenance module is based on a software-supported holistic process called Maintenance & Asset Data Analytics as well as an Asset Management Cockpit. This ensures customers have one data source for all maintenance-related activities. The third module is called Smart Performance and is based on Asset Health Monitoring and Predictive Asset Data Analytics, which will provide an optimal platform for predictive maintenance in the future.
Optimising assets at every stage
Together, the three modules will enable higher asset reliability and availability. The solution ensures a direct link between condition-based and predictive maintenance alerts in APM and the work being scheduled for field-service engineers in FSM. This helps translate alerts into efficient action on the ground and ensures field service teams receive as much advance notice as possible of an issue, which they can address before it impacts a customer's operations. For example, defined wearing parts will no longer be replaced at fixed maintenance intervals. Instead, they will only be replaced when the data indicates a certain degree of wear.
"With Plant 360 Asset Management, any changes to equipment strategies – for example, changing service intervals or maintenance steps – can be quickly reflected in new FSM work," said Klaus Andresen, Senior Vice President Global Technology at SIG. "This improves the efficiency and effectiveness of the overall SIG maintenance process. Data captured by field-service workers is immediately available for analysis by APM and the global SIG reliability engineering team, allowing us to better and more quickly detect emerging issues and trigger preventative steps."
SIG Plant 360 Asset Management is being launched for the first time in the Middle East with Almarai, one of Saudi Arabia's largest food and beverage producers, as start of the global rollout.
Robert Ross, Manufacturing Manager Dairy and Juice at Almarai: "Digital Solutions are vital for us to analyse exactly what is happening in our plant and going forward to produce reliably. The aspirational partnership with SIG & GE will greatly help us in root cause analysis and in providing valid answers. This will ensure reliable production and to improve our OEE. We are very proud to be an early adopter of this cutting-edge solution."Plant 360 Asset Management is one of several value-added solutions within SIG's Smart Factory segment, which is designed to help manufacturers meet the challenge of increasing output and driving down costs in today's competitive environment. The solution-driven Smart Factory platform aims to deliver IoT-enabled systems and technical services that transform filling plants into connected factories that offer the highest efficiency, flexibility and quality.
Packaging


Chamber Belt Machine B 625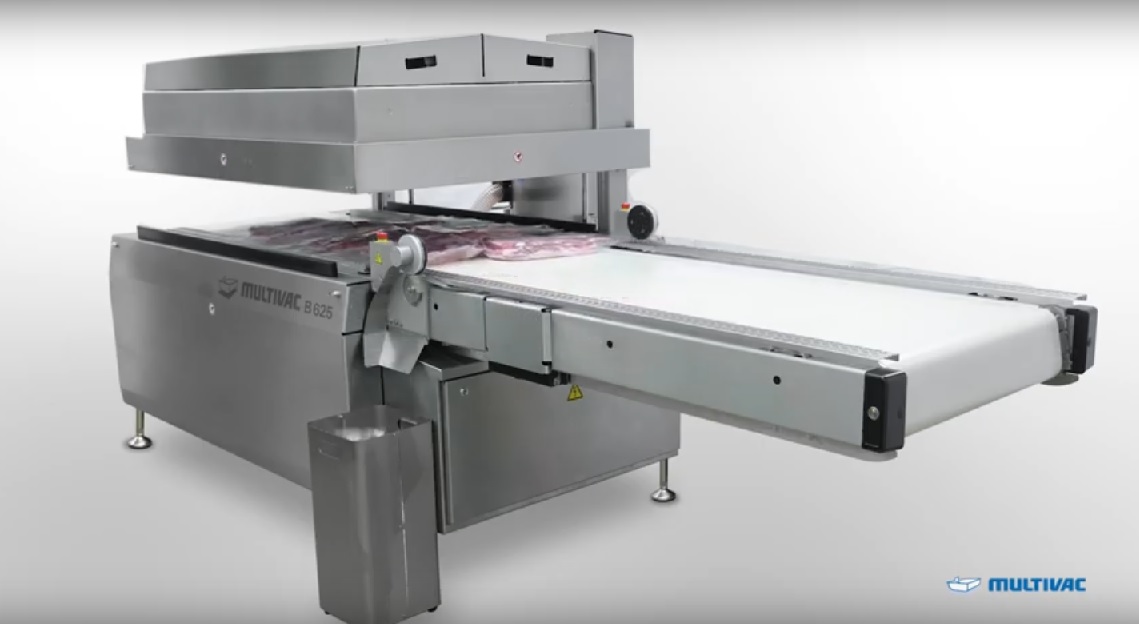 Twin screw pump


Cooperation between Gea and Itt Bornemann
The pump experts from Gea and Itt Bornemann are now working together to manufacture and market a twin screw pump for the food, beverage and pharmaceutical industries. While Gea has so far concentrated primarily on hygienic centrifugal pumps, the cooperation now means that a joint model of a positive displacement pump is ready for introduction: Gea Hilge Novatwin. The Gea Hilge Novatwin is a flexible twin screw pump based on the proven Bornemann design that meets the highest hygienic requirements for gentle product handling and clean-in-place (CIP) with just one pump. The new Gea Hilge Novatwin will be available in 6 sizes and will be part of the Gea Varipump line, which stands for pumps with a high degree of flexibility for optimum adaptation to individual customer requirements.
Consistent expansion of hygienic pump portfolio
The addition of this future-oriented pump type to the portfolio in addition to the established rotary lobe pump Gea Hilge Novalobe will significantly strengthen Gea's position in the field of positive displacement pumps. Gea will thus be in an even better position to cover the various customer requirements with the ideal pump solution from its own broad product portfolio.
Pump and clean with one pump
Twin screw pumps are equipped with two screws, which intermesh without contact and together with the pump housing form a closed chamber. The screws rotate and thus move the medium along the screw axis from the suction to the discharge side.
Like positive displacement pumps in general, twin screw pumps stand for the gentle conveyance of chunky, shear-sensitive and abrasive media. They offer exceptionally high flexibility for pumping liquids of various viscosities.
"The special feature of the twin screw pump is its dual function, because twin screw pumps can not only pump the actual product but can also function as a CIP pump at the same time, as they can operate at very high speeds. This saves the use of an additional CIP pump compared to alternative solutions," explains Product Manager Ulla Främke from Gea.
With Gea and Bornemann two strong partners work together
"This cooperation with Bornemann is a real win-win situation for both partners," says Bastian Tolle, head of product management at the Gea Flow Components business unit. "The twin screw pumps we see in the market today are mostly derived from Bornemann's original development. The expertise is impressive, we can learn a lot from such a partner and from the experience gained over decades in the application of this special positive displacement pump".
"We will benefit from Gea's strong distribution network", adds Bornemann's Managing Director Markus
Schwarte. "Gea has a broad customer base, a large network and an excellent reputation among decision-makers, particularly in the food sector and in local markets such as the USA. We want to benefit from the synergy between the leading technology and the first-class global network in the food industry".