Heat and Control


Snack Line Solutions
And Laboratory Technology


Compact Dryer for Product Development
The new chamber dryer H01compact is Harter's latest production system. This compact system adds to the German drying system manufacturer's new product line. The dryer is perfectly suited for laboratory testing very small quantities or for developing new products. It is also ideally suited for startups in the initial development of their product idea.
The H01compact has a drying chamber designed for inserting plates or trays straightaway. As in the H01, products placed separately or at filling heights of 200 mm maximum may be dried. Batch sizes range between 30 and 70 kg depending on the specific application and the product to be dried. Essentials of heat pump based condensation comprise the use of extremely dry air and adequate routing of this air which ensures very high process reliability.
Drying is effected at temperatures which may be varied and controlled at 15 °C to 75 °C as required for the specific application. This drying process ensures gentle drying of products to the desired residual humidity level. As the system is closed air-wise, drying is independent of the climate. All this has a positive effect on aromas, ingredients and flavours as well as the appearance of the products as demonstrated by dryers in operation.
The processes may be validated for pharmaceutical applications and are thus eligible for GMP qualification. Our customers will always obtain a reproducible drying process and may control their parameters at any time.
Electronica 2018


Power Electronics, Cooling Systems and Integrated Power
Delta, a provider of power and thermal management solutions, presented its wide range of innovations at Electronica 2018. These will include high voltage power supplies, programmable power sources, EC fan cooling systems, lithium-ion battery energy storage cabinets, CellD telecom power systems and integrated power solutions that boost energy savings and optimise performance, especially for highly demanding applications that are paving the transition towards Industry 4.0 and 5G communications. Delta's wide portfolio, ranging from component devices to system solutions, enables one-stop shop for customers in industrial, telecom, appliance sectors, among others.
Plasma High Voltage High Power DC Power Supply
Delta's HPH-20KA01KAT high voltage DC generator is designed for meeting the requirements in sputtering systems. Tight regulation, accurate output, small output ripple, and superior arc quenching deliver remarkable process consistency in most plasma-based applications, such as physical vapor deposition and surface treatment application. The arc energy of the Delta DC generator is less than 1mJ per KW with 1usec arc detection and Delta-patented arc handling technology. On top of that, the highest ignition voltage and widest full power operation impedance in the industry can help users to handle different targets easily. And with the benefit of an advanced switching device, SiC mosfets and soft switching technology, efficiency at rated load is higher than competing products. High efficiency, low temperature stress and a highly integrated power module make it more stable, reliable, and ensures a longer product lifetime. FPGA-based digital control provides users with an accurate, repeatable and quick output response. Active front panel, multiple serial and analog interfaces enable users to enjoy an easy and flexible control over power supply.
Programmable Power Sources
Delta's brand new selection of Programmable Power Source Solutions – with up to 9000W of power generation applicable in testing for verification or mass production applications, including general commercial products, power electronics, industrial, aviation, military electronics and regulation tests will also be showcased.
Delta's DME-D751ABS A DC Source, a high performance switching mode power supply that can operate across a wide range of mains worldwide, will also be shown. It ensures that there is no need for an input voltage selection switch. The LED front panel continuously displays the output voltage and its current and operation status. Users can set the output voltage and current level, protection trig level (OVP, UVP, OCP) and preview these settings from the front panel. The back panel includes necessary connectors so the voltage and current output control and monitor can be done by analog signal or RS232/GPIB.
EC fan Cooling Solution
Delta is widely recognised as a prominent provider of switching power supplies and DC brushless fans. Using its considerable experience and knowledge, Delta combined the advanced technology in power electronics and brushless DC fans to develop the Electronically Commutated (EC) fan series. In recent years, Delta's fan development groups have been committed to improving energy efficiency, optimizing configuration design and control technology to improve the products' performance, solve noise and vibration problems, and provide an intelligent control interface. Compared to a traditional AC fan, Delta's Electronically Commutated (EC) fan series provide a better solution to ventilation and thermal management requirements in industrial and commercial applications.
CellD Systems
One of Delta's telecom power highlights is its CellD Systems – the most compact on the market, which offer extremely high power density. The CellD units can be installed alongside other equipment in an existing rack. They work seamlessly at optimal efficiency up to 98% with Delta's EnergE rectifiers and advanced controllers. This configuration ensures a reliable system operation and generates savings in OPEX and CO2 in turn maximising the battery lifetime.
Lithium-ion Battery Energy Storage Systems
Delta's Lithium-ion Battery Energy Storage Cabinet is designed for peak-shaving and time-shifting to limit feed-in power to the grid and maximize the portion of renewable power generation that they consume themselves to lower electricity costs. Delta's energy storage systems also stabilize grid voltage and can be installed in parallel for modular expansion. Each energy storage cabinet can be configured as 43.5kWh and 49.7kWh featuring long lifecycle of more than 4,000 charging cycles. The system is often installed in various of applications like communities, remote islands, academic institution, hospital and shopping mall. Customers are able to select different energy storage modules, high voltage module (DBSHV60S series) and 48V (DBS48V60P parallel), into cabinets based on their application requirements.
Design with flexibility


Extruder for wet and hot melt extrusion processes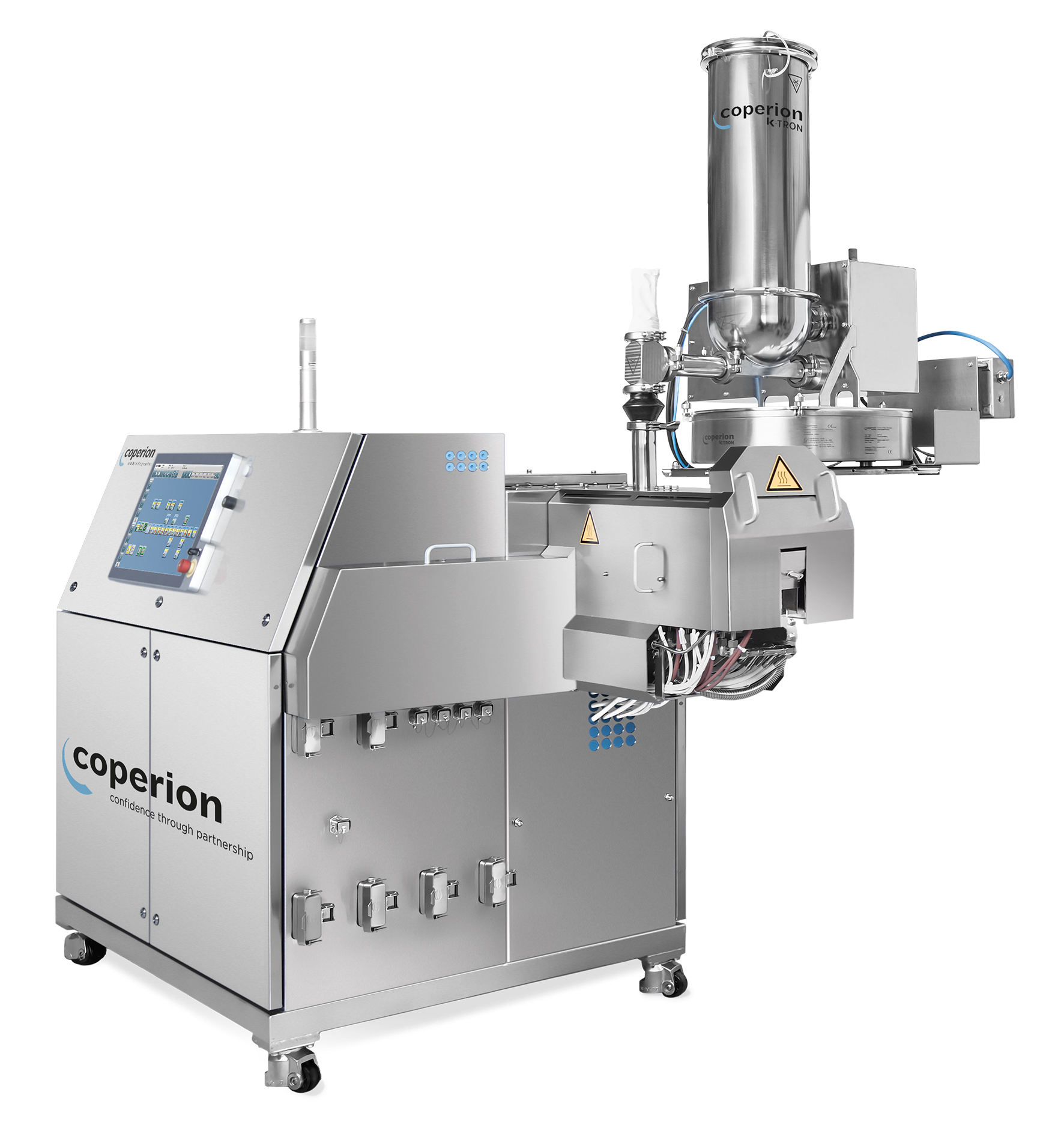 Coperion has launched a completely flexible continuous pharma extrusion system suitable for research and development, as well as for small-scale production. This ZSK 18 Megalab extruder fulfills the requirements for both wet extrusion and hot melt extrusion (HME) processes. The first of these ZSK 18 MEGAlab extrusion systems with an 18 mm screw diameter has recently been delivered to a major international pharmaceutical company and is in use for a variety of different continuous process tasks. It offers higher efficiency and uniformity than batch processes.
Besides the extruder the system comprises two Coperion K-Tron gravimetric loss-in-weight feeders with superior accuracy in API and liquid feeding, a cooling belt, and a Coperion Pelletizing Technology strand pelletizer.
Extrusion system offers process flexibility
With a throughput rate of 10 kg/h, the ZSK 18 Megalab is suitable for both wet extrusion and hot melt extrusion (HME) on a laboratory scale. For wet extrusion processes the system comprises more than ten different die plates with various numbers of die holes and die hole diameters. For hot melt extrusion applications Coperion has equipped the ZSK extruder with a die head that has several exchangeable nozzles to provide different strand diameters. The die head offers additional bore holes for PAT (Process Analytical Technology) sensors.
The Coperion K-Tron liquid gravimetric loss-in-weight feeder fulfills Atex requirements and can be connected to each of the barrels of the extruder process section. This flexibility in feeding also applies to the Coperion K-Tron API gravimetric loss-in-weight feeder. It can be mounted on the first barrel or fourth barrel of the process section. This allows the use of the ZSK extruder for processes requiring process lengths of 32 L/D as well as of 20 L/D.
The Coperion K-Tron gravimetric feeders also offer flexibility in their ability to handle a wide variety of materials, with even difficult flow characteristics and variable feed rates. This flexibility, coupled with Coperion K-Tron's superior digital weighing and controls technology, ensures high accuracies in materials feeding, all critical to the continuous pharmaceutical process.
The ZSK extruder itself and all peripheral equipment are very compact in size and are movable on wheels for optimum usage in laboratory conditions. The GAMP control system, as well as the water cooling manifold, is integrated into the stainless steel base frame of the ZSK extruder. Thanks to plug & play connections commissioning is possible in the shortest times.