Felföldi's is back


Snack industry with new taste and colour
The Felföldi's team welcomed the visitors enthusiastically at the world's biggest candy expo, the ISM in Cologne, Germany. They're especially excited about their new and improved Let's Cheese!, the all-natural healthy snack product aimed at the crucial and increasingly health-conscious 18-30 age range.
"The first day of ISM has been fantastic – we are delighted to be back again! We love the atmosphere of the ISM expo here in Cologne and we've already met lots of friends and potential business partners – we absolutely encourage you to visit if you would like to taste something new and exciting and discover the latest innovations in the candy and snack industry."

Andrea Szabo, Export director at Felföldi
Following global successes with candy-filled straws and artfully-presented cake-mixes, Felföldi's is now offering a high-quality dry cheese snack "Let's Cheese!" that promises great taste, no added ingredients and a casual style aimed at young adults. It's just one of a range of products that combine the best of tradition, fun and innovation, to stand out in an increasingly competitive market.
Company founder Joseph Felföldi handed over partial control of his company to his son recently after a period of record growth. Over the next year, the company will be laying out its strategy to deal with new challenges including Brexit, sustainability and public health. Mr Felföldi knows from long experience that the rules of the game are always changing and is looking forward to an exciting year ahead.
Food processing and packaging


Oil-free screw type vacuum pump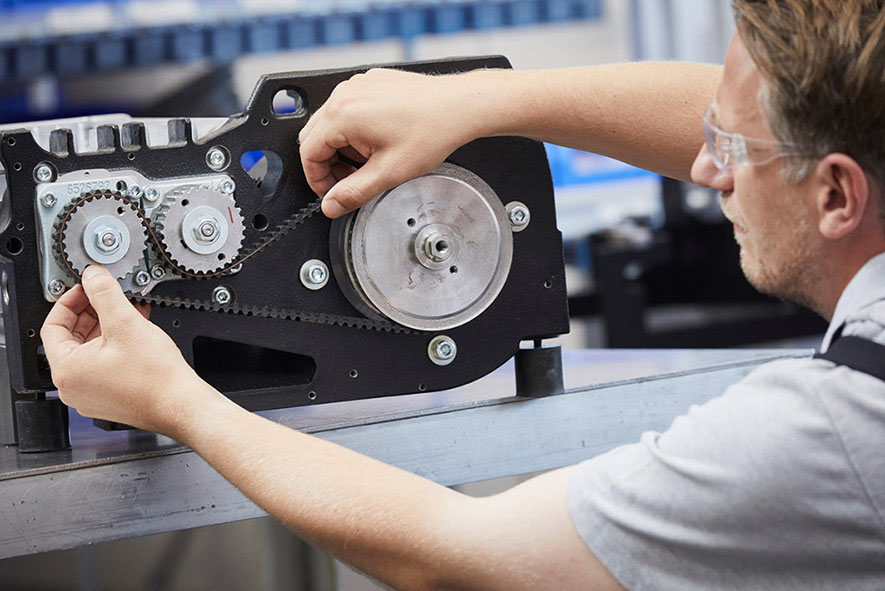 Leybold presents its innovative vacuum portfolio at the international trade fair for the meat industry IFFA in Frankfurt am Main from 04 to 09 May 2019 in hall 11, booth A41. The new Novadry vacuum pump series will be the focus of the presentation. The completely newly developed, oil-free screw vacuum pump ensures significantly greater safety and efficiency in food and packaging processes.
Vacuum as a key technology
The demands placed by manufacturers and consumers on the quality, shelf life and resource efficiency of food and packaging processes are constantly increasing. This applies even more to such perishable products as for example meat or fish. Vacuum is considered as an enabling technology, contributing significantly to optimizing these processes. Therefore, Leybold developed the innovative Novadry, a new 100% oil-free, air-cooled pump, which will be launched at the IFFA.
No oil, less effort
"Many users in meat processing and packaging cannot actually tolerate vacuum pumps emitting oil," stresses product manager Niels Gorrebeeck. Novadry prevents such contaminations. That is why Leybold designed a 100% dry pump following hygienic criteria. This increases safety in applications such as tumbling, filling, vacuum packaging and thermoforming. An additional advantage of oil-free vacuum pumps is the lower cost of ownership, as less maintenance and spare part changes are required.
In addition to the oil-free screw principle, Leybold has transferred proven components and principles from other vacuum pump series to the Novadry, including the bearing structure and the belt drive, which synchronizes the rotors in the Novadry.
Broad range of applications
The Novadry also stands out due to its long uptime and robustness. Some competitor products lose their end-pressure or reduce pumping-speed due to wear of the inner coating, for example. The Novadry, however, achieves its performance over the entire pressure range and life cycle. This makes it ideal for simple applications, which emit low amounts of humidity, such as packaging of cold products. Moreover, the pump is also perfectly suited for more demanding processes with large amounts of water vapour, for example when hot meals with temperatures of up to 95°C have to be quickly cooled down by evaporative cooling. "In addition to the air/steam mixture coming from the process, the Novadry screw vacuum pump can also handle the anticipated contamination inside the gas flow very well. These are for example organic acids, spices, vinegar or other residues," summarizes Pierre Lantheaume, Business Development Manager Food & Packaging at Leybold.
Proven in real life
Novadry has successfully passed many qualifying field endurance tests in a wide range of food applications – tumbling, tray sealing and thermoforming. In all applications, it shows very good performance, the users reached fastest cycle times and low final pressure.
Forward-looking pump
Leybold have succeeded in developing a forward-looking product which has the potential to set a new standard for the food processing and packaging markets. This is due not only to the absence of oil, but also to the Novadry's noise behaviour, the robust design and the low life-time costs.
Leybold at the IFFA 2019: Hall 11, Stand A 41
Powtech 2019


New Solutions for the Process Industry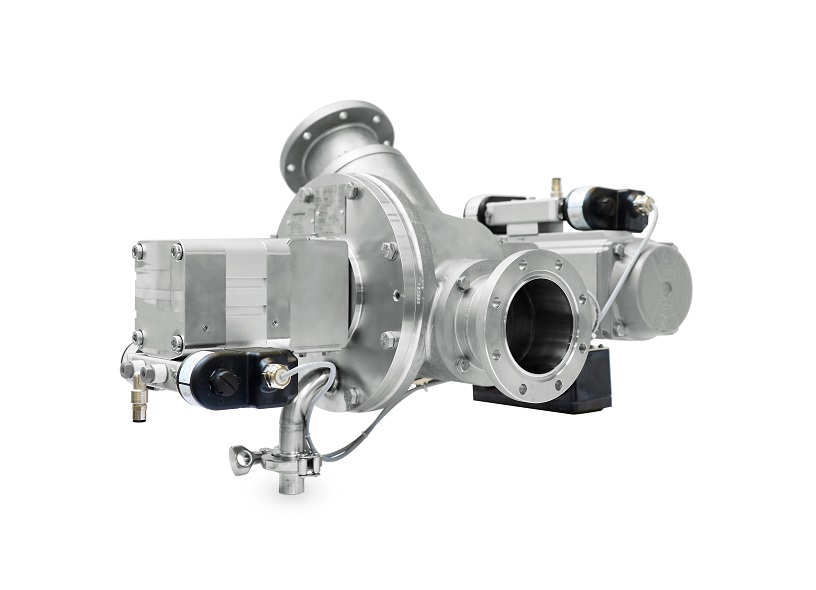 At Powtech 2019, Coperion and Coperion K-Tron will present their versatile bulk materials handling solutions for various process steps at their booth no. 4-290 in Hall 4. Along with the newly redesigned stainless steel WYK diverter valve for CIP cleaning and the ZV rotary valve, now also available in larger sizes, visitors will be impressed by the variety of components and products for safe and economical bulk materials handling that Coperion and Coperion K-Tron offer.
New WYK Bulk Material Diverter Valve
For parts used in manufacturing processes in many sectors of the food, pharmaceutical and chemical industries, the highest requirements in hygiene and purity apply. Moreover, frequent product changes and difficult product characteristics require regular wet cleaning. If cleaning expenditures can be minimized, companies can save significantly on time and costs.
Coperion addressed these issues more than ten years ago, developing the WYK for powder and pellets, which was awarded the Innovations Award by the Powtech exhibition in 2006. The diverter valve enables CIP applications to fulfill required criteria especially in the food sector that come down to one thing: The diverter valve must be absolutely clean and free of contamination after wet cleaning — with no additional disassembly or manual cleaning. This saves time, effort and costs since manual post cleaning is not necessary. In doing so, the WYK diverter valve can easily be installed even at points that are poorly accessible.
Throughout its inception, Coperion has continued to develop the WYK diverter valve based upon the collective experience of past years. Its innovative basic function has not changed: During bulk material conveying, the conical rotor seals the conveying pipes to each other. During CIP cleaning, the rotor is minimally pulled out of the housing and flushed by the cleaning fluid. Now, the diverter valve has been optimized according to current EHEDG guidelines (Class I EL certification is currently in process). Coperion redesigned and optimized the CIP-capable pipe sealing such that now operation with even the finest powders is possible. The pneumatic drives are separated — for turning and pulling the rotor, respectively — so that the rotor is supported on both sides. Along with its compact design, the diverter valve offers an improved cast design with increased surface quality. All materials conform to (EC) Regulation no.1935/2004 and the sealing materials are FDA-conform as well. Moreover, further flange connections, such as those per DIN 11864, can be realized simply on the housing.
The diverter valve is available in sizes DN 65, 80, 100 and 125. It is also available as a standard stainless steel diverter valve without the CIP cleaning function for non-wet cleaning applications. The diverter valve will be offered in Europe and Asia beginning of September 2019 and is expected to be offered in the USA by year end.
New ZV rotary valve housing for pellets and coarse-grained products
Coperion's redesigned and optimized ZV rotary valve is now also available in sizes from 400 to 630. In comparison to its predecessor models, it excels above all with a lower granulate destruction during operation. Coperion enlarged the inlet cross section with additional pellet deflecting profiles. In doing so, an increase in throughput performance of up to 20% results.
Even noise emissions from leakage gas expansion, which constitute the primary source of noise in high-pressure rotary valves (up to 3.5 bar differential pressure), have been markedly reduced with a new expansion opening design. Additionally, Coperion integrated the transition of the elongated opening to a pipe connection within the cast. Beyond reducing the noise emission, an adapter is likewise no longer required. Moreover, the ZV rotary valve now has a standard-compliant pipe connection.
Coperion at the Powtech 2019: Hall 4, Stand 290
Hannover Messe 2019


Automated banding application
Cobot manufacturer Kassow Robots will make its first appearance at Hannover Messe 2019. The technology trade fair takes place from 1 to 5 April 2019. It will be the first chance to visit the company's own booth since Kassow's market launch at Automatica in Munich last summer. The Danish start-up will be attending Hannover Fair together with Project A&E. The partner from Kranenburg, Germany, will showcase an automated banding application.
"We are very satisfied with how things have gone since our launch. The great interest in our 7-axis cobots at Automatica has resulted in a partner network spread all over Europe. We will continue to expand this in the coming months."

Dieter Pletscher, head of sales at Kassow Robots
The feedback of our partners and their customers has been very positive, including from small and medium-sized businesses, says Pletscher. They have found that the strength and flexibility of the 7-axis cobots make them a particularly cost-effective option for human-robot collaboration.
Extra space for production
Kassow Robots has expanded production space at its headquarters in Kastrup, Copenhagen, since the turn of the year. "The key stage of development is now complete and we are optimizing the manufacturing process," says Kristian Kassow, founder of Kassow Robots. Kassow Robots has begun production of the first two cobot models – the KR 810 with a reach of 850 mm and a payload of 10 kg, and the KR 1205 with a reach of 1200 mm and a payload of 5 kg. Both models have 7 axes. Production of the KR 1805, which has a reach of 1800 mm, a payload of 5 kg and 7 axes, will begin in the second half of 2019.
Kassow Robots at the Hannover Messe 2019: Hall H17, Stand E63