A clear mark for sustainability


SIG wins the German Packaging Award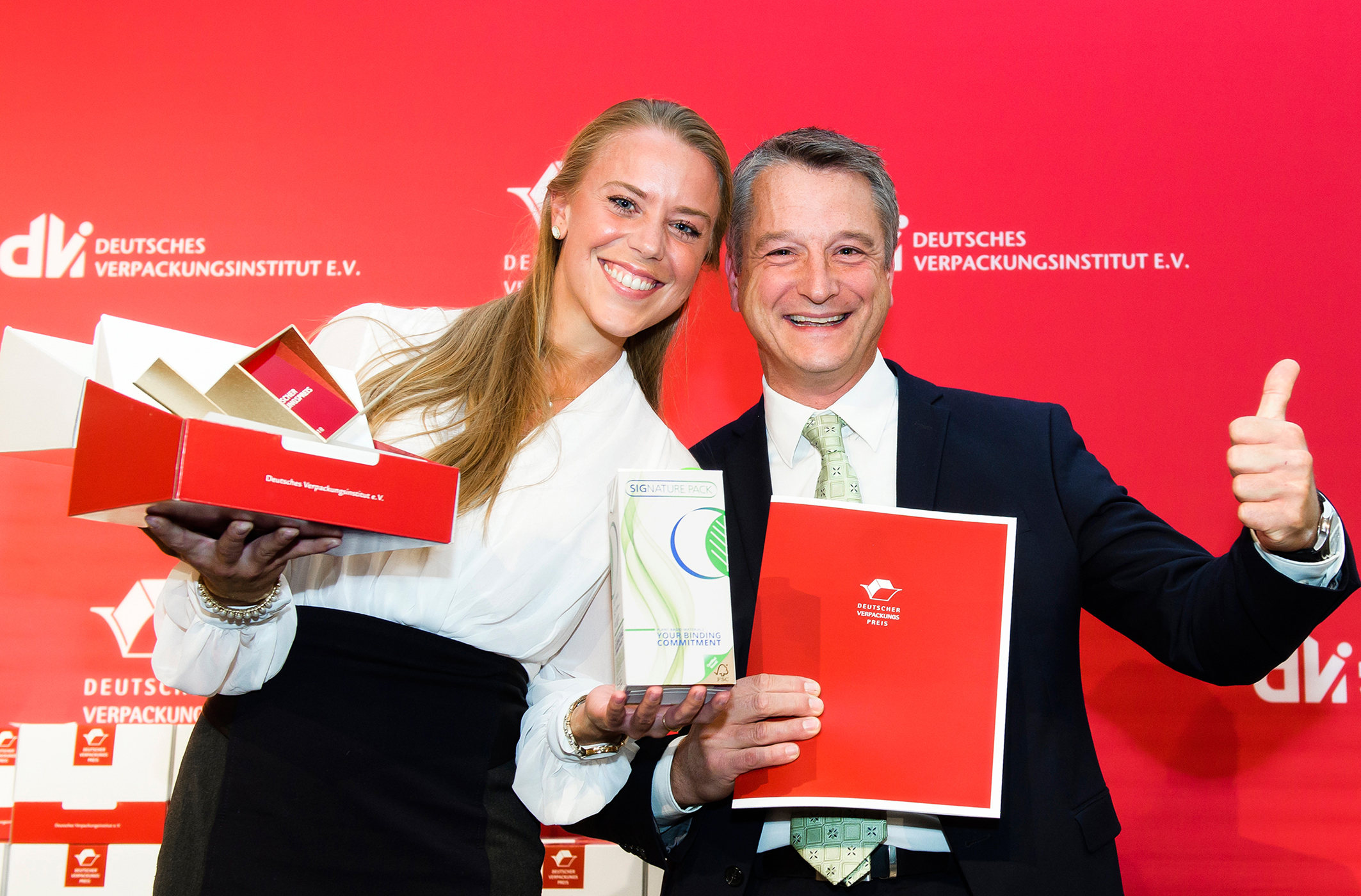 Signature Pack from SIG impressed the jury. The world's first aseptic carton pack with a clear link to 100% plant-based renewable materials has now been awarded the prestigious 'German Packaging Award' in the sustainability category.
This year, participants from ten nations applied for the coveted award, which is regularly submitted at FachPack in Nuremberg – a total of 226 entries were received. The German Packaging Award is an international, cross-industry and cross-material competition. Every year, the German Packaging Institute (Deutsches Verpackungsinstitut – dvi) awards the prize for innovative and creative packaging ideas. The dvi is the only network in the packaging industry that unites companies from all stages of the value chain as members.
Added-value packaging
Signature Pack from SIG, which has now been awarded with the German Packaging Award, is such an innovation that brings added value for the industry and at the same time meets the expectations of consumers who place increasing importance on environmentally friendly and sustainable packaging. The polymers used for laminating the paperboard and making the closure of the Signature Pack originate from renewable European wood sources and are certified by recognized and approved certification systems (ISCC PLUS and TÜV SÜD CMS71) via a mass balance system. This means that for the polymers used in the Signature Pack, an equivalent amount of bio-based feedstock went into the manufacturing of the polymers. Tall oil was selected as the feedstock because, as a by-product of paper production, it is a waste material rather than an agricultural crop that requires land and resources to grow.
100th MCC wrapping machine sold


High flexibility convincing to customers
Six wrapping styles for a variety of products at maximum performance – this is what the continuous-motion high-performance MCC machine from Theegarten-Pactec stands for. The MCC wraps a wide variety of product dimensions, especially sensitive products such as chocolate-coated jelly products or soufflé (whipped egg white foam). A successful combination, as it turns out: the MCC and its six folding types was first presented at interpack 2008. Now, the 100th MCC machine has been sold. The machine's flexibility promises high investment security, as the MCC can be efficiently converted to other types of folding and product dimensions.
The MCC wraps products in six different folding styles – Double Twist, Top Twist, Side Twist, Vienna Fruit Fold, Foil Wrap and Protected Twist. Theegarten-Pactec thus offer confectionery manufacturers a wrapping machine that combines continuous high performance and flexibility. This unique combination has won over customers from around the globe. The first MCC was sold in 2008 to Polish praline manufacturer Mieszko – and the 100th machine is currently being delivered to the Middle East.
Whether jelly products, all types of soft caramels or chocolate products with or without filling, and even featuring irregular geometries – the MCC is a jack of all trades. It boasts a nominal wrapping output of up to 1,200 products per minute for Double Twist and Foil Wrapping. Up to 800 products per minute are possible with Side Twist, Top Twist and Viennese Fruit Fold. The MCC also features automatic ejection of spliced products and products which are not true to the print image.
The MCC's modular design enables a quick change of the product dimension and folding type. A change in dimension can be completed in three to four hours. Only a single shift is needed to change the wrapping type.
Efficient and gentle on the product
The MCC offers optimized product closure with its additional Protected Twist folding type (sealed double twist wrap). A separating plate prevents the sealing masks of the wrapping material from sticking together prematurely and consequently slipping. This results in a nearly wrinkle-free longitudinal seam, even in the event of large product tolerances. This represents a significant advantage for products without folding edges as well as for coated goods.
The servo-motor driven wrapping material feed with continuous cutting length adjustment as well as servo-motor driven wrapping material knife guarantee optimum wrapping material consumption via the laser-controlled functionality "No product – no wrapping material." Furthermore, this achieves high print image accuracy and cutting length consistency.
Depending on the product to be wrapped, the gentle product feed takes place via a multi-stage accumulation conveyor or a lug chain.
"The high number of MCCs sold confirms that we've correctly recognized the market's needs with the combination of high performance and flexibility. We're known for producing solid machines in terms of quality and longevity and for continuously optimizing them," explains managing director Markus Rustler. "The flexibility of the MCC is an attractive investment for customers since the machine can be inexpensively enhanced and reconfigured in the event of a change in product range or seasonal production."
Perfectly combined


Innovative assembly and testing solutions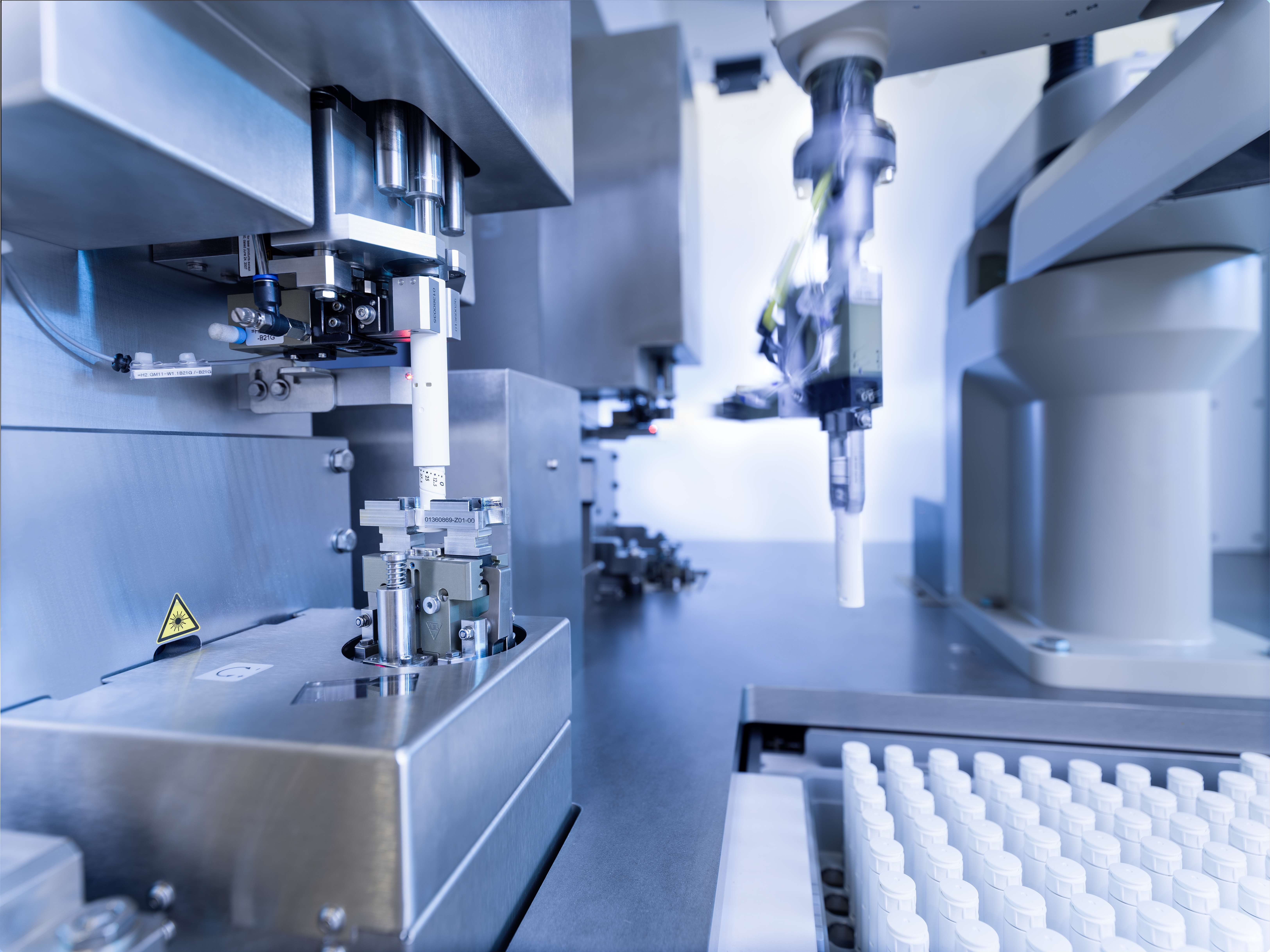 Teamtechnik has further developed its competence in the assembly and testing of injection systems. The German-based production system builder will demonstrate its innovative production and testing systems for pens, auto-injectors and syringes for medical applications at the Pharmapack trade fair on February 6 and 7, 2019 in Paris.
The company offers manufacturers of medical devices extensive engineering experience and expertise in the process technology field. Within its medical engineering division the company places a clear emphasis on assembly and test lines for injection systems. Accordingly, the market-leading system builder has developed a new solution suitable for series production based on LED technology for hardening the glue used for attaching cannulas in glass syringes.
Teamtechnik has developed its own platform for offline testing of injection systems. This fully-automated standard solution enables individual assemblies to be tested, such as dosing mechanisms, through to complete testing with drug release. The testing precision for the torque of a pen may be of the order of newton-millimeters. The TEAMED TEST platform is adaptable to a wide range of product types and customer requirements. Over 30 systems have already been supplied.
The current generation is equipped with a successful package of test software. This allows users to compile testing cycles and to optimize them without programming knowledge. For years the company has invested intensively in know-how for host PC and test software. 'For reliable series production of injection systems we offer a comprehensive, worry-free package': Assembly, feeder technology, test system and software all come from the same source and have already proven themselves successful', says Peter Ritter, Executive Vice President Medtech Division at Teamtechnik.
Booklet wrap-around label


More communication space on round containers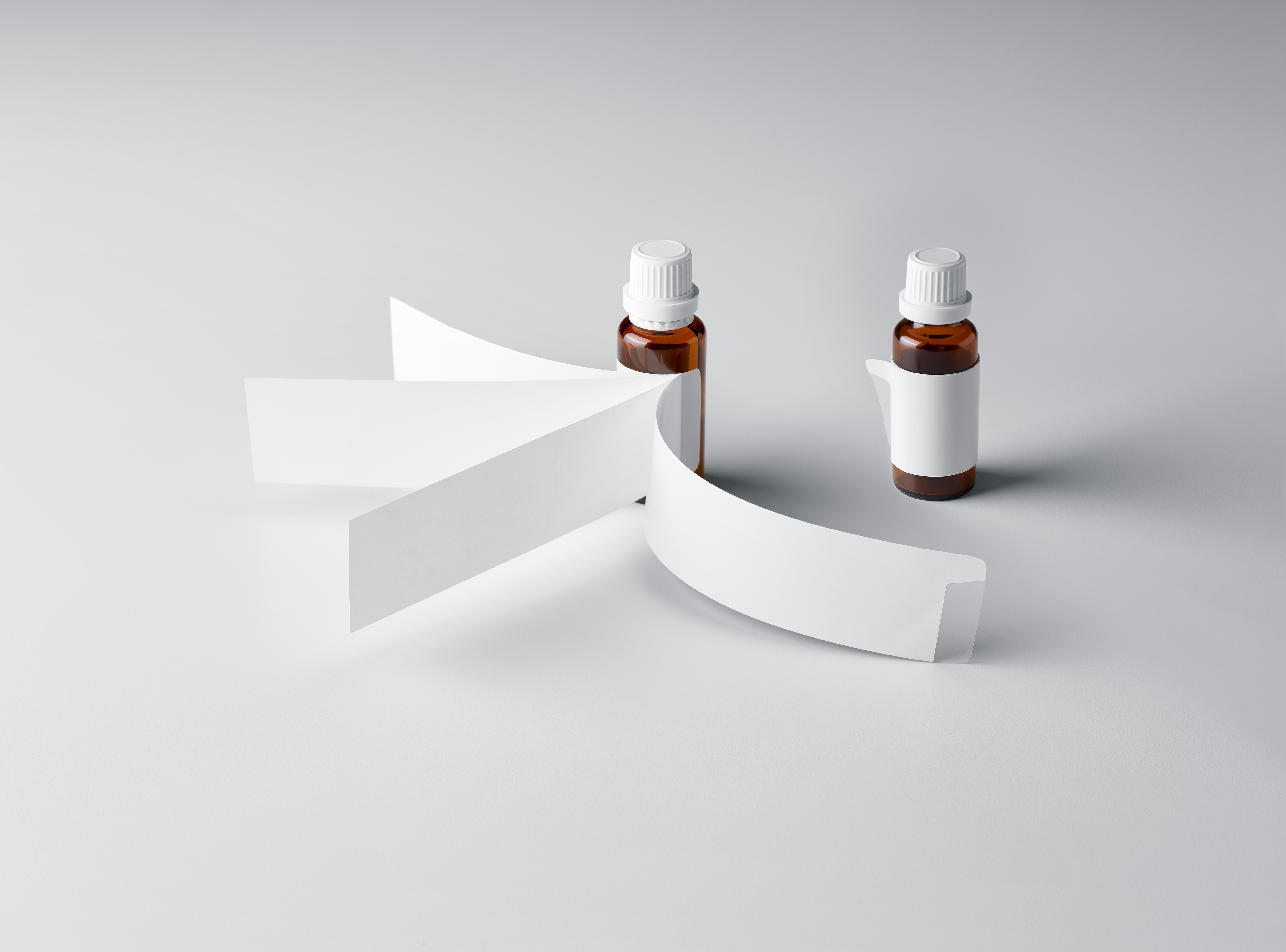 Pharma packs are now used to communicate much more than just product information. Nowadays, pharmaceutical manufacturers want to use the packaging to provide details of clinical studies, descriptions in numerous languages and information regarding correct usage. In order to provide them with additional space for this purpose, the August Faller Group has expanded its already extensive portfolio to include a new product: the new multi-page booklet wrap-around label for round containers.
It is useful for doctors, chemists and patients when pharmaceutical and healthcare product packaging contains important information. This can range from descriptions in multiple languages to details of clinical studies and marketing campaigns that offer a purchase incentive for non-prescription products. The direct communication space provided on small bottles and jars is usually very limited. The August Faller Group's new multi-page booklet wrap-around label significantly increases the space available to pharmaceutical manufacturers. The major benefit here is that the information is directly applied to the primary packaging or container – so it is always at hand.
Wide-ranging possibilities, attractive appearance
The packaging specialist is able to produce this combination of label and package insert with anywhere from two to 32 pages, according to customer needs. It is enclosed in transparent foil, which protects the label while at the same time giving it a high-quality look. What is more, it is possible to apply Braille to the top surface. The basic label itself is also made of a PP foil, in this case with a white finish. 90 g/m² coated paper is used for the booklet. Variable data, such as a 2D data matrix code can also be printed on request.
Flexible to apply, easy to open
The pharmaceutical expert also offers its customers attractive solutions for the booklet wrap label in terms of application and opening options. It can be applied to round containers both as a permanent attachment and in detachable form. If parts of the label are relevant to the patient file, these can be made removable. In all types, an opening tab and a shortened base label ensure that users of all ages can access the information conveniently.
For round containers made of glass and plastic
In order to ensure that both small-scale and large-scale manufacturers in the pharmaceutical and healthcare industry can benefit from the new solution, the label can be applied manually or by machine to glass or plastic containers. Mechanical application involves the label being affixed directly off the roll with the spine first.