A clear mark for sustainability


SIG wins the German Packaging Award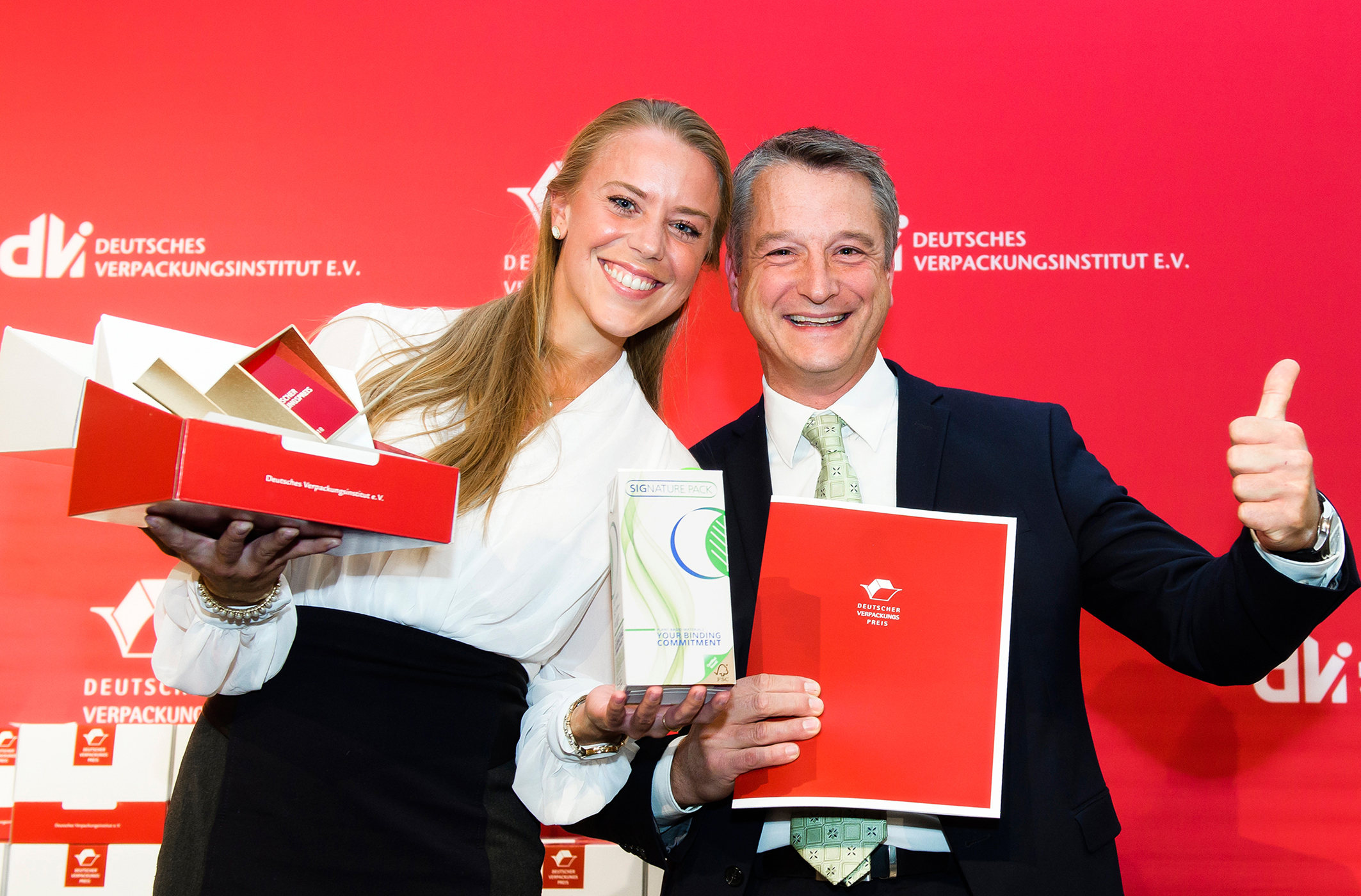 Signature Pack from SIG impressed the jury. The world's first aseptic carton pack with a clear link to 100% plant-based renewable materials has now been awarded the prestigious 'German Packaging Award' in the sustainability category.
This year, participants from ten nations applied for the coveted award, which is regularly submitted at FachPack in Nuremberg – a total of 226 entries were received. The German Packaging Award is an international, cross-industry and cross-material competition. Every year, the German Packaging Institute (Deutsches Verpackungsinstitut – dvi) awards the prize for innovative and creative packaging ideas. The dvi is the only network in the packaging industry that unites companies from all stages of the value chain as members.
Added-value packaging
Signature Pack from SIG, which has now been awarded with the German Packaging Award, is such an innovation that brings added value for the industry and at the same time meets the expectations of consumers who place increasing importance on environmentally friendly and sustainable packaging. The polymers used for laminating the paperboard and making the closure of the Signature Pack originate from renewable European wood sources and are certified by recognized and approved certification systems (ISCC PLUS and TÜV SÜD CMS71) via a mass balance system. This means that for the polymers used in the Signature Pack, an equivalent amount of bio-based feedstock went into the manufacturing of the polymers. Tall oil was selected as the feedstock because, as a by-product of paper production, it is a waste material rather than an agricultural crop that requires land and resources to grow.
Egg grading machine


Load cell for high-speed packaging machinery
Damtech Egg-Handling BV specialises in automated egg processing machinery and recently, with the help of load measurement specialists Zemic Europe, developed its latest E-Grader 40 egg weighing, sorting and packaging system. With a maximum capacity to grade 28800 eggs each hour and scalable up to six lines, the state-of-the-art machine utilises Zemic's L6N series single-point load cells in combination with its Top-Sensors T1 weight transmitter to provide high-speed processing at the rate of one measurement per 300 ms.
Zemic, represented with full technical support in the UK by Variohm EuroSensor, works closely with its customers to provide solutions that differentiate their market position. As weighing was not a technology area that Damtech had encountered previously the two companies' combined their respective skills in automated machinery and force sensors to develop the E-Grader 40 which is aimed at farmers that sell their commercial egg produce straight from the farm. These supply sources are becoming increasingly popular for consumers but are still subject to the rigorous quality and legislative regulations required of large producers. The machine can handle 5 different grade classes between 43 and 73 grams.
Zemic's L6N load cell and the T1 weight transmitter provided best fit components for the machine where the anodised aluminium-alloy and IP65 rated single point load cell with OIML approval offered a maximum platform size of 350 x 400 mm. This load cell is well proven for use in a variety of applications and has a pedigree of use in the medical weighing market.
The T1 weight transmitter is DIN rail mounted, has an integral 6-segment semi alphanumeric display and takes care of set-up and calibration – with a wide choice of output configurations including analogue (voltage and current) as well as USB and many commonly used fieldbus protocols. For use with 1, 4 or 8 load cells, it provides excitation voltage and load cell signal conversion making integration with the customers' control system straightforward as well as scalable.
FachPack 2018


New Total Film Packaging Solutions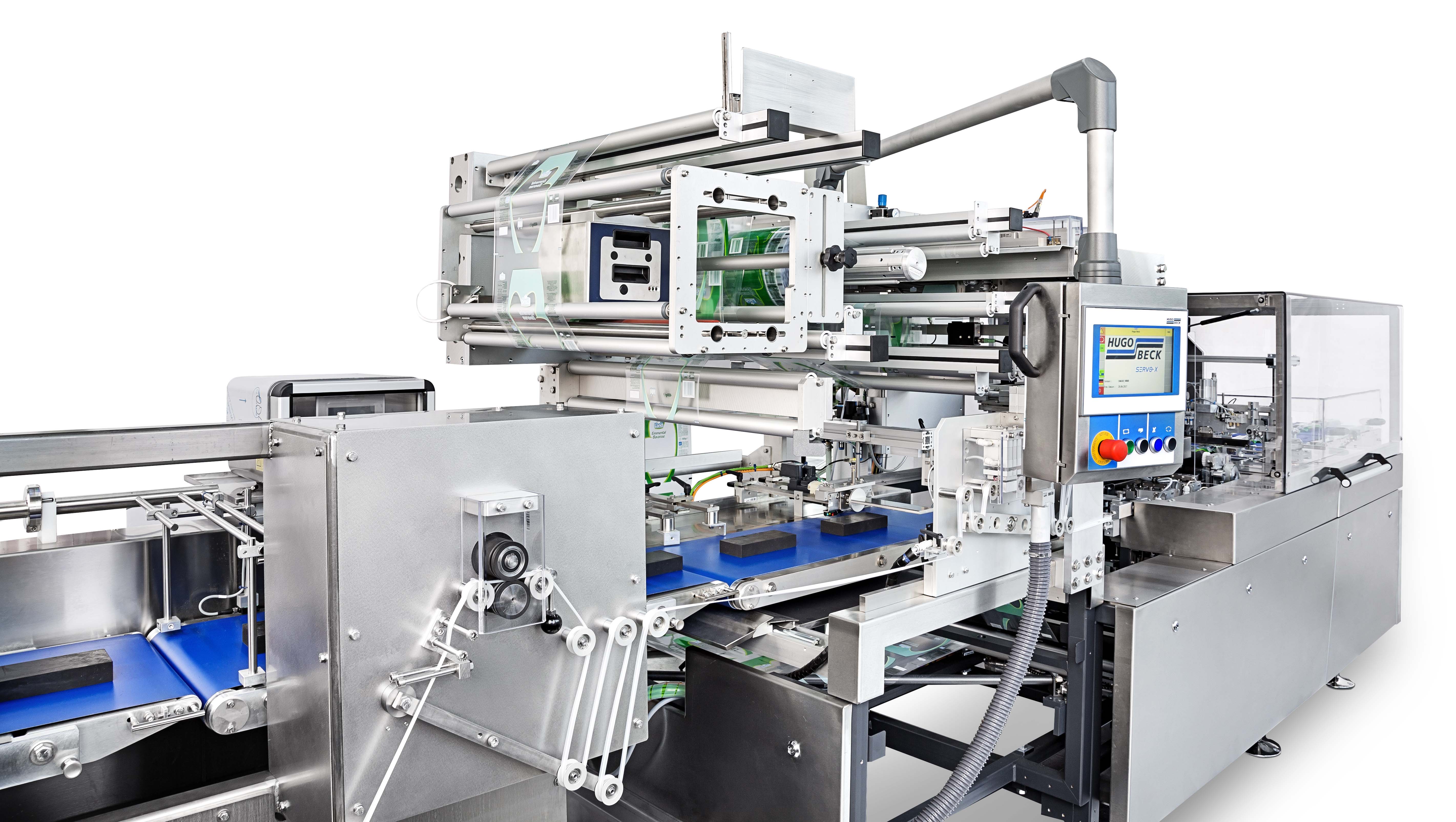 Hugo Beck, manufacturer of horizontal flowpack, film packaging and post-print processing systems, showed its latest film packaging solutions at FachPack 2018.
The flowpack X-D zip is a brand-new machine concept for film packaging and enables the production of 100% airtight standard flowpacks and three-side seal bags with a ziplock seal.
The stand was also be shared with mopack who will exhibit their complete film portfolio of polyolefin, polyethylene and polypropylene packaging and shrink film – including the world's thinnest polyolefin film at 7 microns. The Hugo Beck machines also demonstrated this film to show a total solution for packaging customers and how with the latest technology significant savings are achievable resulting in cost efficiencies and sustainability benefits through minimising material usage.
"Hugo Beck has been developing and manufacturing innovative film packaging machines for more than 60 years and our new 2-in-1 and industry 4.0 ready solutions open up a whole new dimension of flexibility and productivity for our customers."

Timo Kollmann, Sales Director at Hugo Beck
For dewaxing / deoiling unit


EDL concludes contract with Sepahan Oil Company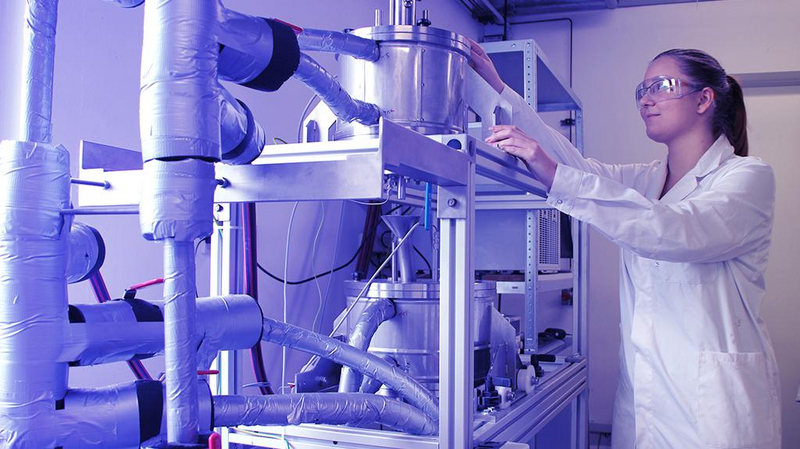 In mid-August 2018 Sepahan Oil Company (SOC) based in Tehran, Iran and the German EDL Anlagenbau Gesellschaft mbH (EDL) based in Leipzig signed a contract for the modernization of the lube oil and wax production.
SOC and EDL signed a contract for granting a license and preparing a FEED (Front End Engineering Design) for a dewaxing / deoiling unit. The objective is to increase the throughput of the existing dewaxing unit and to improve the base oil quality. In addition to that a deoiling unit based on EDL's technology will be integrated to produce fully refined wax. It is planned to complete the first project phase in mid-2019.
EDL Deoiling Technology
Advanced processing methods reduce the number of side products in refineries, such as aromatic hydrocarbons or paraffins / waxes. The lube and paraffin producers are thus forced to find new, more efficient technologies. By using the solvent-based deoiling technology, high-quality paraffins are produced from paraffinenriched residues, so-called slack waxes. The paraffin products are used, for example, in medicine, pharmaceutical, cosmetic, packaging or building material industry. The advantage of the solvent-based technology is the wide range of application – not only light slack waxes, but also heavy slack waxes are processed.
A few years ago EDL started to enhance the dewaxing / deoiling technologies. A deciding factor for SOC's decision was among others EDL's pilot plants that were subject to expansion / improvement in mid-2018 to reliably determine the required design parameters. Apart from dewaxing / deoiling EDL grants licenses for other processes to produce base oils, tender oils, waxes and other special high-quality products.