Dialogue between manufacturers and users


Satisfied customers through integration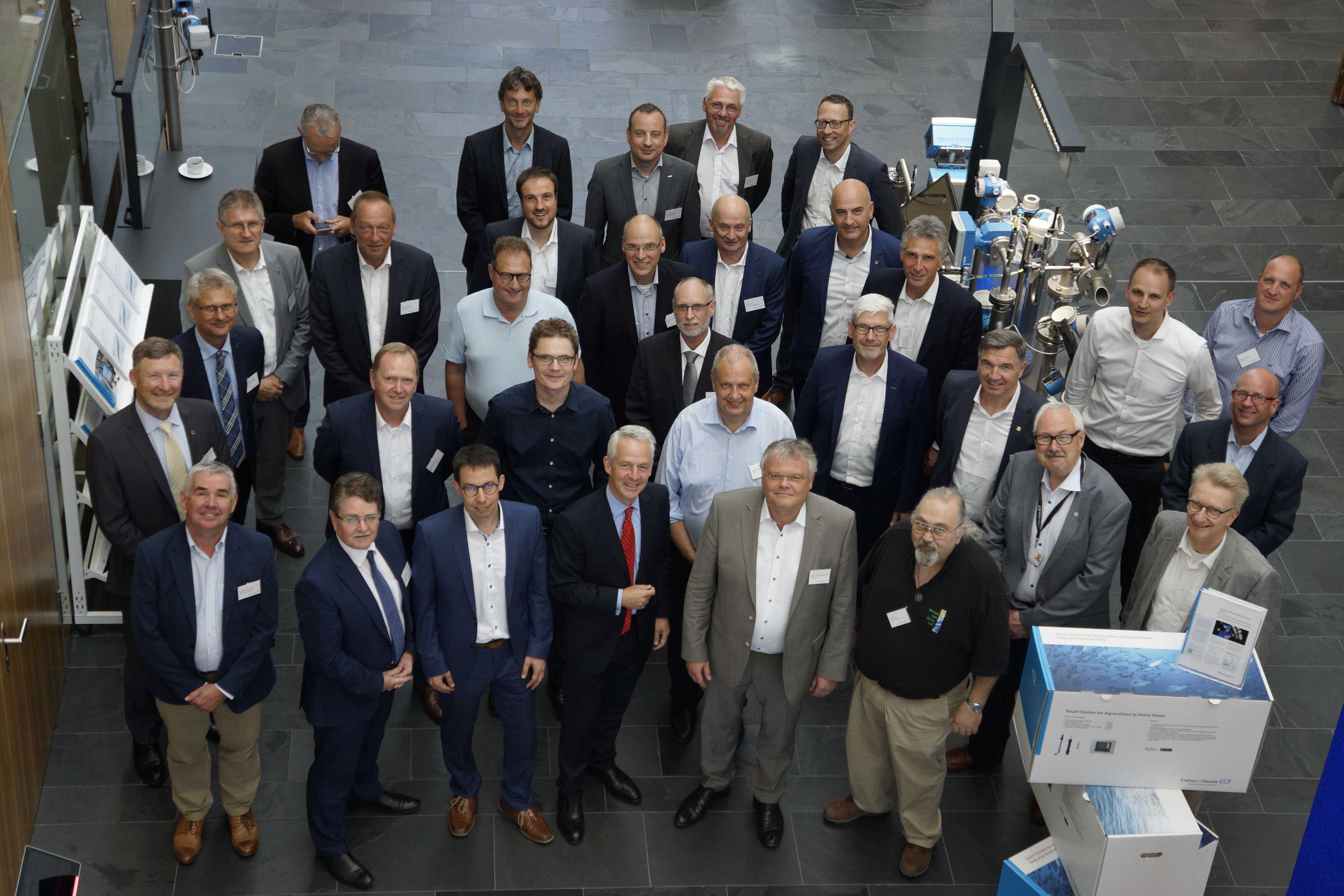 35 Open Integration partners gathered together at Endress + Hauser in Reinach, Switzerland, to share their experiences and thoughts for the first time. A highlight of the event was a presentation from representatives of the chemical and pharmaceutical industries outlining how they benefit from the partner program during digitalization of their processes – and what they would like to see in the future.
The goal of the Open Integration program initiated by Endress + Hauser can be summed up quickly: the simple, fast and manufacturer-independent integration of components and devices into various automation systems. And, almost more importantly, satisfied customers.
While it sounds simple in theory, when it comes to day-to-day system operation, it's far from that. Even the most experienced automation specialists have great respect for multi-vendor systems. That also applies to complete solutions "from a single source." After all, digital communications – a precondition for the extensive use of existing intelligence in field devices and systems – places serious demands on integration.
With its Open Integration partner program, Endress + Hauser is inviting providers of control technology, fieldbus infrastructure, measurement technology and actuator systems to test and document the interaction of their products even more extensively in the interests of their customers. The cooperation partners include Auma Riester, Bürkert, Festo, Flowserve, Hima Paul Hildebrandt, Honeywell Process Solutions, Mitsubishi Electric, Pepperl + Fuchs, Phoenix Contact, Rockwell Automation, Schneider Electric and Turck.
Open standards as a basis
The foundation of this effort is open communication standards (Hart, Profibus, Foundation Fieldbus, EtherNet/IP or Profinet), as well as open integration standards (FDT, EDD, FDI). With a nearly unlimited selection of options, the reference topologies represent practical combinations suitable for applications in the chemical, life sciences, food & beverage, oil & gas, power & energy, primaries & metal and water & wastewater industries.
The reference topologies take into account industry-typical requirements such as explosion protection, availability and redundancy. Each topology is thoroughly tested and documented in the lab in Reinach in conjunction with the partners, after which the recommendations are published.
Interoperability tests create added value
And how do customers benefit from the Open Integration partner program? Every problem that the integration experts discover prior to commissioning can be resolved at a much lower cost compared to fixing the issue in the field at some later point. Customers receive concrete, validated recommendations for automating their systems, which go well beyond established conformity and interoperability testing while ensuring seamless integration. Last but not least, they save time and money.
With developments such as IIoT and APL, users will face new challenges, plus integration testing will be given added weight. This makes it even more important for the Open Integration partners to work together over the long term. The participating customer and provider representatives were in full agreement on this point. Cyber security, in addition to the issue of connectivity, will play a key role in the future. They furthermore agreed that effective strategies need to be developed to counter new entrants in the automation industry such as IBM or Amazon.
Customer-driven developments
One thing was clear during the get-together in Reinach in early June: the process control industry wants open, interoperable systems instead of proprietary solutions. One of the users wants uniform, structured access to static information via QR- and RFID-supported type plates in accordance with DIN 91406. Standardized diagnostics in line with NE 107 is also at the top of the wish list.
In the near term, Endress + Hauser wants to work with its partners to address these and other open issues with the aim of utilizing Open Integration to offer customers even more value-add during digitalization of their processes. The common goal: satisfied customers who can extensively utilize the opportunities that digitalization brings with little risk.
All-steel multi-disc coupling


Compact Coupling Solution
Engineers and designers are always looking for solutions to make their and our life easier. Especially in our times, which are characterized by high cost pressure and ever more ambitious applications, flexible components are in high demand. Compact, high-performance strong components that allow for simple constructive solutions can play an important role. Flender meets these requirements with its N-Arpex all-steel multi-disc coupling. The successor to the proven Arpex couplings is a compact coupling solution offering torques up to 2 million Newton meters.
Installation – easy as ABC
The N-Arpex series of all-steel lamina couplings is now completed with standard couplings in two versions (ARN-8 and ARN-10) , thereby delivering up to 2 million Nm of torque . Through the eight or ten screw connections, coupling diameter of up to 988 mm can be reached. For higher torques expansion stages Flender developed a conical screw connection. Thus, assembly is significantly simplified even in high performance ranges and can be carried out without additional tools.
The torsionally rigid, all-steel, multi-disc coupling offers a compact overall design, a significant increase in performance and increased bore capacity. This allows a smaller coupling to offer a higher torque transfer, compared with the previous model Arpex. In many cases this allows for the application of a smaller sized coupling. The achieved weight optimization enables higher, physical parameters and leads to a reduction of the bearing load in the connected machines. In combination with the closed flange contour, these couplings can be used for peripheral speeds of up to 110 m per second.
One series fits all
A single series of 37 sizes covers the entire torque range up to two million Nm, the previous model needed 67 designs to offer that torque range. This makes the coupling selection easier, clearer and faster, which has a positive impact on the order process and procurement logistics.
The entire value chain, from development over production to the performance test on a test beds, is done in-house by Flender, with decades of experience in development and construction flowing into each coupling.
The devil is in the detail
In the various sectors, machines and systems are subject to a wide variety of standards and certifications. The materials, used in conjunction with the well-thought-out overall design of the N-Arpex couplings, enable the application in a temperature range from -50 to 280°C. The couplings are also suitable for explosive environments and meet the requirements of the Atex Directive 2014/34 / EU and the requirements of API 610 / ISO 13709 and API 671 / ISO 10441. Another standard safety feature of the series is the special catching device securing the intermediate spacer in the event of plate breakage
The redesign of the couplings provides an even higher bore capacity allowing for bigger shafts, in comparison to its predecessor. Another focus of development was on the simple installation of the couplings, which are available in three- and five-part versions. The two hub pieces at both ends are provided with pull-off threaded holes. In the case of the five-part variant, the intermediate unit is also delivered pre-assembled. All these features simplify handling and allow quick and safe installation routines.
From mechanics into the digital world
In addition to the design benefits, users profit from the electronic capabilities offered by Flender. Couplinges or gearboxes can be selected in the online tool "Drive Technology Configurator" based on the technical parameters appropriate to their application.
The tool allows designers to find the right coupling and order it online. Flender can also provide key design data such as 3D models, dimensional drawings and descriptions. By integrating these into suitable design and simulation programs, a "digital twin" can be created. This gives designers important information about suitable couplings and drives early in the project phase.
Although couplings are not among the most expensive parts in the drive train, designers expect optimal value for money and the best possible design characteristics that meet the most stringent standards. The N-Arpex coupling generation has been developed meet these requirements, following in the footsteps of the very popular Arpex series, while setting new benchmarks at the same time.
Request info material now!
You would like to know more? Just fill out the form.
Bilfinger tops 2019 "Lünendonk Liste"


For eleventh consecutive time
Bilfinger once again has been ranked "Number 1" among the major industrial services providers in Germany. Its top listing in the survey-based ranking compiled annually by the market research firm Lünendonk & Hossenfelder GmbH marks the eleventh time in a row that the Mannheim-based company takes first place among the top industrial services providers. At more than a billion euros, Bilfinger's domestic revenue for 2018 was significantly ahead of the runner up. When it came to total revenue earned, Bilfinger's performance was actually four times that of its closest rival among the top three.
"I'm pleased that we have been the front runner since 2009. This success belongs to our employees who enhance the efficiency of customer's assets, ensure a high level of availability and reduce maintenance costs. The award encourages us to further expand our market position."

Bilfinger CEO Tom Blades
In its poll, Lünendonk asked respondents to name the four most important players on the German industrial services market. That Bilfinger is dominating the competitive benchmark is shown by the fact that 88% of those surveyed named the company. The industrial services provider enhances the efficiency of assets, ensures a high level of availability and reduces maintenance costs.
With its innovative, groundbreaking and intelligent products and maintenance strategies, the company is able to boost the efficiency of industrial plants and facilities while concomitantly reducing their ecological footprint. One example is Bilfinger's "scrubber" solution, a sort of catalytic converter for the maritime shipping industry. Scrubbers reduce the sulfur-dioxide content of the waste gas produced when heavy oil is burned by nearly 100 percent. Bilfinger successfully has established itself on the market with this technology, securing an order volume of more than 100 million euros.
Pipe Patrol


Solutions for safe and efficient pipeline management
With increasing operational, security, environmental and legislative requirements for pipeline operators Krohne offers new solutions for pipeline management: Pipe Patrol is a comprehensive suite of software modules for long or short distance single and multiproduct pipelines for oil, gas, water, chemical or refined products, and offers monitoring and protection of pipelines in all operating conditions.
Pipe Patrol can be supplied in various configurations: eight modules cover leak detection, theft detection, stress monitoring, line break detection, tightness monitoring, batch tracking, pump monitoring and predictive modeling. To match the application, the modules can be used stand-alone or individually combined, and optionally complemented by a wide range of instrumentation, cyber security and field data acquisition systems. Based on over 30 years of experience in pipeline applications, the company also offers engineering, operation and maintenance services for pipeline management such as support during certification or post theft analysis. This modularity offers the pipeline operator to achieve best results and meet safety and legal requirements in line with the application and the available budget.
The leak detection module provides the unique Pipe Patrol E-RTTM based leak detection and localisation for liquids and gases which is applied on over 350 pipelines worldwide. It is complemented by the theft detection module that specialises on fast and reliable identification and localisation of unauthorised or illegal product discharges, and the tightness monitoring module to detect small or gradual leaks. To efficiently detect pipeline ruptures instantly the line break detection module can be applied. It uses a pipeline rupture pattern recognition for automatic emergency shutdown in case of a line break. The batch tracking module for batch and interface tracking in multi-product pipelines, and the stress monitoring module for evaluation and documentation of lifetime stress and remaining pipeline service life complement the operational modules. The predictive modeling module forecasts pipeline operation and identifies possible threats such as shortage in supply or pressure violations. Its offline simulation then can be used to find corrective measures as well as for planning of optimized operation in the future. In addition, the pump monitoring module enables predictive maintenance and higher system availability by monitoring essential mechanical, electrical, and hydrodynamic measurement values.