Emerson and Weidmüller


Safety relay for use with DeltaV DCS-safety systems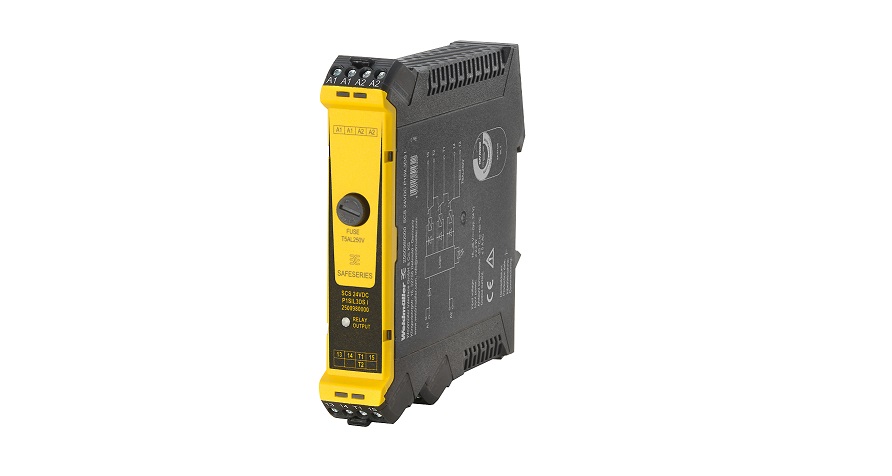 Emerson, providers in the area of process automation, has included four safety relays from Weidmüller in its DeltaV Alliance product range. The range now features the following four relays: "SCS 24VDC P1SIL3DS M", "SCS 24VDC P1SIL3DS", "SCS 24VDC P2SIL3DSES" and "SCS 24VDC P1SIL3DS I". The DeltaV Alliance product range is made up exclusively of products by market leaders. With the product certification programme, Emerson is able to support its customers in the implementation of the various products, which in turn helps to ensure the stability of the implemented solutions while also reducing both the functional risk and the costs that are incurred during the implementation period.
Weidmüller has developed its safety relays for use with the DeltaV control systems from Emerson. Extensive integration testing has shown that the safety relays work accurately together with the DeltaV control systems. The Weidmüller safety relays have also undergone and successfully passed the relevant testing and approval processes performed by Emerson. The corresponding proof of compatibility is available. For globally active customers, this provides increased reliability while simultaneously helping to reduce costs.
The safety relays from Weidmüller were certified by TÜV-Nord Group as "Approved Safety Function". This means that they meet the requirements of EN 61508 up to SIL (Safety Integrity Level) 3 as well as the international requirements. The safety relays are also UL-listed.
The following safety relays are approved without restriction by Emerson:
"SCS 24VDC P1SIL3DS M", order no. 1303760000 – with monitor circuit
"SCS 24VDC P1SIL3DS", order no. 1303890000 – without monitor circuit
Both safety relays are used in areas that require functionally safe deactivation, i.e. in back-up systems or as overfill protection in tank systems.
"SCS 24VDC P2SIL3DSES", order no.1319270000 – this relay offers the following functions: "energize to safe" safe activation and "de-energize to safe" safe deactivation.
"SCS 24VDC P1SIL3DS I", order no. 2500980000 – this relay is tailored for use with Emerson DeltaV DCS systems.
The safety relays are used for the safe deactivation of systems in the processing industry (DTS = de-energised to safe), i.e. functional safety. The goal of functional safety procedures is to reduce risks for people and the environment to a tolerable level. The safety relays from Weidmüller boast tried-and-tested technology and sophisticated features.
Weidmüller supports operators of processing systems in the processing industry with certified components for low and high requirement levels up to safety integrity level 3 in accordance with EN 61508.
Safety at work


Technical report
"Safety at work – how can machine tools and systems operate safely and efficiently?" For a while now, sensors are not only a matter of process control – today one of their primary tasks is to link processes together. With its extensive range of Safety@work products, Leuze electronic optimizes collaboration between man and machine: sensor and control systems, like those of the RSL 400 safety laser scanner, can be integrated intelligently into the processes performed by machines and safeguard these machines in a reliable and tamperproof manner. At the same time, the processes are structured efficiently and cost-effectively.
Machining work pieces
In machining centers, parts of various materials are machined, turned, and drilled. The prerequisite for processing work pieces in complex machining centers with a high degree of precision is having the right tool available for each work step. In addition to checking whether the tool is present and identifying it, the drill or milling cutter must also be monitored for tool breakage. Inductive switches or camera-based code readers clearly identify whether the correct tool is mounted for the respective processing step. Focused laser photoelectric sensors can – thanks to their very small light spot – reliably check whether even the smallest drills or milling cutters are intact.
Increased level of automation
Industrial robots, which can perform a large number of swivel and gripping movements in a very short period of time, are often used for automated loading and unloading of machine tools. Their movement zones must be reliably protected against access over a large area. Before a robot picks up a part, the part must be uniquely identified to ensure that the correct processing step is carried out. This is done using the DCR 200i camera-based code reader. The DCR 200i is a reader used to detect and identify Data Matrix codes. The fast imager, integrated high-performance LED illumination, as well as high resolution in combination with a very high depth of field guarantee reliable decoding, even with fast processes and high object speeds.
Safety-related monitoring of machines and systems Safety laser scanners such as the RSL 400 from Leuze electronic are used for the safety-related monitoring of areas in and around machines and systems. A maximum operating range, robust operation and simple handling are crucial here. The simultaneous monitoring of four protective fields means the working area can be split up and the speed safely reduced.
The RSL 400 safety laser scanner provides a solution for such applications. Its large operating range of 8.25 meters allows large areas to be monitored. With two parallel protective fields and two integrated safety-related switching outputs, only one RSL 400 safety laser scanner can also monitor two stations independently of one another.
A further option is safeguarding using multiple light beam safety devices. These devices provide a greater operating range and therefore an efficient solution for safeguarding access points over long distances of up to 70 meters – even "around the corner" solutions with multiple mirror columns are possible. Intelligent products such as the MLD 500 safety light curtain have an integrated laser alignment aid for time-saving and cost-effective alignment. Simple configuration by means of wiring and integrated indicator lights for status display are possible, even over long distances.
In-house logistics with automated guided vehicles (AGVs) An AGV, which moves autonomously and flexibly in space, transports blanks into the working area of the robot or machine tool. On completion of the production process, the machined work pieces are collected again. The transportation path of the AGVs must be safeguarded with safety sensors which monitor the presence of persons and objects. An important consideration here is the flexible adaptation of the protective fields to the movement situation and the different loads. In the case of the triangulation principle, an AGV must be equipped with two different scanners. Unlike the contour navigation principle, just one scanner is needed for safeguarding and navigation. This means that safeguarding and data capture for navigation requires one single safety laser scanner. In other words, the scanner simultaneously also provides the measurement data needed for navigation. In addition to that, the measurement values have an extremely high angular resolution and accuracy. This is important to precisely determine the position of the AGV.  The RSL 400 safety laser scanner enables such a combined solution.
From Upstream to Downstream


Smart Safety Applications
Find out how Hima customers use our safety solutions in offshore and onshore applications. The video depicts the path of a raw material ranging from exploitation to transformation across the different processing stages. These critical processes involve risks to people, the environment and assets, which can be controllable using standardized Hima solutions.
Act now to avoid contravening


New workplace exposure limits
3M Gas & Flame Detection is advising businesses or public services that do not comply with updated workplace / occupational exposure limits to chemical agents, could potentially face stern consequences, including prosecution. August 2018 saw the deadline pass for compliance with the revised EU Directive 2017/164/EU. However, for businesses that remain concerned, 3M Gas & Flame Detection is offering guidance to ensure the regulations are met.
Indicative occupational exposure limit values (IOELV) are health-based, non-binding values which are derived from recent scientific data and take into account the availability of reliable measurement techniques. For any chemical agent with an IOELV set at EU level, Member States are required to establish a national occupational exposure limit. In the UK, for example, EH40 Workplace exposure limits from the Health and Safety Executive (HSE) have been updated directly in line with EU Directive 2017/164/EU. In the latest revision of EH40, which was introduced in August 2018, new limits have been introduced for 31 substances.
"The updated regulations set out the latest IOELV limits. These have been established in relation to a reference period of 8 hours and are referred to as long-term exposure limit values. In addition, for certain chemical agents, shorter reference periods exist, typically 15 minutes, and these are referred to as short-term exposure limit values. In line with the ongoing desire to create safer workplaces, IOELV limits have consequently been reduced in the updated regulations. This means any business that believes it was working safely to previous limits, may now be exceeding them."

Neil Gwinnutt, UK & Ireland Sales Manager, 3M Personal Safety Division – Portable Gas Detection
By way of example, consider carbon monoxide (CO), which is an extremely common by-product of many industrial processes such as wastewater treatment, steelmaking, forging, chemical production, and oil and gas extraction. The 8-hour exposure limit for CO has been reduced from 30ppm to 20ppm while the 15-minute exposure limit has been tightened from 200ppm to 100ppm.
Another common gas, hydrogen cyanide (HCN), which is found widely in the plastics manufacturing industry, has seen a new 8-hour exposure limit introduced at 0.9ppm while its 15-minute exposure limit has been reduced from 10ppm to 4.5ppm.
"New limits have also been introduced for nitrogen dioxide (NO2) and nitric oxide (NO), which are commonplace in the rail industry and generated by diesel locomotives," says Mr Gwinnutt. "As a result, rail companies need to ensure that engineers working in maintenance depots or in tunnels are not exposed to levels beyond those stated."
The long-term effects on health resulting from exposure to chemical agents are well documented. Employers contravening the new exposure limits could not only be risking the health and safety of their team, but find themselves subject to prosecution. To help avoid this situation, any concerned employer is urged to contact 3M. The Application Engineering group offers complete end-to-end consulting, from design, through to equipment specification, installation recommendations, maintenance and service.