Recycling in action at Mexico Fun Park


Raising awareness to Increase recycling
SIG has teamed up with soft drink producer Sociedad Cooperativa Trabajadores de Pascual (SCTP) and fun park operator Ventura Entertainment to raise awareness of the importance of recycling through special collection bins made from recycled carton packs at La Feria de Chapultepec amusement park in Mexico.
"We're dedicated to producing natural, healthy and nutritious beverages and we want to contribute to the overall wellbeing of the world. SIG shares our commitment to protecting the environment and now we're working together to go a step further for the planet by encouraging consumers to recycle their cartons so the materials can be reused."

Salvador Torres Cisneros, President of the Administration Board at SCTP
Brand power to raise awareness
SIG's aseptic beverage cartons are 100% recyclable, but the rate of packs recycled remains low in Mexico due to low awareness of the value of recycling and a lack of suitable waste collection systems.
The new Coopera Recycling Campaign from SIG, SCTP and Ventura Entertainment aims to use the power of popular brands to raise awareness of the value of recycling among consumers of all ages. SCTP is one of Mexico's largest soft drinks producers and the name behind Boing! fruit drinks. Ventura Entertainment is one of the country's biggest attractions operators and its La Feria de Chapultepec fun park attracts over 1.5 million visitors a year.
In the first phase of the campaign, SIG will provide 15 recycling containers to be placed around the park. Each is made out of a mix of polymer and aluminium that comes from around 7,000 recycled carton packs, providing a tangible example of recycling in action. Accompanying signs promote recycling and Ventura Entertainment will offer discounts on ticket prices for amusement activities for visitors who use the recycling bins. The empty cartons will be recycled by specialist company Alcamare.
Ricardo Carrillo, Commercial Director for Mexico and Central America at SIG said: "SIG partners with local stakeholders to support collection and recycling of beverage cartons around the world. In Mexico, we came up with the idea of a recycling campaign in a fun park so we could raise awareness among young people, who are the consumers of the future. Having a big brand like Boing! involved will help us get the message across to even more people."
Keeping high-quality materials in use
Encouraging consumers to recycle beverage cartons supports the circular economy by returning more materials into the value chain to produce new products. SIG's cartons are made from mainly renewable materials in the first place so recycling them keeps high-quality renewable materials in circulation.
Contributing to the circular economy by using renewable content, optimising use of materials and promoting recycling after use is part of the company's commitment to go Way Beyond Good by putting more into society and the environment than it takes out.
In just a few seconds directly at the machine


Service support using Argos
With 2,700 technicians at more than 100 international facilities, Krones is well equipped worldwide to provide fast assistance to beverage producers in terms of maintenance and spare-part replacement or in the event of a complete line standstill. But the coronavirus pandemic has proved a stumbling block for this service set-up: flight cancellations, quarantine regulations or even entry bans are rendering it almost impossible to maintain rapid-response service support when it's necessary. And this in a time when above all the demand for packaged water, but also for healthy beverages is rising perceptibly – and supplies to consumers still have to be assured.
In order to provide its clients with direct assistance, Krones offers a choice of support packages. To complement the existing round-the-clock support via telephone and remote service, Krones has since the end of 2018 already been offering the Argos Augmented Reality Support – and this is in such exceptional times more in demand than ever before. The ingenious bit about it is this: thanks to what are called smart glasses, the operator at the machine receives immediate assistance from a Krones support specialist – without the latter having to do any travelling.
Realtime support using smart glasses
The biggest advantage here is that if a problem occurs during ongoing production, the service specialist from Krones is thanks to Argos directly on site immediately. Using live video and audio transmission, the Krones expert is in the midst of the line within just a few seconds, enabling him to instruct the operator and to support him directly and unerringly in terms of trouble-shooting or performing urgently needed work, thus bringing production back on line as quickly as possible. If a supporter detects a critical situation, he can visually alert the wearer of the smart glasses.
The Argos basic package includes not only the smart glasses, but also all associated licences. On request, these can be extended to enable the system to be utilised by the beverage producer himself with other vendors of his own. What's more, an option has recently been introduced for using not only the smart glasses provided by Krones, but also self-chosen models or even certain mobile phones and tablets. This enables the service support to be integrated even more effectively into the plant's existing infrastructure.
1 billionth alu-free pack


Uptake grows for low-carbon aluminium-free solution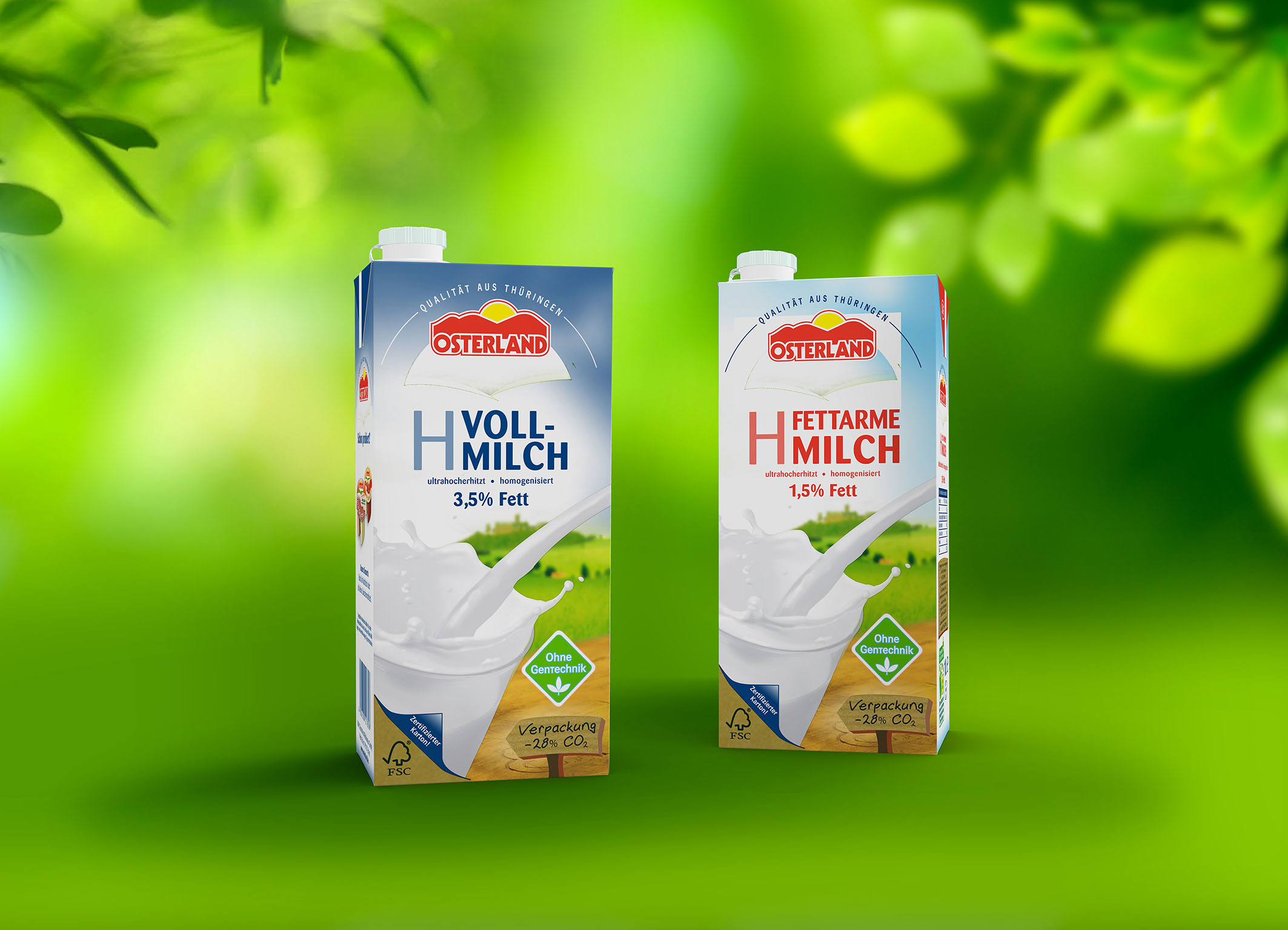 SIG's Combibloc Eco Plus, the world's first and only aluminium-free aseptic carton, has hit the major milestone of 1 billion packs filled. With the launch of Combibloc Eco Plus, SIG disrupted the market by eliminating the need for an aluminium foil barrier layer in aseptic beverage cartons for the first time, significantly reducing environmental impact. Strong and growing demand for this solution is supporting SIG's ambition to go Way Beyond Good by helping to create a sustainable food supply system that puts more into the environment and society than it takes out. The 1 billionth pack was filled by DMK Group, Germany's largest dairy cooperative. As an early adopter of Combibloc Eco Plus, DMK Group has played a decisive role in the success story of this low-carbon aseptic packaging solution for the dairy market.
Delivering for the environment
Aseptic beverage cartons already offer a significantly lower environmental footprint than alternative types of packaging due to their high proportion of renewable materials, light weight and efficient design. Combibloc Eco Plus cuts environmental impact even further by using an innovative composite structure to protect the contents without the need for aluminium foil. The pack is made up of 82% renewable paperboard – sourced from FSC-certified sustainable sources. The result is a 28 % lower carbon footprint than a conventional SIG carton in the same format, as shown by an independent lifecycle assessment by the independent Institute for Energy and Environmental Research (IFEU). SIG is the only company offering an aseptic carton pack without aluminium. Combibloc Eco Plus showcases the company's commitment to sustainable innovation as it drives progress towards its Way Beyond Good ambition. The innovative aluminium-free structure also forms the basis for Signature Pack 100, the world's first pack aseptic pack linked to 100% renewable materials.
Broad market appeal
Climate change has become a mainstream topic for consumers and SIG's low-carbon Combibloc Eco Plus solution is helping customers meet growing demand for more sustainable packaging. Both sustainable and economic, Combibloc Eco Plus appeals across all categories from premium organic to price entry commodity, brands and private labels alike. Combibloc Eco Plus can be filled on standard beverage filling machines from SIG with a simple change to the filling parameters.
"Combibloc Eco Plus works for customers and for the planet," said Frederic Faber, Marketing Account Manager D-A-CH at SIG. "It combines environmental sustainability and economic competitiveness like no other aseptic carton pack available on the market. This unique combination has made Combibloc Eco Plus appealing to SIG customers across a broad market spread, from premium brands to private labels".
High hygiene standards


Hygienic Enclosures for vacuum pumps
For consumers and the government, a maximum of safety and quality in the production of food is essential. In order to ensure the highest standards of hygiene, food producers and processors are obliged to clean their machinery regularly via washdowns. To guarantee that vacuum pumps are effectively protected from the used aggressive cleaning media, Leybold has developed a series of Hygienic Enclosures. The vacuum specialist offers users these stainless steel housings in seven different sizes, tailor made for each vacuum pump.
Risk of contamination eliminated
In the food industry, vacuum pumps are often placed directly next to the processing and packaging lines and thus not implemented in the equipment. On the one hand, this leads to a higher vacuum performance because, losses in pumping speed over longer pipelines are avoided. A direct positive consequence of this, are shorter process cycles and a better product quality. On the other hand, unprotected pumps are directly exposed to aggressive cleaning media during the rinsing processes. Over time, this leads to corroded vacuum pumps, shorter life cycles, higher costs and ultimately even to food contamination.
Effectively protected in stainless steel enclosures
In order to counteract these risks, Leybold has developed a new protection concept with the Hygienic Enclosures. Encased by these stainless steel enclosures, the vacuum pumps can be positioned near machines and systems without any problems. "On the basis of the protected Leybold vacuum pumps we can create better and more robust solutions for the demanding food applications", emphasizes the responsible product manager Niels Gorrebeeck. "Of course, this applies all the more to applications such as stuffers, tumblers and of course packaging machines, where the machines and systems are cleaned and disinfected particularly frequently and intensively," the product manager explains.
Tailor made & easy to install
Gorrebeeck explains that these stainless steel enclosures are tailor made for each vacuum pump. As a result each enclosed pump can run constantly on every working pressure. The only limitation is the maximal ambient temperature for the enclosure. Nevertheless, the normal working temperature in F&P environments are around 10 °C, we qualified most enclosures up to 25 °C. Further all the enclosures are offered as a Do It Yourself kit and can be as well installed as commissioned by the user themselves without great effort. "These properties make of the Hygienic Enclosures a cost-effective, sustainable solution. In the end, Hygienic Enclosures makes investments in expensive piping obsolete and at the same moment they offer a better pumping speed performance", argues Niels Gorrebeeck.
Sustainable solution
Incidentally, this also applies not least with regard to future packaging concepts. Gorrebeeck believes that the industry is also well equipped for this with the new enclosures: "Regardless of which solutions will prevail, food applications can be operated from today more hygienically, ergonomically as well as flexibly. Leybold can successfully accompany these processes into the future with our holistic solution approaches."