Hannover Messe


Pumps & Systems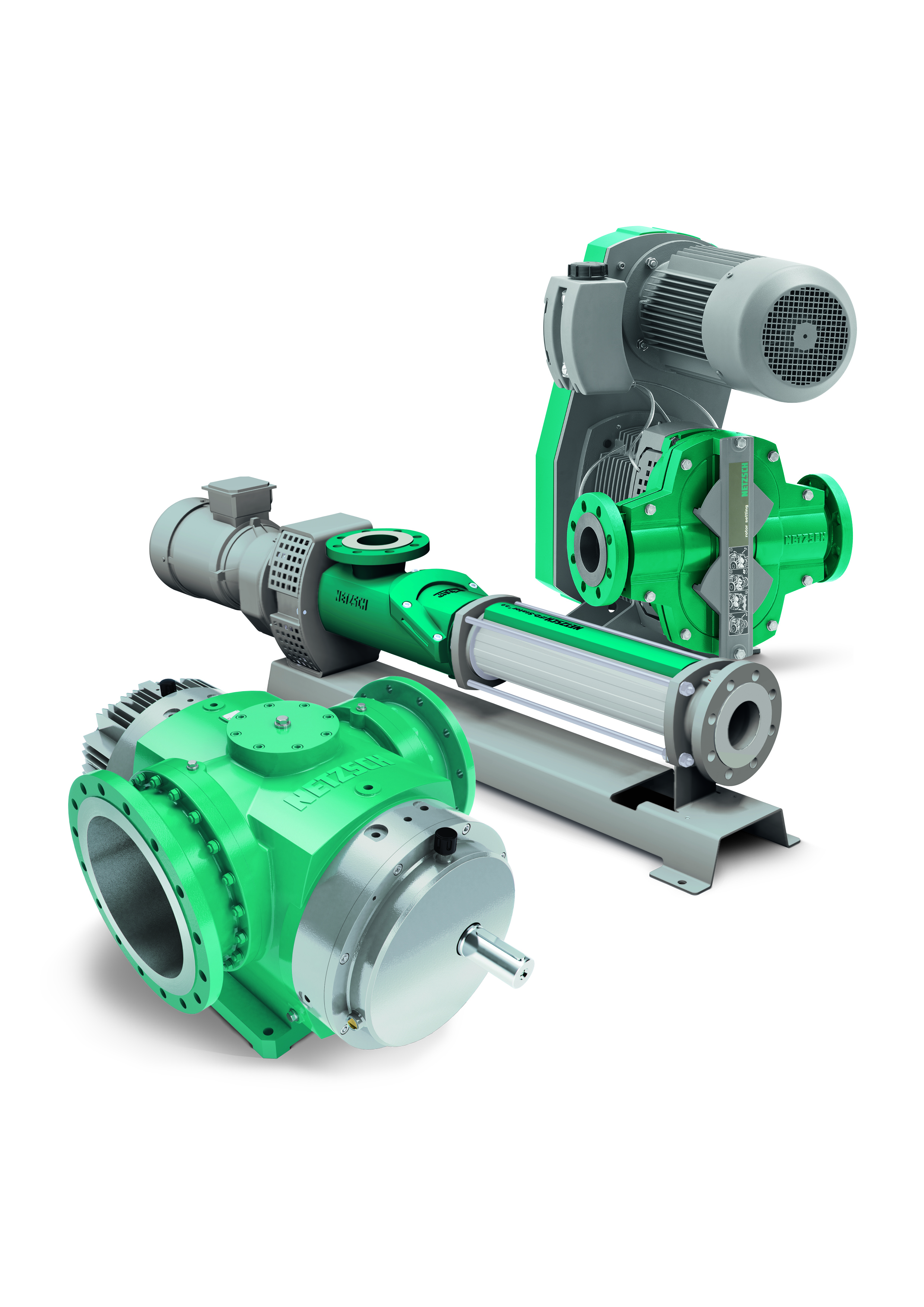 Netzsch Pumps & Systems is exhibiting its displacement pumps at the Hannover Messe from 23 – 27 April 2018. With its global portfolio of multi screw pumps in addition to the progressing cavity and rotary lobe pumps the pump manufacturer positions himself as a neutral consultant, which pump is the best for the respective industrial application.
As the core of systems pumps must be reliable, low-maintenance and long-lasting. With the modern positive displacement pump technology from the company, you are well equipped. The compact Tornado rotary lobe, the proven Nemo progressing cavity and the powerful Notos multi screw pump are pumping a wide range of media. Which pump is the most suitable and also the most cost-effective solution for the individual application.
Netzsch at the Hannover Messe 2018: Hall 15, stand G 43.06
Hannover Messe 2019


Automated banding application
Cobot manufacturer Kassow Robots will make its first appearance at Hannover Messe 2019. The technology trade fair takes place from 1 to 5 April 2019. It will be the first chance to visit the company's own booth since Kassow's market launch at Automatica in Munich last summer. The Danish start-up will be attending Hannover Fair together with Project A&E. The partner from Kranenburg, Germany, will showcase an automated banding application.
"We are very satisfied with how things have gone since our launch. The great interest in our 7-axis cobots at Automatica has resulted in a partner network spread all over Europe. We will continue to expand this in the coming months."

Dieter Pletscher, head of sales at Kassow Robots
The feedback of our partners and their customers has been very positive, including from small and medium-sized businesses, says Pletscher. They have found that the strength and flexibility of the 7-axis cobots make them a particularly cost-effective option for human-robot collaboration.
Extra space for production
Kassow Robots has expanded production space at its headquarters in Kastrup, Copenhagen, since the turn of the year. "The key stage of development is now complete and we are optimizing the manufacturing process," says Kristian Kassow, founder of Kassow Robots. Kassow Robots has begun production of the first two cobot models – the KR 810 with a reach of 850 mm and a payload of 10 kg, and the KR 1205 with a reach of 1200 mm and a payload of 5 kg. Both models have 7 axes. Production of the KR 1805, which has a reach of 1800 mm, a payload of 5 kg and 7 axes, will begin in the second half of 2019.
Kassow Robots at the Hannover Messe 2019: Hall H17, Stand E63
Simplified data transfer to cloud-based solutions
The Siemens CloudConnect portfolio simplifies data transfer within the IIoT (Industrial Internet of Things) to cloud-based solutions. To this end, Siemens is offering the new Simatic CP 1545-1 communications processor, designed for use with Simatic S7-1500 in modern automation environments. For the cloud connection of existing systems, Siemens is now also offering the new Simatic CloudConnect 7 Industrial IoT Gateway. With CloudConnect, it is even easier for users to benefit from cloud-based data analyses. They can enhance machine availability by evaluating data for predictive maintenance purposes, for example, or machine manufacturers can offer new marketing models such as pay-per-use.
Instead of every single sensor having to be connected to the cloud, the Simatic S7-1500 enables field data aggregation and subsequent linking to additional process-relevant information if required. The CP 1545-1 then transfers the data to the cloud platform. The communications processor also features an integrated Stateful Packet Inspection (SPI) firewall for protecting the S7-1500 against unauthorized access. The CloudConnect functionality is easy to project in the TIA Portal using just a few input screens.
There are two ways to connect existing systems with the Industrial IoT Gateway CloudConnect 7: Simatic CC712 facilitates connection of one Simatic S7-300 or S7-400 via Industrial Ethernet by means of the S7 protocol. With Simatic CC716, on the other hand, up to seven Simatic S7 controllers can be connected via Industrial Ethernet or Profibus/MPI interfaces.
The existing automation program does not have to be changed in order to select and transfer the essential information. In addition, the data read by CloudConnect 7 from lower-level S7 stations can be made available as OPC UA variables (server). This enables standardized data exchange, for example with MES systems or HMI and third-party controllers.
The open Message Queuing Telemetry Transport (MQTT) cloud protocol is used in all cases. This established standard also makes it possible to transfer data to MindSphere, the IoT operating system from Siemens, as well as to other cloud platforms.
Siemens at the Hannover Messe 2019: Hall 9, Stand D35
Enabling Security


Totally-Connected world of Industry 4.0
Analog Devices (ADI) will once again have a noteworthy presence at the Hannover Messe, with demonstrations and speaking engagements focussing on the key issues of concern to visitors to this premier event for all aspects of industrial and automation technology.
ADI, on stand H23 in hall 9 of the exhibition, will show how its unique position at the intersection of analog and digital technologies, and in both the hardware and software of computing solutions, equip it to offer solutions in areas such as machine learning and machine monitoring, comprehensive connectivity – with security – and in the industrial maintenance domains with artificial intelligence.
A featured demonstration will illustrate a comprehensive approach to machine and structural health monitoring, showing how ADI's best-in-class MEMS technologies provide precision sensing, while the company's mastery of high-performance analog-to-digital and power conversion delivers ultra-low-power signal processing. "Deep signal chain", and system design, insights enable customers to extract greater value from their systems, with improved user experiences. Real-time, 24-hour monitoring will be shown in both dynamic (motor) and structural (equipment mounting) contexts, comprising a methodology for complete supervision of an equipment installation.
At the heart of these topics are technologies such as complete, factory- and enterprise-wide connectivity and all that goes with it, a particular concern in 2019 being cyber security. ADI will address the issue as part of a demonstration highlighting the range of solutions that the company can offer to advance Industry 4.0.  Enhanced cyber security within the factory control loop, at the edge of industrial networks will be highlighted as part of an illustration of Time Sensitive Networking (TSN) techniques, boosting security alongside features such as time synchronization, pre-emption and control of TSN via OPC-UA.
Analog Devices' staff will be on hand to answer visitors' questions on any of the focus areas for Hannover Messe 2019 – connectivity, cyber security, machine monitoring and maintenance – or on any aspect of the company's technology and product offering.
Extending the secure edge in industrial control
For many visitors to Hannover Messe the need to consider security is a new, and worrying, addition to their workload. Any IT system is only as secure as its weakest link. Industry 4.0 means that the network extends to every sensor and actuator; potential points of attack exist everywhere from the edge to the core. Security-by-isolation and reliance on monitoring network traffic are no longer adequate, leading to the need to establish device level security at the edge.
Recognising these concerns, and to assist visitors seeking solutions, ADI will present a paper in the conference strand of Hannover Messe, focussing on the "hot topic" of security in the industrial context. To be delivered by Erik Halthen, System Security Manager at ADI, the paper will develop the theme that enabling a new industrial revolution of real time, autonomous decisions requires increased connectivity and edge computing that fundamentally changes the required approach to cyber security.
Analog Devices at the Hannover Messe 2019: Hall 9, Stand H23