Andritz Hydro


Pumped Storage plant Langenprozelten
Food processing and packaging


Oil-free screw type vacuum pump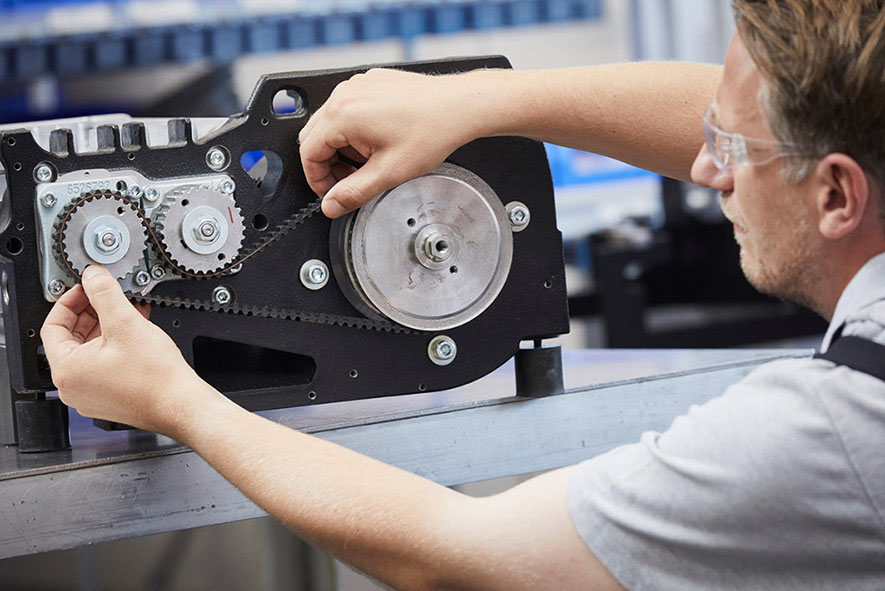 Leybold presents its innovative vacuum portfolio at the international trade fair for the meat industry IFFA in Frankfurt am Main from 04 to 09 May 2019 in hall 11, booth A41. The new Novadry vacuum pump series will be the focus of the presentation. The completely newly developed, oil-free screw vacuum pump ensures significantly greater safety and efficiency in food and packaging processes.
Vacuum as a key technology
The demands placed by manufacturers and consumers on the quality, shelf life and resource efficiency of food and packaging processes are constantly increasing. This applies even more to such perishable products as for example meat or fish. Vacuum is considered as an enabling technology, contributing significantly to optimizing these processes. Therefore, Leybold developed the innovative Novadry, a new 100% oil-free, air-cooled pump, which will be launched at the IFFA.
No oil, less effort
"Many users in meat processing and packaging cannot actually tolerate vacuum pumps emitting oil," stresses product manager Niels Gorrebeeck. Novadry prevents such contaminations. That is why Leybold designed a 100% dry pump following hygienic criteria. This increases safety in applications such as tumbling, filling, vacuum packaging and thermoforming. An additional advantage of oil-free vacuum pumps is the lower cost of ownership, as less maintenance and spare part changes are required.
In addition to the oil-free screw principle, Leybold has transferred proven components and principles from other vacuum pump series to the Novadry, including the bearing structure and the belt drive, which synchronizes the rotors in the Novadry.
Broad range of applications
The Novadry also stands out due to its long uptime and robustness. Some competitor products lose their end-pressure or reduce pumping-speed due to wear of the inner coating, for example. The Novadry, however, achieves its performance over the entire pressure range and life cycle. This makes it ideal for simple applications, which emit low amounts of humidity, such as packaging of cold products. Moreover, the pump is also perfectly suited for more demanding processes with large amounts of water vapour, for example when hot meals with temperatures of up to 95°C have to be quickly cooled down by evaporative cooling. "In addition to the air/steam mixture coming from the process, the Novadry screw vacuum pump can also handle the anticipated contamination inside the gas flow very well. These are for example organic acids, spices, vinegar or other residues," summarizes Pierre Lantheaume, Business Development Manager Food & Packaging at Leybold.
Proven in real life
Novadry has successfully passed many qualifying field endurance tests in a wide range of food applications – tumbling, tray sealing and thermoforming. In all applications, it shows very good performance, the users reached fastest cycle times and low final pressure.
Forward-looking pump
Leybold have succeeded in developing a forward-looking product which has the potential to set a new standard for the food processing and packaging markets. This is due not only to the absence of oil, but also to the Novadry's noise behaviour, the robust design and the low life-time costs.
Leybold at the IFFA 2019: Hall 11, Stand A 41
Advantage of predictive maintenance


Maintenance with pinpoint precision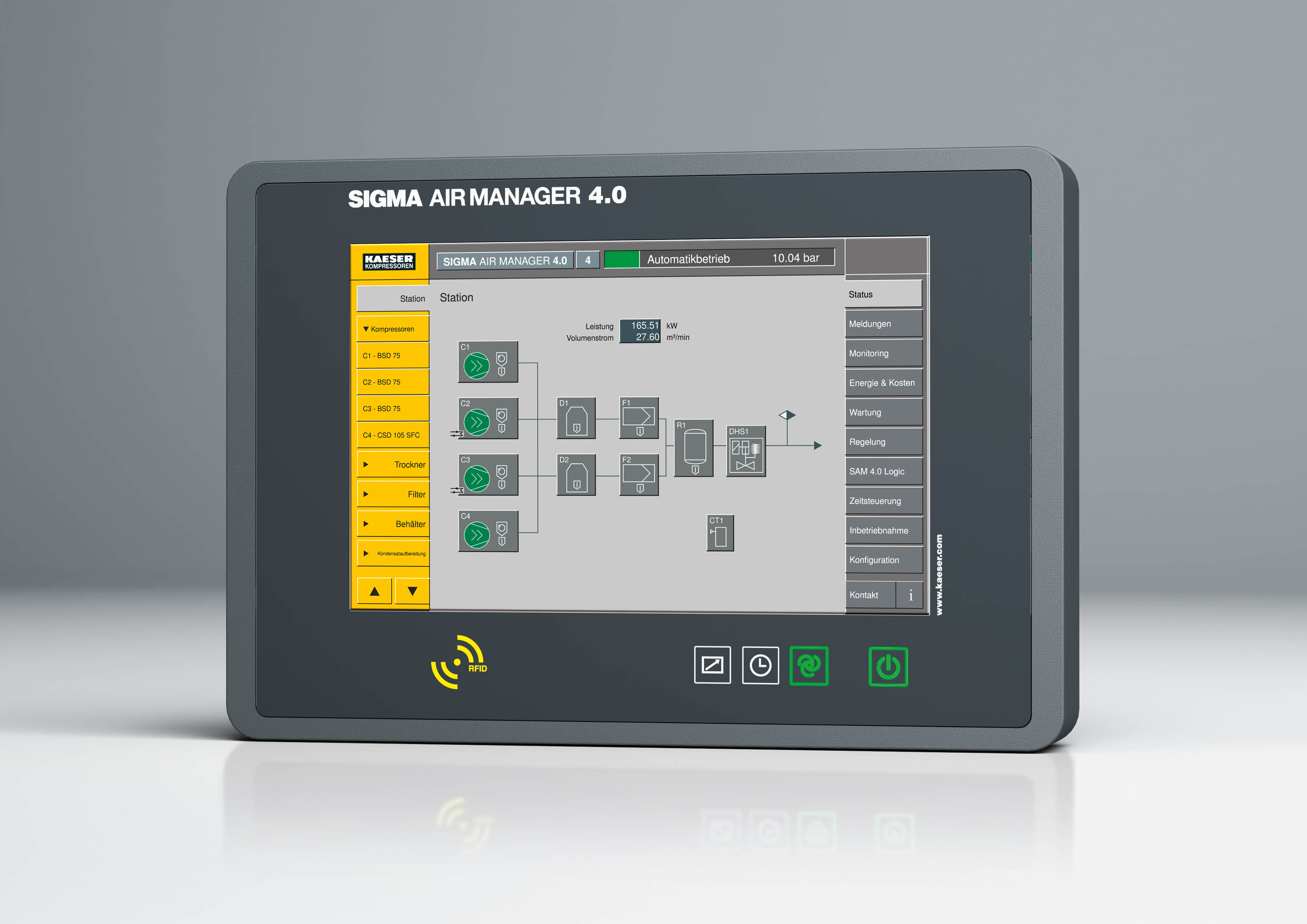 Sigma Smart Air offers much more than current frameworks for servicing compressed air systems, in which maintenance is performed either upon request or at established intervals. In this case, there is always the risk that service will be performed too early or too late, depending on the actual operating hours – both of which result in additional costs and the risk of downtime for the operator.
With Sigma Smart Air, Kaeser Kompressoren offers a service that delivers predictive maintenance and maximum energy efficiency, while guaranteeing the availability of the compressed air supply – far beyond what could be expected of any system in the past. In order for users to benefit from real-time display of operating, service and energy data for the compressed air station, it must be 'intelligent', in other words, connected to the Ethernet-based Sigma Network (or Profibus) and controlled by the Sigma Air Manager 4.0 master controller.
Sigma Smart Air offers the option of creating the above conditions for existing and new compressed air systems, without the need for further investments.
Sigma Smart Air combines the powerful feature of real-time data management with Kaeser's expertise and predictive maintenance, making it possible to maximise the compressed air supply whilst minimising life-cycle costs without additional investments.
How does Sigma Smart Air work?
The physical meets the virtual world within the framework of a structural model in which the specific compressed air system, configured according to the operator's requirements, is represented virtually by a digital twin. Real-time availability of operating data makes it possible to monitor the 'health' status of a compressed air station. This means that potential faults can be detected in advance and appropriate maintenance measures automatically initiated at the right time. Ultimately, operators benefit from significantly reduced compressed air production and operating costs, as well as improved compressed air availability.
Sigma Smart Air saves costs otherwise required for procurement, training, logistics, service and in-house service staff. Sigma Smart Air also provides maximum cost transparency throughout the compressed air system's entire life-cycle.
This is guaranteed by a service price, based on the volume of compressed air that is actually produced and adjusted flexibly to additional or reduced demand, similar to your electricity bill. Fixed prices over long periods of time facilitate your advance planning.
Moreover, Sigma Smart Air includes monitoring of key figures such as service costs, reserves and specific power, enabling sophisticated energy and life-cycle management of the compressed air station throughout its entire service life. Always up-to-date, the energy data figures from a single source also lay the foundation for energy management as per ISO 50001.
Kaeser Kompressoren at the Hannover Messe 2019: Hall 26, Stand C51
Constant pressure


Quiet and efficient supply of compressed air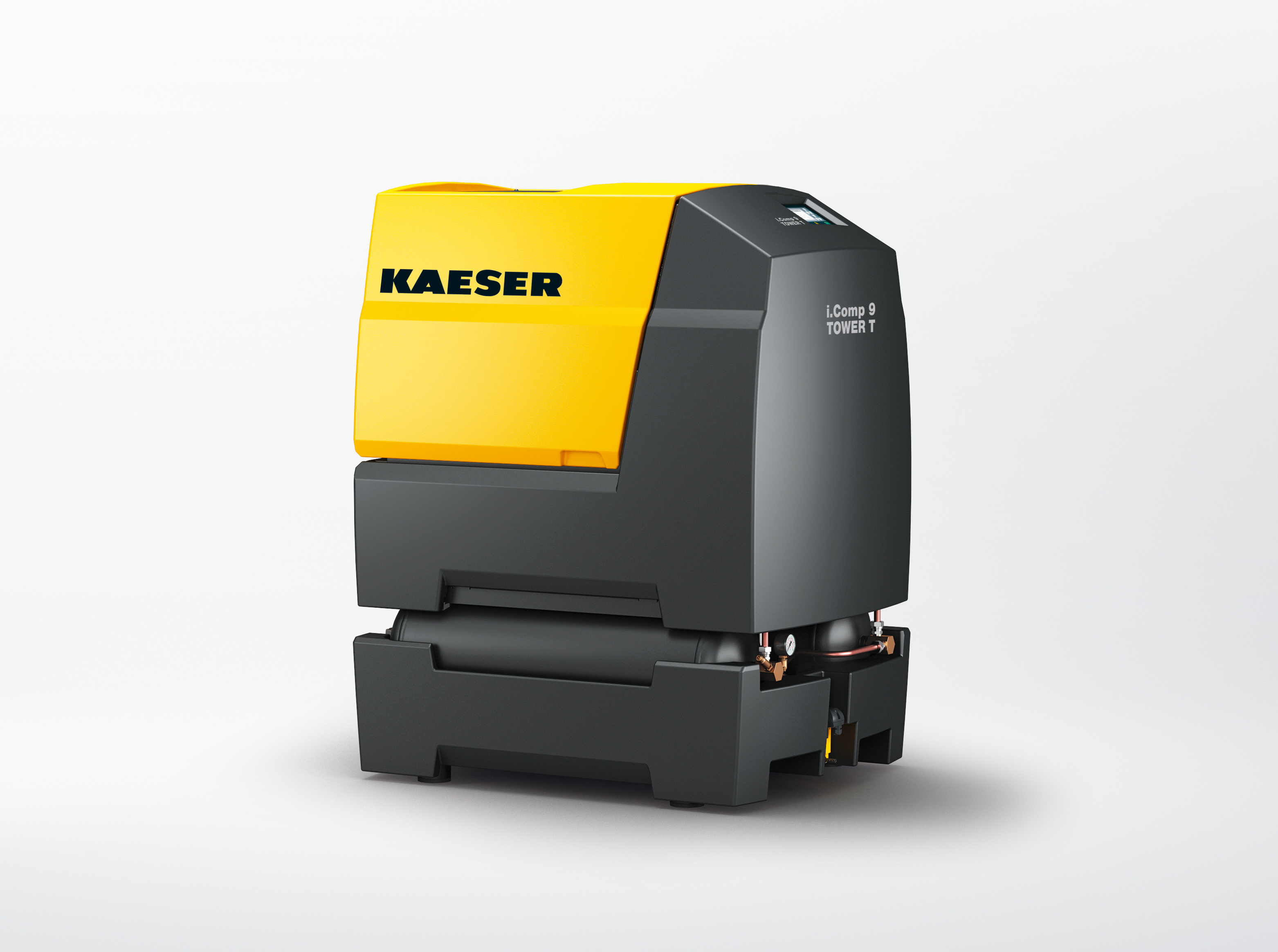 These units are tough, powerful, compact, easy to maintain, efficient and much more. At the heart of the new i.Comp family is a new drive concept, which provides a multitude of advantages. It delivers the necessary power to cover the required compressed air demand with infinitely variable control. Needless to say, the reciprocating compressor itself is made in Germany and is manufactured to the highest industrial standards for which Kaeser is world renowned.
Moreover, i.Comp family reciprocating compressors are able to operate with 100 percent duty cycles. Intelligent solutions – such as drawing the air for compression in through the piston head – ensure exceptional filling performance and, as a result, outstanding efficiency.
With a volumetric flow rate of 412 to 580 l / min, the i.Comp Towers can be used for a wide range of workshop and trades applications and assure a constant pressure of up to 11 bar with absolute operational reliability.
Made from roto-moulded polyethylene to enable optimum corrosion- and impact-resistance, the attractive sound enclosure not only hides an advanced all-in-one compressed air station comprising a compressor and a refrigeration dryer, but also keeps sound levels to a minimum and helps retain system value.
Kaeser's field-proven Sigma Control 2 controller allows pressure preselection and infinitely variable speed operation, as well as connection to a master controller such as the Sigma Air Manager 4.0.
Since i.Comp Tower systems deliver oil-free compressed air, no oil enters the compressed air supply itself. This in turn eliminates the potential for accumulation of oil-contaminated condensate that would otherwise have to be carefully disposed of. In addition, there is no need for oil changes or oil inspection, which of course further reduces overall service costs.
i.Comp Tower systems are the perfect choice for workshop and trades environments, such as in car repair shops, where a dependable supply of quality compressed air is required.
Kaeser Kompressoren at the Hannover Messe 2019: Hall 26, Stand C51