Andritz Hydro


Pumped Storage plant Langenprozelten
Motor pumps with twin protecting shells


Expansion of onshore gas field
As part of a gas field expansion in Saudi Arabia, an international group approached the specialists at pump manufacturer Lewa Nikkiso Italy in February 2019 to commission the planning and delivery of 16 canned motor pumps. The systems that were ordered will be used in Saudi Arabia in raw oil processing and removing unwanted by-products from the gas flow. In addition to powerful pump technology, it is crucial to remove the medium reliably and safely, since the substances separated with this method often form a toxic, highly corrosive mixture. The Nikkiso Non-Seal pumps being used function without dynamic seals and also feature twin safety shells consisting of an inner stator lining and external pressure-resistant stator housing. As a result, leakage and the associated risks for the environment and employees can be effectively prevented. An integrated E-Monitor also ensures increased process safety at the customer's onshore installation by monitoring the bearing conditions of the hermetically tight pumps. The project is expected to be completed in 2020, including detailed planning and procurement plus construction and installation work.
In the course of raw material processing, unwanted by-products are continuously removed from the oil or gas flow. "The unusable mixture of substances that is derived from the clean gas flow mostly consists of hydrogen sulfide, carbon dioxide, and amines," explained Riccardo Marcotti, Senior Product Manager at Lewa Nikkiso Italy. "Hydrogen sulfide is particularly worth mentioning here, since it is a highly toxic chemical compound even in very low percentage and, dissolved in water, it is also highly corrosive to piping and equipment by sulfide stress cracking." This is why it is only possible to remove unwanted by-products with conventional pump technology to a limited extent – the risk of leakage and thus the release of  hydrogen sulfide in the atmosphere is too high.
Second protecting shell and elimination of dynamic seals
In light of these challenges, the global oil and gas company contacted Lewa Nikkiso Italy, a subsidiary of the Leonberg pump manufacturer, in February 2019 and commissioned the production and delivery of a total of 16 Nikkiso Non-Seal canned motor pumps. The pumps are necessary to guarantee that the toxic by-products are transported without complications, while avoiding negative effects on the environment and personnel at the expansion of the onshore gas field. "As you can imagine, the user's requirements for pump quality and project organization were very detailed," said Marcotti. "Above all, the customer placed priority on the aspects of pump reliability and safety. Our Nikkiso canned motor pumps were able to meet their standards optimally."
In total, the delivery to the major customer from Saudi Arabia includes six type HN23F-D2 canned motor pumps, two type HN24E-D3 models, four pumps in the HN23F-D3 basic design – as well as additional four warehouse spare pumps – each model sized for rated performance conditions. All of the variants being used feature a motor that is integrated right into the respective canned motor pump and is protected against leakage by a seal-welded, corrosion-resistant lining. And the entire motor exterior is encapsulated in a second leak-proof protective shell. As a result, we can eliminate the possibility the mixture will escape and contaminate the surrounding area and the environment. "Omitting dynamic seals has also allowed us to significantly boost operating safety during the work process," added Marcotti.
E-Monitor determines current bearing condition
Absolute process reliability also includes ensuring constant motor cooling to prevent immediate and long-term damage to the pump. Therefore, in the canned motor pumps being used, the medium being conveyed circulates in the area between the rotor and stator lining, affecting the motor temperature while lubricating the slide bushings at the same time. The integrated thermostats attached at the overheating points of the winding monitor the temperature and switch the motor off in case of overheating. This prevents subsequent damage.
In addition to monitoring the temperature, it is possible to check the bearing condition during pump operation. To do this, the sensors integrated into the stator transmit the relevant measurement data to a modern E-Monitor – for example, if the rotor leaves the safe operating position due to bearing wear. The sensors register this type of status change and report it to the monitoring unit. "A green LED lights up on the display to indicate a good bearing condition to the personnel, for example," explained Marcotti.  "A yellow light, on the other hand, indicates that the pump should be checked during the next system downtime. If a red LED lights up, the pump must be shut down immediately." The device makes it possible for customers to perform preventive maintenance work based on bearing wear and check that the pump's direction of rotation is correct. As a result, it is not necessary to measure phase rotation during commissioning.
Everything from a single source
In this major project in Saudi Arabia, Lewa Nikkiso Italy has been entrusted with the full spectrum of project implementation. This means the subsidiary of the Leonberg Group has been commissioned with detailed planning and procurement, as well as carrying out the supervision assistance for construction and installation work. "Thanks to our extensive experience with other EPC projects, we will be able to meet all the existing requirements without a problem," said Marcotti. "In addition to the necessary levels of safety and reliability, this applies to the specifications for compactness and maintenance, in particular." The modular structure of the pumps to be delivered is helpful here, since they consist of just a few components. All that is required is straightforward assembly and maintenance – without any spacer discs or clearance settings. And no additional motor or pump bearing lubrication is needed, since the medium being transported coats the sliding parts on its own. "This makes the pumps extremely easy to maintain and minimizes expensive downtime at the same time," Marcotti explained. Delivery of the 16 canned motor pumps is planned for February 2020; he expanded onshore gas field is expected to start up in 2022.
100 years of Kaeser Kompressoren


A tradition of innovation
The history of the Coburg compressed air specialist, Kaeser Kompressoren truly is a remarkable story. Although many a company celebrates its centenary, they cannot all boast such sustained and continuously positive development. A look behind the scenes.
Kaeser is active all over the world in its centenary year, 2019. However, the general public rarely comes face to face with the compressed air specialist's products. Only the portable compressors catch the eye with their black and yellow livery and attractive design, when used for road construction work. Compressed air stations tend to be hidden away in outbuildings. Yet Kaeser compressors are just as likely to be found in power stations in Australia as in Peruvian gold mines, used by aerospace engineers in the US, fish farms in Norway, car manufacturers in Germany, at the Cern particle accelerator in Switzerland, on ski pistes in Austria, on Arabian oil fields or the weaving mills in Asia. Compressed air is just as vital as electricity. No company with an industrial production line can get by without compressed air. Today, Kaeser has a global presence. Its customers range in size from craftsman's establishments to large-scale industry.
It all began in a small workshop in Coburg's Hahnweg. The old buildings are still standing in which Carl Kaeser senior started producing spare parts and engines for cars, along with gear wheels and special machines for the glass industry, with a team of eight employees and two apprentices in June 1919. Business was booming. Within a few years, the company was to employ a 150-strong workforce. After World War II, virtually the entire customer base fell by the wayside as most were located in Thuringia and Saxony – and thus on the other side of the border. Taking advantage of the available automotive expertise, production was adapted without further ado to similar products: reciprocating compressors. Thus began Kaeser's successful focus on compressed air. In 1948, the first reciprocating compressor rolled off the Hahnweg production line as the company continued to evolve.
Further challenges emerged during the mid-1960s. In retrospect, it may perhaps be described as the first technological shift. Screw compressors came onto the market. Once again, Kaeser spearheaded the change with its very own invention: Sigma Profile was born. Developed in-house, it is a rotary screw airend with a special energy-efficient rotor profile that was groundbreaking at the time. Since then, Sigma Profile has been the centrepiece of every Kaeser rotary screw compressor; needless to say, it is also refined on an ongoing basis. Screw rotors are interconnected spirals with helical lobes.
This innovative spirit pervades the company to this day, resulting in a steady stream of innovations in compressed air technology and applying equally to hardware, software and services. From the refrigeration dryer to revolutionary controllers (Sigma Air Manager 4.0), from the portable compressor to completely new business models, where the customer basically only purchases the compressed air, through to digitalisation and Industrie 4.0, Kaeser still blazes a trail in the industry for the cost-effective, reliable, efficient generation and use of compressed air, thanks to its innovative, top-quality products and services. Most production facilities are located in Germany, with sales and service available in every corner of the globe.
The company's early international expansion was a vital aspect of its growth. The first branch opened in Switzerland in 1978, with Austria and France following hot on its heels. Today, Kaeser has more than 50 own subsidiaries and is represented by exclusive contract partners in over 100 countries. Kaeser Kompressoren employs in excess of 6000 staff worldwide, many of whom have been loyal for decades.
How was this achieved? The company's secret recipe is an unwavering passion for innovation, sound engineering expertise, close customer contact and an awareness of their needs, combined with exceptional quality standards, a good dose of common sense and the main ingredients: excellent teams and strong family ties. However, family does not just refer to the owner family, Thomas Kaeser and Tina-Maria Vlantoussi-Kaeser, now the third generation to manage the company, while the fourth has also just come on board, in the form of their son Alexander Jan Kaeser. All staff are considered family at Kaeser. This is evident in the high apprenticeship rate, well above average, and the extremely long service record of the employees, usually more than 30 years. But it is also reflected in the company's business development: for 100 years without fail, the operating result has been positive. Even in 2009, the year of the global crisis. From Anchorage to Auckland, Coburg or Kauai, Kaeser is a family-owned company with strong ties to Germany; it views the entire world as its home turf and offers 'Made in Germany' quality from start to finish. The next innovative chapter is just waiting to be written.
Hermetically tight design


Ideal technology for high-pressure homogenization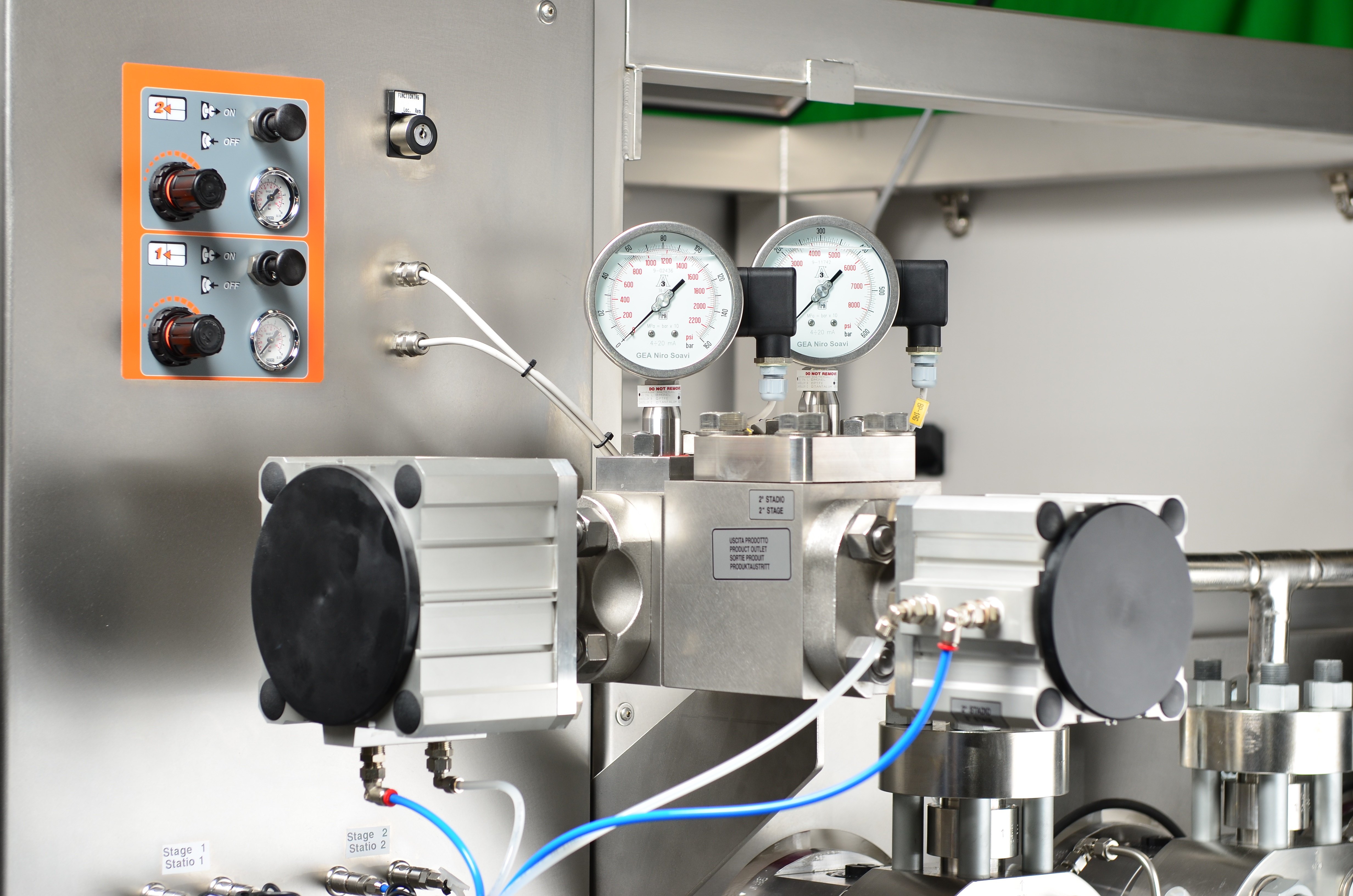 Short-term thermal treatment is used in the food industry for a wide range of products such as milk, mixed drinks or liquid foods. This treatment kills off any pathogenic micro-organisms and extends the shelf life of the products. Since high-pressure homogenization may not re-contaminate food products after thermal treatment, it must be ensured that all components being used have a hygienic or – even better – aseptic design, material selection and integration. To date, packed plunger pumps have primarily been relied upon as the type of pump technology installed in these applications. However, in terms of aseptic production safety, using these pumps is only the second-best choice. This is because, despite a design that accounts for plunger packing components with sterile barriers and flushing systems, there is a risk of recontamination after in-process CIP/SIP cleaning. Furthermore, the thermal load created here results in increased wear on the plunger and its sealing system. The consequence is a significantly reduced service life, especially when the food product being treated contains abrasive ingredients. One alternative is to use process diaphragm pumps. They feature a hermetically tight liquid end, which is hermetically separated from the hydraulic chamber and process environment by a diaphragm. This prevents the inside of the fluid chamber from becoming contaminated, ruling out any contamination of the process space—including the food product.
Listeria in cheese, E. Coli bacteria in meat and salmonella in baby formula—food scandals and recall campaigns by major manufacturers have become all too frequent in recent times, damaging the reputations of the manufacturers responsible. This phenomenon has been increasing customer awareness and putting more pressure on the industry. Especially for sensitive products and products with high hygienic standards, it is absolutely imperative to ensure hygienic production through flawless hygienic process steps, as this guarantees microbiological integrity. In doing so, the following points must be kept in mind: Safe and reliable aseptic manufacturing processes are necessary in achieving high microbiological quality and lasting stability while still meeting the customers' high expectations for aspects such as high taste quality , healthiness and sustainability of the product. Short-term thermal treatment (UHT processes) and consistent downstream aseptic technology present a possible solution to this problem using reliable food-processing technology.
New trends in the food and beverage sector such as unprocessed and innovative ready-to-eat products pose certain challenges to the food industry supply chain with regard to food safety. This applies to both increasing expectations for freshness and the additives and preservatives put into food, which make it necessary to invest in different technologies than those used in previous production processes. The production chain is further affected by crossover-products between the food and pharmaceutical sectors such as ready-to-drink "nutritional beverages," as they are called, which sometimes contain high proportions of abrasive solids (e.g. due to calcium and nuts) or ingredients with microbiological sensitivity. In producing such crossover products, empirical knowledge from the pharmaceutical GMP environment is advantageous. Here, nutritional supplements with functional milk protein sources, fruits and flavors are combined to form new beverages, which may require special attention during production depending on their acidity and pH values. These high requirements must be adhered to specifically when formulating baby foods and high-calorie clinical nutrition (liquid enteral/parenteral foods). During processing, there are key tasks that must be handled by the pump technology specifically, e.g. for feeding raw materials and creating formulations that match the recipe, including metering and mixing ingredients at the correct proportions. Since the end products are ideally stored at room temperature and are supposed to last for an extended time in shelf, short-term thermal treatment is recommended here as well. It is the optimal technology for killing off foreign germs at a high rate and should be followed by aseptic high-pressure homogenization using diaphragm pump technology. This prevents re-contamination and ensures gentle product treatment.
Freedom from residue and microbial safety in high-pressure homogenization
High-pressure homogenization is an application field that poses particular challenges to pump technology. The systems used in this field consist of a high-pressure pump used as a pressure generator in addition to a hydraulic consumer, which is called the homogenization valve. The purpose of the pump is to generate the energy for dispersion in the valve, to convey the fluid being dispersed and to ensure the exact flow rate in the process.
Working principles of high-pressure pumps for homogenization applications
The reciprocating high-pressure pumps that the high-pressure homogenization machines are equipped with are necessary for pumping the fluid from the suction side through a feed pump (usually a centrifugal pump) by increasing pressure on the homogenization unit (single-stage or two-stage valve). Homogenizer pumps are equipped with three to six pump heads. Process diaphragm pumps stand out for their robust mono-block design and because of the integrated worm gear with high hydraulic output thanks to very smooth running. Fluid valves with application-specific designs that have been optimized for wear and hygiene ensure reliable pumping on both the intake and discharge sides of the pump. Automated homogenization valves are controlled pneumatically and hydraulically. The droplet size during homogenization is determined mainly by the cavitation in the chamber of the second stage and is dependent on the pressure-drop there. Assuming incompressible fluids are handled, the flow rate of a reciprocating diaphragm process pump is reduced by a small amount as pressure increases and can be treated as a nearly constant value. Pressure fluctuations between a reciprocating pump and the homogenizer valve can be countered using pulsation-smoothing measures. This includes selecting suitable operating points for the pump and damping measures on the piping. Here, very specific dynamic simulation programs carried out within the scope of a pulsation analysis can provide support in the design.
For homogenization tasks following UHT treatment, the homogenization pump and the homogenization valve must consistently meet aseptic requirements so that the integrity of the products being treated remains ensured. However, many pumps still in use today are packed plunger pumps. For this type of unit, note that plunger packing components with sterile barriers and flushing systems must be incorporated into the design as a measure of preventing recontamination after in-process CIP/SIP cleaning. Moreover, contaminations caused by plunger abrasion in the packing area cannot be ruled out for this pump class. The preferable option for aseptic processes is thus to equip the homogenization steps with hermetically tight process diaphragm pumps.
Diaphragm pump technology eliminates fluid contamination
The diaphragm pump can be viewed as a successful evolution of the packed plunger pump. The diaphragm pump reaches an efficiency of up to 95 percent (in reference to what are called triplex diaphragm pumps, i.e. featuring three pump heads). The pump is set apart thanks to its low amount of wear and thanks to flow rates that are nearly independent of the discharge pressure. In homogenization applications, you benefit tremendously from the fact that diaphragm pumps are designed to operate without dynamic sealing systems. This guarantees a hermetically tight pump head, meaning zero emissions or substrate leaks from inside the system as well as zero ingress of germs from the outside. As a result, fluid contamination can be ruled out. This means that the diaphragm pump is the perfect solution for demanding applications. It is suitable for media that, for instance, have to be pumped with zero leaks and absolute operating reliability because they are hazardous or abrasive and must under no circumstances be released into the production environment, or media such as baby formula that have to remain sterile and free of contamination.
A hygienic or aseptic application requires additional special adjustments to the diaphragm pump head: A suitable pump head material such as stainless steel 1.4404 or, as an alternative, particularly corrosion-resistant austenitic materials such as 1.4439 or 1.4462 (Duplex), polished surfaces with an RA value < 0.8 µm and fluid chambers with minimal dead space and no gaps may make it possible to carry out CIP/SIP cleaning steps repeatedly and efficiently, thus ensuring sterile operation without dismantling. The design and installation of the pump should, however, allow for the cleaning results to be checked periodically while still minimizing the sterile interfaces in the pipe routing. Directives such as those of the European Hygienic Engineering Design Group (EHEDG) – specifically Document 17 ("Hygienic Design of Pumps, Homogenizers and Dampening Devices") – or the 3-A Sanitary Standards 44-03 ("Sanitary Standards for Diaphragm Pumps") and 04-05 ("Sanitary Standards for Homogenizers and Reciprocating Pumps") provide information on how pumps for the food industry are to be designed and installed. Hygienic design aspects regarding cleaning and drainability of the pumps, valves and piping of sterile systems for the design of aseptic process connections of diaphragm pumps can also be found in the ASME BPE Standard in the version that is valid for the specific application.