Coperion and Aurora Kunststoffe


Profitable Recycling and Upcycling with ZSK Extruders
Aurora Kunststoffe, a company located in Neuenstein and since end of 2019 member of MOL Group, is demonstrating how plastic processors' production waste can be recycled and upcycled profitably. This producer of recompounds uses rejected parts accumulated from plastic components manufacturing as primary raw material and processes it into recycled, new-product-quality plastic compounds. After a major fire in their production area in 2017, Aurora Kunststoffe decided once again to rely on ZSK twin screw extruders from Coperion. Those three ZSK 45 Mc18 twin screw extruders have been in successful operation since early 2019, and with their high throughputs and their reliability, they have fulfilled every requirement that Aurora Kunststoffe needs for their innovative business plan.
Technology for First-Rate Compounds
In manufacturing technical plastic parts, typically there is approximately a five percent rejection rate. Aurora Kunststoffe purchases this production waste, then examines the precise composition and varietal purity. Once they pass quality control, the single-variety plastic parts are ground, fed into the compounding process and pelletized. The result is pellets mainly based on PA6, PA66, PA11, PA12, POM, PP, PC, and PC-ABS. To accomplish this, Aurora Kunststoff relies on Coperion ZSK technology. Within the ZSK twin screw extruders, the ground material is reliably homogenized with additives, fillers and reinforcing materials and devolatilized. To this end, Coperion designed each of these three ZSK 45 extruders individually for Aurora Kunststoffe's requirements, equipping them with ZS-EG twin screw side devolatilization units and special wear protection for product-contact parts. Following melt discharge from the die head at the end of the extruder's process section, plastic strands are taken over by semiautomatic SCP 200 strand conveying systems from Coperion Pelletizing Technology. They are automatically conveyed via a cooling water chute and a conveyor belt to the strand pelletizer's feed mechanism, where they are cut to compounds whose quality corresponds to that of new material. Noted Norbert Büter, Coperion Sales Manager, "When recycling plastics, it is necessary to adapt the process parameters and recipes to the various raw materials. With their flexibility and high torques, ZSK twin screw extruders are optimally suited for processing even the most difficult raw materials to very good product quality – and they do it at throughputs that are economical. By devolatilizing using ZS-EGs, not only are unwanted gases removed; operational safety of the entire vacuum system is increased. This applies especially to even very volatile viscosities."
Rebuilding Production
In 2017, a large fire at Aurora Kunststoffe destroyed the entire production area. Aurora Kunststoffe held fast to its successful sustainability concept, even expanding it after the fire. New twin screw extruders began operation in a new, larger space in 2019. In meeting such a tight deadline, Aurora Kunststoffe relied on close collaboration with their suppliers. Alexander Schweinle, Head of Production at Aurora Kunststoffe, is particularly proud of this: "Coperion delivered not just three ZSK 45 extruders that were individually designed for us, and the appropriate strand pelletizers, but they also supported us with the engineering necessary for the entire production. I would like to emphasize the really good collaboration between our two companies: Coperion consistently reacts to our inquiries quickly and knowledgeably, which was key during our production's rebuilding phase."
Successful Recycling Concept
Production waste from industrial plastics manufacturing is becoming more and more valuable in times of rising raw materials prices and increased environmental pollution. Aurora Kunststoffe buys these industrial by-products and turns them into high-quality raw materials that are used in the automotive, construction, furniture and electronics industries.
Plastic waste comes to Aurora as part of its unique Aurora-Lean-Logistics concept, consisting of Aurora's own fleet of about 60 semi-trailers and a box concept for perfecting single-origin collection. At Aurora, materials are ground and processed into recompounds by means of extrusion. With this process, Aurora Kunststoffe achieves throughputs of up to 650 kg/h on their ZSK 45 twin screw extruders. Per day, Aurora Kunststoffe produces over 50 tons of compounds. For the future, Aurora anticipates increasing demand. "I am certain that sooner or later, there will be a legally mandated recycling quota", said Schweinle.
Jochen Schofer, Business Segment Manager, Recycling & Direct Extrusion at Coperion added: "We're convinced that becoming circular is unavoidable for the plastics industry." To that end, there is still plenty of room for improvement. In Germany, the share of recyclate used in plastics processing in 2017 only achieved a bit more than 12%. Aurora Kunststoffe, in contrast, is taking an absolutely leading role for us; their company concept is not only profitable, it's sustainable too! We're proud to support Aurora Kunststoffe with our compounding and engineering know-how!"
New belt press range for the environment industry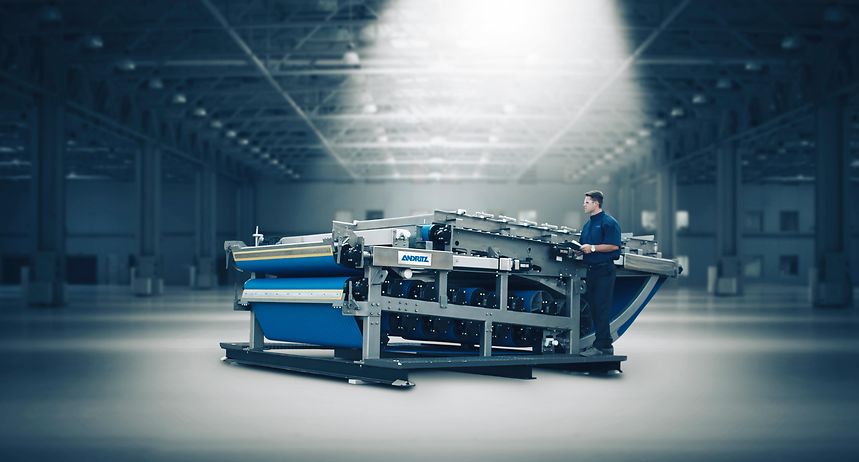 International technology group ANDRITZ presents the SME-Q and the SMX-Q, the new belt presses for the environment industry reflecting the very latest state of the art. Due to their low-profile components, they are extremely operator-friendly and feature high quality design with low maintenance needs, thus ensuring maximum performance in terms of dryness and throughput.
Different Models for a wide range of requirements
The medium-pressure belt filter presses in the new SME-Q range are suitable primarily for standard and medium duty performance levels, while the high-pressure belt presses in the SMX-Q series were developed for medium to heavy-duty performance levels where each individual machine must achieve high throughputs. The two machines include the same features in terms of design and have an extra-long thickening zone, a camber wedge for a steady, optimized pressure increase, a low profile, and an open, stainless steel frame structure for easy access. Both models will provide excellent operating availability and reliability in operation.
Investement versus throughput and perfomance
Compared to the SMX-Q, the medium-pressure belt press SME-Q provides a smaller footprint at lower investment cost and has been specifically developed for small to medium-sized sewage treatment plants and for industrial applications. The investment costs are low due to its optimized structural weight. In addition, the innovative design of the belt press makes it possible to dismantle parts of the machine quickly and easily so that it can be transported in conventional containers or on standard-size trucks.
The high-pressure belt press SMX-Q delivers highest throughputs thanks to its large filtration and pressing area. Its robust frame structure generates high belt tension and high pressure on the sludge to provide the best dewatering performance for a belt press. The specific features of the SMX-Q enable this machine to be adapted to almost any application – even with the most challenging dewatering requirements.
Among the advantages of the new ANDRITZ belt presses are the lower investment costs (SME-Q) compared to other products currently available on the market, perfect dewatering results, highest throughputs, and lowest residual moisture. They offer the right technical solution for municipal and industrial sludge treatment plants, for thickening and dewatering in a single stage (thanks to the efficient thickening zone or combination with a gravity table) and for achieving high efficiency in specific applications such as pulp and paper, manure, biogas, slaughterhouse and chemical sludges.
ANDRITZ SEPARATION
Provides mechanical and thermal technologies and services for solid/liquid separation, serving the chemical, environmental, food, mining and minerals industries. The customized, innovative solutions focus on minimizing the use of resources and achieving highest process efficiency, thus making a substantial contribution towards sustainable environmental protection. In addition, the business area offers technologies and services for the production of animal feed and biomass pellets.
Energy Leader


Merck's DOZN Green Chemistry Tool Named Top Product of the Year
Merck announced that it won a Top Product of the Year award from Environment + Energy Leader for its DOZN system, a quantitative tool that evaluates the relative greenness of chemicals and chemical processes against the 12 Principles of Green Chemistry.
"Our DOZN™ system is enabling the global scientific community to make data-driven decisions to increase the environmental sustainability of the sector," said Jeffrey Whitford,  head of sustainability and social business innovation and branding at the Life Science business of Merck. "This recognition further confirms the importance of quantitative tools that make data actionable."
The Environment + Energy Leader Awards celebrates excellence in environmental, sustainability and energy management. The win is an indication that the program's judges consider Merck's DOZN™ tool a top example of the exemplary work being done in the environmental management field.
Merck's DOZN™ system has more than 300 active, registered users representing some of the most prestigious names in the academic world, government institutions and business-to-consumer companies. The tool has been cited in 17 papers since its May 2019 launch.
Chemists and scientists look for sustainable options in the lab, such as recycling gloves and using greener packaging. However, they may not think about the impact of green chemistry and often face the challenge of evaluating the sustainability of a chemical or process. Merck's DOZN™ tool provides a consistent and reliable framework for measuring the greenness of chemicals and processes. It also raises awareness for scientists and communicates the environmental improvements for products labelled as greener alternatives. Products receive an aggregate score based on a scale of zero to 100, with zero being the most desired.
The DOZN™ system instructs customers how to calculate scores for products that the company does not offer and allows customers to  carry out meaningful research while positively contributing to their own environmental impact goals.
Merck plans to expand the applications of the tool, including the implementation into curricula at academic institutions to further increase the adoption of quantitative metrics in green chemistry.
Digitalization


IChemE launches new online Knowledge Hub
The Institution of Chemical Engineers (IChemE) has today formally launched its Knowledge Hub, a virtual library for process engineers to access thousands of resources developed across IChemE.
The Knowledge Hub brings together over 9,000 pieces of technical content in one central location, accessible through a single searchable index.
Featuring information from a broad range of sources, content on the Knowledge Hub includes historic journal papers, incident reports, good practice guides from the IChemE Safety Centre as well as articles from The Chemical Engineer and the Loss Prevention Bulletin.
Also included are selected online training courses, proceedings from previous Hazards events as well as IChemE submissions to policy consultations.
Viewers can browse by industry, topic, author or date, or alternatively use the handy search bar. With the comprehensive search functionality, this extensive library of IChemE technical information is now available at the click of a button.
Jarka Glassey, Vice President Learned Society said:
"IChemE has historically produced and continues to produce an exceptional amount of technical content helping to inform, advise and provide guidance to chemical and process engineers around the world. The Knowledge Hub is a fantastic resource that enables members and others involved in the chemical engineering profession to access the full extent of this information with just a few clicks of the mouse.
"Over time we will continue to add more and more content to the Knowledge Hub, ensuring that all of IChemE's technical information and guidance is easily accessible in one place."