Coperion and Aurora Kunststoffe


Profitable Recycling and Upcycling with ZSK Extruders
Aurora Kunststoffe, a company located in Neuenstein and since end of 2019 member of MOL Group, is demonstrating how plastic processors' production waste can be recycled and upcycled profitably. This producer of recompounds uses rejected parts accumulated from plastic components manufacturing as primary raw material and processes it into recycled, new-product-quality plastic compounds. After a major fire in their production area in 2017, Aurora Kunststoffe decided once again to rely on ZSK twin screw extruders from Coperion. Those three ZSK 45 Mc18 twin screw extruders have been in successful operation since early 2019, and with their high throughputs and their reliability, they have fulfilled every requirement that Aurora Kunststoffe needs for their innovative business plan.
Technology for First-Rate Compounds
In manufacturing technical plastic parts, typically there is approximately a five percent rejection rate. Aurora Kunststoffe purchases this production waste, then examines the precise composition and varietal purity. Once they pass quality control, the single-variety plastic parts are ground, fed into the compounding process and pelletized. The result is pellets mainly based on PA6, PA66, PA11, PA12, POM, PP, PC, and PC-ABS. To accomplish this, Aurora Kunststoff relies on Coperion ZSK technology. Within the ZSK twin screw extruders, the ground material is reliably homogenized with additives, fillers and reinforcing materials and devolatilized. To this end, Coperion designed each of these three ZSK 45 extruders individually for Aurora Kunststoffe's requirements, equipping them with ZS-EG twin screw side devolatilization units and special wear protection for product-contact parts. Following melt discharge from the die head at the end of the extruder's process section, plastic strands are taken over by semiautomatic SCP 200 strand conveying systems from Coperion Pelletizing Technology. They are automatically conveyed via a cooling water chute and a conveyor belt to the strand pelletizer's feed mechanism, where they are cut to compounds whose quality corresponds to that of new material. Noted Norbert Büter, Coperion Sales Manager, "When recycling plastics, it is necessary to adapt the process parameters and recipes to the various raw materials. With their flexibility and high torques, ZSK twin screw extruders are optimally suited for processing even the most difficult raw materials to very good product quality – and they do it at throughputs that are economical. By devolatilizing using ZS-EGs, not only are unwanted gases removed; operational safety of the entire vacuum system is increased. This applies especially to even very volatile viscosities."
Rebuilding Production
In 2017, a large fire at Aurora Kunststoffe destroyed the entire production area. Aurora Kunststoffe held fast to its successful sustainability concept, even expanding it after the fire. New twin screw extruders began operation in a new, larger space in 2019. In meeting such a tight deadline, Aurora Kunststoffe relied on close collaboration with their suppliers. Alexander Schweinle, Head of Production at Aurora Kunststoffe, is particularly proud of this: "Coperion delivered not just three ZSK 45 extruders that were individually designed for us, and the appropriate strand pelletizers, but they also supported us with the engineering necessary for the entire production. I would like to emphasize the really good collaboration between our two companies: Coperion consistently reacts to our inquiries quickly and knowledgeably, which was key during our production's rebuilding phase."
Successful Recycling Concept
Production waste from industrial plastics manufacturing is becoming more and more valuable in times of rising raw materials prices and increased environmental pollution. Aurora Kunststoffe buys these industrial by-products and turns them into high-quality raw materials that are used in the automotive, construction, furniture and electronics industries.
Plastic waste comes to Aurora as part of its unique Aurora-Lean-Logistics concept, consisting of Aurora's own fleet of about 60 semi-trailers and a box concept for perfecting single-origin collection. At Aurora, materials are ground and processed into recompounds by means of extrusion. With this process, Aurora Kunststoffe achieves throughputs of up to 650 kg/h on their ZSK 45 twin screw extruders. Per day, Aurora Kunststoffe produces over 50 tons of compounds. For the future, Aurora anticipates increasing demand. "I am certain that sooner or later, there will be a legally mandated recycling quota", said Schweinle.
Jochen Schofer, Business Segment Manager, Recycling & Direct Extrusion at Coperion added: "We're convinced that becoming circular is unavoidable for the plastics industry." To that end, there is still plenty of room for improvement. In Germany, the share of recyclate used in plastics processing in 2017 only achieved a bit more than 12%. Aurora Kunststoffe, in contrast, is taking an absolutely leading role for us; their company concept is not only profitable, it's sustainable too! We're proud to support Aurora Kunststoffe with our compounding and engineering know-how!"
Initiative for consumer goods


Packaging with renewable plastics
Chemical industry company SABIC today announced that Orkla, Nordic brand owner in business-to-consumer (B2C) commerce with foods, snacks, food care for sport and food ingredients, has launched its first chips packaging using renewable polypropylene (PP) polymer from SABIC's TRUCIRCLE™ portfolio. The sustainable material is derived from tall oil, a residual product from the Nordic forestry industry, and is converted into a Biaxially Oriented PolyPropylene (BOPP) by IRPLAST, an Italian vertically integrated manufacturer of specialty S-BOPP films and converter of printed shrinkable BOPP roll-fed labels and PSA tapes. In Orkla's chips bags, the material solution helps lower the carbon footprint of the three partners' value chain in half compared to the use of traditional non-renewable plastics.
"We want to make it easier for consumers to make environmentally conscious choices," says Sara Malmström, Sustainability Manager at Orkla Confectionery & Snacks. "Packaging is an important part of all our products, and plastic packaging in particular can have a considerable impact on both the environment and climate. We are proud to be first in the Swedish market to put chips in bags made with plastics based on bio-renewable feedstock on the snack shelf," she adds.
Orkla had been looking for an innovative and agile converter capable of meeting its sustainability targets and supplying a renewable film that would help them enhance the sustainability profile of their packaging. They identified IRPLAST, with whom SABIC had already been successfully collaborating in various projects for the development of film products in compliance with EU Packaging and Waste Packaging Directives. Next to Natural Oriented PolyPropylene (NOPP) films from certified renewable PP polymer, IRPLAST also offers an S-BOPP (Simultaneously oriented BOPP) film range branded as LOOPP. The NOPP and LOOPP products both have received independent third party International Sustainability and Carbon Certification (ISCC PLUS).
Naomi Lunadei, Sustainability Manager at IRPLAST, explains: "We firmly believe that sustainable growth must become a priority for businesses producing and converting plastic packaging materials. As a packaging producer, we are well aware of our responsibilities in making the 2030 Sustainable Development Goals a reality, and we are very committed to the challenge. Our two new lines demonstrate the determined route we have embarked on with our partner. While our NOPP products help reduce the carbon footprint of flexible packaging, the LOOPP range opens a door for customers to enter the circular plastics economy which is being progressively mandated by legislators worldwide."
In contrast to comparable BOPP film from traditional fossil fuel, every kilogram of renewable NOPP packaging takes more than 2 kg of CO2 emissions out of the environment. The first set of new Orkla packages in NOPP flexible film includes 275-gram bags of Grill, Sour Cream & Onion, Dill & Chive and Salted Chips, and prominently displays the 50 percent CO2 reduction to consumers. Orkla Confectionery & Snacks Sweden has an ambition to gradually introduce similar bags for all their snacks packages.
"We are proud of  implementing our certified renewable PP polymer in a flexible packaging," states Mark Vester, Circular Economy Leader at SABIC. "The materials offer drop-in solutions for replacing fossil-based plastics in the packaging industry with no compromise on food safety. With our certified circular and renewable polymers, we are aiming to create a sustainable value chain where we collaborate with downstream customers like IRPLAST and Orkla in the use of animal-free bio-based feedstock or in the reuse of post-consumer recycle, thereby seeking to capture the greatest value from sources that have traditionally been ignored or discarded."
SABIC's offering spans from design for recyclability services and mechanically recycled materials to certified circular products from chemical recycling of used plastics and certified renewable polymers from bio-based feedstock. The company's polymers are based on a mass balance approach. This widely recognized international sustainability certification scheme verifies that the mass balance accounting follows predefined and transparent rules. In addition, it provides traceability along the supply chain, from the feedstock to the final product.
Announcement by Brenntag and CheMondis


Cooperation in sales and marketing for Chemicals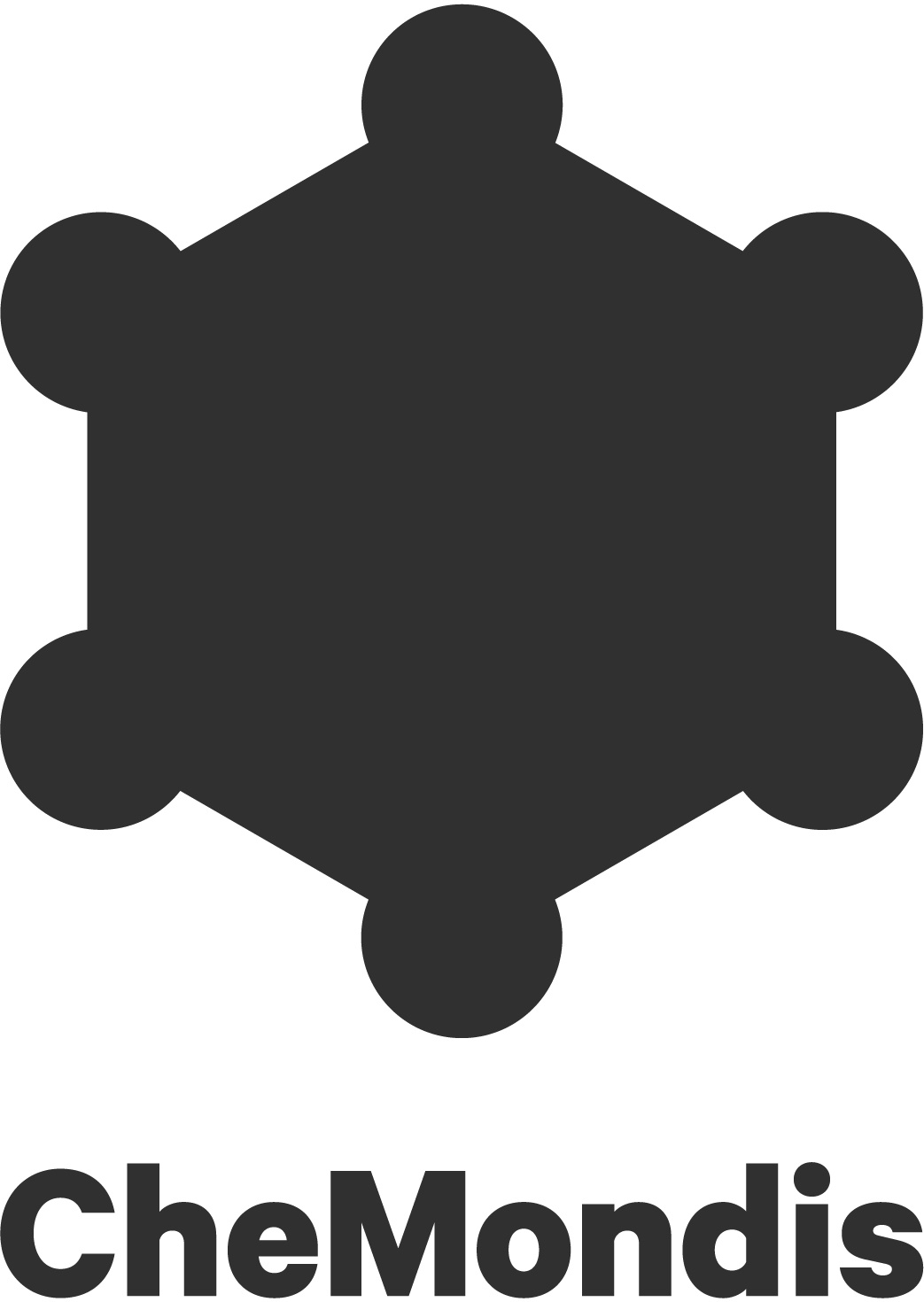 Brenntag, enterprise for chemical and ingredients distribution, and CheMondis, B2B online marketplace for chemicals in Europe, announce a first cooperation. Brenntag and CheMondis plan to jointly accelerate digital sales and marketing for the chemical industry. Both companies recognize the increasing importance of online sales channels for the chemical industry and agreed to collaborate in this field.
The collaboration will start with making Brenntag's leading portfolio for Paints & Coatings and Adhesives & Sealants gradually available for online purchase on CheMondis in the German market.
"Over the last two years Brenntag has steadily built our Brenntag Connect ecommerce platform. The platform is now live in most of our mature markets. We see a strong upward trend in online business and with this complementary cooperation we extend our digital channels further," Maarten Stramrood, CDO at Brenntag, added. "Our collaboration with CheMondis will provide our current and potential customers an even broader choice."
"At CheMondis we are excited to welcome the world's leading distributor Brenntag as a new partner. It is a strong sign that online sales are becoming an increasingly important strategic component in the chemical industry," said Sebastian Brenner, Managing Director of CheMondis. "Customers in our industry are demanding an online buying experience and CheMondis provides for that need."
Leybold offers a dry claw pump for robust rough vacuum applications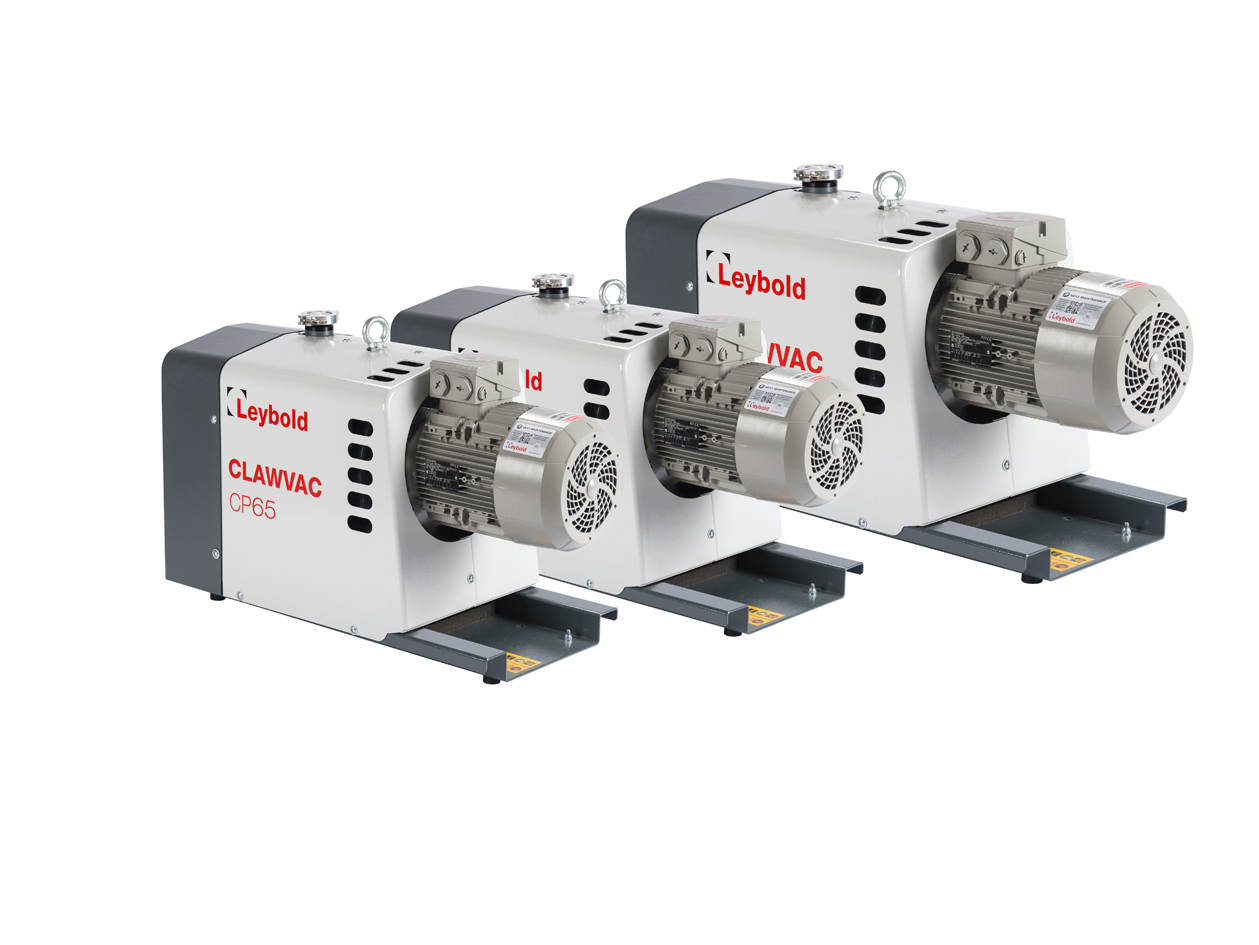 Especially for rough industrial processes Leybold introduces the uncomplicated, dry rough vacuum CLAWVAC pump. Besides food processing, packaging and environmental technology applications, it is suitable for drying and sterilization processes. The pump, which is offered in three pumping speed classes, is specially designed for continuous operation at every working pressures. Additionally the special pump design avoids that oil comes into contact with pumped gases, what allows higher Oxygen applications. At the same moment, Leybold also offers with the CLAWVAC System series a new multiple pump system. These systems are based on CLAWVAC and offer a redundant plug-and-play solution.
Uncomplicated handling
The daily use is uncomplicated: Thanks to the self-supporting construction, the vacuum generator is easily accessible. What allows to directly clean the pump on-site. The simple handling of the robust pump can also be attributed to its operating principle: A pair of claw rotors rotating in the pump stator completely free of contact and wear. It also distinguishes itself from standard claw pumps on the market by the choice of materials. Rotors made of stainless steel and a corrosion-resistant coated vacuum chamber, it proves its worth even under harsh process conditions. This makes an important contribution to reliable operation.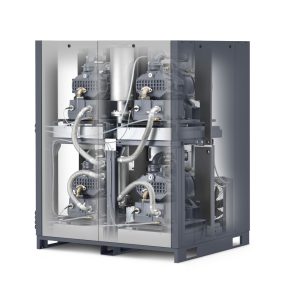 Disassembly in a few minutes
The modular pump design allows a quickly dismantling, opening and cleaning of the pump essentials as the pumping chamber and the silencer. For a mechanic these steps can be done in a few minutes and the frequency is purely depending on the hardness of the process. Except the 20 000 hr oil & lipseal replacement, no further regular maintenance is required and additionally it is independent of the application. "Thanks to this pump characteristic, we have reduced the amount of servicing required and improved the environmental balance," explains Niels Gorrebeeck, Product Manager Rough Vacuum, Leybold, Cologne.
Minimal downtimes
The design allows the user to disassemble and clean the claws quickly and easily as the rotors can be removed without having to readjust the synchronization. This primarily relieves customers with rough & dirty processes, whose pumps previously needed a synchronization at the manufacturer side. The set-up is based on a quick component replacement, which has to ensure a minimal downtime and low service costs.
Wide range of applications
On the basis of CLAWVAC, Leybold also has a new multiple pump system in its program, a powerful plug-and-play solution. Especially for packaging plants, pneumatic conveying lines or clamping devices of CNC machines the multi claw pumps are a reliable solution. This also applies to plastics processing machines, drying processes and central vacuum supplies.
Low energy consumption, low CO2 output
Depending on the required flow rate, the systems contain two to four CLAWVAC pumps in one housing. "The robust, long-life pumps operate in an intelligent controlled dry and air-cooled solution" summarizes Niels Gorrebeeck. "On top of that, CLAWVAC System only delivers the required vacuum." One pump is speed-controlled, that allows the exact adjustment of the generated vacuum. The intelligent control activates or disactivate the other fixed speed pumps based on the vacuum need. This speed control reduces the necessary energy consumption and CO2   emissions.
A constant & redundant vacuum supply
"During the design we strongly focused on the customer needs as a high redundancy level, minimal maintenance needs and stable vacuum supple even in harsh environments" explains Niels Gorrebeeck. The earlier mentioned constant vacuum level guarantees the customer product quality in all conditions, the same intelligent control equalizes the running hours of the fix speed pumps. The control principle is even as such developed that your CLAWVAC System keeps on running, even with half of it pumps active. CLAWVAC Systems clearly meets all its targets.
Housing reduces noise and heat
With this multiple pump system, Leybold brings all necessary components under one acoustic enclosure and offers at the same way a compact, intelligent system solution. The robust housing protects the pumps, reduces noise and heat and combines all the technology necessary for operation in one box.
Choose with CLAWVAC System for an innovative and effective vacuum solution, which has a positive effect on your overall performance. Leybold offers these space-saving systems with pumping speeds between 604 and 1144 m3/h. As with the individual claw pumps, the system also allows a ultimate pressure up to 140 mbar absolute.