Climate-Neutral Energy Generation


Producing Biogas from Waste and Sludge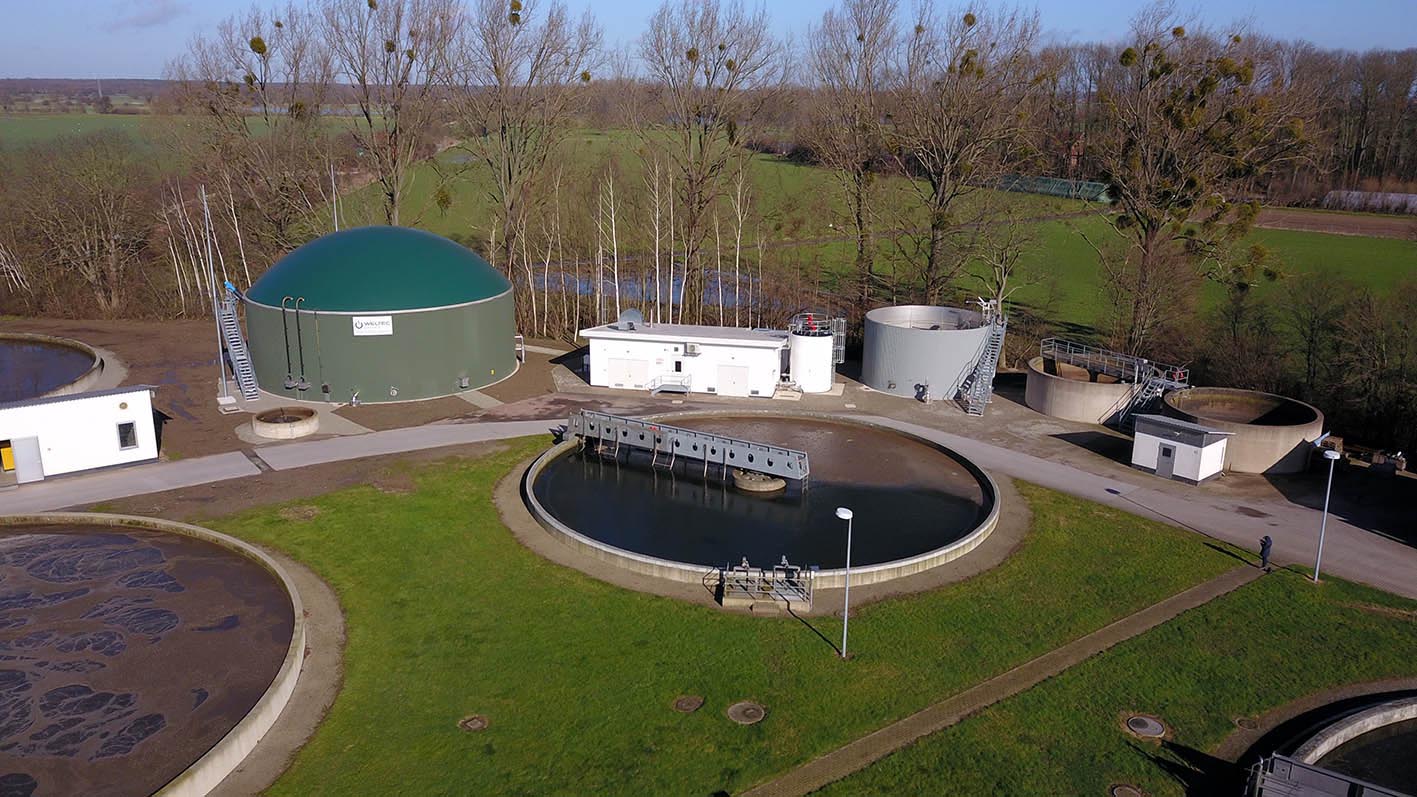 At this year's Ifat, the world's leading trade fair for environmental technologies, which will be held in Munich, Germany, from 4 to 8 May, biogas plant manufacturer Weltec Biopower will again present its anaerobic digestion plants for industrial and municipal use. In Hall A4, at Booth 508, the internationally renowned biogas specialists will provide information on all topics concerning the use of organic waste and sludge for the production of energy.
The reference projects for the digestion of waste and the production of biomethane, which is equivalent to natural gas, include the Weltec plant of the French potato chips manufacturer Altho, whose chips brand Bret's accounts for one third of the French market. Every year, the plant in St. Gérand, Brittany, produces about 1.75 million standard m³ of biomethane from 22,000 t of production waste in the form of potatoes and starch as well as sludge from the internal wastewater treatment plant. This amount of the climate-neutral energy source corresponds to the gas consumption of a town of 5,000 inhabitants.
Altho benefits greatly from the biomethane production, which enables it to use its leftovers in a sustainable manner and cut greenhouse emissions. The annual savings amount to approximately 3,900 t of CO2eq. This corresponds to the emissions that more than 2,000 persons would cause with a flight from Munich to New York.
For the energy plant, Weltec has implemented process technology that is both innovative and reliable: The mix of solid and liquid substances is first pre-processed and homogenised in order to ensure efficient digestion in the stainless-steel digester. The entire process is fully automated and controlled by a PLC unit. With the help of the membrane processing, the biogas is then transformed into biomethane.
"Custom-tuned biogas technology is a must", says Jens Albartus, Director of Weltec Biopower. "Usually, anaerobic digestion plants will only encounter technical problems if the process technology does not meet the requirement profile." For this reason, plant operators and investors should opt for a provider who has experience with various substrates and climate conditions. In its projects, Weltec custom-tailors its plants so as to ensure stable, economic operation. In more than 300 planned and implemented biogas projects in 25 countries, the specialists have gained a wealth of experience with diverse framework conditions.
Regardless of whether sludge, abattoir waste or production leftovers are used as raw material, Weltec thus guarantees a high energy yield. This is achieved with the right blend of expertise, smart processes and custom-tailored supervision by biologists and engineers.
Weltec Biopower at the Ifat 2020: Hall A4, Stand 508
Pack life science and healthcare products


Securely, flexibly and efficiently
Medical devices and sensitive products place the highest demands on pack quality and secure packaging processes. Since the trend in the medical sector towards greater product individualisation, complexity and variety continues unabated, leading increasingly to ever smaller batch sizes, Multivac will be presenting at Medtec Live 2020 a number of flexible solutions for packing small product series reliably and efficiently. Another focus at the trade fair will be identification and inspection systems, which make a major contribution to higher levels of product and patient safety.
From its traysealer range Multivac will be showing the semi-automatic  T 260 traysealer, which was specially developed for the high demands of the medical devices industry. The features of this compact machine are its precise temperature control and distribution, as well as its highly controlled sealing pressure, and it therefore offers the maximum level of pack quality, reproducibility and process reliability.
Other exhibits include the C 300 TC chamber machine, which enables sterile products to be packed very securely in pre-made pouches. All models of the TC series are equipped with a temperature-controlled and permanently heated sealing bar, which means that the processes can be calibrated and validated. The user-friendly machine control offers a wide range of software options, such as for example the reading of production data.
Another trade fair highlight will be the presentation of an identification and inspection system, which makes a significant contribution to meeting the statutory requirements for patient safety. The UDI regulations (Unique Device Identification) require medical products to be marked and identified uniquely. The MDR (Medical Device Regulation) also redefines the role of the manufacturer or distributor, who is now responsible for the integrity of the medical product up to the point of use.
The R 245 thermoforming packaging machine, which is capable of being freely configured, will be used to demonstrate the product marking and the visual inspection of the print image. This highly flexible machine model can be used to securely pack a wide range of batch sizes in many different formats and packaging materials. It can also be equipped very easily with other system components, such as for example automated handling modules.
All the machines to be shown at the trade fair are cleanroom-compatible, and they meet all the statutory requirements as well as the GMP, GAMP5 and ISO guidelines.
Solutions for packing products


Packaging machines for small to medium-sized batches
Using a special exhibition area (in front of Hall 5), Multivac will be showing at interpack a range of simple and needs-based solutions for packing products in small and medium-sized batches. These enable hand-craft businesses and smaller processors to make the entry into automatic packaging – with the aim of achieving maximum efficiency and optimum product protection. In addition to various chamber machines of different sizes, the exhibits will also include a compact thermoform packaging machine and two traysealers.
When it comes to packing in film pouches, Multivac will be presenting its complete product range, consisting of tabletop, free-standing, double chamber and chamber belt machines. Thanks to their wide range of equipment options, the machines can be adapted to the individual requirements of the customer, and this makes a major contribution to maximum process efficiency.
In addition to the semi-automatic T 060 traysealer, Multivac will also be exhibiting here its automatic T 300 model, which will be used at interpack to produce Multi Fresh vacuum skin packs.
The range of compact thermoforming packaging machines will be represented by the R 105 MF, which is designed for producing high-quality Multi Fresh vacuum skin packs. At interpack this machine will run Multivac Paper Board, a paper fibre-based carrier material, which has a sealing medium specially designed for the Multi Fresh skin film, enabling perfect pack results to be achieved.
Multivac at the Interpack 2020: Hall 5, Stand A23
Ifat 2020


High-performance large-scale machine
Flottweg is presenting its latest development, the X7E, at the Ifat 2020 in Munich. The Xelletor series machine is the largest of its kind to date and sets new standards in terms of throughput, polymer consumption and power consumption.
The lower the sludge volume, the lower the cost of transportation and disposal. High-performance in sludge dewatering is the decisive criterion for reducing operating costs. Since its launch in 2018, the Xelletor series has achieved impressive results in terms of throughput, polymer consumption and energy requirements. In comparison to other modern machines, it offers up to 15 % more throughput, up to 2 % higher dry solids content and up to 20 % savings in flocculant and energy consumption. In recognition of these achievements, the Xelletor series was granted the German Innovation Award 2019 and the German Excellence Prize 2019.
Flottweg now complements its product portfolio with the top of the range X7E. The newest Xelletor development has a capacity of up to 130 m³/h and is therefore suitable for medium to large sewage treatment plants.
Automation in the treatment of sewage sludge
Automation has become a popular buzzword in recent years. Having said this, Flottweg will demonstrate what automation can mean for operators of municipal sewage treatment plants. The separation technology specialist from Lower Bavaria offers its customers a comprehensive package for the full automation of sewage sludge dewatering and thickening.
The package includes inter alia:
Intake regulation for the optimization of results
Thick sludge control for optimizing the operation of digestion towers
Centrate regulation for optimal control of the polymer supply
Machine monitoring for optimum operational safety
The advantages are rather obvious. Thanks to the fully automatic operation, employees can usually focus on other tasks. The company is not bound by weekly working hours. Wastewater treatment plant operators often use the technology to operate 24 hours a day, 7 days a week.
Flottweg at the Ifat 2020: Hall A1, Stand 550