Lighthouse Awards 2020


Pinoeering water projects awarded
Leading organisations that have embraced innovation to protect and enhance water supplies have been recognised for their pioneering work by the inaugural Lighthouse Awards.
Corporations including Apple, Nike and Facebook, along with utilities such as South East Water, Australia, have been named as recipients of the inaugural Lighthouse Awards, launched in December 2020 by the Brave Blue World Foundation, a non-profit dedicated to scientific and educational storytelling. The winning Lighthouse organisations, named so because they are shining a light for others to follow, have developed new ways of utilising technology, finance or partnerships to reduce their impact in water stressed regions or build resilience of their local water systems. Their groundbreaking achievements were discovered by the Brave Blue World Foundation during the research phase of its  documentary, Brave Blue World, which aims to drive positive change in water. Brave Blue World Foundation founder Paul O'Callaghan said:
"Every industry has a vanguard; the pioneers will all come to follow. In water, the work of these Lighthouses is beyond critical if we are to ensure there is enough freshwater for future generations."
The winners' selection process, carried out by adjudicators from technology market intelligence company BlueTech Research, was based on a number of criteria and split into project themes. These included blue-green infrastructure, water reuse, smart water, water catchment enhancement, regeneration, innovation in policy, innovation in communications and innovation in partnerships. The recipients of the Lighthouse Awards 2020 are: Nike, Salesforce, Facebook, Apple, Heineken, San Francisco Public Utilities Commission, South East Water Australia, The Glenmorangie Distillery, Intel, Xylem and Manchester City Football Club.
In search of coronaviruses in wastewater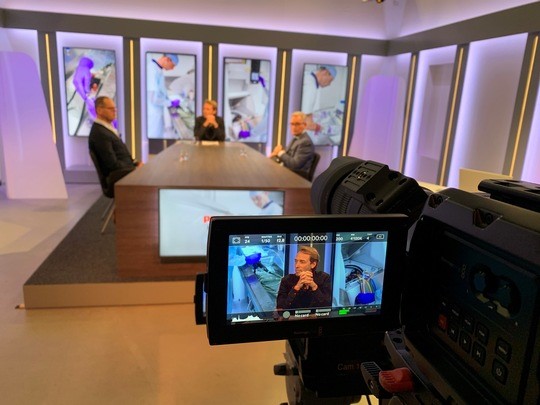 Now the demand for wastewater testing for coronaviruses is also growing by leaps and bounds in Germany. On March 17, 2021, the European Commission called on EU member states to regularly test wastewater for coronaviruses.
Initial pilot projects in Germany and numerous studies show that an incipient infection can be detected about a week in advance. This provides municipalities with an early warning system to initiate appropriate measures in good time. "Monitoring wastewater provides extensive data quickly and cost-effectively to reliably analyze the spread of the virus in the population and to detect changes in the incidence of infection at an early stage," explains Dr. Lisa Strauch, microbiology workgroup leader and laboratory expert for wastewater testing at SGS Analytics in Fellbach.
"We recommend that municipalities collect initial data now to be able to react more quickly to the infection events next fall."

– Dr. Strauch
The company is a member of the "CoroMoni" network initiated by the DWA (German Association for Water, Wastewater and Waste). This communication platform bundles know-how and the rapid exchange of experience between scientists from Germany, Austria, Switzerland and the Netherlands, representatives of the Robert Koch Institute, the Federal Environment Agency, the European Commission, and institutes and laboratories. Through this exchange with active research institutions, the laboratory experts ensure that the testing of wastewater for coronaviruses is always carried out in accordance with the latest scientific findings.
The Group offers communities an all-round service for this purpose. Interested parties can obtain advice from the laboratory on details of the sampling itself, as well as on the frequency and suitable sampling points. In addition, wastewater treatment plants are provided with special sampling kits that enable the samples to be sent back to the laboratory quickly and under refrigeration. After all, it is crucial for the success of wastewater testing that the results are available quickly.
Numerous studies confirm what was already apparent at the beginning of the pandemic: Components of the COVID-19 virus can be detected in wastewater, and the amount of virus components found correlates with the number of infected people in the catchment area of the wastewater treatment plant. In the Netherlands, current figures on virus particles found in wastewater are already published on a dedicated website.
In Sweden, SGS Analytics has been commissioned to develop a comparable online monitoring system. The examination of a 24-hour sample from the influent of a wastewater treatment plant is comparable to an anonymized mass test of the population. Only significantly cheaper and faster. Wastewater testing provides a sensitive signal of whether SARS-CoV-2 infections are present in the population and whether the number of infected individuals is increasing or decreasing.
New cooperation in water management
De Nora, a global leader in sustainable technologies, announced this week the acquisition of the UV Technologies Business Unit ("CCUV") from Calgon Carbon Corporation. The acquisition includes the RAYOX, SENTINEL and C3 SERIES UV brands for municipal and industrial water disinfection, as well as the products, brands and assets of Hyde Marine, a global leader in UV ballast water management systems.
"We are very excited about this acquisition! It enables us to offer a full spectrum of disinfection solutions to both the regulated and non-regulated water industries. CCUV Technologies enhances the value we deliver to our customers by providing solutions that are ideal for their unique water treatment needs. This supports our mission to be a partner of choice in the water treatment market."

– Dr. Mirka Wilderer, CEO
The company has launched one of the first UV systems with advanced oxidation processes (AOP). The UV AOP technology is capable of treating multiple contaminants that cannot be easily removed with other technologies. The acquisition will enable De Nora to accelerate global efforts to address these Contaminants of Emerging Concern (CECs) and "perennial chemicals" that are increasingly found in water supplies, along with its Capital Controls® ozone AOP solutions. There are no universal mitigation strategies for notorious contaminants such as chlorinated alkenes (DCE, TCE, PCE), 1,4-dioxane, vinyl chloride, NDMA and many others. CCUV brings its extensive expertise and an innovative treatment algorithm to De Nora to optimize the design of large UV AOP treatment systems.
In the maritime market, the acquisition will help stop the spread of invasive organisms into new habitats via the ballast water of commercial vessels. With the acquisition, De Nora adds UV ballast water treatment to its portfolio. With its existing BALPURE® electrochlorination (EC) system for ballast water management, De Nora becomes one of the few global companies offering both UV and EC technologies in the marine market. This capability is critical at a time when the industry is facing unprecedented demand for high-quality water treatment technologies required to comply with the International Maritime Organization's Ballast Water Management Convention (BWMC).
Paolo Dellachà, CEO of De Nora, enthusiastically welcomed the group, saying, "The synergies between the two companies are very strong – both bring exceptional experience, a strong track record, similar value propositions and well aligned market channels. Both are known for their focus on innovation and market development. I'm excited about the opportunity to meet the talented and knowledgeable colleagues who will be joining us in the coming weeks."
Technotrans cooling solution for injection moulding
The investment at the Warendorf site, the so-called "Technology Center Plastics", became necessary when an old closed system from Miele with a hybrid evaporative cooler was sent into well-earned retirement after 25 years. The new solution enables the provision of water at a temperature of 30 °C even at high outside temperatures of up to 35 °C.
In the system used by the group until then, the water came into direct contact with the ambient air and led to a high level of dirt entering the treated make-up water. This is because the cooling principle is based on the evaporation effect. Water is continuously lost in the process. In addition, the circulating water must be elaborately filtered and inoculated with water additives. Extensive monitoring due to an increased risk of contamination, for example with legionella and other bacteria, makes this an increasingly important and maintenance-intensive task.
The alternative to open cooling systems are closed free-cooling systems that dissipate heat to the environment via an air-water heat exchanger. They come within about 5 Kelvin of the outside temperature. So if a water supply temperature of 30 °C is required, this conventional technology will work without any problems up to an outside temperature of 25 °C. If it is warmer outside, additional cooling must be added via spraying, the addition of city water or an additional refrigerating machine in order to maintain the 30 °C water supply temperature.
The special feature of the new Reisner solution is its combination with the PAD system, which also enables cooling at high outside temperatures via humidified honeycombs. This not only saves Miele time and money, but also meets the company's own demand for high-quality solutions. Alexander Wibe, Head of Plant Technology, describes this as follows: "We were looking for an energy-saving solution that also leaves nothing to be desired in terms of technology. The cooling system had to be of high quality and rely on well-known components. Low-maintenance, reliable and efficient, coupled with a 24-hour service in the event of an emergency – that was the overall package required."
From Warendorf, the company supplies all appliance plants of the Miele Group. The product range includes complex assemblies such as washing machine doors or dryer sieves, multi-component parts and parts with high-gloss surfaces such as hoover housings. According to its own statement, 60% of the plastic parts installed in German Miele appliance plants come from Warendorf. In addition, the plant, which was founded in 1975 and employs around 300 people, oversees plastics production at Miele sites in Uničov (Czech Republic), Dongguan (China) and Ksawerów (Poland).
The decision in favour of Reisner was ultimately an easy one: "From costs to technology to comprehensive service, Reisner offered the best package," says Wibe. In the uncomplicated and customer-oriented planning phase, the Reisner project team explained which individual solution they would like to use.
Close partnership with individual solution
The special feature is the closed system in which a V-shaped, self-draining free cooler is installed. The honeycomb structure of the PAD system is only moistened with city water when high outside temperatures of around 25 °C and above make this necessary. When the air flows through this structure, it cools down – as is usual with adiabatic cooling. Then the process heat is dissipated to the cooled air by means of a CU/Al heat exchanger (not by evaporation).
"The decisive factor here is that the spraying water does not come into contact with the heat exchanger. The heat is almost completely dissipated via the air, making the system a reliable and cost-effective cooling solution."

– Günter Sareyko, Head of Sales at Reisner Cooling Solutions GmbH
In total, the new system offers a recooling capacity of up to 500 kW and reliably ensures the desired process temperature at up to 35 °C outside temperature. Reisner has also thought along when it comes to maintenance. Easy replacement of the PADs, which already provide a service life of three to five years depending on use, was just as important as minimised water consumption and the use of durable materials.
"Miele not only saves energy through its special design, the components themselves are also designed to be energy-saving," says Reisner. The fail-safe dual-pump system with a volume flow of up to 87 m³/h is speed-controlled, as are the 14 fans with EC motors. The humidification itself is also multi-stage. The built-in return filter works completely pressureless and can be changed during operation. Reisner thus reduces the energy required in each process step to a minimum.
After the system has been running since October 2020, Wibe is more than satisfied: "The quick delivery and commissioning during operation without the installation of rental refrigeration were optimal. Reisner always worked cleanly and conscientiously, so our expectations were absolutely met." This also includes, for example, the control cabinet construction according to Miele specifications or the uncomplicated communication during the entire project.
Wibe is not yet able to precisely quantify the cost and time savings, but is very positive after the first experiences. "The early findings show that energy consumption has dropped significantly. The plant runs very stably and we have managed to completely dispense with the use of chemicals."
Additional optimisation with full-flow filtration
The group's high standards are also evidenced by the decision to use an additional filter solution and chemical-free water treatment. Even after a short period of use, the water quality showed a steady improvement due to the water treatment with full-flow filtration in the return flow. The system dissolves lime and corrosion compounds by means of low-frequency electromagnetic alternating fields. These can then be filtered out of the water accordingly. "Miele stands for quality. We are therefore very pleased that we can contribute to this image with our cooling expertise," Günter Sareyko sums up.