Pharmacode Data Check for Medication Packaging
Pharmaceutical packaging is a sophisticated and multi-staged process that involves machines and humans diligently working side by side. The packaging process consists of more than 20 steps, and each is very complex.
Critical steps include:
physically separating products to avoid mixing-up finished and unfinished items.
multiple checks to ensure that medicines conform to the descriptions given in the product's batch manufacturing record (BMR).
identification of packaging that contains relevant medical instructions.
eliminating excess materials.
random testing and much more.
However, pharmaceutical factories are frenetic. Workloads can be overwhelming because multiple production lines simultaneously churn, producing or packaging anywhere from 10–100 different medications. The environment's frenzied nature also can trigger human error at any stage. External factors, such as labor shortages, can also hinder medication packaging.
Therefore, factories must take extra steps when mistake-proofing packaging lines. After all, protecting product safety and a company's reputation (along with revenue) cannot be underemphasized because human lives are literally on the line. For instance, in 2013, French authorities discovered that zopiclone (a sleeping pill for insomniacs) was discovered in packages of furosemide diuretics. Police investigated deaths possibly linked to the improperly packaged medication, and a large-scale recall was issued.
Given the consequences of improperly labeled or packaged medication, Job #1 is ensuring that the correct medicine and associated instructions are placed in the corresponding packaging. Doing so correctly ensures drug packaging compliance, and it's precisely where Germany's Elmicron GmbH steps in to help.
ISO: In Search Of Quality
Elmicron's specialty lies in barcodes, data matrix codes, and RFID technology for labeling and identification.
"We are the pioneers who helped develop barcode technology and standardize it within Europe's certification societies," beams Dr. Harald Oehlmann, Elmicron's managing director.
Furthermore, thanks to extensive practical experience and a team of high-profile experts, Elmicron has implemented cross-industry and value-added concepts for several of Europe's top businesses. Given Elmicron's mission to help customers ensure accuracy via automatische datenkommunikation (automatic data communication), it is fitting that the company worked to earn an ISO 9001 quality management certification.
Carrying ISO 9001 demonstrates Elmicron's commitment to providing high-quality products that meet both customer quality and regulatory requirements while validating Elmicron's system for use by integrators and at the customer's site. Lastly, the ISO 9001 certification verifies that Elmicron's experts understand the intricacies of quality management systems and corporate governance—exactly what pharmaceutical firms need to maintain product quality and their good standings.
The Dr. Prescribes the Pharmacode Data Check Inspection System
The pharmaceutical industry's packaging plights caught Dr. Oehlmann's attention, inspiring him and his team to develop Elmicron's Pharmacode Data Check inspection system. The system consists of proprietary Elmicron software running on an industrial-grade Noax touchscreen computer. Data capture occurs with Code Corporation's CR5000 Barcode Reader to read PHARMA-CODE—a highly specialized, and often color-keyed, barcode type used in pharmaceutical packaging.
A trademark of Laetus, PHARMA-CODE prevents the intermixing of medication packaging. A specific PHARMA-CODE correlates to a specific medication, such as an antibiotic. This code is then assigned to every part of the medication's packaging (for example instructions, labels, blister packs, and contraindication info). IT systems manufacturers, such as Elmicron, then create validation solutions.
With a firmly cemented foundation thanks to their barcode standardization work, a chance technical support request united Elmicron and Code.
"In the early 2000s, Elmicron [via US-based Omnitron Systems, a network connectivity specialist] received the task for technical support in Europe from an overseas client," recalls Dr. Oehlmann.
The support contract was linked to Code Corp., and after their initial project, a partnership solidified.
"We have been working with Code for decades, and they've consistently proven their reliability in terms of high quality and good service," reflects Dr. Oehlmann. "Our joint work has developed into a successful, long-term partnership. So when the need for Pharmacode Data Check arose, Code's CR5000 was our first choice since we trust Code products. They provided us with a suitable device for our project."
As Dr. Oehlmann recollects, early during development, Elmicron's team mandated that the CR5000 must provide rapid barcode scanning. Additionally, the scanner had to read the same barcode multiple times with a brief break between scans, all while supporting hands-free workflows. Code reps demonstrated that the CR5000 met Elmicron's needs during product evaluation, attracting the attention of developers.
Integration began, and the firm relabeled the CR5000 as Elmicron Model ECR 5210 linear & 2D, "Pharmacode Data Check configuration." Beyond their essential requirements, the developers discovered additional CR5000 features and functions that would give Elmicron's system additional flexibility. For instance, the barcode reader provides Pharmacode Data Check support and presentation mode, as well as manual and automatic scanning.
Dr. Oehlmann also added that the barcode reader's USB-POS scanner interface is highly advantageous because no Windows driver is needed, and it has a binary interface. Moreover, via USB-POS, CR5000 offers a bidirectional interface to the NOAX touchscreen for displaying "OK" or "wrong data" for the current scan. Another particularly unique feature, he notes, is that the CR5000 is JavaScript-based and will run virtually any software users need. Nearly all of Code's barcode readers are built on JavaScript, enabling them to offer data parsing and other functionalities.
The savvy integration of industrial- and enterprise-grade components has given the Pharmacode Data Check inspection system a fair degree of customization. Thus, Elmicron has modified the system for deployment in automotive production, electronics, tobacco, consumer packaged goods, and the marine sector, among others.
The Challenge: Problems Perfectly Packing Pills
Given the importance of the system's mission, flawless performance was a must. However, Code and Elmicron faced two challenges during system development:
The Pharmacode Data Check device would unexpectedly reboot, stopping barcode scanning, which necessitated troubleshooting because a missed scan during packaging would lead to mistakes. Code's tech support team had this sorted out within four weeks.
Quick re-scan prevention of the same code had to be disabled by configuration codes.
"We would advise anyone who requires a barcode scanner solution, both hardware or software, to use the full capability of Code's solutions," encourages Dr. Oehlmann.
The Results: Growing Demand for Quality Assurance
Elmicron's Pharmacode Data Check Inspection System is enjoying demand across Europe because it hits the goals of:
Quality assurance through error detection and avoidance.
Simple operation.
Integrated functionality and automation.
Moreover, Elmicron's customers can guarantee 100 percent control of the medical packaging process, giving them a decisive advantage over competing firms.
Shaping the future of Pharma
Artificial intelligence, robots and empowered patients are reshaping the pharmaceutical supply chain, says Dr Bertalan Meskó, Director of The Medical Futurist Institute. He will share insights on the trends influencing the future of the pharmaceutical industry at a free webinar for industry leaders on the 22nd February in the build-up to the opening of Connect in Pharma 2023 registration. 
"In my webinar for Connect in Pharma, I plan to give a crystal-clear overview about where digital health technologies have been heading in the 21st century — with a special focus on AI — and why these changes are relevant to pharma companies," says Meskó.
"From organizing logistics and equipment to drug design and drug repurposing, artificial intelligence has an immense power to automate and elevate what pharma companies have been doing," says Meskó. "Chatbots can also revolutionize marketing by creating customized messages," he says.
The pharmaceutical factories of the future will look more like an Amazon factory: "It will employ many robots while the staff look after them," he says. "The workforce who service the robots will be equipped with augmented reality glasses to shorten the time required to train them for new tasks, which is similar to how the automobile industry has been using that technology," says Meskó. 
The new technology is being partially driven by the need for greater precision and advances in personalised medicine. "3D printing and bioprinting methods will be commonplace in the production of a range of products," says Meskó. Precision bioprinters use cells and biomaterials to create organ-like structures that let living cells multiply.
Meskó says the coming changes will ultimately empower the patient: "We will see a paradigm shift in which patients become members of their own medical team. They want to engage with their health and diseases management. This means Pharma companies will have to engage directly with the patient as well as the physician. Patients will require similar information and insights about products."
In an industry that faces heavy regulations and high stakes (patient safety understandably looms large), most pharmaceutical companies see themselves as conservative and change-averse, says Meskó. But pharmaceutical executives must embrace the changes that are now rapidly coming in order to stay competitive. 
Bertalan's talk will be followed by the official opening of registration for Connect in Pharma, a Geneva-based event focused on the pharmaceutical packaging and production sector. 
As the director of The Medical Futurist Institute, Meskó helps companies, governments and other institutions understand advances in digital health technologies and bring healthcare into the 21st century. Meskó, who is a physician with a PhD in genomics, has been featured in top publications, including Forbes, BBC and the New York Times and is also a professor at Semmelweis Medical School in Budapest, Hungary. He is recognized as one of LinkedIn's Top Voices in Healthcare. 
Renan Joel, Divisional Managing Director at Easyfairs — the company organising Connect in Pharma, says industry leaders are welcome to sign up to attend the free online webinar. "Dr Bertalan Meskó is a truly modern and inspiring voice on healthcare technology," says Joel. "His big picture analysis of the future of medicine and pharmaceutical technologies will help industry leaders get up to speed with the latest in digital innovations."
Last patient included in Phase II clinical trial
AlzeCure Pharma a pharmaceutical company that develops a broad portfolio of drug candidates for diseases affecting the central nervous system, with projects in both Alzheimer's disease and pain, today announced that the last patient has now been included in the ongoing Phase II clinical study with ACD440, the lead non-opioid drug candidate in the Painless platform, which is being developed against peripheral neuropathic pain.
This double-blind, placebo-controlled, randomized cross-over study, which is carried out in collaboration with LINK Medical Research in Uppsala, is aimed at evaluating the efficacy, safety and pharmacokinetics of AlzeCure's lead drug candidate in pain, ACD440. The main results from the study are expected by the summer of 2023 at the latest.
AlzeCure's drug candidate ACD440 is a TRPV1 antagonist for the local treatment of patients with peripheral neuropathic pain. The discovery of TRPV1 that underlies the project was awarded the Nobel Prize in Physiology or Medicine in 2021. There is thus a strong scientific basis for this biological mechanism, including its relationship to pain signaling. ACD440, which is also the company's leading drug candidate within the Painless platform, completed a positive phase Ib study in 2021. It showed both very good tolerability and safety, but also a potent, long-lasting pain-relieving effect of the substance that is applied as a gel to the skin.
The medical need in neuropathic pain is very great, not least to find alternatives to opioids. The neuropathic pain market is the single largest market segment in pain management with annual sales exceeding 11 billion Dollar. Up to 80 percent of patients do not get a satisfactory effect with their current treatments.
"The study has developed well and the fact that we have now been able to include the last patient in the study means that we have good hopes that the study will also deliver the results according to what we previously communicated," said Märta Segerdahl, MD, PhD, project leader and CMO at AlzeCure. "We see an exciting potential with ACD440, where you can broaden the further development with other formulations, thereby enabling several indications."
"With the previous positive results from the phase Ib study, we look forward to the readout of this phase II study. There is already interest in the project and with phase II data, the project can generate even greater interest for out-licensing in a segment with a very high medical need," said Martin Jönsson, CEO of AlzeCure Pharma.
AC-DC power adapters for medical and industrial applications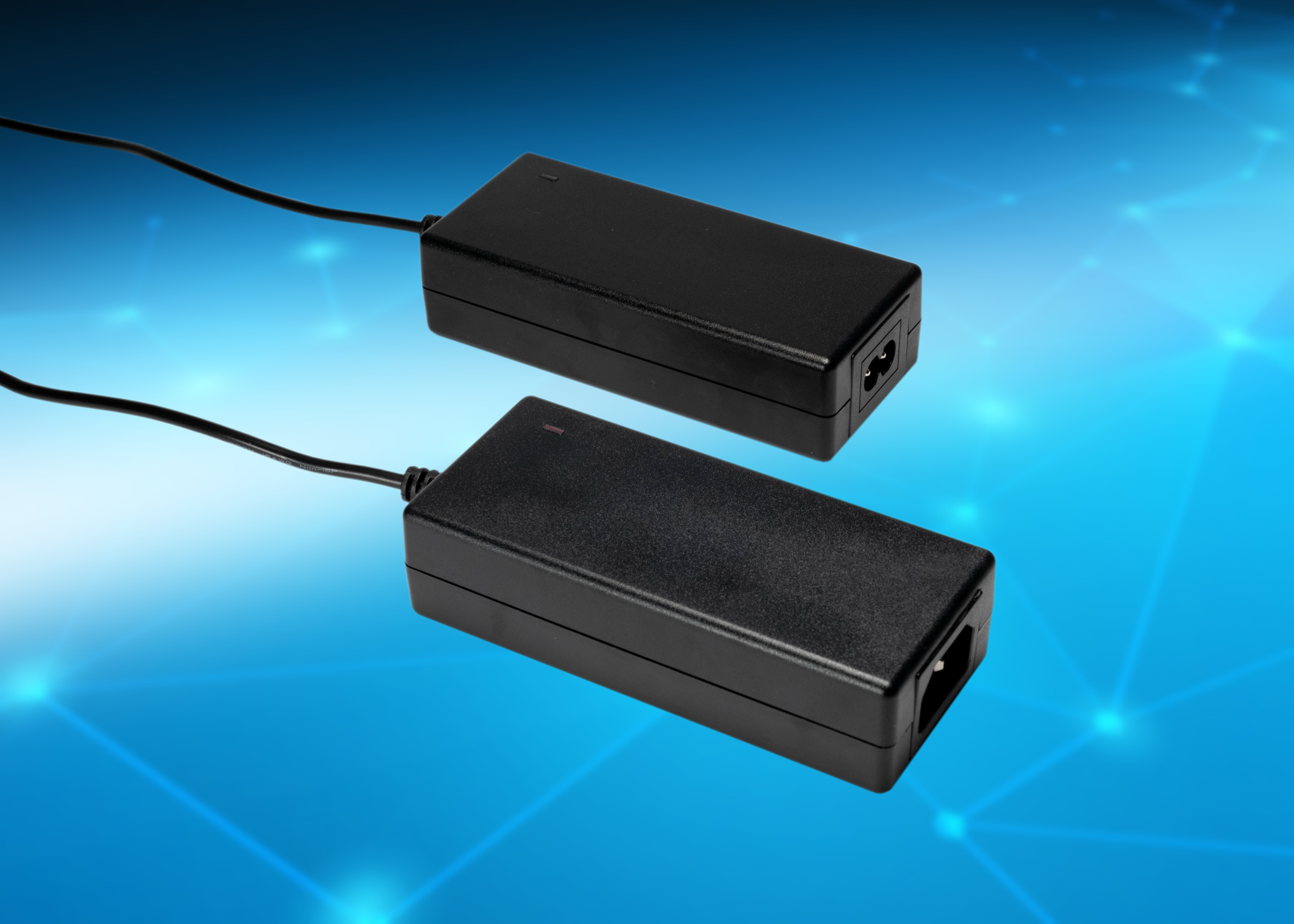 TDK Corporation announces the addition of the TDK-Lambda brand DTM70 and DTM160 series to the DTM family of compact medical and industrial AC-DC power adapters that are available in various power classes from 36 watt to 300 watt. Both series are available in Class I versions with a protective earth terminal on the input and Class II versions with double insulation protection. The adapters are housed in a robust plastic case with dimensions of only 120 x 52 x 31 millimetres (DTM70) and 150 x 70 x 38 millimetres (DTM160). The DTM70 is available with 12 volt, 15 volt, 18 volt, 24 volt, 36 volt and 48 volt output voltages and the DTM160 with 12 volt, 24 volt, 36 volt and 48 volt.
The DTM70 and DTM160 series are suitable for 2MOPP medical applications and general industrial use. Both adapter series are certified to the IEC/EN/UL 60601-1 medical safety standard for clinical applications. In addition, IEC 60601-1-11 certification is available for all Class II versions, allowing these adapters to be used in home healthcare applications. For all versions, EMC is tested according to IEC 60601-1-2 Ed 4, which simplifies use with medical equipment. For industrial and ICT (Information and Communication Technology) applications, all models are tested according to IEC/BS/EN 62368-1 and are certified for installation altitudes up to 5000 metres.
One special feature is the standard locking DIN output connector, which prevents unintentional disconnection of the output voltage of the adapter. Other connector versions and cable assemblies are available on request.
Due to the high efficiencies and the low no-load power consumption of less than 150 megawatt, the adapters comply with EU Regulation 2019/1782 (Eco-design requirements for external power supplies) and the US DOE Level VI specification. CE and UKCA markings confirm compliance with the low voltage, EMC and RoHS directives.