287 patents in 2018


Patent portfolio expands further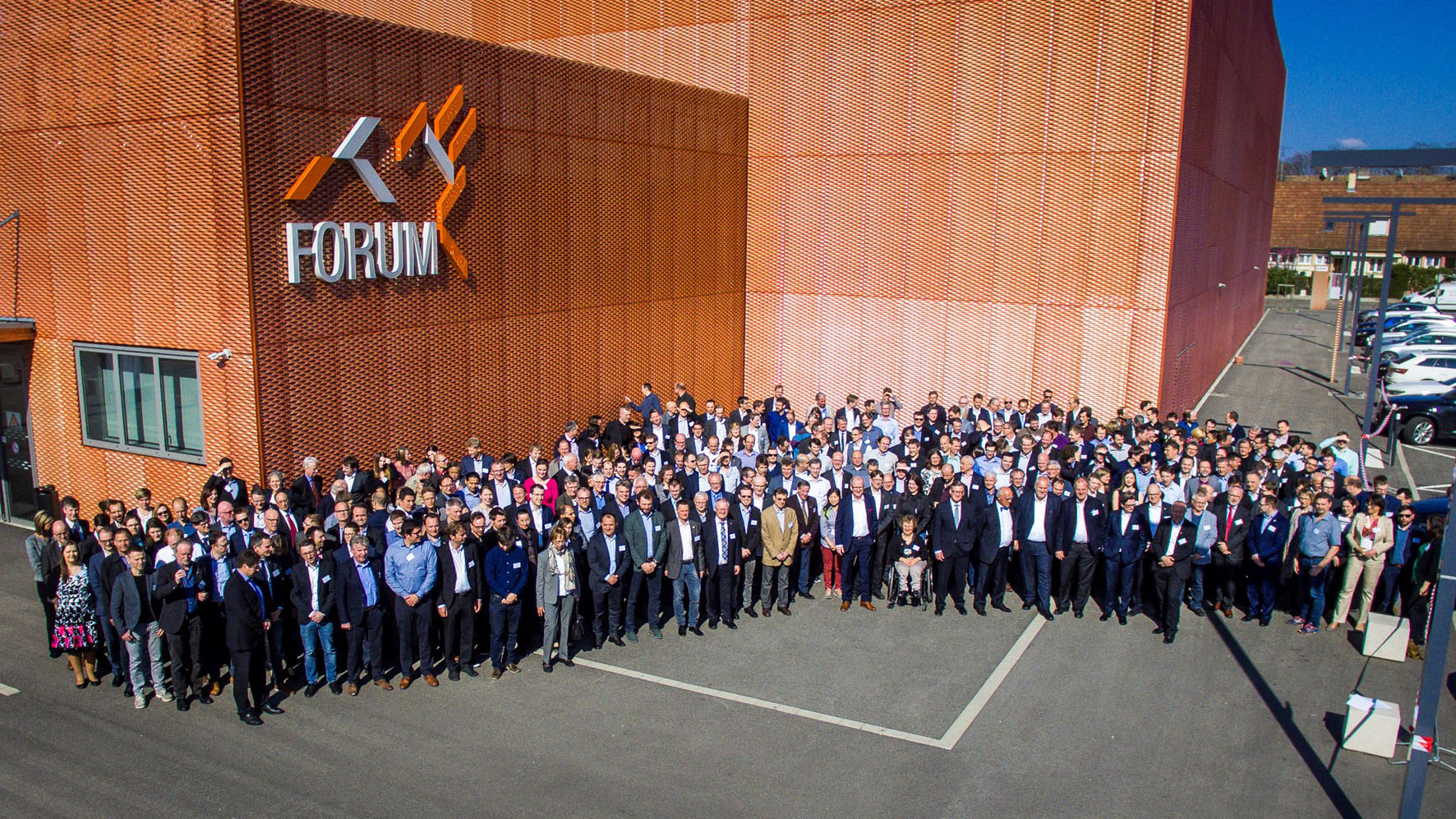 The number of patents submitted by the Endress+Hauser Group continues to rise. As reported during the annual Innovators' Meeting held this year in France, the Group submitted 287 initial patents in 2018, a new record. Endress+Hauser owns nearly 7,800 active intellectual property rights worldwide.
"This year we once again achieved a record number of innovations, both in the number of patent filings and the number of approved patents."

Angelika Andres, Corporate Director, Intellectual Property Rights at Endress+Hauser
While the 309 invention disclosures are a sign of the company's ongoing innovation capability, the 537 granted patent applications also represent an all-time high.
Roughly one-third of the patent filings are related to the Industrial Internet of Things, digital communications and instrument diagnostics. Under the motto #empowerthefield, in 2018 the measurement engineering specialist began to bundle its digital activities with a focus on Heartbeat Technology, as well as the recently introduced Netilion IIoT ecosystem.
Patent department in the US
Each invention undergoes a multistage internal evaluation process before submission to the patent office, usually within four months. To handle the stream of innovations, in 2016 an internal patent department was created in the US, one of the Group's most important markets. Four specialists at the Greenwood, Indiana location are responsible for protecting the technical innovations. This team has full responsibility for handling all patent filings from the Group companies located in the US, plus up to 80 percent of the overseas filings.
Innovation spirit in the spotlight
Under the motto 'Innovation – what makes us human', Matthias Altendorf, CEO of the Endress+Hauser Group, as well as other members of the Executive Board, welcomed more than 300 guests to the annual Innovators' Meeting, which was held in late March in Saint-Louis, France. Employees involved in patent filings presented their innovations during the company's traditional get-together. Exceptional innovations were recognized with special awards.
Smart Factory


In position with IO-Link
Bus-capable position indicators and actuators from Siko are virtually indispensable in machine construction today. They help make size changeover processes more efficient and reliable, thus enabling the flexible conversion of modern production systems for ever-smaller batch sizes.
Regardless if a machine conversion is performed manually with position indicator monitoring, or in a fully automated manner with an actuator, feedback on the positioning status to the machine control system maximizes process reliability for size changeovers and optimizes setup times. This prevents incorrect settings, which in turn prevents waste and damage to tools. In short, it boosts efficiency and reduces setup times.
Plug & Play thanks to IO-Link
The key prerequisite for taking advantage of the improvement potential offered by intelligent size changeover is ensuring efficient and reliable communication with the machine control system. This is why the smart AP10 position indicator and the AG03/1 actuator are now also available with the innovative IO-Link interface.
This interface enables fast and cost-effective integration via a point-to-point connection using uncomplicated I/O connection technology. Thanks to the open, manufacturer-independent standard of the IO-Link interface, convenient integration options are available for machine control systems from all leading providers. IO-Link Master Islands can be used for the modular networking of several AP10 position indicators. This drastically reduces complexity and wiring overheads and shortens commissioning times. The straightforward wiring is combined with additional diagnostic features to improve serviceability and reduce downtimes in the event of errors. The IO-Link Master makes it possible to read parameter data from a field device, store it, and load the data on a new, identical device when the old one is replaced – even while the process is still running and without the need for any special expertise.
Seamless communication all the way to the Cloud
In the Industry 4.0 or Smart Factory environment, it is often not enough to exchange pure process data; rather, communication must also make it possible to select values for diagnostic purposes, like final stage temperature, motor current, and various voltage values. Furthermore, the electronic type plate offers clear identification of the unit type, as well as the serial number and the hardware and software versions, which makes it easier to schedule ad-hoc maintenance intervals. Siko's position indicators and actuators provide this information via the IO-Link interface, from where it can be used for tasks such as condition monitoring and predictive maintenance in centralized higher-level systems, all the way to systems utilizing cloud services. Since the IO-Link standard is open, a multitude of network components from various manufacturers is available to enable seamless communication from the field level all the way to the cloud in a straightforward and secure manner.
Manual positioning – designed for ergonomics
The AP10 position indicator ensures that product and size changeovers are performed safely and ergonomically. Setpoints, actual position values and the positioning status are exchanged with the machine control system, making manual spindle adjustment a monitored process. The AP10S version with an externally connectable magnetic sensor can even measure and display linear positions with a precision of +/- 35 µm. This makes operator guidance and process monitoring extremely easy to implement for both linear slides and threaded spindles. One significant new element of the AP10 is the inverted backlit LCD display. The backlighting ensures that the position values are easily legible, even in places that are difficult to see in or in low light conditions. In addition to the directional arrows on the LCD, the AP10 position indicator also provides clear visual user guidance via two dual-color status LEDs. These not only signal the positioning status (InPos or OutPos) but also indicate the required rotational direction for direct access to the desired point.
All-in-one solution for confined installation spaces
Even if the axle spacing is just 37 mm, there is still ample room for two AG03/1 drives to work unobstructed in any way, which makes them ideal for use with axles that are very close to each other. The compact housing of the actuator, with a height of only 80 mm, integrates the position measuring system, all the electronic control equipment, and the IO-Link interface. Here, the absolute magnetic measuring system, with its 1,600 steps per revolution, provides position values with a high resolution – in fact, this data is provided over the entire travel path of ±6,250 revolutions. Reference movements upon drive startup are now a thing of the past. Furthermore, the magnetic measuring system has proven to be resistant to dirt accumulation, moisture, shock, and vibrations.
Easy mounting with a hollow shaft
Just like all other Siko position indicators, the AP10 and AG03/1 also feature a hollow shaft, guaranteeing the easiest assembly possible for standard adjustable axles. The size and distance dimensions of the torque support ensure installation compatibility with the world's best-selling Siko meter DA09S. This means that it is possible to switch from manual adjustment with a mechanical position indicator to monitored size changeover or to full automation without changing the machine frame. Due to the high protection class of IP65 and a hollow shaft made of stainless steel, the AP10 and AG03/1 are also suitable for applications in the food industry, beverage production or the pharmaceutical sector.
3D Vision Pro support


The alternative 3D PluraView
In April of 2019 Nvidia discontinued driver support for 3D Vision Pro technology with Nvidia GPUs, which delivered the Nvidia 3D Vision Kit with active shutter glasses, and 3D Vision-ready monitors for stereoscopic images for gamers, film fans and photographers. However, the 3D Vision Pro and Quadro graphics solutions are also supported by a variety of professional applications, e.g. Siemens NX, Adobe Software, Autodesk CAx, Dassault Systems, Agi, DA / TEM, Intergraph, Erdas and Landmark. Now, Nvidia has signaled that the support for 3D Vision will be completed soon.
With the termination of 3D Vision Pro, there is an increasing demand for high-quality visualization solutions in the ever-growing professional 3D / VR market. Schneider Digital meets this with its innovative, passive stereo monitor series 3D PluraView.
The flicker-free reference: the stereo monitor 3D PluraView
The 3D PluraView from Schneider Digital is the passive 3D stereo system with the highest user satisfaction and user acceptance of all 3D systems currently on the market. Launched in 2016, the monitor has quickly established itself as a 3D stereo reference in the 4K 10Bit version with a 28 "screen diagonal.
With its eye-friendly stereo appearance, the 3D PluraView is designed for the highest-end 3D stereo professional. Since 2005, with its proven beam splitter technology, it offers the highest quality for stereoscopic display on desktop monitors and ensures a perfect 3d stereo experience with high-resolution visualization in daily continuous use, even in daylight.
Since the PluraView 3D has two screens, there is a separate display for each eye of the user and thus a separate image in full resolution and brilliant brightness. The image separation is done by a passive polarizer glasses. Unlike active systems such as the 3D Vision, the flicker-free monitor is suitable for regular, permanent work, even in 3-shift operation. 3D PluraView – For all professional 3D applications The PluraView 3D stereo monitor is ideal for all stereo software applications in a wide range of industries: GIS, mapping, photogrammetry, oil & gas prospecting, molecular research and design, CGI / 3D video editing, CAD / mechanical engineering, crystallography / Biochemistry, laser scanning / industrial measuring, simulation & VR training, 3D city model visualization archeology, computed tomography and surgical planning.
Any software that supports 3D Vision can also be used with the 3D PluraView stereo monitor. This makes the transition to this proven visualization solution risk-free.
As a low-cost entry-level model, we recommend the 3D PluraView Compact 22 "Full HD for 2,980.00 €. For more information about the 3D PluraView monitor, compatibility, and uses.
Professional advice, solutions and support
Important Information for users of Nvidia Quadro Graphics Solutions: According to Nvidia, the latest driver to support the 3D Vision Pro solution in April 2019 got the identifier 418.XX. All subsequent versions do not provide driver support for the third dimension.This means that any problems that arise with Windows updates could still be resolved by April. From now on, users of 3D-Vision depend on the available driver versions. As an authorized Nvidia partner, we are happy to advise you on the optimal graphics solution, especially for 3D / VR use in your software application. Simply contact us by phone at +49 (8025) 9930-0 or write an e-mail to info@schneider-digital.com.
Injection moulding applications


Automationware benefits from Ball Screws
Automationware, a Italy-based specialist in motion and control technologies, has taken delivery of two large ball screws from NSK that will facilitate the automatic translation of large moulds used in injection moulding machines. The company developed the special ball screws based on its class-leading HTF technology, a popular solution for injection moulding applications around the world.
Located near Venice, Automationware was established in 2002 with engineering expertise spanning the core motion and control technologies found in advanced mechatronics applications. The company's linear axis and electro-cylinder products provide genuine alternatives to hydraulic and pneumatic systems. Proactive and progressive in the marketplace, the business invests heavily in developing new solutions, and recently turned to NSK for assistance with a special project.
Automationware was in the process of developing large electric actuators (cylinders) for the translation of heavy moulds used in injection moulding presses. Destined for machines that stand at over 6m in height, the cylinders produce up to 80kN of force and travel at a velocity of up to 1m/s.
The principal objective was to guarantee that the required force could be applied for 24 hours every working day, for a period of at least two years. Focused on this goal, in March 2018 NSK set about developing two ball screws based on its high-load HTF technology.
HTF stands for High Tough Force, a name that ably reflects the characteristics of these translational drives, which were developed to offer an electromechanical alternative to hydraulic drives. These advanced ball screws allow fast traverse rates (and thus short cycle times) in combination with high precision and extremely high axial forces. Their patented geometry is designed to distribute the axial forces equally over all of the balls. In tandem with separator technology (ball separation), the geometry prevents premature wear and guarantees high reliability.