Sidrive IQ digital platform


Optimized performance into the megawatt range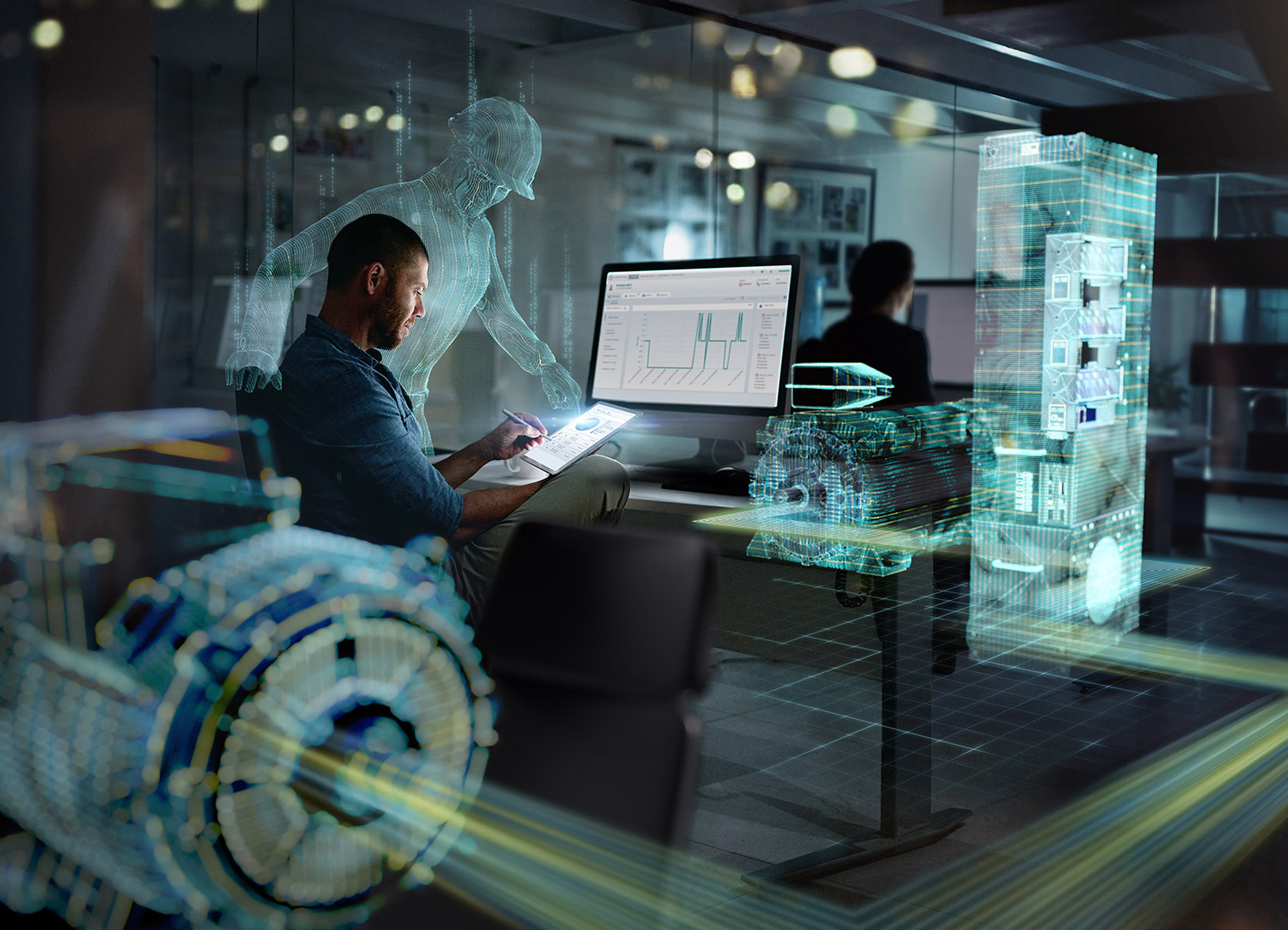 Sidrive IQ from Siemens provides a digital platform enabling the evaluation and utilization of data gathered from drive systems. On the basis of networked drive systems, this cloud-based application is now also available for motors and converters in the medium and high-voltage range. This opens up an array of benefits for plant and machine operators, from optimized maintenance activity and maximum availability to increased productivity, from low outputs through to the megawatt range across the entire life cycle. Connectivity modules such as Simotics Connect 600 and Sinamics Connect 500 enable high-voltage motors and medium-voltage converters to be simply linked up to Sidrive IQ. With the latest generation of its Remote Services and Condition Monitoring Services offered as part of the Sidrive IQ Services portfolio, Siemens is making available corrective measures for fixing faults, preventive maintenance offers and proactive services for optimized performance. The optimized drive systems are used in pumps, fans and compressors across different sectors of industry such as oil and gas, mining, food and beverage, water and wastewater, metals and cement.
At SPS IPC Drives 2018, Siemens will be presenting its Sidrive IQ digital platform based on the example of a low-voltage drive system: Using the new Simotics SD Next Generation motor and the new Sinamics S120 Chassis-2 frequency converter, Siemens will be demonstrating the contribution that Sidrive IQ can make towards minimizing downtimes, optimizing inspection intervals and ultimately maximizing plant performance. The new Simotics HV C air-cooled also comes equipped with Simotics Connect 600.
The company has harnessed the advances achieved in the Internet of Things (IoT), sensor technology, cloud computing, analytics, domain competence and cyber security to enable these innovations along the entire value chain. The upgraded version now also allows the simple, standardized connection of high-voltage motors such as Simotics HV C and medium-voltage converters such as Sinamics GM150 or Sinamics Perfect Harmony GH180 to Sidrive IQ. This requires the use of the Sinamics Connect 500 or Simotics Connect 600 connectivity modules.
Customized digital expert support with Sidrive IQ services
Digital Check enables customers to benefit from a digital concept tailored precisely to their requirements. Based on this concept, Connect Package combines all the services required for the implementation of a digital infrastructure. Expert Assistance and Expert Diagnostics are new features added for the medium and high-voltage ranges, which enable Siemens to now offer cloud-based and expert-based data analysis. With the aid of Expert Diagnostics, service experts are able to continuously monitor connected components and so minimize unscheduled downtimes. If any vulnerability is detected in the drive system, a direct and comprehensive notification is sent to the customer. Expert reports are also drawn up containing a detailed condition assessment and service recommendations. If an unforeseen error occurs, Siemens also offers scope for direct remote support with its Expert Assistance service. In this event, the expert team is automatically informed over MindSphere, the cloud-based open Internet of Things (IoT) operating system from Siemens, and gets in touch with the customer to fix the fault as quickly as possible.
Setting standards with Industrie 4.0
The spread of digitalization and the resulting networking of data flows are driving increased demand for IoT and cloud solutions. To meet this growing demand, Siemens is upgrading all the key components of its portfolio with digital functions to improve product performance and enable new business models and services. With the development of its Sidrive IQ digital platform for converters and motors, Siemens is fulfilling these requirements and helping improve availability, at the same time enhancing production efficiency and ultimately also productivity.
Siemens at the SPS IPC Drives 2018: Hall 11
Innovative functions simplify safety approval


New hardware and new functions to the TIA Portal
Sinamics Startdrive commissioning software is the perfect tool for integrating drive hardware into the TIA Portal engineering framework. With the latest version Sinamics Startdrive V16, Siemens is expanding the hardware portfolio available on the automation platform. Following on from the integration of the Sinamics S120 multi-axis system, the single-axis version of this high-end servo drive system can now also be engineered in the TIA Portal. The drive control of the recently introduced Simatic Drive Controller is now also integrated in the commissioning tool. Drive-CliQ hubs, which increase the number of interfaces in the Sinamics S120 multi-axis group, as well as other add-on components, are now integrated in the TIA Portal, perfectly completing this hardware update.
Sinamics Startdrive V16 also features innovative functions. With the introduction of expertise protection for Sinamics S120, the parameterization of drives can be protected from unauthorized changes and read attempts. When it comes to safety technology, a wide range of safety functions is available thanks to Sinamics Safety Integrated. With Sinamics Startdrive, these functions can be parameterized and validated in a simple, user-friendly process. The safety approval test integrated in Startdrive leads users through the approval process step by step and then creates a standard-compliant test record.
The Sinamics Startdrive commissioning tool is a key component for the automation of machines. Convenient interaction between the drive and controller makes it easy to complete the project engineering and commissioning of Motion Control applications with Simatic controllers and Sinamics drives. Sinamics Startdrive V16 takes drives in automation to the next level in terms of seamless operation, flexibility and user-friendliness.
Twin screw pump


Cooperation between Gea and Itt Bornemann
The pump experts from Gea and Itt Bornemann are now working together to manufacture and market a twin screw pump for the food, beverage and pharmaceutical industries. While Gea has so far concentrated primarily on hygienic centrifugal pumps, the cooperation now means that a joint model of a positive displacement pump is ready for introduction: Gea Hilge Novatwin. The Gea Hilge Novatwin is a flexible twin screw pump based on the proven Bornemann design that meets the highest hygienic requirements for gentle product handling and clean-in-place (CIP) with just one pump. The new Gea Hilge Novatwin will be available in 6 sizes and will be part of the Gea Varipump line, which stands for pumps with a high degree of flexibility for optimum adaptation to individual customer requirements.
Consistent expansion of hygienic pump portfolio
The addition of this future-oriented pump type to the portfolio in addition to the established rotary lobe pump Gea Hilge Novalobe will significantly strengthen Gea's position in the field of positive displacement pumps. Gea will thus be in an even better position to cover the various customer requirements with the ideal pump solution from its own broad product portfolio.
Pump and clean with one pump
Twin screw pumps are equipped with two screws, which intermesh without contact and together with the pump housing form a closed chamber. The screws rotate and thus move the medium along the screw axis from the suction to the discharge side.
Like positive displacement pumps in general, twin screw pumps stand for the gentle conveyance of chunky, shear-sensitive and abrasive media. They offer exceptionally high flexibility for pumping liquids of various viscosities.
"The special feature of the twin screw pump is its dual function, because twin screw pumps can not only pump the actual product but can also function as a CIP pump at the same time, as they can operate at very high speeds. This saves the use of an additional CIP pump compared to alternative solutions," explains Product Manager Ulla Främke from Gea.
With Gea and Bornemann two strong partners work together
"This cooperation with Bornemann is a real win-win situation for both partners," says Bastian Tolle, head of product management at the Gea Flow Components business unit. "The twin screw pumps we see in the market today are mostly derived from Bornemann's original development. The expertise is impressive, we can learn a lot from such a partner and from the experience gained over decades in the application of this special positive displacement pump".
"We will benefit from Gea's strong distribution network", adds Bornemann's Managing Director Markus
Schwarte. "Gea has a broad customer base, a large network and an excellent reputation among decision-makers, particularly in the food sector and in local markets such as the USA. We want to benefit from the synergy between the leading technology and the first-class global network in the food industry".
Industrial Ethernet Solutions


Low-Latency PHY Technology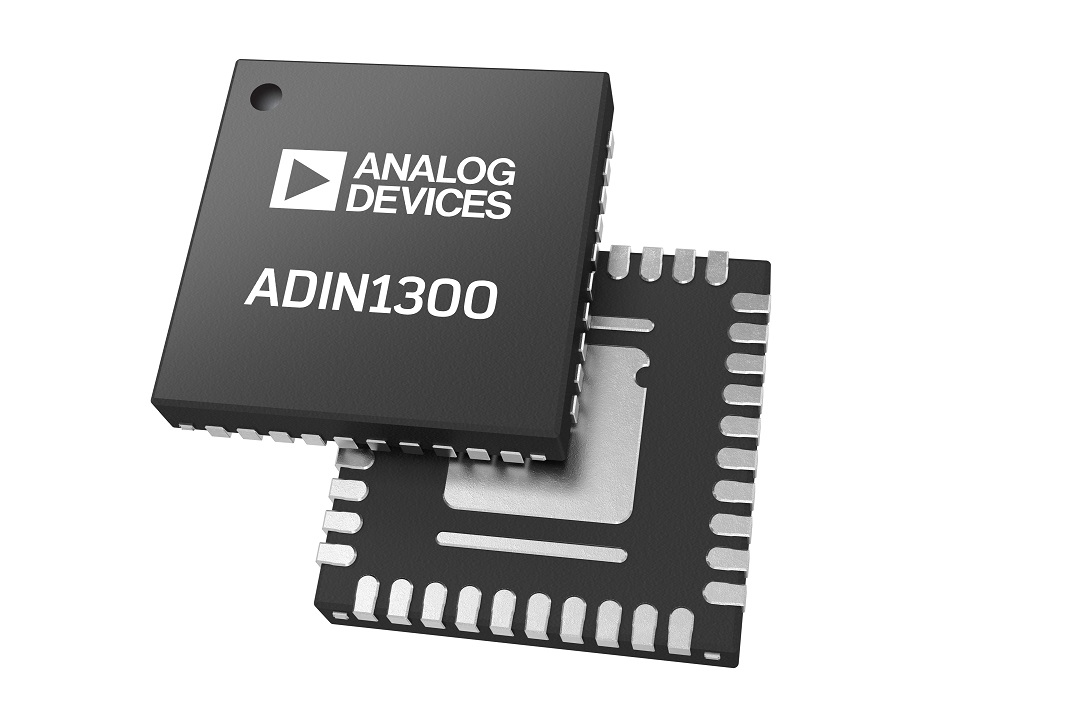 Analog Devices (ADI) announces the release of new robust, industrial Ethernet physical layer (PHY) products to help manufacturers address key Industry 4.0 and smart factory communication challenges surrounding data integration, synchronization, edge connectivity, and system interoperability. The ADIN1300 is a low-power, single port Ethernet transceiver with industry leading power and latency specifications primarily designed for time-critical industrial Ethernet applications up to Gigabit speeds. As industrial automation increases the adoption of Ethernet and pushes the boundaries of data rates, the ADIN1300 is designed to operate reliably in harsh industrial conditions over extended ambient temperature ranges.
Analog Devices will showcase the ADIN1300 and other industrial Ethernet solutions at the Smart Productions Solutions (SPS) exhibition November 26 – 28, 2019 in Nuremberg, Germany. ADIN1300 is the latest technology developed for the ADI Chronous™ Ethernet portfolio, ADI's newly expanded portfolio of industrial Ethernet solutions. ADI Chronous Ethernet solutions – which include the ADIN1200, a low-power single port 10/100 robust Ethernet PHY for today's real time industrial Ethernet networks – encompass a range of advanced industrial Ethernet technologies from real-time Ethernet switches, PHY transceivers and protocol processing to complete network interface products.
"Within industrial environments, even one millisecond of communications timing being off can produce a negative, expensive impact on quality, throughput, and efficiency for manufacturers," said Brendan O'Dowd, General Manager of the Industrial Automation Business Unit for Analog Devices. "ADIN1300 ensures real time, robust industrial communications by targeting important challenges of deploying industrial Ethernet connectivity with low latency in a smaller package size to reduce industrial Ethernet network cycle times. We are also excited to unveil our updated suite of ADI Chronous Ethernet solutions to set new standards for industrial Ethernet speed, scalability, and range of multi-protocol support, all backed by ADI's commitment to long life cycle product availability and support."
ADI will be exhibiting ADIN1300 and other ADI Chronous Ethernet portfolio solutions at SPS November 26 – 28, 2019 in Nuremberg, Germany at the NurnbergMesse GmBH event center (Booth #5.129).