Optimized impeller design


Next Generation of Mechanical Vapor Recompression
TLT-Turbo , a ventilation fans and systems manufacturer, has launched a new range of mechanical vapor recompression fans, with ceramic hybrid bearings that provide an exceptionally long operational lifespan. Integrating the latest ventilation technologies, this fan offers numerous advantages regarding performance efficiency, minimal maintenance and high reliability.
The TLT-Turbo fan for mechanical vapor recompression (MVR) has been in development since 2012 since the first case studies were carried out. Following intensive discussions with clients, TLT-Turbo established that a need existed for low maintenance MVR fans. This was followed by four years of intensive research, product testing and consultations with clients. The first MVR fans were rolled out in 2016 while continual product improvement has remained a focus area for TLT-Turbo.
"MVR fans have been available on the market for some time but instead of just following the trend, TLT-Turbo took time to ensure that we came to the market with a completely new, state of the art MVR solution," says Mario Schmidt, Head of TLT-Turbo's Vapor Fans business segment. "And we continue to have on-going discussions and feedback exchanges with our clients worldwide in order to continuously adapt and improve our MVR offering to their requirements."
According to Schmidt, the features of TLT-Turbo's MVR fan, such as the lower maintenance requirements and the introduction of hybrid ceramic bearings, underscores their commitment to developing products in close alignment to their clients and their needs, and also speaks to TLT-Turbo's key objective for continual innovation.
The implementation of hybrid ceramic bearings is a key differentiator of the TLT-Turbo MVR fan. "Our clients are amazed by the possibility of a hybrid bearing operating at high speed without circulating oil. Conventional roller bearings do not provide the required support for operating the fan in a broad operational speed range without running into harmful resonance frequencies (under critical operation). Thanks to continuous enhancement in recent years, especially through the use of ceramic materials, more effective roller bearings are available today. The use of hybrid bearings with steel rings combined with ceramic rollers has been established in many industrial applications and in the case of the TLT-Turbo MVR fan, hybrid ceramic bearings mean significantly lower maintenance requirements and better operational performance," Schmidt explains.
The hybrid ceramic bearings used in TLT-Turbo MVR fans are life time greased and can be operated for up to 10 years without requiring maintenance. To enhance this benefit for clients, TLT-Turbo introduced an additional device to the fan's design that allows for the bearing to be re-greased from the outside in order to further simplify maintenance and to increase the fans' service life.
High motor speeds, a wide range of optimized impellers and the allowance for high temperature and pressure increases complement the lifetime greased hybrid ceramic bearings to ensure that clients benefit from the enhanced performance and efficiency that they have come to expect from TLT-Turbo products. These factors allow for operation of the fan below critical speed which ensures both reliability and safe operation.
"Reliability and safety are key concerns for our clients and TLT-Turbo has addressed this in the MVR fan by using high quality components. Thanks to the use of the hybrid bearings, no oil supply or oil pump is necessary which means that no oil can contaminate the product. In addition to this, the fan also features temperature and vibration monitoring and remote monitoring of the bearing is possible as well. Our entire manufacturing process is carried out according to all major quality standards, including DIN ISO 9001," says Schmidt.
The TLT-Turbo MVR fan is suited to numerous applications in the chemical, pharmaceutical, waste water treatment, and the organic natural product production industries as well as in the food and beverage process and manufacturing sectors. "Since 2018, we have received 35 orders for MVR fans across the globe with one installation completed. Thus far, the feedback from clients has been very positive. We have received reports that the bearing temperature is considerable lower than that of other comparable MVR fans and that our fan runs with less vibration than other MVR fans," Schmidt affirms.
"Overall, TLT-Turbo's objective was to offer our clients a mechanical vapor recompression solution that would outperform what was currently available on the market. We have delivered a fan that requires less maintenance while providing high efficiency and reliability. This is exactly what clients would expect from TLT-Turbo as a world class fan manufacturer and global service organization."
Advanced design


Modern dairy processing plant
Gea has worked with Almarai Company in Saudi Arabia to build the nation's largest and most modern dairy processing facility. The new plant at Al Kharj includes multiple production lines for a wide range of milk and yoghurt products. It has the capacity to process two million liters of milk a day.  The project has already been successfully completed and the plant is in operation.
Key features of the plant at Al Kharj include separators with integrated direct drive that have fewer moving parts and so reduce friction losses. They also use asynchronous motors that are extremely robust for maximum machine availability. To reduce the environmental impact and energy consumption, the plant is equipped with the firm's latest energy recovery technology.
Furthermore, the company has built in the latest control systems and operating protocols in line with Industry 4.0.  These include the interoperability of the equipment, the transparency of information, autonomous decision making where possible and the highest level of technical assistance. Gea's Management Execution System captures data such as KPIs and utilization levels to allow comprehensive monitoring of the entire plant operations and energy usage. The plant also features end-to-end track and trace for ultimate quality control and a plant-wide uninterruptable power supply.
Flexible research and development work


Laboratory extruder for food applications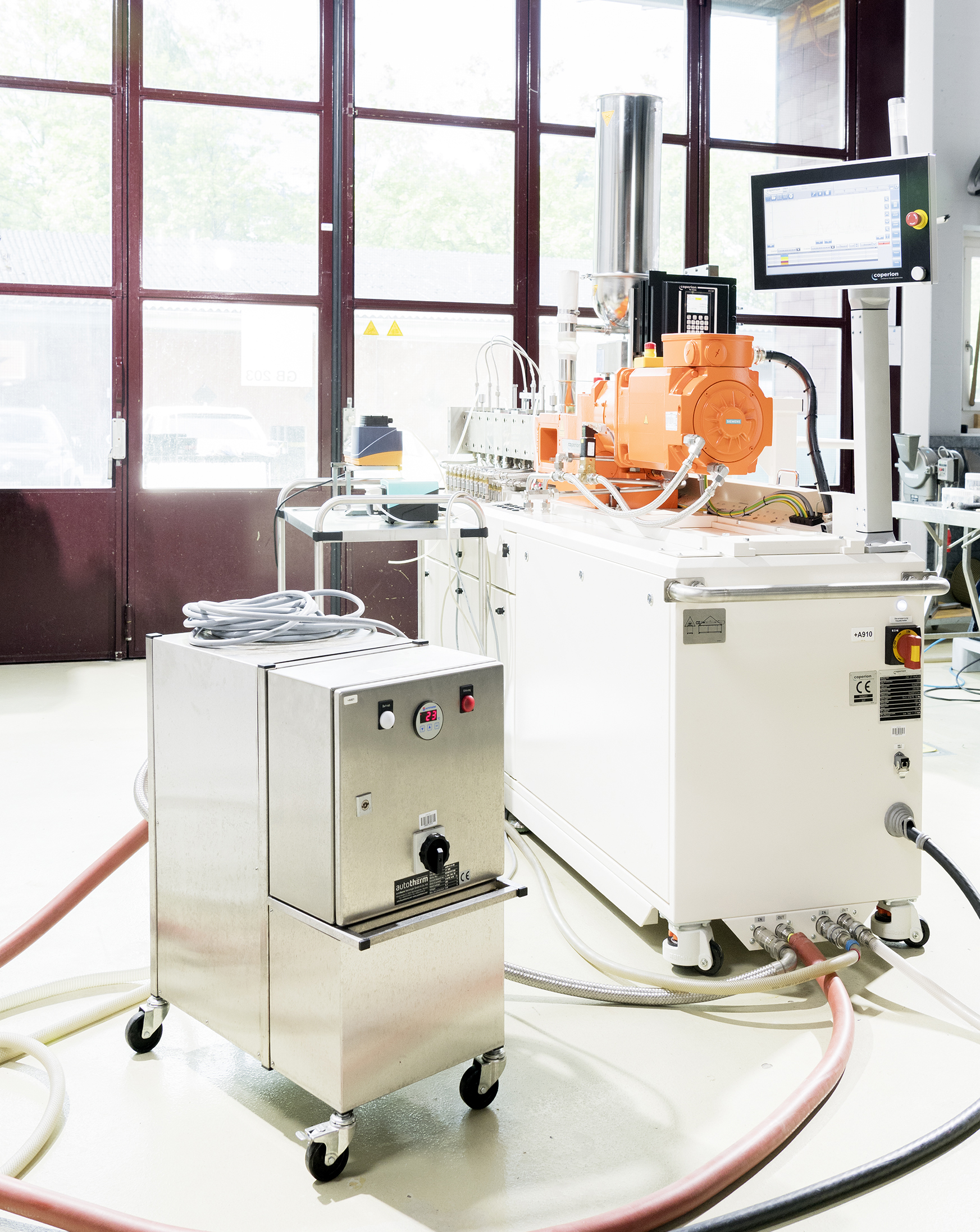 Coperion supplied a ZSK 27 Mv PLUS twin screw extruder to the Institute for Food and Beverage Innovation at Zurich University of Applied Sciences (ZHAW) in Wädenswil last year. With a screw diameter of 27 mm, the Coperion ZSK 27 Mv PLUS extruder satisfies the key food production regulations and has an impressively compact size. It is ideal for research projects and formulation development, as well as small batch production. With its specific torque of 10.6 Nm /cm3 and a maximum screw speed of 1,800 rpm, the extruder can achieve product throughput rates of 10 to 100 kg/h depending on the product. It is easy to scale the extruder up to other sizes. The food extruder supplied comes with a number of options that allow highly flexible use and convenient handling. The scope of supply also includes a KT 20 gravimetric twin screw feeder from Coperion K-Tron, which is ideal for accurately feeding free flowing to flooding powders and flakes as well as other difficult, poor flowing bulk materials.
The ZHAW uses its ZSK 27 Mv PLUS extruder for a wide range of research and development work, so it must be versatile and perform in a variety of applications. The company designed the extruder for exactly these requirements and equipped it with many quick-change features and devices for flexible processing set-up. For example, the solid feeder can be mounted to two different barrels of the process section. This allows processes to be extended or shortened easily and customized to the requirements of each individual product. Cereals and snacks are extruded with short process lengths, while pulping the by-products of the beverage industry such as grape pulp requires a longer residence time and therefore a longer process section. Process borings also make it possible to add liquids and measure the temperature in different barrels. A peristaltic pump with various hoses and nozzles enables liquids of different viscosities to be added.
Flexible extruder structure for wide range of processes
In order to test different processes and product developments, the company delivered additional screw elements with the extruder. Different screw configurations can cover a broad range of possible applications. Everything from research and development work on simple processes such as direct expanded cereals to complex processes such as the extraction of moist pressing residue or mixing it into a starch or protein matrix can be done using the same extruder. And the company also provides process technology support to ZHAW for developing new formulations and products.
Xelum R&D


From the lab to continuous production
At Achema 2018, Bosch Packaging Technology unveiled its latest R&D device for the continuous production of oral solid dosage (OSD) forms. The platform ensures a short time to market and optimum dosing of APIs. "The new laboratory device is based on our Xelum production platform that we presented last year," says Fritz-Martin Scholz, product manager at the Bosch subsidiary Hüttlin. "The separated process steps of batch production take place one after the other and without interruption. This leads to shorter cycle times, lower production costs and high flexibility." With the Xelum R&D, the company offers a platform that offers an ideal start to continuous manufacturing.
Precise and reliable dosing
As opposed to the common complex mass flow rate, excipients and active ingredients are dosed as a discrete mass in the Xelum R&D. This makes it possible to dose even smallest amounts of APIs of less than one percent. The system doses, mixes and granulates individual packages, so-called X-keys, which continuously run through the process chain and are removed successively from the machine as packages into bins. "This way we reduce not only process complexity, but also the system's failure susceptibility, while increasing both accuracy and quality of the end product. Moreover, the product is traceable at all times," says Scholz. Depending on requirements, up to four loss-in-weight feeders can be used.
The benefits of the fluid bed
Current continuous production systems for wet granulation mostly use twin screw granulators. The Xelum system relies on fluid bed processors – based on a proven technology developed by Hüttlin. In the fluid bed, granulation and drying take place in the same process chamber. "This eliminates the need to transfer wet granules, which in turn has a positive effect on the system's reliability," Scholz emphasizes. Pharmaceutical manufacturers obtain granulates with the desired characteristics – including unimodal particle size distribution, as well as excellent flow and tableting properties combined with high production yields.