La Huerta Grows with Key Technology


New Vibratory Shakers
La Huerta, processors of frozen fruits and vegetables, added their third production line in 2016 and their fifth automated packaging line in September 2018. Looking for world-class performance, including superior sanitation and rugged reliability, they've turned to Key Technology many times along the way. Now, Key's Iso-Flo vibratory shakers can be found on every processing and packaging line at La Huerta.
"Every year, the demand for food safety gets stricter, with higher standards for microbiology and sanitation and more requests for audits. In this environment, our relentless focus on quality sets us apart," said Carlos Gutierrez, Plant Manager at La Huerta. "Our equipment from Key helps us achieve our high product quality objectives at the same time it increases our efficiencies by maximizing uptime and reducing labor."
La Huerta installed Key's Veg-Mix in 2006, followed by an Iso-Flo dewatering shaker and an Iso-Flo fines removal shaker the next year. Since then, they've installed two integrated packaging distribution systems that each feature several Iso-Flo Smooth-Cycle™ scale-feed conveyors with pneumatic slide gates and an Iso-Flo collection shaker. They added another dewatering shaker in 2016 and a bar-style size grader, also based on Key's versatile Iso-Flo design, in 2018.
"The quality of Key's equipment is far better than any competitive solution that we've used. As our other shakers reach the end of their life, we plan to replace them with Iso-Flo," noted Luis Picazo, Project and Maintenance Manager at La Huerta. "Key customizes each of these shakers for our processes so they work perfectly, and they're designed to be easy to clean and hygienic. The support we've received from Key has also been great. Whenever we have questions or need anything, they're very responsive."
Iso-Flo shakers have always been recognized for sanitation and reliability, and Key is continuously working to improve their designs with new features that exceed rising food safety standards. In addition to stainless steel construction, smooth beds and durable StrongArm spring arms that have helped define Key's vibratory shakers over the years, La Huerta's newer Iso-Flo shakers also feature 100 percent continuous welds, no-pinch slide gates, stainless steel motors, self-draining surfaces and the elimination of laminations, which can trap bacteria. Every element of every Key system is designed for performance and sanitation.
Featuring independent frame-mounted drives and spring arm assemblies, Iso-Flo shakers distribute energy equally to all parts of the shaker bed in a controlled natural-frequency operation. This operating principle minimizes the vibration that is transferred to structural support and the floor, which cuts the cost of installation, reduces energy use and offers quiet operation. Key's contoured StrongArm spring arms, made with propriety composite material, offer an operational life that is up to twice the life of traditional, straight spring arms. The stainless steel Iso-Drive adds to Iso-Flo's extreme dependability, reducing maintenance and improving performance and uptime.
"La Huerta has been in the 'healthy food business' since we were founded by Jose Arteaga Campos in 1957. Today, under the leadership of his son, Jose Arteaga Niepmann, we remain true to our original principles of respect, integrity, responsibility and teamwork while we evolve," said Katrin Derntl, International Sales Manager at La Huerta. "After growing our sales volume on average 10 percent annually over the last five years, we're producing more than 60,000 metric tons of finished product a year and exporting more than 40 percent to 11 countries, including the U.S., Canada and Japan, where customers have the highest quality standards. Our products go to market under our own brand and under private label customers' brand names, as well. In Mexico, the La Huerta brand is by far the market leader in the frozen vegetable category with over 70% of market share in retail."
La Huerta installed Key's Veg-Mix on their packaging lines to produce bags of mixed fruits or vegetables. This system receives each product in a separate infeed hopper, then de-clusters, meters, mixes and conveys the mixed product to packaging. The hopper design minimizes product 'sticking' to eliminate the buildup of thawed product. A long-span frame and integrated Iso-Flo collection conveyors allow for minimal supports to the floor, which makes the system easy to install and easy to clean. The master override adjusts total line flow while maintaining preset mix ratios. Independent, 'on-the-fly' adjustment of the Cluster Breaker and Vari-Feeder enable quick, reliable change of product mix and metering. "Our Veg-Mix ensures the right amount of each product in the mix so we're sure to stay within specifications," explained Picazo.
The two Iso-Flo packaging distribution lines at La Huerta feature several Iso-Flo Smooth-Cycle shakers with no-pinch sliding gates. One distribution system feeds product to three multi-head weighers that each feed a VFFS machine. The other feeds semi-automated packaging stations. Designed specifically for feeding applications, Smooth Cycle conveyors include controls that manage the flow of the product on the shaker, speeding up and slowing down as needed, to eliminate the mechanical stop/start transients common in these applications.
Fachpack 2019


New dimension in pack labelling performance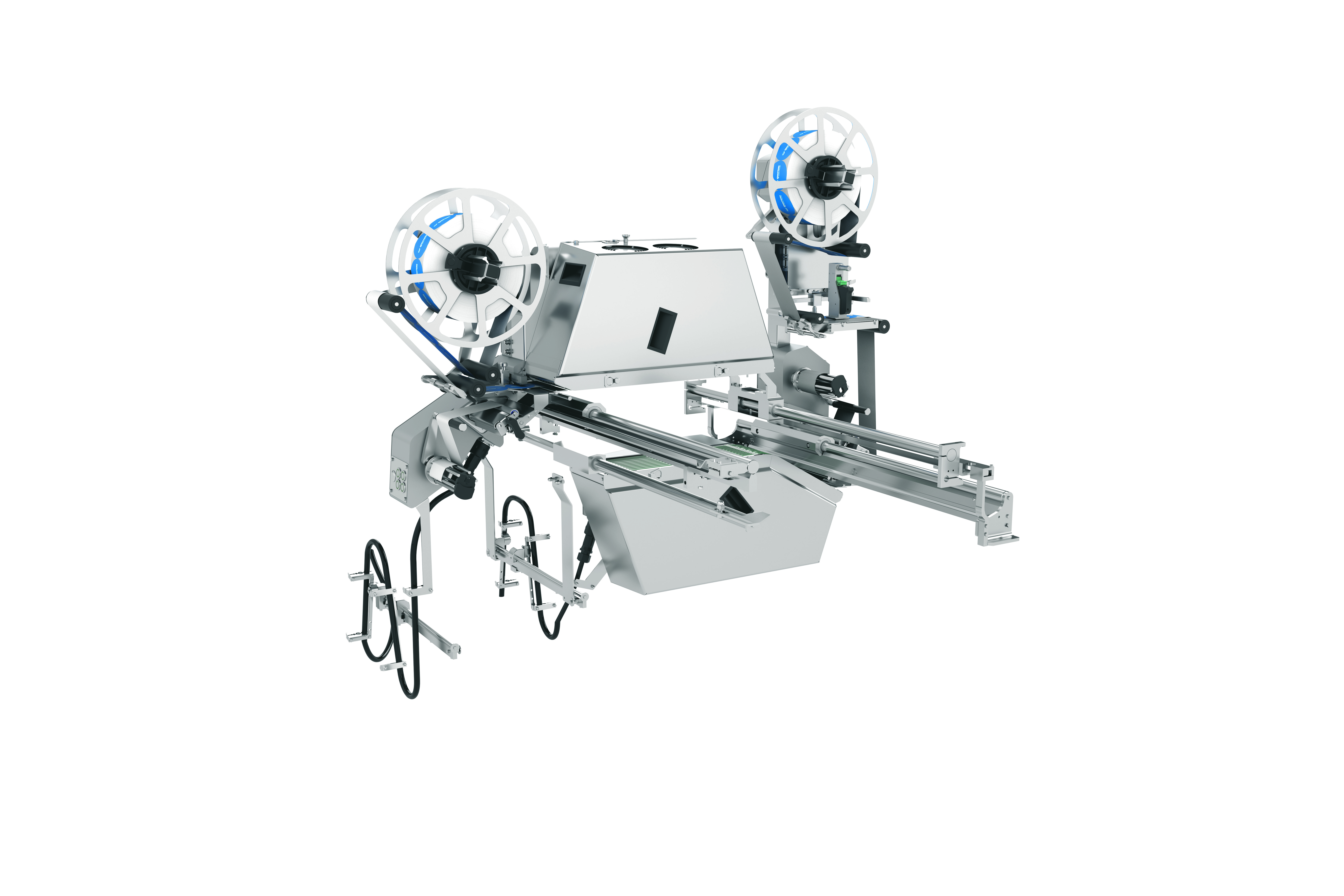 At Fachpack 2019 Multivac will be presenting a new generation of cross web labellers. In addition to improved performance and operating reliability, one of the features of the new models compared to the previous labelling solutions are their lower life cycle costs. The use of state-of-the-art communication standards such as IO-link and EtherCAT ensures that they are equipped for the future. This enables additional sensor systems for example to be used, such as those for labelling inspection or predictive maintenance.
The new cross web labellers are process-controlled. Individual movements are overlaid as much as possible, so that an optimised and therefore significantly faster labelling process is achieved. Servo drives on all axes, as well as the virtually continuous operation of the longitudinal shift unit, ensure that the cycle output is increased still further.
Higher performance, compact design
The new labellers have been fitted with the latest generation of label dispensers, which also contribute to a higher cycle output thanks to their sophisticated servo motor technology. The use of servo drives also offers the benefit, that no reference runs have to be performed before the labelling operation is begun – and this means that set-up and conversion times are reduced, so that the labellers are operational more rapidly.
The robust construction of the new machine generation also makes a contribution to increasing the cycle output. The axis of the longitudinal shift unit is for example designed with even greater torsional rigidity than previously. The machines operate with significantly less vibration, and their travel range can be completed in a shorter time. The simplified construction with its fewer number of deflection rollers accelerates label roll change and makes it even easier, so that downtime is also reduced. In addition to these benefits, the more compact design also means a reduction in space requirement.
Greater ease of operation, high level of efficiency
The new machine generation from Multivac also sets the benchmark in the market for its ease of operation. Menu guidance has been optimised and equipped with an integrated wizard function. The system only needs the required number of cycles to be entered – after that all the relevant speed and acceleration parameters are adjusted automatically. The Quick Control panel is also integrated in the labeller housing, so that the operator has less distance to cover.
Removal of the vacuum box hood and access to the pusher plate set is quick and easy, and this can be performed without any tools. The necessary service work can be carried out in a user-friendly way and above all very rapidly. The reduction in time and effort increases efficiency and makes itself felt immediately in the life cycle costs.
Maximum reliability, high level of availability
Particular importance was attached to machine reliability, especially in view of the high cycle speeds. The constant monitoring of travel speeds and torque ensures that the highest level of process and operating reliability is achieved even at maximum output.
Thanks to targeted minimisation of potential faults, Multivac has significantly increased the reliability and availability of the labelling system. The reduction in moving parts and an improvement in the cable feed also make a significant contribution.
Equipped for the future
The new cross web labellers are already designed for the demands of tomorrow. State-of-the-art communication standards such as IO-link and EtherCAT enable the machines to be equipped with the latest sensor technology. Additional solutions for labelling inspection can also be easily retrofitted, since the corresponding interfaces are already integrated. And last but not least, the labellers are designed for predictive maintenance.
Multivac at the Fachpack 2019: Hall 1, Stand 221
Environmental impact study


Cartons in comparison with reusable glass bottles
A state-of-the-art environmental lifecycle assessment (LCA) has confirmed that single-use beverage cartons compare favourably with reusable glass bottles – and outperform single-use PET bottles – across the fresh milk, juice and UHT milk market segments.
The results of the critically reviewed LCA study are based on an in-depth analysis of the German beverage packaging market, with expert review and oversight by the German Federal Environment Agency (UBA). The conclusions are globally relevant and support the findings of previous critically reviewed LCAs that beverage cartons offer environmental advantages to alternative forms of packaging for liquid dairy and juices.
SIG Chief Executive Officer Rolf Stangl commented: "The latest LCA confirms once again that beverage cartons are the preferred environmental choice for milk and juice packaging. The high proportion of renewable content in single-use beverage cartons puts them on a par even with glass bottles that can be reused multiple times. These results are based on standard beverage cartons that are around 75% renewable and SIG already offers customers innovative products that are linked to up to 100% renewable content."
Rigorous assessments for informed decision-making
SIG is a member of the German Beverage Carton Association FKN, which commissioned the LCA study to support informed decisions on packaging by food producers, consumers and policymakers based on a robust scientific comparison of environmental impact.
The LCA was conducted by the Institute for Energy and Environmental Research (IFEU) in accordance with the recognised ISO 14040/44 international standards. It is the first study to meet the new requirements stipulated by the German Federal Environment Agency (UBA) for beverage packaging life cycle assessments in Germany.
Benedikt Kauertz, Scientific Director at IFEU said: "IFEU supported the UBA in developing its minimum requirements for LCAs for beverage packaging. The study commissioned by FKN is the first to implement these requirements and adopt such a robust approach. The results show that beverage cartons for milk and juice are advantageous compared with single use PET bottles. For milk, beverage cartons are even better than the reference system, reusable glass bottles, and for juices beverage cartons perform on a par with the reference system. For UHT milk, where no reusable packaging option is available, beverage cartons perform better than the single-use PET bottle alternative."
Environmental advantages of cartons confirmed
Reusable packaging options, such as glass bottles that are returned to food or beverage producers to be used again, are often assumed to be the best option for the environment. That is why reusable options, where available for a particular market, are used as the reference system for comparison.
Based on an in-depth analysis of all three market segments – fresh milk, juices and UHT milk – the beverage carton performs at least as well, or in the case of fresh milk, even better than reusable glass bottles. The latest study also confirms that both beverage cartons and reusable glass bottles outperform PET bottles for fresh milk, juice and UHT milk. Where no re-usable system is installed, beverage cartons are clearly advantageous.
Cartons perform significantly better than the alternatives on climate change – the category given highest ecological priority by the UBA. The climate impact results for cartons are 78% lower than reusable glass bottles for fresh milk, 37% lower than reusable glass bottles for fruit juices and 71% lower than PET bottles for UHT milk (for which no reusable options are available).
The high proportion of renewable material used to make beverage cartons – 75% on average – contributes to their strong environmental performance, together with their highly efficient design which reduces impacts from transport and distribution. The favourable results are underpinned by the industry's commitment to sourcing from responsibly-managed forests.
LCAs support responsible product innovation
LCA is fundamental to SIG's robust approach to product responsibility and informs the focus of the company's product innovation. This latest study confirms the important contribution that renewable materials make to the excellent environmental performance of beverage cartons and SIG is working to increase the proportion of renewable content in its packs. SIG's Eco Plus pack is 82% renewable and its Signature Pack 100 is the only aseptic beverage carton to be linked to 100% forest-based materials, using an innovative mass balance approach. These innovations are part of SIG's commitment to go Way Beyond Good by putting more into society and the environment than it takes out.
Management change


Multivac sets a course for the future
After more than 18 years as CEO of the Multivac Group, Hans-Joachim Boekstegers will hand over the business on 1 January 2020 to his director colleagues, Christian Traumann and Guido Spix, and bow out of the company. Mr Traumann and Mr Spix will manage the company jointly in future.
Hans-Joachim Boekstegers joined the Multivac Group as CEO on 1 April 2001 and has since played a determining role in driving forward the successful development of the company. Mr Boekstegers was responsible in particular for the systematic expansion of the product portfolio and Multivac's sales and service network. With 85 of its own subsidiaries, Multivac is today one of the leading manufacturers worldwide of packaging and processing solutions. During this time the company's turnover was more than quadrupled, reaching some 1.1 billion euros at the end of 2018, and the number of employees rose from 1,600 to around 5,900.
With effect from 1 January 2020 Christian Traumann and Guido Spix will take up dual leadership of the Multivac Group. Mr Traumann will assume responsibility for Sales and Finance, while Mr Spix will become responsible for Technology and Production.
Christian Traumann had been Commercial Head of the Multivac Group since the beginning of 2002, before being appointed as Director and CFO for the Group in August 2008. Guido Spix joined the company as Director in March 2009 and has since assumed the position of CTO/COO.
In order to ensure that there is continuity in Multivac's strategic direction, the course is already being set with an extended planning phase for the transfer of responsibilities to Mr Boekstegers's successors. Mr Boekstegers will continue until the end of the year to guide Multivac's destiny as usual, and he will remain on friendly terms with the company after this period.