Quick liquid extraction


New tube format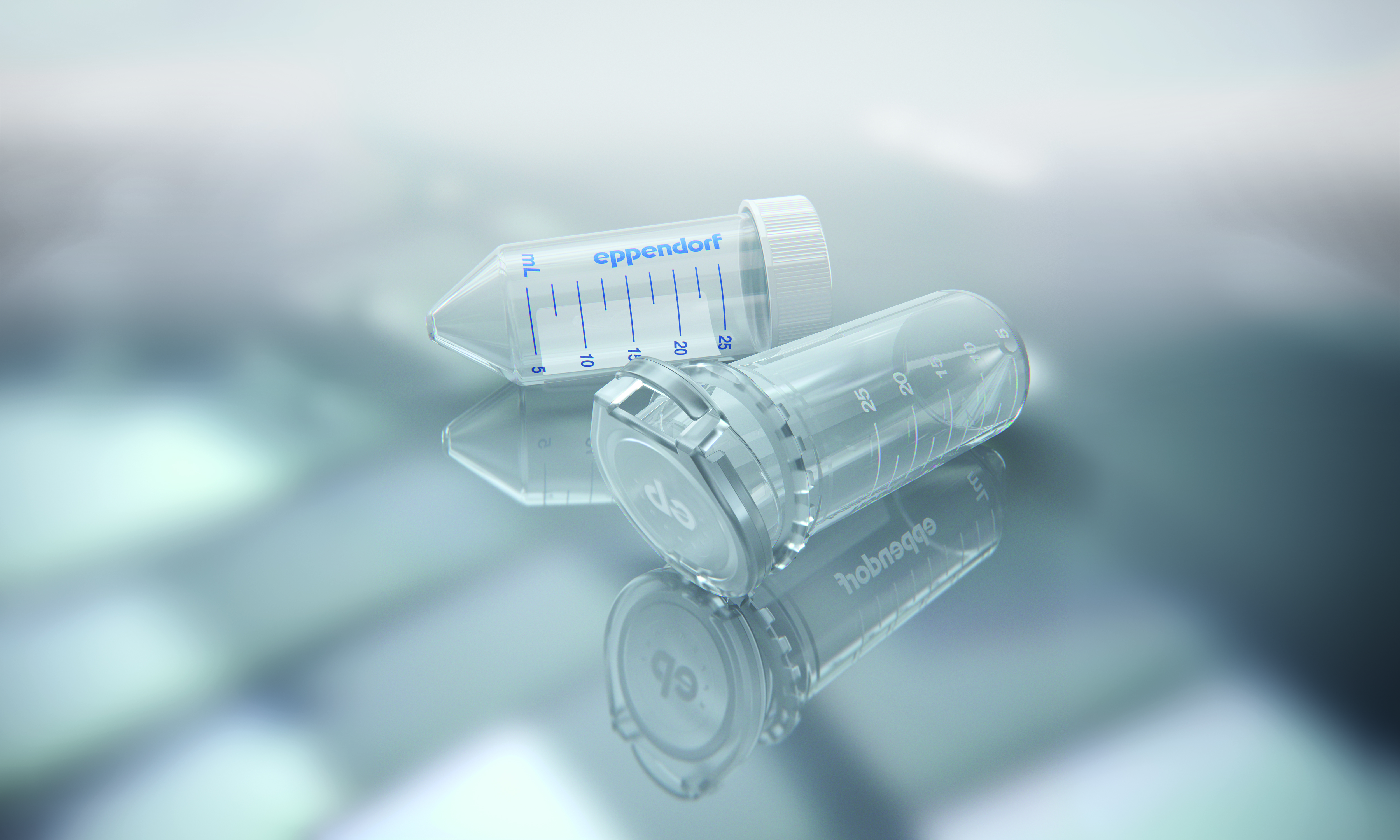 The new conical tube format of 25 mL, developed by the inventor of the "Eppi" tube, will advance the world of conical tubes. Working with sample volumes between 15 mL and 25 mL – often used in bacterial/microorganism culture as well as during purification of plasmid DNA/biomolecules, in cell culture or during assay preparation, leaves no option to researchers but to work with a traditional high-volume tube like the 50 mL conical tube. In recognition of this fact, Eppendorf has developed the Eppendorf Conical Cube 25 mL – available with either the new, patented SnapTec cap or with screw cap.
These conical tubes have the same diameter as conventional 50 mL conical tubes but a ~20 % lower height. This allows space-saving storage, for example in freezers. Additionally, the consumption of valuable raw material is reduced by 26 % for the screw cap 25 mL conical tube and by 20 % for the SnapTec cap 25 mL conical tube compared to a conventional 50 mL tube. Proportionally, laboratory waste of conical tubes will therefore also be reduced.
The wide opening, combined with the lower height, offers easy sample access. When working with low-volume pipettes and tips, the risk of cross-contamination between pipette and tube by touching the inner tube wall is reduced to a minimum. Premium raw materials, without the use of plasticizers and biocides during manufacturing, ensure highest sample integrity and optimal sample and pellet visibility.
The most innovative feature is the patented Snap Tec cap, which is unique within the conical tubes market. This cap is firmly connected to the tube. No need to put the cap on the bench, running the risk that caps from different tubes may become mixed up or contaminated.  The Snap Tec cap allows single-handed opening and closing for quick liquid extraction or addition of sample. This is particularly advantageous in multistep lab protocols.
Of course, the Conical Tubes 25 mL are directly deployable. Straightforward integration into the existing laboratory environment is ensured. Concurrently, Eppendorf provides a full system of components. Adapters for both tube variants to be used in centrifugation rotors for 50 mL conical tubes are available, as well as adapters for Eppendorf Thermo Mixer C and Thermostat C, Tube Holder for Eppendorf Mix Mate, Storage Box, Tube Rack and Single Tube Stand.
Life Science


Bioprocessing Facility of the Future
Merck, a science and technology company, unveiled the next component of its Bio Continuum Platform, the Bio4C Software Suite, creating a first-of-its-kind ecosystem that combines process control, analytics and plant-level automation. This transformative software suite will allow users to look across the entire manufacturing process versus individual operational units, giving biomanufacturers complete process control and deep insights, bringing Bioprocessing 4.0 to the here and now.
"The future of bioprocessing is holistic," said Andrew Bulpin, head of Process Solutions, Life Science, at Merck. "With the launch of our Bio4C Software Suite, Merck is the first supplier to converge advanced process technologies with software, automation and analytics into one ecosystem, bringing us another step closer to making the digitally enabled facility of the future a reality."
Biopharmaceutical companies today are under immense pressure to get products to market faster, with every day of delay costing millions in lost revenue. An emerging solution is the integration of software, automation and analytics into biomanufacturing facilities' operations to intensify biologic production, with a vision toward connected and continuous processing. The biopharmaceutical industry is on a journey to evolve and digitize the next generation of bioprocessing to increase speed and lower costs. Bioprocessing 4.0 signifies this new approach to manufacturing. The Life Science business of Merck has been a key driver of this evolution through its Bio Continuum Platform.
Merck's Bio4C Suite was designed based on the "4C strategy" of its Life Science business: control, connect, collect and collaborate. Control is the basis of everything Merck does to run all of its systems. Connect refers to making digital connections between different process steps and giving that visibility to the entire process. Collect is the ability to gather all data into one place and maintain and validate the integrity of that data. Collaborate is how Merck will deliver these technologies to its customers in real time.
Bio4C ProcessPad, part of the "Collect" dimension of the Bio4C Suite, is a browser-based platform that allows users to acquire, aggregate and analyze data from disparate sources such as equipment, batch records, databases and historians across the bioprocess. The Bio4C ProcessPad automates the data acquisition and analysis tasks, freeing scientists and engineers to minimize the time to decision and action. Merck will roll out further Bio4C Software Suite products and modules throughout 2020 and into the future.
Power Supply Product


Bi-directional DC-DC converter series has extended voltage
TDK Corporation (TSE 6762) announces the introduction of the EZA2500W-32048 TDK-Lambda brand bi-directional DC-DC converter model to its EZA series. The extended high voltage range now covers 260 to 400Vdc and the lower voltage 36 to 65Vdc. The operating temperature has been increased to -10 to +50°C. Double sided protective board coating and long-life dust resistant fans have also been included.
Designed for energy storage systems with rechargeable batteries, this 2500W digitally controlled, compact 1U power supply can seamlessly change conversion direction from high voltage dc sources, powered by solar or wind, to 48Vdc batteries and vice versa. Other applications include lithium-ion battery testing as well as the use of regenerated energy from robots, cranes, autonomous ground vehicles and lifts. The EZA2500 can be used to replace large power resistors currently used for lift braking and use that previously dissipated energy to charge batteries. That stored energy can be used to either provide peak power for high torque demands or as battery back-up for power cuts.
The output voltage and current can be programmed and monitored using the RS-485 communications port. Multiple units can be operated in parallel by using the RS-485 interface to set units for "droop mode" current share. Alarm signals are also accessible, as well as remote on/off and under/over voltage functionality. The high voltage (grid) to low voltage (battery) isolation is 3,000Vac, grid to ground 2,000Vac and battery to ground 500Vac.
The dimensions for the EZA2500 are 43.6mm (1U) high, 423mm wide and 400mm deep. All models in the EZA series are certified to the IEC/EN/UL 60950-1 and IEC/EN/UL 62368-1 safety standards with CE marking for the Low Voltage, EMC and RoHS Directives. A five-year warranty is standard.
Merck


Virtual Annual General Meeting On May 28
Merck, a science and technology company, will hold its Annual General Meeting this year in virtual form on May 28. The company is thus making use of the possibilities afforded by the German legislator in view of the coronavirus pandemic. Within the scope of the Annual General Meeting, a resolution on the dividend proposal of € 1.30 per share will also be voted on. Payment is planned for June 3.
The Annual General Meeting will be publicly webcast in its entirety on the Internet. Physical participation is not possible. The invitation will be published by May 7, in keeping with the official deadline. Notes on exercising shareholder rights and further information on the virtual Annual General Meeting will be available as of May 7 on the website www.merckgroup.com/agm and in the invitation.
Merck had already announced back in March that it would postpone its Annual General Meeting originally planned for April 24 and hold it in virtual form as soon as possible in order to protect the health and safety of employees and shareholders.