Optisens TSS 2000


New suspended solids sensor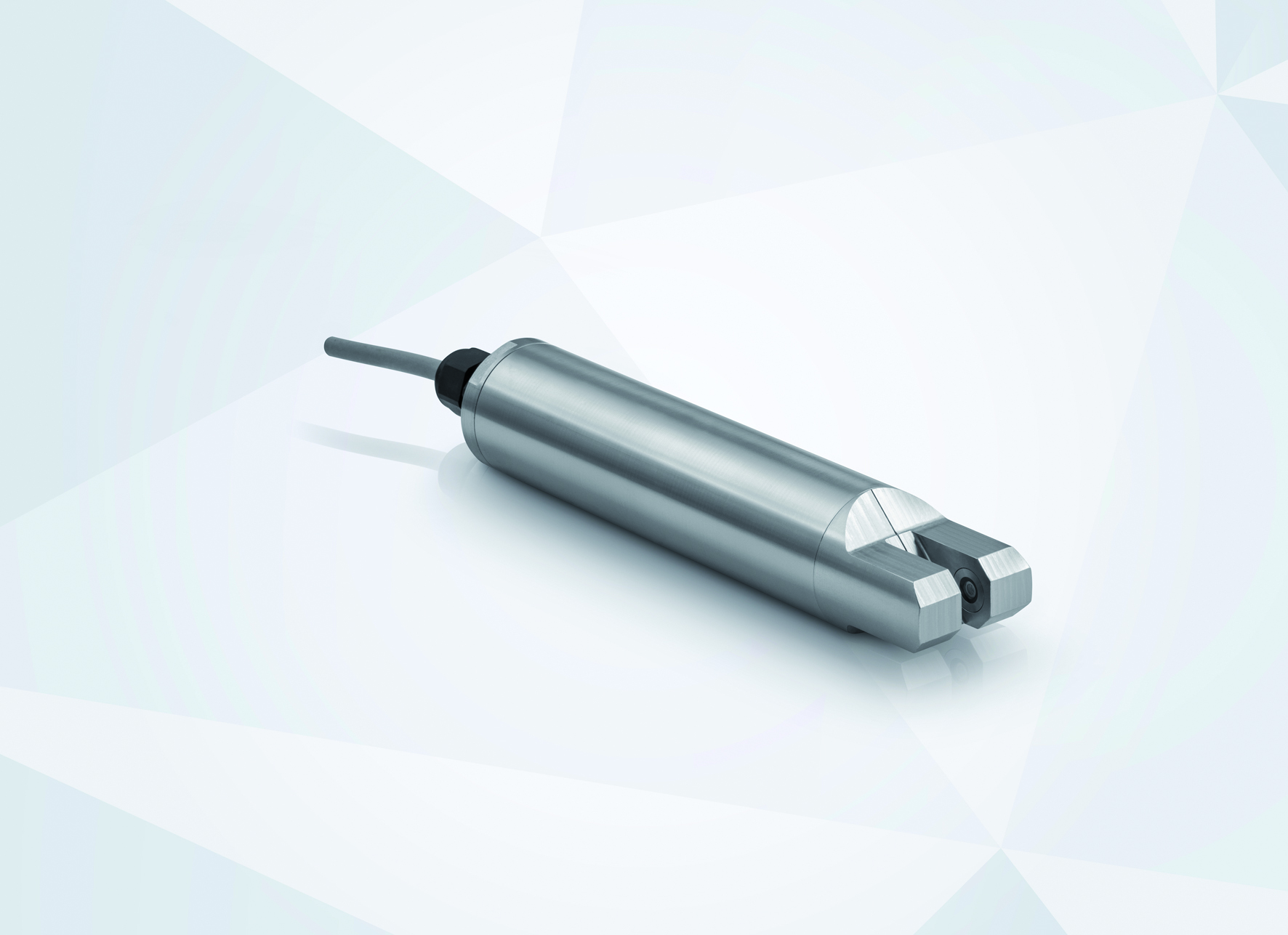 Krohne introduces Optisens TSS 2000: the new total suspended solids (TSS) sensor is a robust, cost-effective immersion sensor for process and quality control in industrial and municipal wastewater applications.
The new sensor features a fast response time and can be used to optimize processes, increase yield or monitor limits: target applications in the water & wastewater industry include mixed liquor suspended solids (MLSS) monitoring, sludge discharge of primary and secondary sedimentation (clarifier) tanks, or monitoring of biological treatment in wastewater aeration basins. The new sensor can also be used to monitor product loss in open channels in the food & beverage industry, effluent in chemical, white water in pulp & paper or thickeners in metal & mining.
In combination with MAC 100 transmitter, Optisens TSS 2000 offers a complete TSS measuring point for ranges 0…4 AU / 0…18.5 g/l at a competitive price. The single-beam sensor comes with a rugged stainless steel body, scratch resistant sapphire windows and automatic sensor cleaning option. Using near-infrared NIR technology, it is not effected by colour or natural ambient light. It is factory calibrated with up to 6 linearization points with linear or non-linear fitting. Installation without assembly (hung up cable installation) is possible, but the use of fibre-glass telescopic sensor assembly Sensofit IMM 2000 is recommended. For more demanding applications, e.g. difficult waste water conditions or hygienic requirements, Optisens TSS 3000 and 7000 with 4-beam technology are available.
SoFormTM of the Thermylene brand


Asahi Kasei introduces new engineered resin series
Asahi Kasei Plastics North America (APNA) introduces SoFormTM, a new engineered resin series as part of their diverse Thermylene® family – Asahi Kasei's portfolio of specialty chemically coupled glass fiber reinforced polypropyl-enes. SoFormTM is a cost- and process-optimized material for automotive interior sur-faces and industrial durable goods.
SoFormTM features excellent scratch resistance with haptic surface feel and improved durability compared to competitors. It also offers key benefits such as low gloss, low emissions, chemical re-sistance, and structural performance. "Durability coupled with low gloss and improved haptic surface feel are key to interior performance and customer end use criteria now more than ever; SoFormTM provides an attractive solution to meet these demanding requirements" states Jane Horal, Marketing and Business Development Manager at APNA. The material is available in 10%, 15%, 20% and 25% glass fiber filled grades. All are commercial-ized and available in either natural or pre-colored for injection molding.
Automotive application areas for these novel grades include, but are not limited to, instrument panels, door panels and associated touch points (map pockets, console sides, mirror surrounds and seat trim). SoFormTM also excels in the industrial segment with applications such as furniture armrests and durable wear surfaces. The durability and haptic surface finish enable both automotive and industrial segments to provide customers with improved longevity and luxury.
"SoFormTM has unique performance compared to traditional talc reinforced thermoplastic elastomers due to the increased scratch and mar properties" says Todd Glogovsky, VP of Sales and Technology at APNA. "For applications that have higher durability requirements, SoForm will be a key product".
Currently, soft touch paint, over-molding or a foam in place with skin has been required to meet these customer demands. SoFormTM is an alternative to improve the design, manufacture, logistics and value chain of the production process. As the material eliminates the needs to paint, over-mold or foam in place, it can provide additional cost-savings and eco-friendly options for the manufacturer.
Biogas Plant for Greek Abattoir


Efficient Bioenergy Generation from Animal Waste
In the summer of 2020, the German plant manufacturer Weltec Biopower will start building a biogas plant in Veria, northern Greece. The main investor and operator of the project is one of the largest abattoirs for cattle and pigs in Greece. The 500-kW plant – which Weltec has planned in collaboration with its Greek partner Tetoros Machinery in Megara – is set to go live as early as mid-November 2020.
For many years, a lot of animal waste has accumulated in the north of Greece. According to the Greek research institute CRES, the waste from animal husbandry and slaughtering throughout Greece amounts to 17.5 million t/year. This corresponds to a potential biogas capacity of approximately 370 MW. The capacity currently installed in Greece is only about 83 MW.
The new Weltec plant in Veria will make use part of these resources for the generation of energy. The anaerobic digestion process will mainly use cattle manure and meat processing leftovers. Apart from these substrates, the 4,903-m3 stainless-steel digester will also be fed with production wastewater and fats. The input substances will come from the operator's own abattoir and farms as well as from farmers in the vicinity.
The highly efficient digestion will start with a customised input process. For this purpose, the substrates will first be loaded into a 60-m3 moving floor feeder. The feeder will transport solid substrates, such as orange peels, to the Multi-Mix unit, where they will shredded and then pumped to the digester. Liquid substrates will be pumped directly into the digester from two storage units. "Following the digestion process, the entire digestate will be treated in a downstream hygienisation unit", explains Alain Priser, International Sales Manager at Weltec Biopower.
Meanwhile, Greek investors are looking for such custom-tailored plants in order to make profitable and climate-neutral use of the wide variety of raw materials. This is the only way how the share of renewable energies in the power generation can be doubled from the current level of 30 percent to 60 percent in 2030. This target was defined in National Energy and Climate Plan 2021 to 2030 (NECP) adopted by Greece. An intermediate step will be to shut down 14 coal-fired power plants in the next five years. Besides natural gas, renewable energies are to play a key role in closing the resulting power supply gap.
In the coming decade, Greece will invest some €9 billion in such plants. During this period, the installed biogas and biomass utilisation capacity is expected to triple. In this process, new laws are to provide investment security. "The Greek power grid operators will be required to preferentially connect these plants to the grid, purchase their electricity and pay defined minimum prices", explains Weltec's Greek partner John Tetoros. Tetoros Machinery and Weltec Biopower have collaborated in the Greek energy reform since 2007. With a portfolio of 18 plants and extensions that they have set up, they are the market leader for biogas plants in Greece. Based on the concept of the latest plant in Veria, more plants are likely to be added to the portfolio.
Coperion and Aurora Kunststoffe


Profitable Recycling and Upcycling with ZSK Extruders
Aurora Kunststoffe, a company located in Neuenstein and since end of 2019 member of MOL Group, is demonstrating how plastic processors' production waste can be recycled and upcycled profitably. This producer of recompounds uses rejected parts accumulated from plastic components manufacturing as primary raw material and processes it into recycled, new-product-quality plastic compounds. After a major fire in their production area in 2017, Aurora Kunststoffe decided once again to rely on ZSK twin screw extruders from Coperion. Those three ZSK 45 Mc18 twin screw extruders have been in successful operation since early 2019, and with their high throughputs and their reliability, they have fulfilled every requirement that Aurora Kunststoffe needs for their innovative business plan.
Technology for First-Rate Compounds
In manufacturing technical plastic parts, typically there is approximately a five percent rejection rate. Aurora Kunststoffe purchases this production waste, then examines the precise composition and varietal purity. Once they pass quality control, the single-variety plastic parts are ground, fed into the compounding process and pelletized. The result is pellets mainly based on PA6, PA66, PA11, PA12, POM, PP, PC, and PC-ABS. To accomplish this, Aurora Kunststoff relies on Coperion ZSK technology. Within the ZSK twin screw extruders, the ground material is reliably homogenized with additives, fillers and reinforcing materials and devolatilized. To this end, Coperion designed each of these three ZSK 45 extruders individually for Aurora Kunststoffe's requirements, equipping them with ZS-EG twin screw side devolatilization units and special wear protection for product-contact parts. Following melt discharge from the die head at the end of the extruder's process section, plastic strands are taken over by semiautomatic SCP 200 strand conveying systems from Coperion Pelletizing Technology. They are automatically conveyed via a cooling water chute and a conveyor belt to the strand pelletizer's feed mechanism, where they are cut to compounds whose quality corresponds to that of new material. Noted Norbert Büter, Coperion Sales Manager, "When recycling plastics, it is necessary to adapt the process parameters and recipes to the various raw materials. With their flexibility and high torques, ZSK twin screw extruders are optimally suited for processing even the most difficult raw materials to very good product quality – and they do it at throughputs that are economical. By devolatilizing using ZS-EGs, not only are unwanted gases removed; operational safety of the entire vacuum system is increased. This applies especially to even very volatile viscosities."
Rebuilding Production
In 2017, a large fire at Aurora Kunststoffe destroyed the entire production area. Aurora Kunststoffe held fast to its successful sustainability concept, even expanding it after the fire. New twin screw extruders began operation in a new, larger space in 2019. In meeting such a tight deadline, Aurora Kunststoffe relied on close collaboration with their suppliers. Alexander Schweinle, Head of Production at Aurora Kunststoffe, is particularly proud of this: "Coperion delivered not just three ZSK 45 extruders that were individually designed for us, and the appropriate strand pelletizers, but they also supported us with the engineering necessary for the entire production. I would like to emphasize the really good collaboration between our two companies: Coperion consistently reacts to our inquiries quickly and knowledgeably, which was key during our production's rebuilding phase."
Successful Recycling Concept
Production waste from industrial plastics manufacturing is becoming more and more valuable in times of rising raw materials prices and increased environmental pollution. Aurora Kunststoffe buys these industrial by-products and turns them into high-quality raw materials that are used in the automotive, construction, furniture and electronics industries.
Plastic waste comes to Aurora as part of its unique Aurora-Lean-Logistics concept, consisting of Aurora's own fleet of about 60 semi-trailers and a box concept for perfecting single-origin collection. At Aurora, materials are ground and processed into recompounds by means of extrusion. With this process, Aurora Kunststoffe achieves throughputs of up to 650 kg/h on their ZSK 45 twin screw extruders. Per day, Aurora Kunststoffe produces over 50 tons of compounds. For the future, Aurora anticipates increasing demand. "I am certain that sooner or later, there will be a legally mandated recycling quota", said Schweinle.
Jochen Schofer, Business Segment Manager, Recycling & Direct Extrusion at Coperion added: "We're convinced that becoming circular is unavoidable for the plastics industry." To that end, there is still plenty of room for improvement. In Germany, the share of recyclate used in plastics processing in 2017 only achieved a bit more than 12%. Aurora Kunststoffe, in contrast, is taking an absolutely leading role for us; their company concept is not only profitable, it's sustainable too! We're proud to support Aurora Kunststoffe with our compounding and engineering know-how!"