Powtech 2019


New Solutions for the Process Industry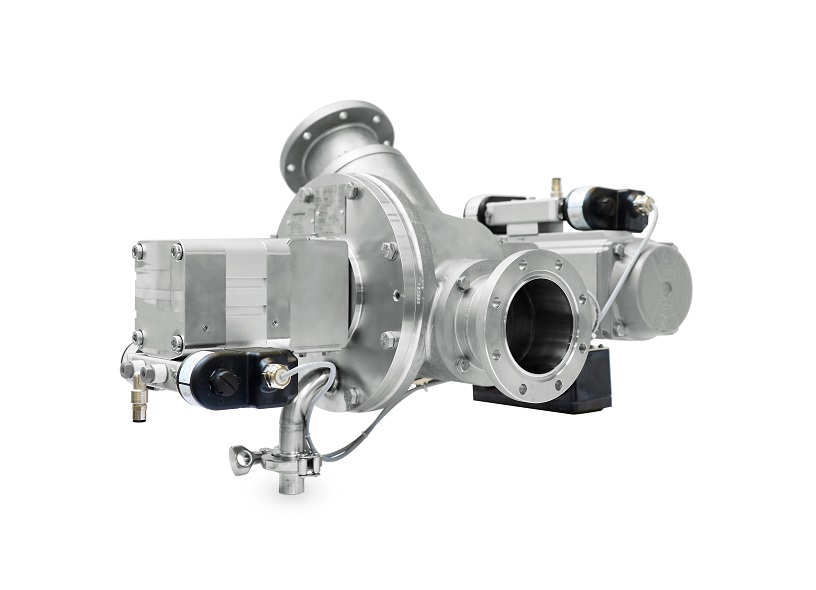 At Powtech 2019, Coperion and Coperion K-Tron will present their versatile bulk materials handling solutions for various process steps at their booth no. 4-290 in Hall 4. Along with the newly redesigned stainless steel WYK diverter valve for CIP cleaning and the ZV rotary valve, now also available in larger sizes, visitors will be impressed by the variety of components and products for safe and economical bulk materials handling that Coperion and Coperion K-Tron offer.
New WYK Bulk Material Diverter Valve
For parts used in manufacturing processes in many sectors of the food, pharmaceutical and chemical industries, the highest requirements in hygiene and purity apply. Moreover, frequent product changes and difficult product characteristics require regular wet cleaning. If cleaning expenditures can be minimized, companies can save significantly on time and costs.
Coperion addressed these issues more than ten years ago, developing the WYK for powder and pellets, which was awarded the Innovations Award by the Powtech exhibition in 2006. The diverter valve enables CIP applications to fulfill required criteria especially in the food sector that come down to one thing: The diverter valve must be absolutely clean and free of contamination after wet cleaning — with no additional disassembly or manual cleaning. This saves time, effort and costs since manual post cleaning is not necessary. In doing so, the WYK diverter valve can easily be installed even at points that are poorly accessible.
Throughout its inception, Coperion has continued to develop the WYK diverter valve based upon the collective experience of past years. Its innovative basic function has not changed: During bulk material conveying, the conical rotor seals the conveying pipes to each other. During CIP cleaning, the rotor is minimally pulled out of the housing and flushed by the cleaning fluid. Now, the diverter valve has been optimized according to current EHEDG guidelines (Class I EL certification is currently in process). Coperion redesigned and optimized the CIP-capable pipe sealing such that now operation with even the finest powders is possible. The pneumatic drives are separated — for turning and pulling the rotor, respectively — so that the rotor is supported on both sides. Along with its compact design, the diverter valve offers an improved cast design with increased surface quality. All materials conform to (EC) Regulation no.1935/2004 and the sealing materials are FDA-conform as well. Moreover, further flange connections, such as those per DIN 11864, can be realized simply on the housing.
The diverter valve is available in sizes DN 65, 80, 100 and 125. It is also available as a standard stainless steel diverter valve without the CIP cleaning function for non-wet cleaning applications. The diverter valve will be offered in Europe and Asia beginning of September 2019 and is expected to be offered in the USA by year end.
New ZV rotary valve housing for pellets and coarse-grained products
Coperion's redesigned and optimized ZV rotary valve is now also available in sizes from 400 to 630. In comparison to its predecessor models, it excels above all with a lower granulate destruction during operation. Coperion enlarged the inlet cross section with additional pellet deflecting profiles. In doing so, an increase in throughput performance of up to 20% results.
Even noise emissions from leakage gas expansion, which constitute the primary source of noise in high-pressure rotary valves (up to 3.5 bar differential pressure), have been markedly reduced with a new expansion opening design. Additionally, Coperion integrated the transition of the elongated opening to a pipe connection within the cast. Beyond reducing the noise emission, an adapter is likewise no longer required. Moreover, the ZV rotary valve now has a standard-compliant pipe connection.
Coperion at the Powtech 2019: Hall 4, Stand 290
Bilfinger


Virtual Annual General Meeting planned for June
Due to the spread of the coronavirus (Sars-Cov-2), Bilfinger is planning to conduct its regular Annual General Meeting on June 24, 2020 as a virtual general meeting without the physical presence of shareholders. The protection of the health of employees, shareholders and service providers is given the highest priority.
The framework for holding a virtual Annual General Meeting is provided for by the regulations created by the German legislator for the year 2020 to mitigate the consequences of the coronavirus pandemic.
The Annual General Meeting shall only be accessible to shareholders who have registered in due time via the company's website. By using a previously established online portal, these shareholders shall be able to observe the entire Annual General Meeting and to exercise their voting rights electronically (postal vote) or by granting a proxy. The online portal will in addition enable them to submit questions on agenda items up to two days prior to the Annual General Meeting.
Power Supply Product


Bi-directional DC-DC converter series has extended voltage
TDK Corporation (TSE 6762) announces the introduction of the EZA2500W-32048 TDK-Lambda brand bi-directional DC-DC converter model to its EZA series. The extended high voltage range now covers 260 to 400Vdc and the lower voltage 36 to 65Vdc. The operating temperature has been increased to -10 to +50°C. Double sided protective board coating and long-life dust resistant fans have also been included.
Designed for energy storage systems with rechargeable batteries, this 2500W digitally controlled, compact 1U power supply can seamlessly change conversion direction from high voltage dc sources, powered by solar or wind, to 48Vdc batteries and vice versa. Other applications include lithium-ion battery testing as well as the use of regenerated energy from robots, cranes, autonomous ground vehicles and lifts. The EZA2500 can be used to replace large power resistors currently used for lift braking and use that previously dissipated energy to charge batteries. That stored energy can be used to either provide peak power for high torque demands or as battery back-up for power cuts.
The output voltage and current can be programmed and monitored using the RS-485 communications port. Multiple units can be operated in parallel by using the RS-485 interface to set units for "droop mode" current share. Alarm signals are also accessible, as well as remote on/off and under/over voltage functionality. The high voltage (grid) to low voltage (battery) isolation is 3,000Vac, grid to ground 2,000Vac and battery to ground 500Vac.
The dimensions for the EZA2500 are 43.6mm (1U) high, 423mm wide and 400mm deep. All models in the EZA series are certified to the IEC/EN/UL 60950-1 and IEC/EN/UL 62368-1 safety standards with CE marking for the Low Voltage, EMC and RoHS Directives. A five-year warranty is standard.
Compressed air treatment


Future-proof drying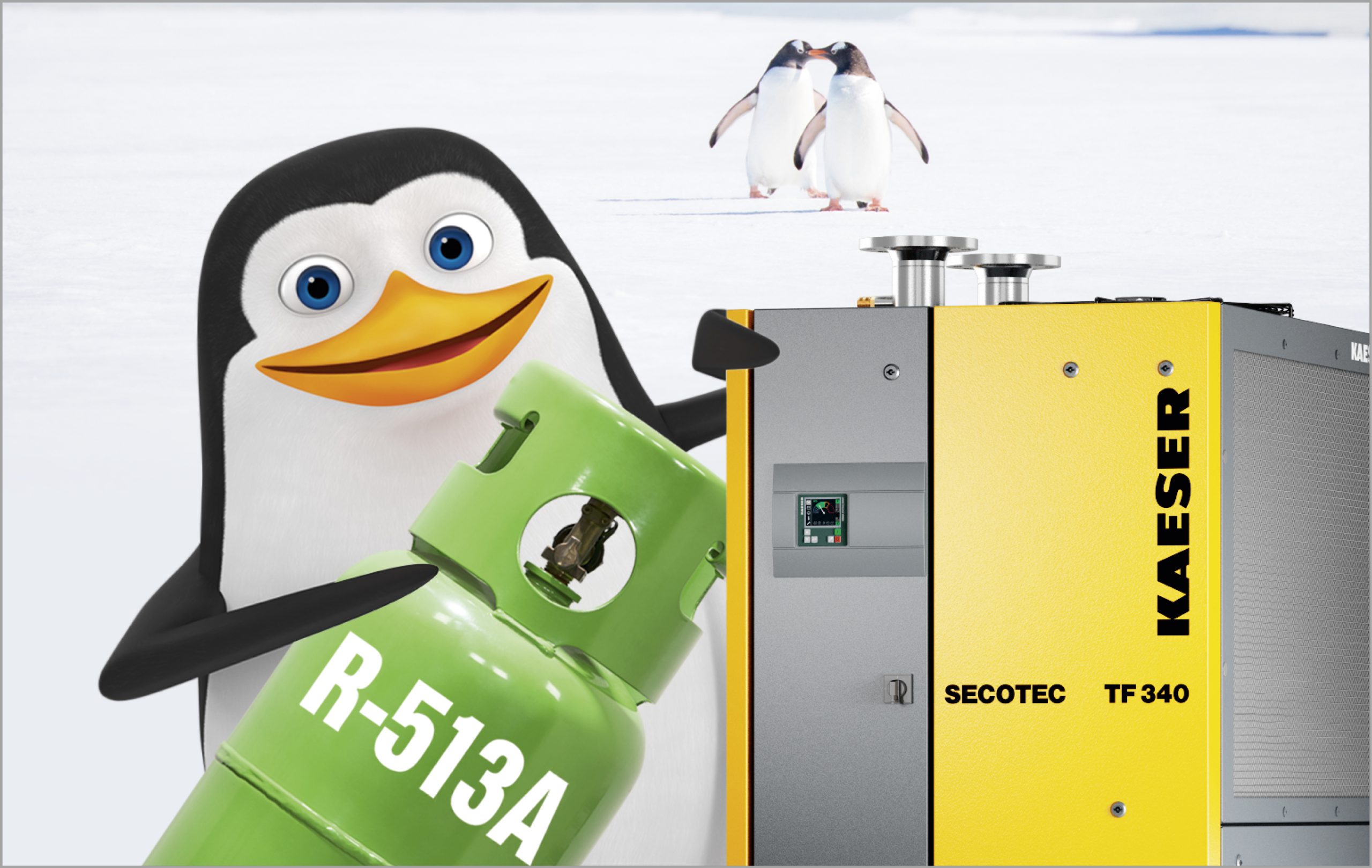 Anybody using refrigeration drying in compressed air treatment is required to comply with the F-gas regulation. The new EU 517/2014 directive represents the end for certain refrigerants that are still currently used in these dryers.
Nearly every compressed air station uses refrigeration dryers, since most applications require these machines to deliver a dependable supply of quality dried compressed air. The F-gas regulation EU 517/2014 has been in force since 2015. It is intended to minimise the emissions of partly-fluorinated greenhouse gases (F-gases) as they significantly contribute to global warming. The effects of this legislation can already be felt by operators of compressed air stations, because F-gases are used as refrigerants in refrigeration dryers. This means that operators have to comply with the directive's stipulations when they service or repair existing refrigeration dryers, or when new refrigeration dryers are purchased. The refrigerants used up until now are being withdrawn from the market.
All refrigerant dryers from Kaeser Kompressoren will therefore use the new R-513A refrigerant by the end of 2019. It is climate-friendly and provides users with peace of mind when it comes to future-proof operation. Kaeser is supporting all customers to convert their systems to a more environmentally-friendly alternative.
When planning the purchase of a new dryer, consideration should be given to make sure that the unit uses a refrigerant that complies with the requirements of the directive, not just today, but also in the years to come, and that the refrigerant will be available for future service work. Some manufacturers use materials that are legal today, but which will eventually become prohibited, or which will simply no longer be offered, due to their high global warming potential. This means that those operators who use these materials will soon be faced with the same problem – the company is aware of this issue and takes early preventative countermeasures accordingly.
It rarely makes sense to retrofit older but functional machines to use new refrigerants. Operators are well advised to take note of the currently-used refrigerants in their equipment and to obtain information regarding alternative strategies. Kaeser's experienced and certified personnel are available to assist you. Certified service is advisable for all refrigeration dryers in order to provide different solutions with regards to this subject; this is especially true for older systems where refrigerant conversion is uneconomical.
All refrigeration dryers are designed to provide maximum efficiency and energy cost savings. Thanks to the new refrigerant, they are also future-proof for their entire service life when it comes to applicable refrigerant legislation. Moreover, they are exceptionally efficient, require minimal maintenance and are easy and quick to service.