Powtech 2019


New Solutions for the Process Industry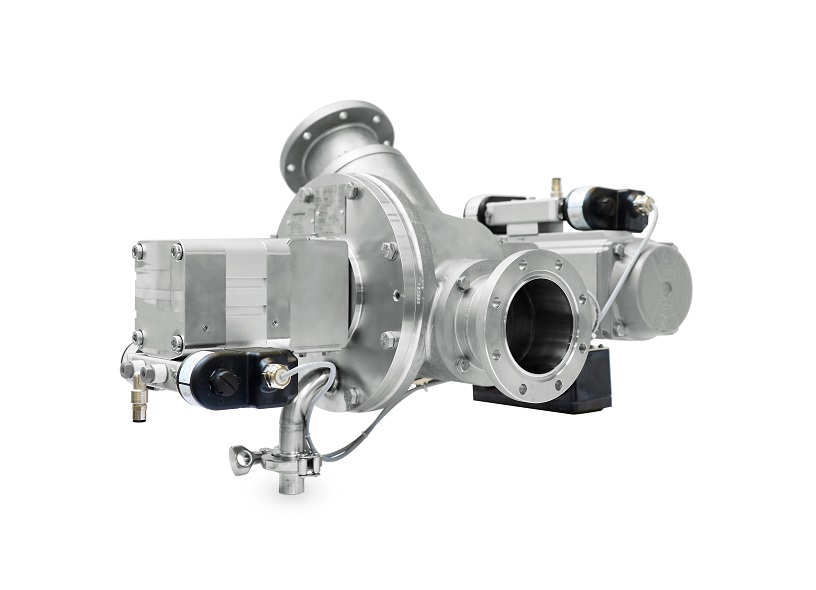 At Powtech 2019, Coperion and Coperion K-Tron will present their versatile bulk materials handling solutions for various process steps at their booth no. 4-290 in Hall 4. Along with the newly redesigned stainless steel WYK diverter valve for CIP cleaning and the ZV rotary valve, now also available in larger sizes, visitors will be impressed by the variety of components and products for safe and economical bulk materials handling that Coperion and Coperion K-Tron offer.
New WYK Bulk Material Diverter Valve
For parts used in manufacturing processes in many sectors of the food, pharmaceutical and chemical industries, the highest requirements in hygiene and purity apply. Moreover, frequent product changes and difficult product characteristics require regular wet cleaning. If cleaning expenditures can be minimized, companies can save significantly on time and costs.
Coperion addressed these issues more than ten years ago, developing the WYK for powder and pellets, which was awarded the Innovations Award by the Powtech exhibition in 2006. The diverter valve enables CIP applications to fulfill required criteria especially in the food sector that come down to one thing: The diverter valve must be absolutely clean and free of contamination after wet cleaning — with no additional disassembly or manual cleaning. This saves time, effort and costs since manual post cleaning is not necessary. In doing so, the WYK diverter valve can easily be installed even at points that are poorly accessible.
Throughout its inception, Coperion has continued to develop the WYK diverter valve based upon the collective experience of past years. Its innovative basic function has not changed: During bulk material conveying, the conical rotor seals the conveying pipes to each other. During CIP cleaning, the rotor is minimally pulled out of the housing and flushed by the cleaning fluid. Now, the diverter valve has been optimized according to current EHEDG guidelines (Class I EL certification is currently in process). Coperion redesigned and optimized the CIP-capable pipe sealing such that now operation with even the finest powders is possible. The pneumatic drives are separated — for turning and pulling the rotor, respectively — so that the rotor is supported on both sides. Along with its compact design, the diverter valve offers an improved cast design with increased surface quality. All materials conform to (EC) Regulation no.1935/2004 and the sealing materials are FDA-conform as well. Moreover, further flange connections, such as those per DIN 11864, can be realized simply on the housing.
The diverter valve is available in sizes DN 65, 80, 100 and 125. It is also available as a standard stainless steel diverter valve without the CIP cleaning function for non-wet cleaning applications. The diverter valve will be offered in Europe and Asia beginning of September 2019 and is expected to be offered in the USA by year end.
New ZV rotary valve housing for pellets and coarse-grained products
Coperion's redesigned and optimized ZV rotary valve is now also available in sizes from 400 to 630. In comparison to its predecessor models, it excels above all with a lower granulate destruction during operation. Coperion enlarged the inlet cross section with additional pellet deflecting profiles. In doing so, an increase in throughput performance of up to 20% results.
Even noise emissions from leakage gas expansion, which constitute the primary source of noise in high-pressure rotary valves (up to 3.5 bar differential pressure), have been markedly reduced with a new expansion opening design. Additionally, Coperion integrated the transition of the elongated opening to a pipe connection within the cast. Beyond reducing the noise emission, an adapter is likewise no longer required. Moreover, the ZV rotary valve now has a standard-compliant pipe connection.
Coperion at the Powtech 2019: Hall 4, Stand 290
Vision of the future


Efficient and sustainable packaging solutions
At Fachpack 2019 Multivac will be showing a number of forward-looking innovations from its various business units. The exhibits include the new X-line machine generation, which will be presented at the trade fair in the form of the RX 4.0 thermoforming packaging machine and the TX 710 traysealer. Another focus of the trade fair will be concepts for sustainable packaging. These meet the current demands for recyclability and for minimisation of plastic consumption in the production of packs. The company's presence at the trade fair is rounded off with a presentation of its labelling and marking innovations, including a new generation of cross web labellers and new direct web printers, as well as a solution for efficient wrap-around labelling of packs (full-wrap labelling).
Multivac has expanded its X-line machine generation with the addition of a further future-proofed model, the new TX 710 traysealer. The features of this traysealer are a robust machine concept and an intelligent control system, which together provide the maximum flexibility, output and reliability. In Nuremberg the TX 710 will be the centrepiece of a fully automated packaging line, which also includes a L 310 conveyor belt labeller for the attractive wrap-around labelling of packs (full-wrap labelling).
A second packaging line will have at its heart the RX 4.0 thermoforming packaging machine, which features a range of innovative technology. Thanks to its comprehensive sensor system and seamless digitalisation, it creates a new dimension, when it comes to packaging reliability, quality and performance. At Fachpack the RX 4.0 will be equipped with a new generation of cross web labeller, which gives even greater labelling accuracy at an even higher level of output.
Another of the company's themes at the trade fair is the presentation of sustainable packaging solutions. On display will be a wide range of concepts, which contribute to reducing packaging material consumption in the production of packs, as well as other concepts for producing packs, which meet current requirements for recyclability. One example of this is the Paper Board range, which is made up of a wide variety of paper fibre-based materials for producing MAP and vacuum skin packs on thermoforming packaging machines and traysealers. This innovative packaging concept will be shown at the trade fair on the compact R 105 MF thermoforming packaging machine, an economic entry-level model for producing vacuum skin packs in small and medium-sized batches. The packs can be designed in such a way, that the end user is able to separate the cardboard backing from the plastic barrier layer and then put it into the paper recycling.
The fully automatic T 300 L traysealer is also a space-saving, entry-level model. The machine can be designed as multi-track and combined with various discharge systems. Thanks to the simple die change, it can quickly be converted for different pack sizes and shapes. All conventional trays from a wide range of materials can be run, as can pre-cut cardboard sheets.
Multivac at the Fachpack 2019: Hall 1, Stand 221
Process belt solutions


Integrated filtration expertise
Pioneering mesh designs presented byGKD – Gebr. Kufferath AG at Filtech. Whether for water processing in large industrial plants or continuous vacuum belt filter systems in the environmental and mining industry: At the leading international trade fair for filtration and separation technology, the company once again highlights its integrated solution competence for filter media and process belt solutions in Cologne. With its special mesh structure and seam technology, the Vacubelt filter belt range guarantees efficiency and safety in exacting dewatering processes. In process water filtration with particles larger than 500 μm, the relatively new spiral fabrics produced are also in high demand. Alongside large-format mesh samples, the knowledge of process requirements that the filtration and process belt specialists have gathered over many years makes them sought-after contacts for discussing specific issues and solution models.
In view of the growing global demand for phosphorous, potash, and lithium, expanding extraction capacities and improving production efficiency are critical to the success of the global mining industry. This is where the different belt types of the Vacubelt range, made of polyester monofilaments, are able to make a vital contribution. All Vacubelt filter belts share the core characteristics of robust transverse stability, low crease formation, smooth surface, good cake discharge, and excellent cleaning behavior. What's more, their improved seam design contributes to greater process reliability. Its minimal opening at the seam means that the extremely flat PAD seam reduces particle penetration. The company further decreases this seam opening by inserting filling threads, thereby further lowering the risk of particle penetration. These filler threads are supplied with the belt and inserted before the clamps are closed. This means that there is no need for the flaps required by other manufacturers. The advantages of the firm seam design are clear: wipers are not stressed by partial raised sections and the seam itself is also subject to less wear.
For dewatering of phosphogypsum, the firm offers three thermally treated single-ply vacuum filter belts specifically designed for particular processes and applications in the form of the belt types Vacubelt 3354, 3356, and 1003. With air permeability of 200 to 350 cfm and mesh apertures of 150 to 340 μm adapted to the respective plants, they guarantee constant high dewatering performance. As such, these belts in widths of up to 4.35 meters and lengths of up to 70 meters fulfill the highest service life and dewatering requirements.
In potash fertilizer production, the Vacubelt 5060 filter belt has proven its worth many times over. With apertures of up to 470 μm and air permeability of 290 cfm, this belt type reliably withstands the high temperatures and corrosive conditions that are typical of this process.
The Vacubelt 2015 filter belt has been the globally established standard in the field of FGDP gypsum dewatering for many years. The small aperture of 50 μm – coupled with air permeability of 55 cfm – justifies its superiority over conventional belts for dewatering the gypsum suspension produced during flue gas desulphurization. Faster dewatering, greater pore density, less tendency to clog, thermal resistance, and very good cleaning properties make the Vacubelt 2015 belt type the vacuum filter belt of choice for both new systems and retrofitting existing power plants.
The same belt type is currently also setting new standards in lithium dewatering in vacuum drum filters.
In cooling lubricant filtration, the robust Vacubelt 3354 filter belt made of polyester wires is a proven alternative to the usual polypropylene products available on the market. This belt type reliably retains swarf and particles abraded from the grinding wheel without the addition of filtration aids, even with thin filter cakes.
In industrial laundries, the spiral fabrics that GKD produces entirely in house are becoming something of an insider tip for process water treatment with particles larger than 500 μm. Thanks to their unusually high performance, this product range, which made its debut at last year's Filtech, is therefore also recommended for all other filtration processes requiring similar separation performance to washing water treatment in industrial laundries.
GKD at the Filtech 2019: Hall 11.1, Stand G3
Improved Pellet Quality and Easier Handling


New Generation of Strand Pelletizers
Coperion Pelletizing Technology, introduces improved dual bearing strand pelletizers which have been re-engineered based on field experience and current market demands. The SP140, SP240 and SP340 models in the SP series have been equipped with a variety of enhanced features for easy, rapid handling and optimized pellet quality.  Moreover, the company has developed a new proprietary technology for cutting gap adjustment which impresses users with increased comfort and speed compared to tried and true classic systems. The new generation of the strand pelletizers will be on display for the first time at K 2019 in hall 14 at booth 14B19.
This new cutting gap adjustment (patent pending) constitutes the heart of the re-engineered strand pelletizers. Conventional solutions like eccentric screws or compression-tensioning screws present disadvantages such as non-linear movements, potential dirt pockets on the product, several setting steps or subsequent shifting from additional locking mechanisms. The unique new technical solution from Coperion Pelletizing Technology offers faster and more comfortable adjustment. Fine adjustment is also simpler and more precise, as it can be done by hand without tools. Likewise, the integrated spring pre-tensioning eliminates the screws' free clearance, markedly reducing machine setup times.
Optimization reduces service and downtime
Along with the more compact design and integration of the operation panel into the machine, the reworking of the interior space counts first and foremost among further new developments. The robust cutting tools have been installed closer to one another, thus enabling a shorter, unguided strand length in the pelletizer and the best possible cutting results, especially with soft materials. This new construction results in less dead space in the interior which, together with optimized edges and fewer free surfaces, provides improved cleanability. Furthermore, the new quick change cutting chamber system really impresses users. The complete cutting area is accessible without tools and the cutting unit can be exchanged quickly and easily. This quick change minimizes machine servicing times and downtimes. Likewise, Coperion Pelletizing Technology reworked the intake area; whereas this previously used a conical construction, today a straight intake allows strands to be optimally side fed into the pelletizer. Strands are therefore fed directly into the pelletizer without deflection. Side panels on the intake roller prevent individual strands from breaking free. Moreover, intake proceeds without splits or gaps so that strand tears and bevel are avoided during intake. Additionally, Coperion was able to increase the operating width by 20 mm so that higher throughputs are now possible. Pelletizing in this new design also features improved soundproofing. Along with the more compact interior cutting space and the resulting smaller sound chamber, all motors are now housed under the base plate and are noise insulated there. In so doing, machine operation at a very low noise level is possible.
Pelletizing with a multitude of options, suitable for every need
These new, optimized strand pelletizers are available now, impressing manufacturers not only with these new developments but with proven technology as well. Among these, for example, are a pellet outlet chute with soundproof cladding, a frequency-controlled drive, and pneumatic control for feed roll pressure. The baseplate is mounted on vibration-insulating rubber pads; likewise, the pelletizer is installed on lockable rollers for more flexibility. In the control cabinet, transfer signals are built in for remote control; moreover, the pelletizer is equipped with a safety device (Haake system), in place of the classic retarding spindle. Operation is thus even more ergonomical and safe.
Further features are available as options for Coperion pelletizers, including a high temperature-resistant upper feed roll for long service life as well as wear-protected or corrosion-protected cutting rotors for highly filled or reinforced materials. Increased drive power for high processing demands is likewise available as a dual drive — with a driven upper feed roll for improved intake. Optional cooling for the feed roll and the cutting head to cool the entire cutting chamber ensures a longer service life. Coperion Pelletizing Technology also offers control cabinet climate control for especially demanding environmental conditions.
Coperion at the K 2019: Hall 14, Stand B19