New printer for AstraZeneca vaccine syringe packaging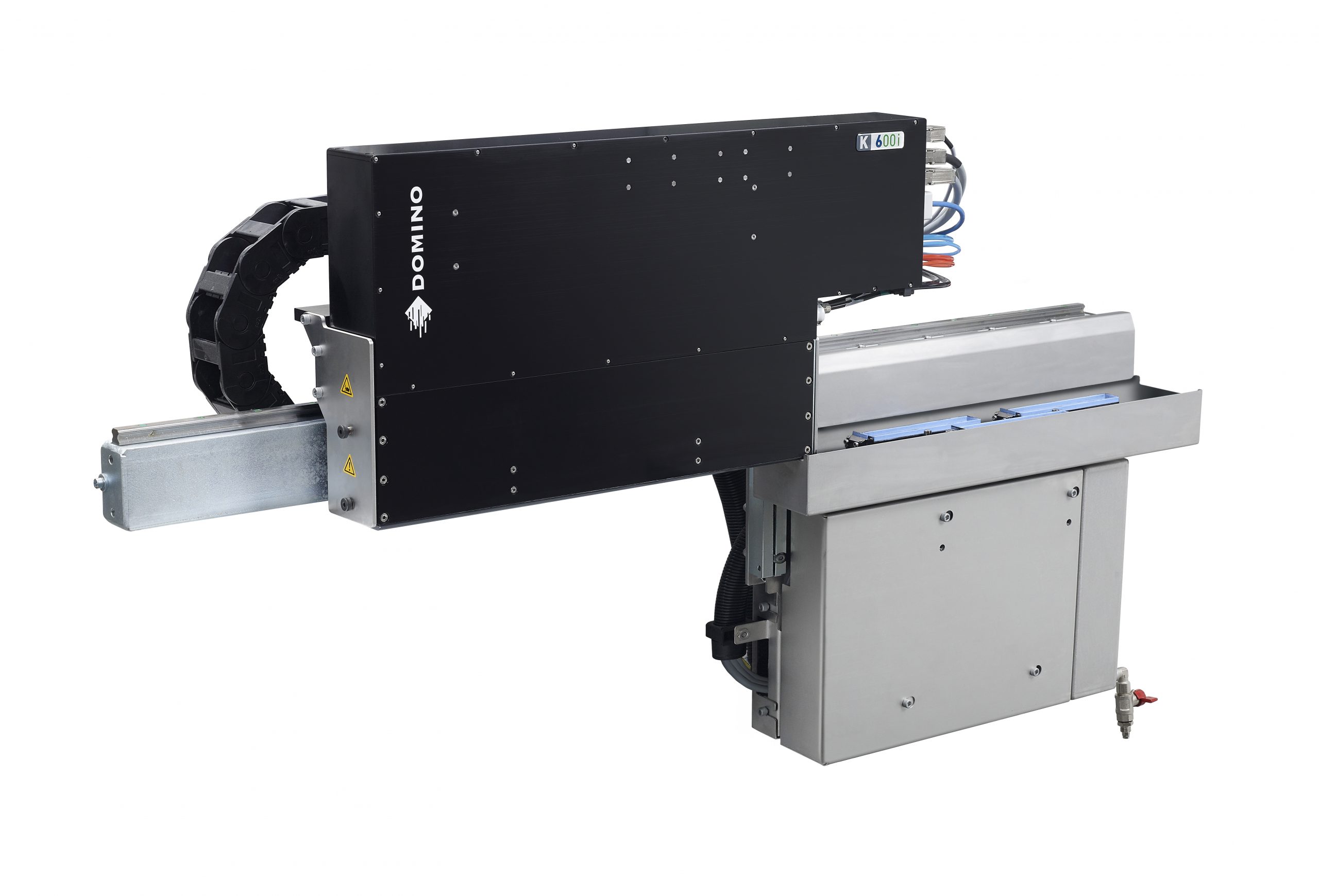 A positive and long-awaited boost has come from the launch of Oxford-AstraZeneca's COVID-19 vaccine in the fight against the global pandemic. Governments around the world are currently making great efforts to vaccinate their populations as quickly as possible and, through the immunity thus achieved, to slow the further spread of the virus.
The vaccine, developed in the UK by Oxford University and biopharmaceutical company AstraZeneca, is already being delivered in mainland Europe. In Becton Dickinson, the UK government has selected a world leader in medical technology to supply a large order of syringes and hypodermic needles called Flu+ to administer the vaccine.
These will be manufactured by Becton Dickinson at its production site in Fraga, in the Spanish province of Huesca.In Spain, Becton Dickinson is already working with Domino Amjet Ibérica on several printing and coding projects. One of these uses the high-speed inkjet printing technology of the Domino K600i to digitally print unique codes on the paper outer packaging of the hypodermic needles and syringes used for the COVID-19 vaccine.
The decision to integrate the digital printer with these packaging machines was a very ambitious step. They needed a solution to the printing problems they had encountered with other system solutions: slow and inefficient product changeovers between multiple stock keeping units (SKUs), too many interruptions and too long downtimes for consumables replacement, recurring printing errors, and insufficient printing speed.
At Fraga, syringe and needle packaging machines operate at high line speeds. Only the most reliable and fastest printing systems can meet these high production requirements.
"We are very pleased that Becton Dickinson has chosen to integrate the Domino K600i digital inkjet printer into its production line. The printer has met Becton Dickinson's high print quality requirements. With it, the company has been able – without compromising on print speed – to significantly reduce waste due to incorrect prints and significantly reduce printing costs."

– Manuel Hernández, Business Manager of Domino Digital Printing Solutions
Intelligent solutions against the risk of infection
Detmold-based electronics and automation specialist MSF-Vathauer Antriebstechnik is investing in new products and business units and thus also growing in the COVID-19 pandemic. The MSF-Vathauer Antriebstechnik team has developed modern and intelligent assistance systems for the healthcare sector and bundled them into an independent business unit. The resulting business unit stands for modern assistance systems for all missions that also help in everyday life.
This is how the intelligent Clean Air (CLAIR) system came into being. It is made up of the terms "CLEAN" (clean) and "AIR" (air). Whether a person falls ill with corona or not depends strongly on the infectious dose. In addition to droplets, aerosols have also been identified as carriers of viruses. They float in the air and are ingested by people. To avoid this, it is important to give special importance to air exchange. CO2 traffic lights and room air cleaners promote air quality and contribute significantly and continuously to reducing the viral load. The prerequisites are highly efficient and valid measuring devices that everyone can understand and interpret, as well as highly efficient filter technology in the room air purifiers.
Modern technology for health
Hardly any other time like this one has shown us so clearly that good air is essential for our health, because clear and clean air gives us the security to breathe freely and not only stands for health but can also promote it. Clear air in the office, at school, in the waiting room and at home – with the smart CO2 traffic light "KAY" from the CLAIR system of Vathauer MedTech from now on very easy possible.
Modern infection control "Made in Germany
Wherever it is necessary to minimize the CO2 content and the viral load in the room and wherever many people come together in a confined or closed space, the smart CO2 traffic light "KAY" finds the ideal area of application. "KAY" comes from the CLAIR system that ensures clean air thanks to smart technology – a system with brains & foresight that ensures that airborne pathogens are less likely to spread.
"KAY doctor" in action
Today, we present a user area in more detail and got into conversation with physiotherapist Mr. Claude Diening from the physiotherapy practice "Praevito" in Detmold about reasons for purchasing "KAY", advantages of the compact CO2 traffic light as well as the current situation in his professional field.
Claude Diening, a health care professional from Lippe, decided to purchase several CO2 traffic lights because of many factors, such as safety, health assurance and customer satisfaction. All of these challenges cannot be dismissed out of hand, because where people are, there is a lot of breathing and often a lot and sometimes loud talking – and in closed rooms, the breathable air emitted in the process circulates for a long time.
As a result, the carbon dioxide concentration and the amount of aerosols in the indoor air rise steadily. In this way, pathogens such as viruses and bacteria can be further distributed. But to ventilate permanently is not the way to go, even in busy rooms such as waiting rooms treatment rooms or on the training floor. But when, how often and for how long should the rooms be ventilated? This is exactly what the CO2 traffic light "KAY" from Vathauer MedTech reliably indicates.
Physiotherapist Claude Diening: "I wanted to provide my customers, myself and my staff with a reliable way of monitoring ventilation – especially in these challenging times. And of course, I not only want to give my customers and patients a feeling of security, but also provide them with a trustworthy product that not only makes the already all too difficult daily routine easier, but also allows us to continue to carry out our profession in our premises as reliably as in the days before Corona."
Based on recent studies and new scientific findings, it has become clear that clear, clean air in enclosed spaces and those frequented by the public is essential to prevent the spread of viruses. What impact do these assessments have on your daily work?
Physiotherapist Claude Diening: "Especially in the medical and therapeutic field, we focus on basic hygiene and clear prioritization of health. Therefore, it is even more important to me that my customers and patients have a good and safe feeling when they enter my practice rooms as well as during waiting and treatment time. A basic ventilation routine is not always easy to implement in the day-to-day running of a practice, when staff changes, appointment pressure and stressful situations come into play. That's where a smart tool like the "KAY doctor" is extremely helpful and reliable, as it allows us to provide fresh air as needed."
Working together on an integrated digital platform for cell and gene therapy developers

The companies ATMPS Ltd and Ori Biotech announced a global collaboration to create seamless integration between their respective data platforms to support the development of Advanced Therapies. The non-exclusive partnership will result in the integration of Ori's proprietary CGT manufacturing platform's data architecture with ATMPS' HataaliTM, a secure data sharing platform, specially designed as a scalable system for advanced therapies. The combination of the two proprietary platforms will provide improved product tracking, scheduling as well as live monitoring of the manufacturing status across the entire CGT supply chain from vein to vein.
"Ori selected ATMPS' Hataali technology for integration with our platform to allow the secure sharing of relevant process data with therapy developers, contract development and manufacturing organizations (CDMOs) and even clinicians or patients in real-time. This collaboration will provide increased visibility into the treatment process for those involved at each stage of the treatment process, The addition of established technologies from companies like ATMPS allows Ori to further its mission of enabling partners across the CGT industry to bring therapies as safely, cost effectively and quickly as possible to large numbers of patients with few alternative therapeutic options."

– Jason C. Foster, CEO, Ori Biotech
Hataali encrypts and stores data using distributed ledger technology through a process known as hashing. This process ensures data security is protected through a system of private keys and cryptography. Hataali was the first cell orchestration platform installed in a hospital globally and ATMPS the first blockchain company to integrate with the UK National Health Service for the delivery of advanced therapies.
"Ori is an ideal partner for ATMPS, as both companies share a common mission to lower the costs and improve processes for cell and gene therapies. Ori's work in helping innovators scale from preclinical to commercial is a massive step towards reducing complexity and bringing these vital therapies to patients more quickly," said Raja Sharif, CEO, ATMPS. "We all know how challenging and expensive the development and manufacturing of CGTs can be. With the help of Hataali, Ori can securely leverage vein-to-vein data to advance their manufacturing solutions much more efficiently. This will enable real-time therapy tracking, improved patient trust and expediated clinical development."
Efficient pipetting between different vessel formats
Eppendorf expanded its line-up of Move It adjustable tip spacing pipettes with four additional variants. With adjustable cone distances, the pipettes allow scientists to accelerate and simplify their workflow when pipetting between different vessel formats such as from tubes to plates.
The new electronic models feature 8 or 12 channels and volume ranges of 1–20 μL or 5–100 μL respectively. With a minimum tip distance of 4.5 mm they are perfectly suited for the 384-well plate format.
Their unique, tubeless design results in fewer moving fragile parts which improves precision and durability. The pipettes are also autoclavable – increasing user and sample safety. With a 360° rotatable pipette head and an ideal hand balance, they are highly ergonomic and reduce operating stress in the lab.
Launched in 2020, the Move It line-up has already been acknowledged with a Wiley Analytical Science Award 2021 and one of the esteemed Scientists' Choice Awards 2021 for Best New General Lab Product of 2020. It now covers all dominant volume variants needed for different applications.
Along with the new Move It variants, Eppendorf have ramped up their production capacities for epT.I.P.S. 384 pipette tips, which are the perfect choice for 384-well pipetting and also available as filter tip.