HiLobe series


New high performance Roots pumps
Celebrate


40 years of Atex pumps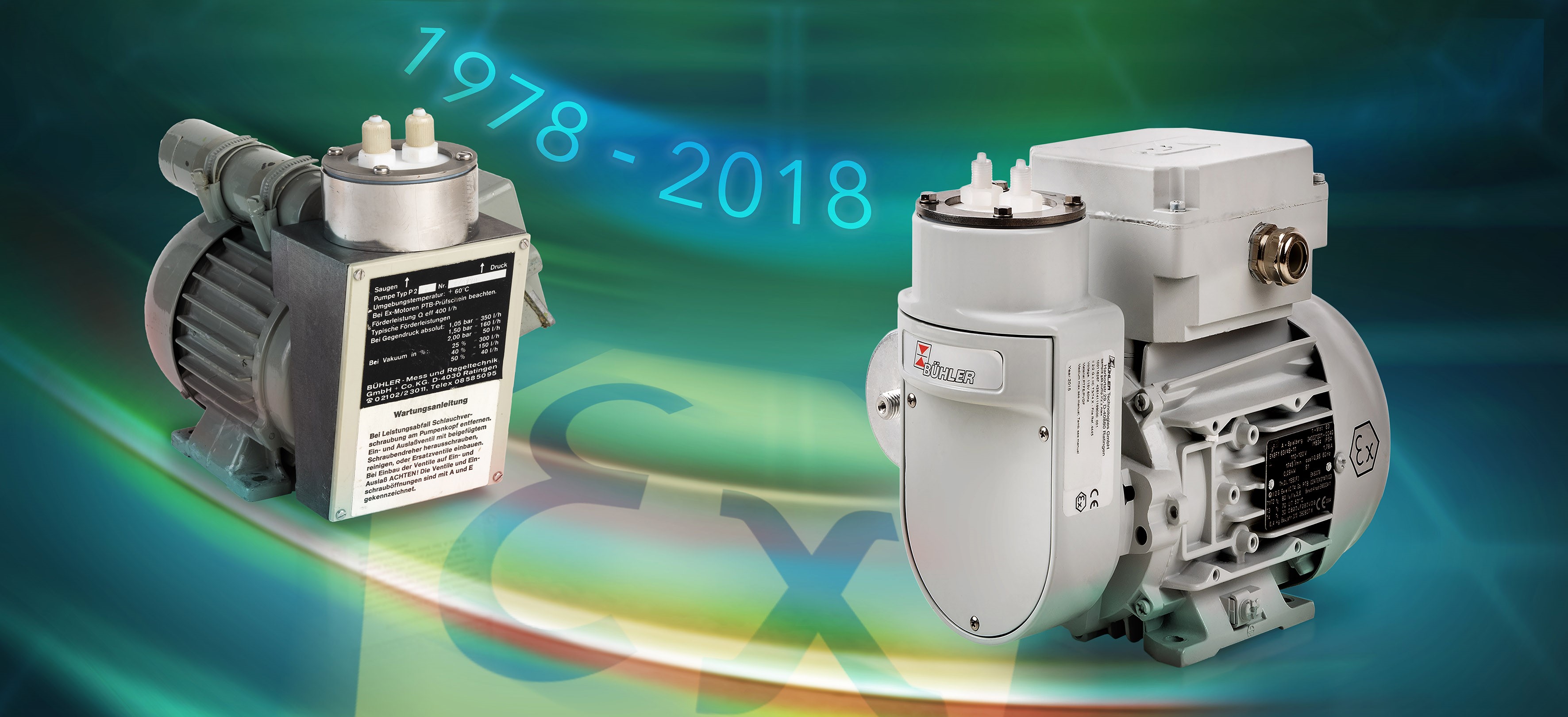 Quality is once again making history at Bühler Technologies: Bühler Technologies has now been a pioneering distributing and developing Atex certified sample gas pumps for 40 years. A good time to highlight the successful development in this product segment and introduce the sample gas pump P 2.2 Atex.
"Whilst taking inventory of a customer system our field engineers recently came across an Atex sample gas pump which has been in service since 1979. This discovery made us extremely proud. It's impressive testimony we have always met our responsibility for maximum quality in the sensitive Atex field."

Markus Beck, Sales Manager at Bühler Technologies
The same year the guidelines on explosion protection, applicable for all of Europe, had just been introduced by the Council of the European Community in 1979, "Bühler" started selling a product model which complied with the latest Ex requirements. The model would still meet the regulations 15 years later, known as the "Atext directive" since 1994 – although by then it had long been part of a separate product line.
AT stands for "Atmosphère" and EX for "Explosible". The Atex directives apply to companies developing and using products for potentially explosive industry sectors. These directives define the health and safety requirements which must be observed to protect all persons which come into contact with explosive areas of industrial systems. The Atex products, classified by the danger level, are a significant contribution to prevent explosive gases, dusts, mists, or even explosions, in industrial systems. Gas analysis by extracting and conditioning the sample gas are key for safe and efficient system operation in processes or monitoring emissions in the chemical industry, petrochemistry or biochemistry as well as power stations.
Vacuum Solutions for Metallurgy


Product portfolio for the metalworking industry
The need for energy-efficient, sustainable processes is increasing especially with regard to the frictions caused by high energy prices, increasing global warming and scarce resources. These requirements also have a direct impact on vacuum systems which are an elementary component in heat treatment plants and metallurgical processes. Leybold offers a wide range of highly innovative, already proven vacuum solutions especially for this requirement profile.
State-of-the-art mechanical vacuum pump systems are powerful tools for efficient operation. They have a robust design that enables the pumps to withstand harsh production environments. No matter what type of vacuum systems are operated: Innovative vacuum solutions reduce operating costs and CO2 emissions while providing complete process control.
Pump systems consisting of dry-compressing screw vacuum pumps of the Drycav type combined with Ruvac WH Roots pumps have proven themselves in use on secondary metallurgical VD, VOD or RH degassers. By using these standard pumps, even the highest demands on pumping speed can be met with the greatest reliability at competitive prices. In order to achieve high vacuum in VIM or VAR installations, Leybold offers the most modern oil booster pumps available on the market, which in combination with dry compressing Drycav screw pumps and Ruvac Roots pumps ensure maximum system availability at lowest operating costs.
The company has an even larger product portfolio for use in vacuum heat treatment furnaces: Oil-sealed Sogevac rotary vane pumps have proven themselves in clean processes such as hardening or tempering. For more demanding processes such as soldering, sintering or carburizing, dry-compressing screw pumps are also available. Depending on size and process, pumps of the Drycav , Screwline or Varodry series can be used. From single pumps to complex steel degassing systems: As the components for vacuum systems are manufactured in large quantities, the delivery time is short, they are cost effective and provide proven high quality, thus contributing to the success of the customer.
Emission-free rotary vane pump
Nowadays, modern vacuum technology must convince its users with emission-free, smooth running and sustainability. With these requirements in mind, Leybold has developed the compact Sogevac Neo D, an innovative 2-stage vacuum pump with integrated oil mist separator on the exhaust side. The working environment remains clean and free of oil mist during pumping. Continuous operation is possible without an external filter at any inlet pressure.
The robust Sogevac Neo D is optimized for applications requiring a pumping speed in the range of 1×10-2 to 1mbar; perfect for small heat treatment furnaces or as a holding pump for diffusion pumps. The Sogevac Neo D offers a stable process vacuum but is less expensive than conventional alternatives and saves up to ten percent energy due to its significantly smaller rotating mass. Additional energy savings can be achieved by operating the pump by means of speed control with a frequency converter.
Dry pumps
The dry-compressing screw vacuum pumps are designed for modern, intelligent production. They offer maximum energy efficiency, durability and future-proof network integration. Due to the optimized rotor geometry and the innovative motor design with efficiency class IE3, these pump types minimize power consumption and CO2 emissions. The bottom line is that Dryvac pumps are cheaper and more environmentally friendly than comparable models.
The new compact Dryvac models DV 200 & DV 300 are designed for harsh industrial applications, just as the larger pumps of the same pump series. They offer a long service life, even under demanding conditions with high humidity, dust or other process particles. Dryvac pumps also require minimal maintenance.
100% oil-free, dry-compressing screw pump
The 100% oil-free, dry-compressing and air-cooled Varodry screw pump guarantees the required operating pressure and a short cycle time, especially in demanding processes. Thanks to its compact design and reduction to the essentials, the vacuum pump can be easily integrated into new or existing systems. Due to the integrated silencer, it is quiet and has a pleasant operational noise.
The air-cooled Varodry is absolutely dry and clean. This prevents particle or oil migrations into the vacuum chamber or the environment. A further process advantage is their resilience and efficiency. It can be operated continuously at any inlet pressure and is completely resistant to regular shock ventilation. Therefore, any number of cycles can be run without overloading. Varodry pumps ensures uninterrupted operation without system downtimes. This qualifies it as the ideal vacuum pump for heat treatment applications and metallurgical processes.
Dry screw pump for extremely dirty applications
In demanding applications such as sintering or carburizing, dry-compressing screw pumps are preferred as backing pumps. They are more efficient and reliable than oil-sealed pumps. Especially the Screwline pumps have proven themselves in extremely dirty applications. Their main advantage: The pump chamber of this pump family can easily be cleaned by the customer on site, for example during process pauses by means of flushing.
Low power consumption, high pumping speed
With the air-cooled, oil-free Scrollvac plus, Leybold offers an uncomplicated, reliable backing pump. Its properties predestine it for a wide range of demanding applications, such as laboratory vacuum furnaces. This is also due to the low power consumption of the backing pump combined with high pumping speed. In addition, the Scrollvac plus, with its lightweight, compact design, takes up very little space. This enables integration into new and existing vacuum systems.
Its functional and design features simplify daily handling of the backing pump. For example, the hermetic sealing of the rotating parts of the pump chamber reduces the risk of contamination. By dispensing with shaft seals that are susceptible to wear, developers have achieved higher integral tightness.
Oil-jet steam pumps and systems for high-vacuum processes
Oil steam jet pumps and systems are characterized by the highest pumping speeds in metallurgical industrial high-vacuum processes. These pumps are robust continuous-running pumps and have proven themselves in steel production processes such as VIM and VAR, or in high-vacuum industrial furnaces. The pumping effect of these ejector pumps is created through the diffusion of the gases that are pumped into the vapor jet. Compared to other high vacuum pumps, the pumping speed compared to the surface area is very high.
Motor pumps with twin protecting shells


Expansion of onshore gas field
As part of a gas field expansion in Saudi Arabia, an international group approached the specialists at pump manufacturer Lewa Nikkiso Italy in February 2019 to commission the planning and delivery of 16 canned motor pumps. The systems that were ordered will be used in Saudi Arabia in raw oil processing and removing unwanted by-products from the gas flow. In addition to powerful pump technology, it is crucial to remove the medium reliably and safely, since the substances separated with this method often form a toxic, highly corrosive mixture. The Nikkiso Non-Seal pumps being used function without dynamic seals and also feature twin safety shells consisting of an inner stator lining and external pressure-resistant stator housing. As a result, leakage and the associated risks for the environment and employees can be effectively prevented. An integrated E-Monitor also ensures increased process safety at the customer's onshore installation by monitoring the bearing conditions of the hermetically tight pumps. The project is expected to be completed in 2020, including detailed planning and procurement plus construction and installation work.
In the course of raw material processing, unwanted by-products are continuously removed from the oil or gas flow. "The unusable mixture of substances that is derived from the clean gas flow mostly consists of hydrogen sulfide, carbon dioxide, and amines," explained Riccardo Marcotti, Senior Product Manager at Lewa Nikkiso Italy. "Hydrogen sulfide is particularly worth mentioning here, since it is a highly toxic chemical compound even in very low percentage and, dissolved in water, it is also highly corrosive to piping and equipment by sulfide stress cracking." This is why it is only possible to remove unwanted by-products with conventional pump technology to a limited extent – the risk of leakage and thus the release of  hydrogen sulfide in the atmosphere is too high.
Second protecting shell and elimination of dynamic seals
In light of these challenges, the global oil and gas company contacted Lewa Nikkiso Italy, a subsidiary of the Leonberg pump manufacturer, in February 2019 and commissioned the production and delivery of a total of 16 Nikkiso Non-Seal canned motor pumps. The pumps are necessary to guarantee that the toxic by-products are transported without complications, while avoiding negative effects on the environment and personnel at the expansion of the onshore gas field. "As you can imagine, the user's requirements for pump quality and project organization were very detailed," said Marcotti. "Above all, the customer placed priority on the aspects of pump reliability and safety. Our Nikkiso canned motor pumps were able to meet their standards optimally."
In total, the delivery to the major customer from Saudi Arabia includes six type HN23F-D2 canned motor pumps, two type HN24E-D3 models, four pumps in the HN23F-D3 basic design – as well as additional four warehouse spare pumps – each model sized for rated performance conditions. All of the variants being used feature a motor that is integrated right into the respective canned motor pump and is protected against leakage by a seal-welded, corrosion-resistant lining. And the entire motor exterior is encapsulated in a second leak-proof protective shell. As a result, we can eliminate the possibility the mixture will escape and contaminate the surrounding area and the environment. "Omitting dynamic seals has also allowed us to significantly boost operating safety during the work process," added Marcotti.
E-Monitor determines current bearing condition
Absolute process reliability also includes ensuring constant motor cooling to prevent immediate and long-term damage to the pump. Therefore, in the canned motor pumps being used, the medium being conveyed circulates in the area between the rotor and stator lining, affecting the motor temperature while lubricating the slide bushings at the same time. The integrated thermostats attached at the overheating points of the winding monitor the temperature and switch the motor off in case of overheating. This prevents subsequent damage.
In addition to monitoring the temperature, it is possible to check the bearing condition during pump operation. To do this, the sensors integrated into the stator transmit the relevant measurement data to a modern E-Monitor – for example, if the rotor leaves the safe operating position due to bearing wear. The sensors register this type of status change and report it to the monitoring unit. "A green LED lights up on the display to indicate a good bearing condition to the personnel, for example," explained Marcotti.  "A yellow light, on the other hand, indicates that the pump should be checked during the next system downtime. If a red LED lights up, the pump must be shut down immediately." The device makes it possible for customers to perform preventive maintenance work based on bearing wear and check that the pump's direction of rotation is correct. As a result, it is not necessary to measure phase rotation during commissioning.
Everything from a single source
In this major project in Saudi Arabia, Lewa Nikkiso Italy has been entrusted with the full spectrum of project implementation. This means the subsidiary of the Leonberg Group has been commissioned with detailed planning and procurement, as well as carrying out the supervision assistance for construction and installation work. "Thanks to our extensive experience with other EPC projects, we will be able to meet all the existing requirements without a problem," said Marcotti. "In addition to the necessary levels of safety and reliability, this applies to the specifications for compactness and maintenance, in particular." The modular structure of the pumps to be delivered is helpful here, since they consist of just a few components. All that is required is straightforward assembly and maintenance – without any spacer discs or clearance settings. And no additional motor or pump bearing lubrication is needed, since the medium being transported coats the sliding parts on its own. "This makes the pumps extremely easy to maintain and minimizes expensive downtime at the same time," Marcotti explained. Delivery of the 16 canned motor pumps is planned for February 2020; he expanded onshore gas field is expected to start up in 2022.