Product Launch


New helical worm gear unit
Nord Drivesystems has thoroughly redesigned its two-stage SK 02040.1 helical worm gear unit. The new SK 02040.1, made from strength aluminium, replaces the previous cast iron product. The one-piece die cast Uunicase housing guarantees maximum strength and rigidity with low weight. In addition, aluminium is considerably more corrosion-resistant than steel and can be further protected with the aid of additional measures such as the highly effective nsd tupH surface treatment.
The SK 02040.1 has a wide power range from 0.12 to 1.1 kW and an output torque of up to 100 Nm. The wide range of speed ratios (from 5.37:1 up to 330:1) enables optimum adaptation to the customer's requirements. The new gear unit is available in a universal foot flange version and offers ultimate versatility through many equipment versions and includes mounting options such as flanges and torque arms. All versions are available with solid or hollow shafts. The motor can be mounted directly without a coupling of adapter (IEC or NEMA).
Silage Wrap Stretch Film Capability


Coveris further expands
Building on its longstanding expertise of more than 35 years as a leading supplier of stretch films, Coveris now expands its capacities and further invests in its Kufstein plant. Following on from the recently announced major investment programme in Winsford UK, the second phase of this programme is now launched which expands and upgrades the technical capabilities in Kufstein, Austria through investment in a 5-layer specialist Agri Extrusion line.
The Winsford UK investment in new generation extrusion and pre-stretch assets creates a dedicated UK cell for stretch film production, expanding its industrial capacity and extending its capability to manufacture agricultural stretch film applications in the UK.
The 5-layer extrusion investment in Kufstein significantly enhances its position as Centre of Excellence for Agri production and will allow Coveris to extend its product range to include additional premium quality silage films for high speed wrappers and challenging bale sizes. The new equipment will be installed and commissioned during quarter two 2020, and together with the Winsford investment increases Coveris silage wrap capacity to ~30k tons.
"This investment of 5-layer extrusion capability into Kufstein is an exciting development for Coveris as we seek to significantly expand our offering within the Global Agri films market. We now have Agri manufacturing centres in both Austria and the UK, allowing us to offer our clients a wider service proposition to add to our outstanding product and technical know-how built up over many years. Our reputation for high quality products can now be enhanced further through accelerated product development and innovation", comments Martin Davis, President Business Unit Films on the Agri investment programme.
Easy machine validation


Guided safety acceptance test for frequency converters
With Sinamics Startdrive commissioning software, Siemens supports machine builders in the validation of safety functions for Sinamics frequency converters with a guided acceptance test. With Sinamics Startdrive, Siemens offers a tool for the integration of drive hardware into the TIA Portal engineering framework. The integrated guided acceptance test for safety functions is available for Sinamics G and S series frequency converters and complies with EN ISO 13849-2 and IEC 62061.
The safety acceptance test is extremely user-friendly. A wizard guides the user step by step through the acceptance process and checks whether the safety functions have been parameterized correctly and executed correctly in the relevant application. For documentation purposes, a standard-compliant acceptance report is then created automatically. With the safety acceptance test integrated in Sinamics Startdrive, Siemens helps machine builders to carry out the legally required validation of safety functions easily and safely.
Deliberately produces creases


Unique labeller for unique containers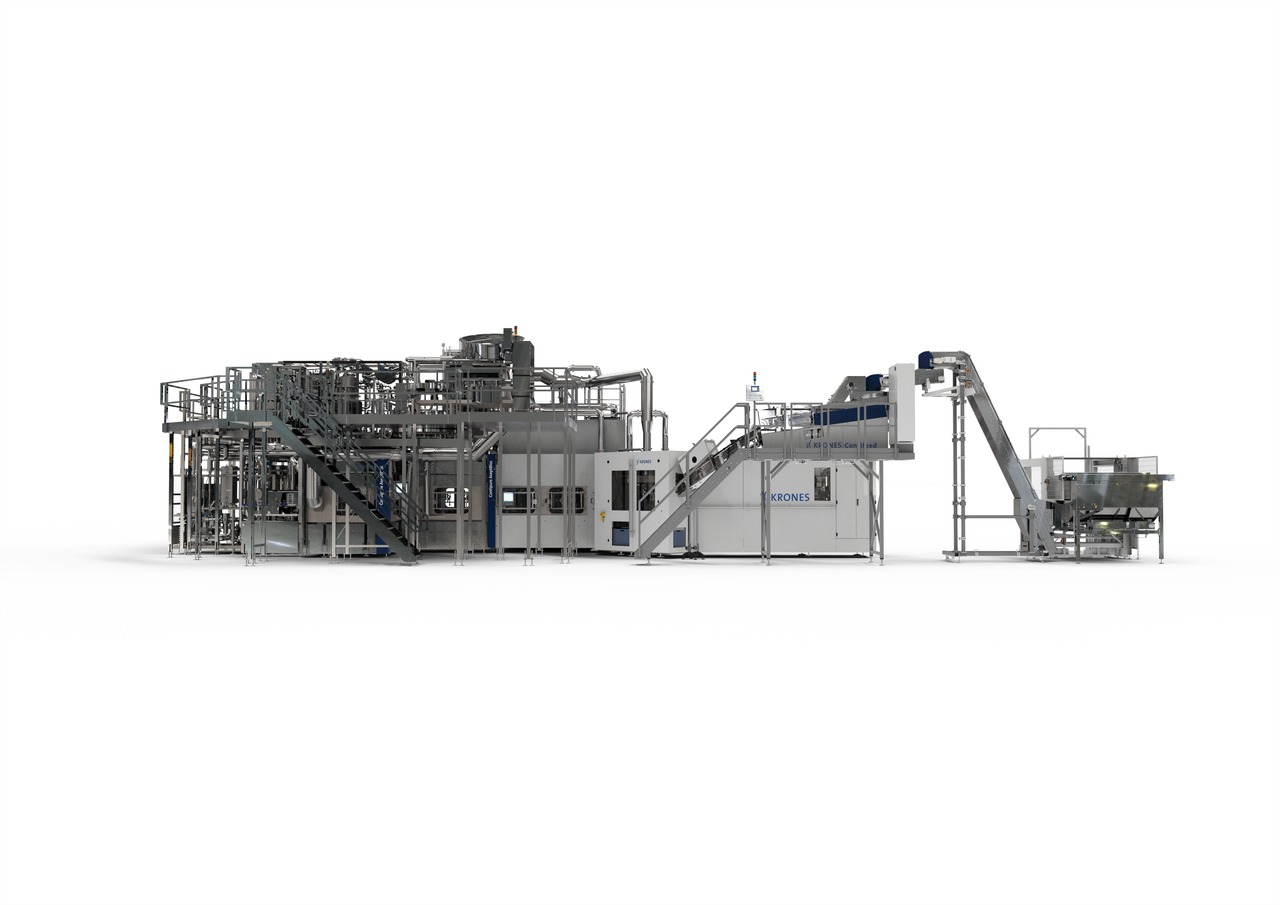 A label with creases, and a labeller that deliberately produces these creases – what for most beverage producers is a no-no was one of the paramount requirements of Mozart Distillerie in Salzburg. A look at the container's shape explains the paradox: the liqueur bottles are spherical, to connote the world-famous "Mozart-Kugel". The label, made of aluminium-coated paper foil, is required to fit snugly round the container – and to look as if it had been applied by hand.
Hitherto, Mozart Distillerie had been using what is meanwhile a 30-year-old labeller from a customised-machine manufacturer, which Plant Manager Friedrich Guggenberger had progressively individualised over the course of time with numerous design enhancements of his own. But the output no longer sufficed – and Mozart Distillerie was looking for a partner to jointly develop a new machine.
Numerous customisation features combined
Because Krones' corporate roots, of course, originate in labelling technology, the firm accepted the challenge – and combined the long years of practical experience and visions contributed by Friedrich Guggenberger and his team with the technical expertise of Krones' own labelling specialists. And the results are truly impressive: a combination of features for precise container positioning, several inspection systems, and a multiplicity of technological customisation improvements ensure that Mozart Distillerie's requirements are translated into engineered reality. For labelling, Krones is for the first time deploying a combination of one cold-glue and one wrap-around Contiroll labelling station, and pressure-sensitive body labels are applied to a sloping area. For affixing the foil, Krones developed a patented combination of a servomotor that turns the bottles, and linear motors that in twelve press-on operations use sponges to carefully press the foil onto the containers.
In order to ensure that the closure cap is correctly positioned as well, Krones has specially developed a guide rail that uses the sloping label area as an orientation reference point. These rails can be re-adjusted with only a few manipulations, so that all six sizes – from the small 50-millilitre to the large one-litre bottle – can be handled with the same system.
The new line is currently dressing around 5,000 bottles per hour, with an option for increasing the output to as much as 9,000 bph. It embodies two antithetical characteristics: the technology is fully automated to the latest state of the art, while the results, by contrast, reflect Mozart Distillerie's craft philosophy.