Continental


New Head of Investor Relations
The Investor Relations department of Continental AG in Hanover will be under new management as of January 1, 2019. Bernard Wang (38), who previously held the same position at Linde plc in Munich, Germany, will succeed Rolf Woller (45), who is leaving Continental at his own request at the end of 2018 to pursue new professional challenges.
Wolfgang Schäfer, the technology company's chief financial officer, welcomed Bernard Wang: "With him we are gaining an internationally experienced executive who is well versed in capital market and technology issues. I firmly believe that he will seamlessly continue and deepen our trusting dialogue with investors and analysts." He thanked Rolf Woller for his excellent, award-winning work. "During his 12 years with Continental, he was involved in our return to the DAX and the sustained increase in the value of our company, among other things. We would like to thank him for his extraordinary commitment and wish him all the best for the future," said Schäfer.
Born in Taiwan and a U.S. citizen, Wang studied electrical engineering at Princeton University in the U.S.A., has an MBA from the European School of Management and Technology (ESMT) in Germany and is a Chartered Financial Analyst (CFA) Charterholder. Between 2001 and 2014, he worked in the chip industry in the U.S.A., Europe and Asia, first as an engineer and then in strategy and investor relations. In 2014, Wang moved from the semiconductor manufacturer Infineon to the gases and engineering company Linde in Munich, Germany, where he has headed the Investor Relations department since the end of 2016.
Continental develops pioneering technologies and services for sustainable and connected mobility of people and their goods. Founded in 1871, the technology company offers safe, efficient, intelligent and affordable solutions for vehicles, machines, traffic and transportation. In 2017, Continental generated sales of €44 billion and currently employs more than 244,000 people in 61 countries and markets.
By 2026


Asia and the Middle East lead global ammonia capacity
Global ammonia capacity is expected to experience considerable growth between 2017 and 2026, increasing from 230 million tons per annum (mtpa) in 2017 to more than 280 mtpa by 2026, led by Asia and the Middle East, according to GlobalData, a data and analytics company.
The company's report: 'Q4 2018 Global Ammonia Capacity and Capital Expenditure Outlook – Dangote Industries Ltd and Nagarjuna Fertilizers Lead Global Capacity Additions' reveals that around 100 planned and announced plants are scheduled to come online, predominantly in Asia and the Middle East, over the next nine years.
Within Asia, India plans to add a total capacity of approximately 8.6 mtpa by 2026 with the help of 18 planned and announced ammonia plants. Major capacity additions will be from Nagarjuna Fertilizers and Chemicals Ltd and Rashtriya Chemicals and Fertilizers Ltd.
Dayanand Kharade, Petrochemicals Analyst at GlobalData, comments: "Domestic producers in India are set to have large capacity additions, primarily targeting the country's increasing fertilizer demand and import substitution."
GlobalData identifies the Middle East as the second highest in terms of ammonia capacity additions. Within the region, Iran has 21 planned and announced ammonia plants, with a total capacity of 8.4 mtpa by 2026.
In Africa, Nigeria plans to spend US$7.21bn and add capacity of roughly 6.6 mtpa, expected to come onstream by 2026.
Kharade adds: "In Nigeria, Dangote Industries Ltd is setting up large ammonia plants, primarily targeting domestic fertilizer demand and other export markets in the region."
The US has nine planned and announced ammonia plants, with a capacity of around 3.1 mtpa over the next nine years, and plans to spend US$3.23bn. Major capacity additions will be from Cronus Corporation and Ohio Valley Resources LLC.
In the Former Soviet Union (FSU), most ammonia capacity additions are in Russia, with capacity of approximately 2.9 mtpa by 2026. Capex for these plants totals US$1.95bn by 2026. MCC EuroChem is the top company accounting for the major capacity additions in Russia.
In South America, the major ammonia capacity additions are in Peru, with planned and announced capacity additions of around 0.9 mtpa by 2026. Capex for these plants totals US$0.76bn. In Europe, Hungary plans to spend US$24.0m and add capacity of 0.1 mtpa, expected to come onstream by 2026.
The report states that Dangote Industries Ltd and Nagarjuna Fertilizers and Chemicals Ltd leads among the key companies in terms of global capacity additions, with an estimated capacity addition of 2.9 mtpa (3 plants) and 2.0 mtpa (4 plants) respectively.
Corporates Outlook 2019


Agrochemicals provide counter-cyclical tailwind
Lagging prices in parts of the agrochemicals sector could catch up with growing volumes in 2019, helped by the recovery of Brazil's agricultural sector, destocking of crop-protection producers, and the launch of new products, says Scope Ratings.
The mix should provide a counter-cyclical tailwind for integrated chemicals companies which have led recent industry consolidation—BASF, DowDuPont, ChemChina (Syngenta) and Bayer — and are looking to agrochemicals revenue growth and cost savings to help pay down merger-related debt.
"Stronger credit metrics could be the positive outcome," says Klaus Kobold, analyst at Scope. Scope acknowledges that this outlook is vulnerable to external factors, such as escalating trade tensions, a decline in commodity prices in general and the devaluation of the exchange rates of middle-income countries with large agricultural sectors such as Brazil, says Kobold.
The global agrochemical market is made up two sub sectors of roughly equal size: Crop-protection products like pesticides and fertilisers. Scope treats pesticides, fungicides and herbicides similarly to specialty materials because the manufacturing process requires substantially more product knowledge. Fertilisers are more like a commodity, as they are sold in larger quantities and product prices are more transparent.
Demand for agrochemicals is driven by a diversity of factors: From prices for farm produce to the availability and quality of farmland, environmental regulation and shorter-term weather conditions. One consequence is that the global agrochemicals supply and demand follows their own cycle, not necessarily in phase with the global economic growth. Recent years are a good example, with a market contraction in 2015 followed by years of little or no recovery, despite sturdy global economic growth.
However, the cycle seems to have turned. Amid the powerful underlying demand driver of population growth and improving commodity prices—the World Bank forecasts mostly higher soft commodity prices for this year and next—the conditions are right for farmers to invest and plant more and be able to afford more expensive plant-protection products.
The latest indications from the corporate sector also support the view of an improving agrochemicals market, particularly in the crop-protection segment. Bayer Crop Science, DowDuPont's Corteva Agriscience and ChemChina's Syngenta have showed improved revenues this year and signalled favourable future pricing.
"It's also worth noting that the recent consolidation in the agrochemicals sector should give players some extra pricing power," says Kobold.
Chemical Applications


From Batchwise to Continuous Production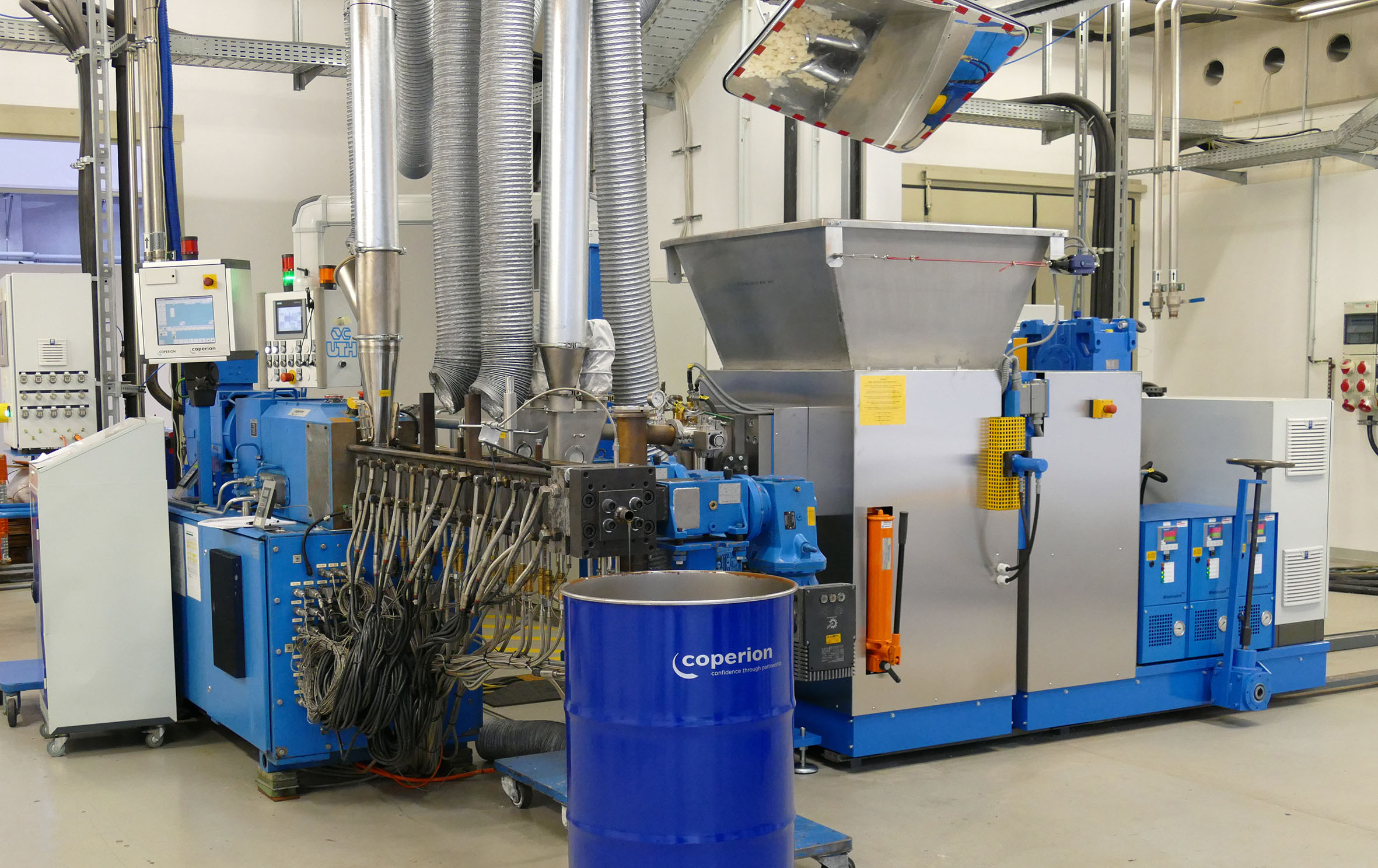 Over 150 participants from approximately 15 nations came to Stuttgart, Germany on13 and 14 November 2018, accepting their invitations to the 2018 Coperion Extrusion Days. In keeping with the motto "Batch to Conti", the conference took up an often-discussed current topic in the chemical industry, surrounded in controversy, that offers enormous savings potential, while reliable information regarding its safety and dependability often remains unavailable. Presentations by internal and external experts, plant tours, and live presentations gave professionals in attendance new insights into the basics of modern extrusion with co-rotating twin screw extruders and their enormous performance gains — relative to production volume — versus batchwise mixing and homogenization processes. Such understanding serves to aid participants in decision making for their own uses. A central focus of many presentations was on maintaining constant formulations to meet specifications using application-specifically optimized extruders, feeding systems, and monitoring systems. Concrete case examples demonstrated successful conversions from batch to extruder technology and the significant increases in production capacity enabled thereby, with at least equal product quality and, in any case, significantly better quality consistency.
A ZSK 34 Mv PLUS twin screw extruder was the central element in a demonstration of HMPSA (Hot Melt Pressure-Sensitive Adhesive) manufacturing.  In this example, a Roll-ex  system masticated rubber balls on hand as a formula component so far as to enable continuous extruder feeding.
Use of a demonstration extruder with a transparent plastic housing allowed Coperion Stuttgart's research & development team to give visitors the ability to see for themselves how differently designed mixing elements ensure complete mixing of two fluids with different viscosities. A CFD (Computational Fluid Dynamics) flow simulation shown in parallel demonstrated the broad agreement between theory and practice. Coperion is implementing this process in order to evaluate newly developed screw elements and mixtures, among others.
"In the meantime, continuous processes are being implemented in many industries for countless applications and mixtures. The advantages of consistent quality at concurrently higher efficiency nowadays are also attractive arguments for many users in the chemical industry to potentially change over from batch processes to continuous production", said Oliver Beiser, Team Leader of Chemical Applications of Coperion's Compounding & Extrusion Division.
The variety of questions raised in the forum, as well as the animated discussions during breaks between event blocks, demonstrated how great the need is for information in this field, and how that need extends far beyond what is available. Time and again, participants expressed amazement at the versatile possibilities shown, even in their own companies, to increase productivity with short-term ROI and increased quality consistency. Of particular note for participants was a comparison of scrap quantities that Guido Arzt, member of the global process team at Henkel Adhesives & Sealants, elucidated during his presentation.
Moreover, during one extensive plant tour, participants at the 2018 Extrusion Days gleaned an impression of Coperion's vertical integration at its Stuttgart location, ranging from screw element and extruder barrel manufacturing to final assembly of twin screw extruders.