Bio-derived product


New Greener Solvent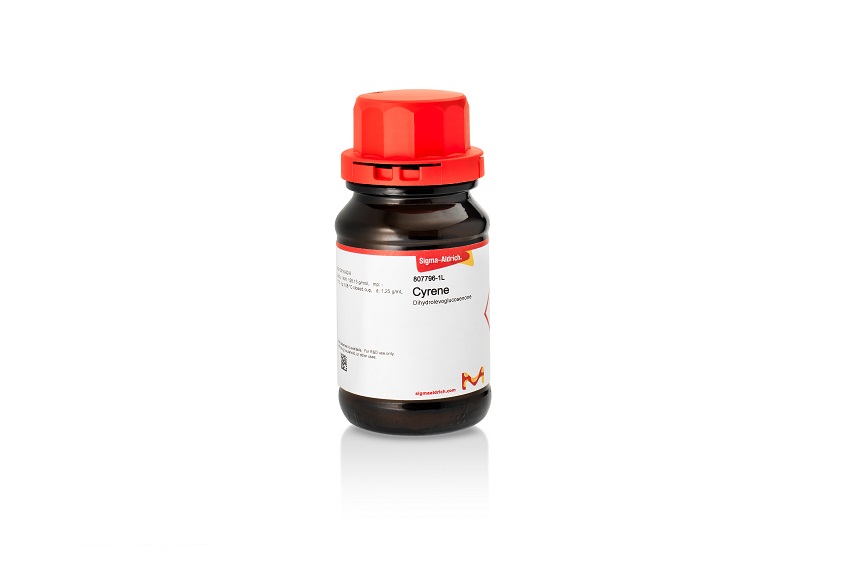 Merck, a science and technology company, launched Cyrene — a sustainable dipolar aprotic solvent, produced in two steps from a renewable cellulose source. The bio-derived alternative was created in response to the need for solvents to meet stricter regulation requirements for both employee safety and environmental sustainability. The new product targets the rising demand for greener alternatives to Dimethylformamide (DMF) and N-Methyl-2-pyrrolidone (NMP).
"With a strong focus on green chemistry, Merck is dedicated to providing today's scientists with innovative solutions to help solve environmental challenges before us. As a greener alternative, Cyrene solvent allows our customers to improve the safety of their processes and reduce the environmental impact of their research and manufacturing — without compromising performance."

Klaus Bischoff, head of Research Solutions, Life Science at Merck
The Life Science business of Merck uses the 12 Principles of Green Chemistry that were developed and published by thought leaders Paul T. Anastas and John C. Warner in 1991 as a framework for its Green Chemistry practice.
DMF and NMP are under increasing regulatory restrictions, with both being classified by the European Union's Registration, Evaluation, Authorization and Restriction of Chemicals (REACH) as substances of very high concern. More recently, according to the European Union, the European Commission added NMP to the restricted substances list known as REACH Annex XVII — driving the demand for alternatives. Additionally, effective May 2020, consumer products containing more than 0.3 percent NMP will be prohibited in the European Union. Initial studies and testing have found Cyrene solvent to be a more sustainable, safer option when compared with DMF and NMP.
Cyrene solvent was developed as a result of a partnership between the University of York's Green Chemistry Centre of Excellence (GCCE) and Circa Group. Utilizing its expertise in green chemistry, the University of York's GCCE worked to determine potential applications for the Cyrene solvent.
"Cyrene solvent actually outperformed the solvent we currently use for manufacturing graphene — providing us with both a sustainable and more effective option to traditional solvents," said James Clark, professor, University of York and director, Green Chemistry Centre of Excellence.
Merck also researched alternate uses of Cyrene solvent in mild and robust Sonogashira cross-couplings, a common reaction used in medicinal chemistry, with Professor Allan Watson's group at the University of St. Andrews, United Kingdom.
"It was important for us to find a safer alternative without sacrificing quality," said Allan Watson, reader in Homogeneous Catalysis, University of St. Andrews. "Through our research, we found that Cyrene solvent features similar physical properties to those of DMF and other dipolar aprotic solvents, while enabling medicinal chemists to execute a more sustainable chemical synthesis."
Cyrene solvent was also substituted for DMF in amide couplings — a fundamental reaction in drug discovery. By demonstrating that safer, greener alternatives offer superior performance, Cyrene solvent was recognized as the Bio-Based Chemical Innovation of the Year at the 2017 European Bio-Based Innovation Awards.
Artificial Intelligence


Bilfinger to become a DFKI shareholder
Bilfinger, through its subsidiary Bilfinger Digital Next, is joining the group of shareholders of the German Research Center for Artificial Intelligence (DFKI). The DFKI is an industry-focused research institute in the field of innovative software technologies incorporating artificial intelligence (AI) and is considered one of the most important "Centers of Excellence" in the international scientific community. The purpose of the stake is to develop innovative solutions based on AI for the process industry. Bilfinger is the first industrial services provider in the DFKI shareholder group, which also includes companies like Google, Microsoft and SAP. Franz Braun, CEO of Bilfinger Digital Next: "Artificial intelligence technologies give companies in the process industry groundbreaking new opportunities to manage and maintain their plants with a greater degree of efficiency and effectiveness. Plant operators can generate substantial competitive advantages using AI. We want to demonstrate these possibilities to our customers and support them with future-oriented solutions based on the broad range of advantages delivered by artificial intelligence".
Prof. Dr. Antonio Krüger, CEO and Chairman of the DFKI Management Board: "We are pleased to be taking the next step towards a lasting partnership on the basis of the success we have enjoyed in our joint project work to date. Bilfinger's commitment attests to our cooperation and underscores the industrial relevance of the work DFKI researchers are doing. DFKI's circle of shareholders will be strengthened by the addition of an ambitious industrial services provider, with whom we plan to continue implementing the results of AI research into products and solutions for the process industry".
Bilfinger has been collaborating successfully with the DFKI for some time on the development of digital solutions for the process industry. Joint developments that have been launched on the market include PIDGraph, a software for the digitalization of plant documentation. Through the application of AI methods, the software is able to digitalize piping and instrument flow diagrams (P&I diagrams) that are only available in paper or PDF formats. The symbols, texts and lines of the diagrams are converted into a digital format with the help of neural networks trained to recognize patterns. The software records the corrections made by the user and thus continuously improves itself. The digital formats created by PIDGraph can be processed by any modern engineering and asset management system, thereby forming the basis for creating "digital twins" of industrial plants, for example. The digitalization of P&I diagrams is not only significantly cheaper with PIDGraph, but also much faster than conventional methods.
"The AI algorithms recognize the complex elements in the plant diagrams, analyze them, assign them semantically, making them readable for the computer. PIDGraph shows how mature AI methods can comprehend complex corporate knowledge and make it available for digital use," says Prof. Dr. Andreas Dengel, who started the cooperation with Bilfinger and leads the research area Smart Data & Knowledge Services at the DFKI.
Merck


Virtual Annual General Meeting On May 28
Merck, a science and technology company, will hold its Annual General Meeting this year in virtual form on May 28. The company is thus making use of the possibilities afforded by the German legislator in view of the coronavirus pandemic. Within the scope of the Annual General Meeting, a resolution on the dividend proposal of € 1.30 per share will also be voted on. Payment is planned for June 3.
The Annual General Meeting will be publicly webcast in its entirety on the Internet. Physical participation is not possible. The invitation will be published by May 7, in keeping with the official deadline. Notes on exercising shareholder rights and further information on the virtual Annual General Meeting will be available as of May 7 on the website www.merckgroup.com/agm and in the invitation.
Merck had already announced back in March that it would postpone its Annual General Meeting originally planned for April 24 and hold it in virtual form as soon as possible in order to protect the health and safety of employees and shareholders.
Lab Inventory, Safety and Compliance Management System


System to Improve Scientists' Productivity in the Lab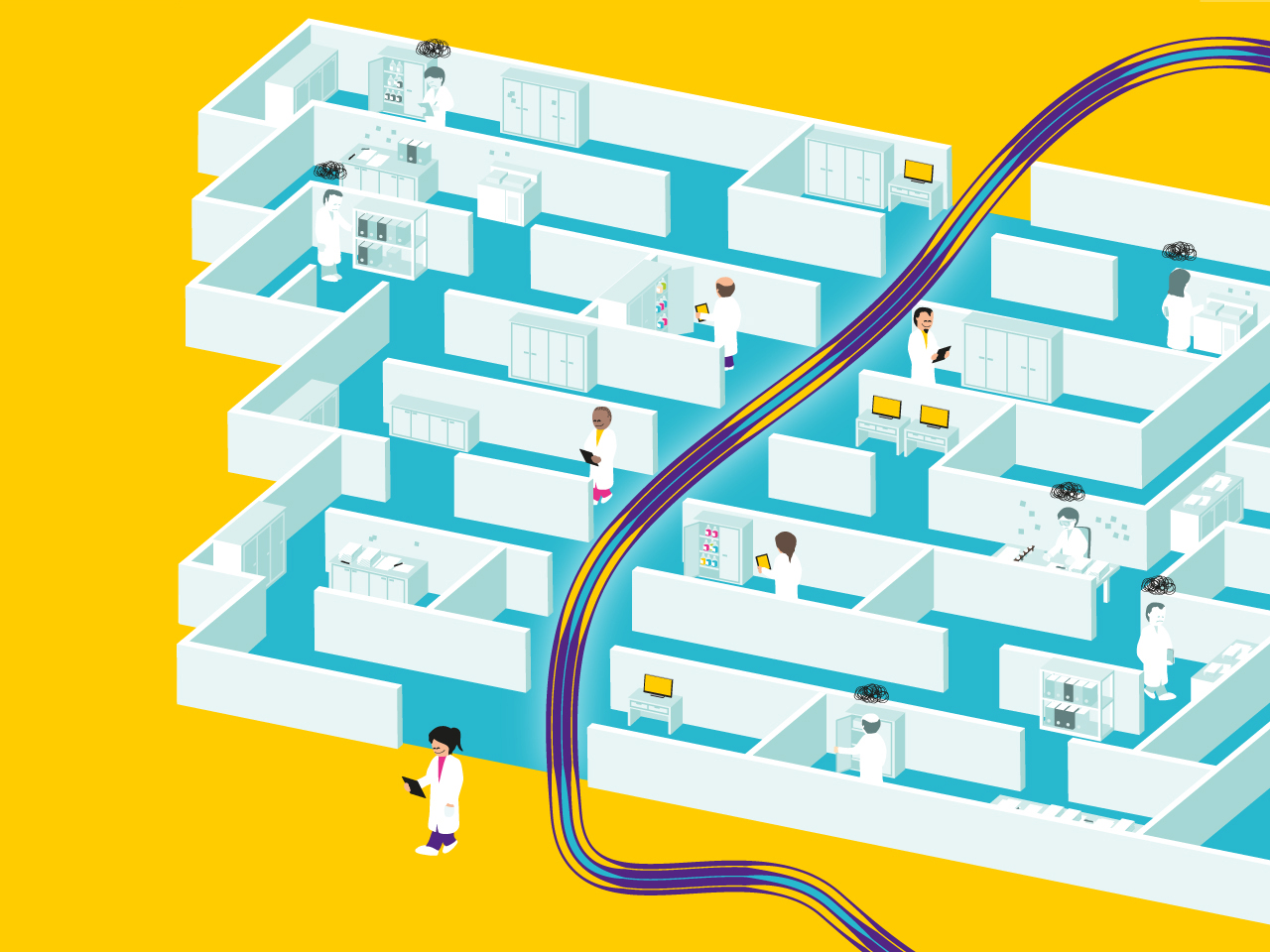 Merck, a science and technology company, today launched its Lanexo Lab Inventory, Safety and Compliance Management System, a new digital laboratory informatics solution designed to drastically reduce1 time in labs and improve data quality and traceability.
"Today, 85 percent of labs are using paper or Excel to manage consumables data, and 25 percent of time is spent managing these data — taking scientists away from bench research," said Jean-Charles Wirth, head of Applied Solutions, Life Science at Merck. "Lab efficiency is critical as it gives scientists more time to focus on their research and analytics work and less on administrative tasks, which ultimately leads to faster drug development. Our Lanexo System — with first-to-market features — underscores Merck's commitment to advancing and commercializing laboratory informatics."
Laboratory informatics is the application of data using a platform of software, data management tools and equipment that allow scientific data to be captured and interpreted for immediate use, and then stored for future research and development purposes. The laboratory informatics market, which accounted for $2.4 billion in 2018, is expected to reach $5.45 billion by 2027, according to a recent Research and Markets global market outlook report.
Merck is the first to offer radio-frequency identification (RFID) labels which auto-register open dates and calculate expiry dates. Through this digital data capture, the Lanexo System rapidly documents lab reagent data in real time. Digitalized inventory, expiration and storage monitoring reduces human error and safety risks and improves the reliability and traceability of compliance documentation. Ultimately, each reagent, including in-house preparations, can be instantly matched to a full audit report. Within an experimental workflow, the system allows for easy reagent identity checks and provides automatic alerts, helping scientists to avoid using expired reagents and minimizing experimental error.
The cloud-based Lanexo System can be easily set up and rapidly integrated into existing lab workflows. It includes mobile (Android) and web applications and is designed for use in highly regulated analytical and research labs in pharmaceutical, quality assurance / quality control and industrial testing markets.
Merck last year launched Milli-Q Connect, a cloud-based service portal for its water purification systems, and also acquired BSSN Software, a lab informatics company that makes data more readily accessible for ease of integration, collaboration, analysis and long-term archiving.