New gas coolers eliminate thermal problems
The removal of moisture is an essential step in extractive sample gas conditioning systems. However, this process generates excessive heat inside the cabinets and thus very often requires additional efforts like air conditioning.
The new gas cooler series TC- kit (+) from Bühler Technologies eliminates these extra efforts. Peltier elements as temperature transmitter are the middle part of a sandwich consisting of a heat sink with integrated fan forming the outer part and a cooling block with exchangeable heat exchangers and the attached electrical terminals as the inner part. For the installation a cut out has to be made at the appropriate side wall of the cabinet.
With the heat sink geometrically larger as the internal parts, the unit slides into the cut out and finally is attached to the outside wall of the cabinet and sealed by a gasket. The electrical leads and the sample gas lines are kept inside the cabinet whereas the thermal load is dissipating to the ambient keeping the inside of the cabinet considerably cooler.
The protection class of the mounted unit is IP 54.
The TC Kit (+) requires 24VDC as power supply. As an option an extension unit for 115/ 230V AC supply is available and will be saddled directly to the basic unit. This extension also provides all neccessary connections to auxilliary units like sample gas and condensate pumps as well as moisture detectors and heated sample lines.
The operation parameters and alarm settings are programmable by a remote controller with digital display. This controller can be installed at an appropriate place inside the conditioning cabinet. The TC Kit+ version comprises special heat exchangers with minimised wash out effect as required by EN 15267-4 suitable for automated emission monitoring (AMS) systems.
Efficient pipetting between different vessel formats
Eppendorf expanded its line-up of Move It adjustable tip spacing pipettes with four additional variants. With adjustable cone distances, the pipettes allow scientists to accelerate and simplify their workflow when pipetting between different vessel formats such as from tubes to plates.
The new electronic models feature 8 or 12 channels and volume ranges of 1–20 μL or 5–100 μL respectively. With a minimum tip distance of 4.5 mm they are perfectly suited for the 384-well plate format.
Their unique, tubeless design results in fewer moving fragile parts which improves precision and durability. The pipettes are also autoclavable – increasing user and sample safety. With a 360° rotatable pipette head and an ideal hand balance, they are highly ergonomic and reduce operating stress in the lab.
Launched in 2020, the Move It line-up has already been acknowledged with a Wiley Analytical Science Award 2021 and one of the esteemed Scientists' Choice Awards 2021 for Best New General Lab Product of 2020. It now covers all dominant volume variants needed for different applications.
Along with the new Move It variants, Eppendorf have ramped up their production capacities for epT.I.P.S. 384 pipette tips, which are the perfect choice for 384-well pipetting and also available as filter tip.
High-end PC for mobile machinery
A high-end PC is now added to B&R´s mobile automation portfolio. The new PC offers significantly more processing power and memory, giving it plenty of resources to implement autonomous functions for agricultural and construction vehicles or self-driving transport systems.
The PC is specially designed to perform in harsh environments. The housing temperature can be between -40°C and +85°C. The PC is also highly resistant to shock and vibration.
Ideal for resource and data intensive applications
Inside the mobile PC's IP69K housing is a powerful Intel Core i7 processor. It also has 16 GB RAM and 480 GB flash memory, making it ideal for applications that are computationally intensive or involve larger volumes of data.
The increased computing power is needed for tasks such as accurate path planning in autonomous agricultural vehicles. More efficient, more precise vehicles deliver increased yield.
From the field to the cloud with OPC UA or MQTT
The PC's high performance makes it optimally suited for smart machines that communicate with each other, process data and send it to the cloud. Tractors and implements can optimize harvesting efficiency, for example, by exchanging information such as speed and load capacity. B&R supports well-established communication protocols like OPC UA and MQTT.
New connected electronic pipettes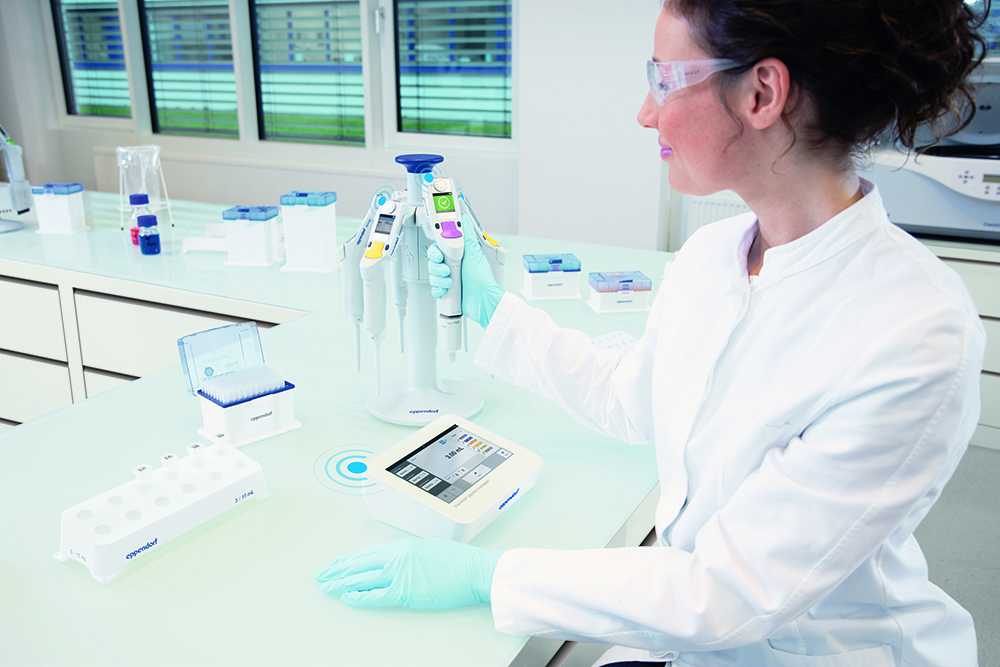 On its way towards digitalization in manual pipetting: Eppendorf has developed the brand new VisioNize® pipette manager.  The system is ideal for scientists who manage a high workload and require many intricate pipetting steps. Technology solutions are here to help scientists improve speed, accuracy, and efficiency and collaboration. This is where connectivity and the Internet-of-Things approach come in.
The new pipette manager acts as a control panel and communicates with the connected electronic pipettes from Eppendorf. It can be used to quickly enter volumes, with all the settings being immediately transferred to all the connected electronic pipettes. The integrated software provides helpful guidance to ensure accuracy when working with different liquid types. Conventional tablets can also be connected alongside the electronic pipettes to work in parallel.
Back in 1961, Eppendorf launched the world's first microliter system, the "Marburg Pipette", thus revolutionizing pipetting forever. The year 2021 marks both the 60th anniversary of this groundbreaking development and the next step Eppendorf is taking to support scientists on the way to the networked laboratory of the future.