For flexible output rates


New freeze dryer
The lyophilization system can be used to stabilize thermolabile and delicate active ingredients, like oncological medications, vaccines or antibodies. The system, which was developed at the company's Austrian subsidiary Schoeller-Bleckmann Medizintechnik (SBM), rounds out Bosch's portfolio for pharmaceutical liquids. Its modular design makes the GMP-compliant freeze dryer suitable for the production of small batches for clinical trials, as well as for medium production batches.
Reliable stabilization of pharmaceuticals
During the freeze drying process, water is extracted from the drugs by means of sublimation without affecting its properties. Depending on the individual product, the shelf life can be extended many times over. The dry, porous lyo cake can be quickly and easily reconstituted shortly before use by adding sterile water.
Optimum shelf design
As a result, the shelves were produced using laser welding technology, which ensures a 100 percent controlled, automated and reproducible manufacturing process. This in turn is essential for consistent and reliable product quality. Moreover, by using thinner sheets, the weight of the shelves has been significantly reduced compared to alternative production processes. Thanks to this weight reduction, less mass has to be cooled and heated, which has a positive effect on energy consumption.
Another advantage of the system is the homogenous temperature distribution in the shelves. The internal channeling and flow velocity were optimized on the especially developed test bed to ensure consistent heat exchange. The tilting shelves ensure rapid cleaning: the slight tilt enables water droplets to quickly drain from the surface, shortening the cleaning and drying time. The tilt angle also improves the performance of the CIP nozzles, reducing water consumption.
High flexibility
The freeze dryer was developed based on the user-experience approach, taking know-how gained from customer projects and discussions with equipment producers and pharmaceutical manufacturers into account. The robust system meets Bosch's high quality and safety standards and fits seamlessly into the company's comprehensive pharma portfolio. The matching interfaces ensure rapid and seamless connection to the upstream filling machine with isolator technology, the downstream capping machine, inspection system and secondary packaging station.
Innovative production cell for food & beverage can lids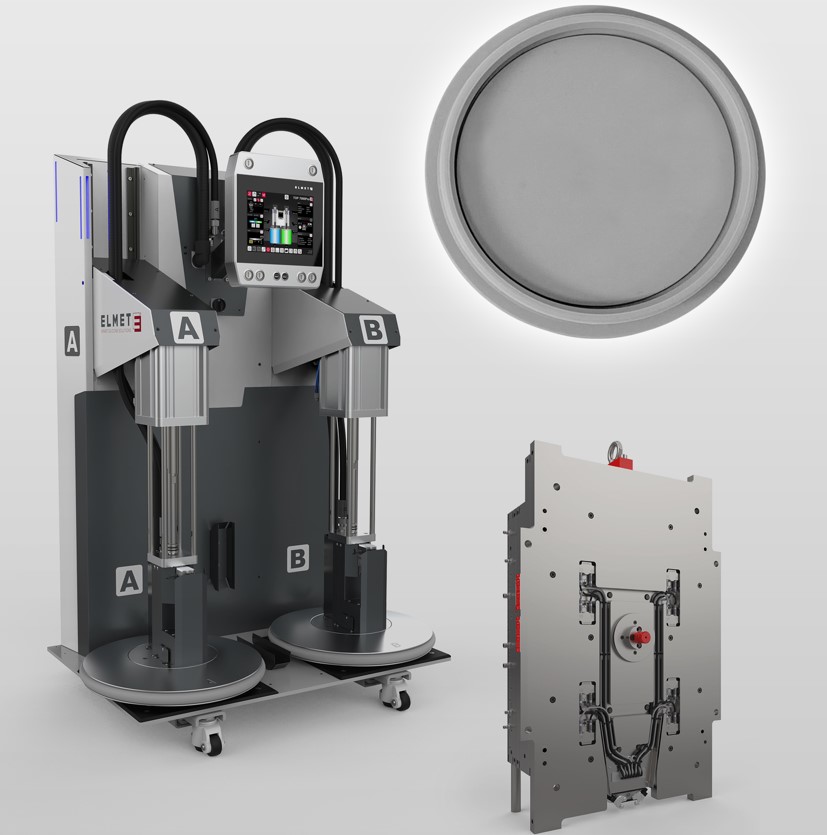 Together with its project partners, Upper Austrian company Elmet has developed an innovative production cell. The system manufactures four different covers for beverage and food cans, which have been dubbed as "SMARTcaps". SMARTcap is a collaborative project by Elmet, Sumitomo (SHI) Demag, Shin-Etsu, and Mettler Toledo. In the form of Elmet's SMARTshot E and SMARTmix TOP 7000 Pro systems, two of the company's technological flagships are used in the production cell. The system will be presented for the first time at K 2022 at the exhibition booth of Elmet's partner Sumitomo (Hall 15, Booth D22). The leading business platform for the plastics and rubber industry takes place in Düsseldorf from October 19 to 26, 2022.
In the 26 years since it was founded, Elmet has become a global player in the development and production of high-quality equipment for manufacturing silicone parts. Partners from all over the world utilize the know-how from Upper Austria for developing innovative systems. Most recently, Elmet has collaborated with three project partners to develop a production cell that manufactures four different lids for beverage and food cans. The accuracy of the injection process is ensured and documented by a weighing cell. A laser marks the finished SMARTcaps to ensure optimal traceability.
Leading Elmet technology twice over
Lids for food & beverage cans are manufactured by an Elmet injection mold, featuring an all-electric SMARTshot E valve-gate cold-runner system. Its technological high-end counterpart in material provision is the Elmet SMARTmix Top 7000 Pro dosing system, responsible for precise and reliable dosing of material to the Elmet injection mold. A Sumitomo linear handling device removes the parts from the mold and transfers them to the weighing cell made by Mettler Toledo. Every single part is weighed there. The result is stored in a database and also displayed graphically to demonstrate the process accuracy of the system. After the weighing process, the silicone parts are marked by laser to ensure highest possible traceability. After lasering, the parts are placed on a conveyor belt.
The interaction provides the magic
The new system is not only innovative in terms of the perfect symbiosis of technology-leading Elmet elements. The magic of this innovation unfolds in the interaction between the high-tech contributions from the four partner companies. The combination of high-precision dosing (Elmet SMARTmix Top 7000 Pro), the all-electric injection-molding machine (Sumitomo IntElect), and the electric valve-gate cold runner (Elmet SMARTshot E) enables a previously unachievable level of accuracy in the reproduction of part weights. The special four-cavity injection mold from Elmet injects four different can lids made of liquid silicone (LSR) from partner company Shin-Etsu. The silicone lids produced serve as coverings for customary beverage cans that have been in use for decades, such as those for soft drinks, energy drinks and various alcoholic beverages. A separate cavity also produces covers for customary food cans made of sheet steel, which protect the contents from insects, for example, and keep the opened cans fresh in the refrigerator.
Elmet SMARTmix TOP 7000 Pro
The dosing system is a new development from the Austrian company. Development work focused on reducing the unit's footprint to 1,150 x 790 millimeters. This makes the system the smallest liquid-silicone dosing system for 200-liter container units on the market. Compared to its predecessor, the SMARTmix TOP 5000 P, the SMARTmix TOP 7000 Pro features a completely new pump system, which now only contains approximately one third of the liquid silicone in the system, making it much easier to clean. This characteristic is very important, particularly for use in the medical and pharmaceutical fields, where the pump unit is dismantled and cleaned each time the material changes, in order to prevent mixing of different types of liquid silicone. Apart from the new pump unit, an optimized follower plate geometry also helps reduce the amount of residual material. The new system boasts a material utilization level of up to 99.6%. Drums are changed fully automatically to increase ease of use and keep the amount of training to a minimum. Use of special seals made of FDA-compliant materials also predestines the SMARTmix TOP 7000 Pro for medical applications
Teamwork at the global player
Not only know-how from Elmet can be found in the sophisticated system.
"Only when combined with the all-electric injection-molding machine from Sumitomo, the weighing system from Mettler Toledo, and the liquid silicone (LSR) from Shin-Etsu does the unique system become a total work of art that we are all really proud of," says a delighted Harald Wallner, CEO at Elmet.
The system can be seen for the first time at the Sumitomo booth at K 2022 in Düsseldorf, Hall 15, Booth D22.
Elmet SMARTshot E with SMARTcontrol
The all-electric Elmet SMARTshot E valve-gate cold-runner system guarantees precise filling of every single cavity in a reliable process. Settings for the cold runner are entered on an 18.5" display of the external SMARTcontrol unit. Thanks to servomotors, it allows needle adjustments in increments of two thousandths of a millimeter. Needle regulation is carried out in real time and monitored continuously by the system. The innovative arrangement of the mini servomotors enables nozzle spacings of 44 millimeters. Pneumatic components, on the other hand, are a thing of the past. This saves energy and facilitates ingenious cable management with industrial plug connections, which allows cleaning work to be performed on the cold runner without any qualified electrical personnel.
Stora Enso and Huhtamaki launch industrial scale recycling programme for paper cups in Europe
Huhtamaki and Stora Enso have joined forces to launch a new paper cup recycling initiative, The Cup Collective. The programme, which is the first of its kind in Europe, aims to recycle and capture the value of used paper cups on an industrial scale. Initially the programme will be implemented across the Benelux. With the aim of setting new standards for paper cup collection and recycling in Europe, The Cup Collective has issued an open invitation for partners from across the supply chain to get involved in working towards a systemic European solution.
The EU has set recycling target for paper and board packaging of 85 percent by 2030. Paper cups are recyclable but need to be collected before they can be turned into new paper products. The Cup Collective initiative will create the necessary collection infrastructure to significantly increase the recycling rate of wood-fiber in paper cups. Above all, the programme will make it as easier for consumers and businesses to collect used paper cups to be regenerated into valuable recycled raw material.
The first paper cup collection bins will be available in restaurants, cafés, office buildings and transport hubs in the Brussels and Amsterdam metropolitan areas. The Cup Collective aims to recycle half a billion paper cups in the first two years and, as it is designed to be scalable, has the capacity to significantly increase recycling volumes in Europe. The programme is managed by Co-cre8 – co-cre8.earth, a UK-based firm with over a decade's experience in designing and implementing recycling programmes across Europe.
"Huhtamaki is a world leader in developing and manufacturing recyclable fiber products. For us, every cup counts. We want to go to the next step and ensure that recyclable cups also get effectively recycled. We have combined the best expertise from Huhtamaki and Stora Enso to create this new vision for industrial scale cup collection and recycling," says Eric Le Lay, President, Fiber Foodservice EAO at Huhtamaki.

"Stora Enso wants to accelerate the circularity of all packaging materials and we have an excellent foundation to make that happen. The paperboards we make are designed to be recycled and our own production sites, including Langerbrugge in Belgium, can process and recycle paper cups into new fiber-based products. By partnering with Huhtamaki and Co-cre8 we will now be able to provide a platform to collect and capture the value of paper cup fibers on an industrial scale," says Hannu Kasurinen, EVP, Stora Enso Packaging Materials division.
Call for action
The Cup Collective will work with partners throughout the supply chain, from the largest restaurants and café chains, retailers and transport hubs to independent coffee shops, collection partners, waste management operators and policymakers across Europe to address the challenges to recycling and deliver a viable scalable solution for Europe. Initially, The Cup Collective is being financed by the two companies but a key factor in the success of The Cup Collective will be its ability to become self-funding in the future.
Solutions for sustainable supply chains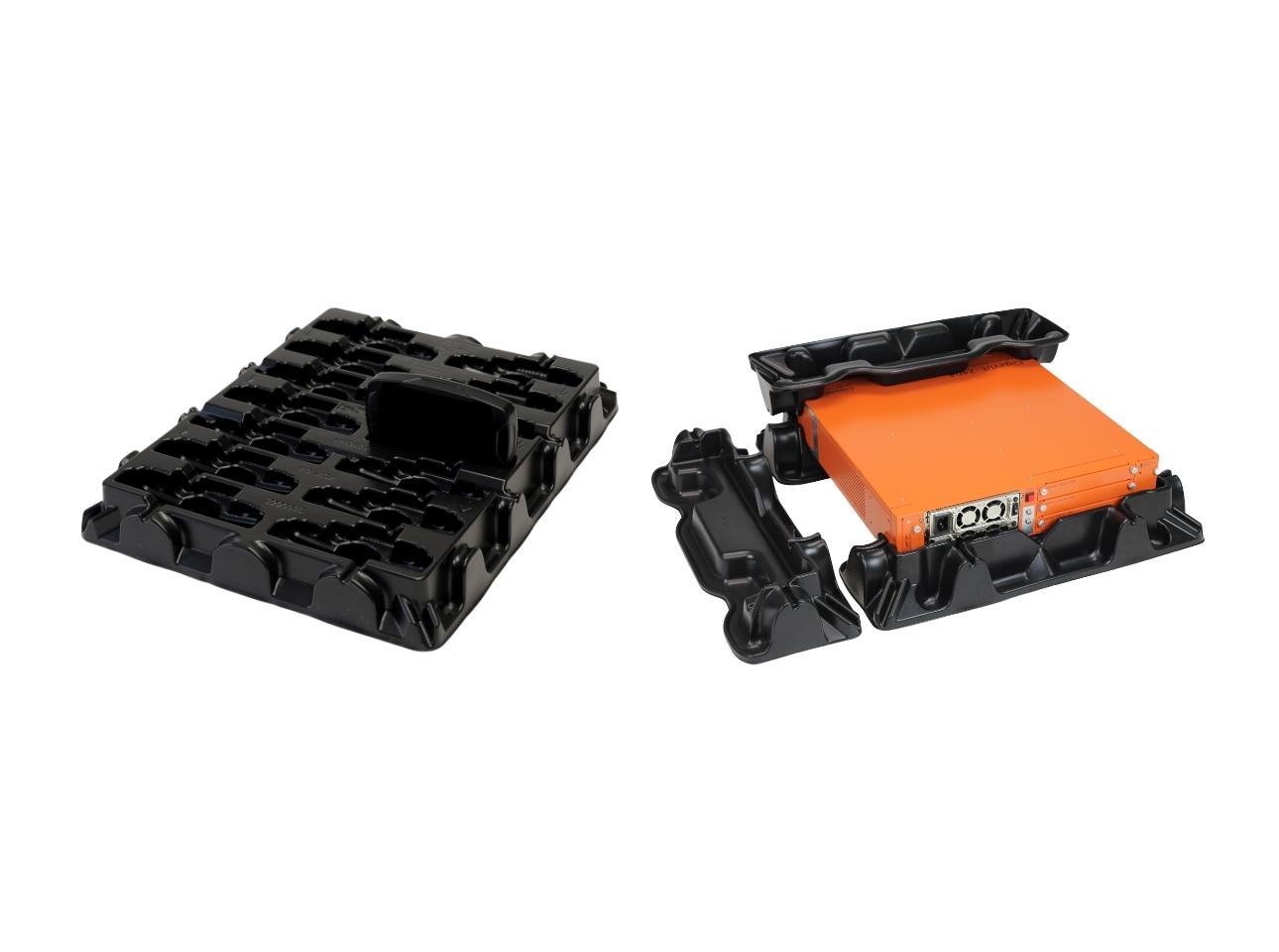 Nefab, a leading global industrial packaging and logistics services company, will present at Fachpack 2022 (September 27-29, 2022, Nuremberg, Germany) complete packaging solutions that can help optimize and future-proof supply chains. With a focus on saving resources in supply chains – both financial and environmental, Nefab will showcase at booth no. 515 in hall 9 its recyclable thermoformed plastic and fiber-based products as well as digital logistics solutions paving a way for the economy of tomorrow.
"Taking care of the world's natural resources has always been a part of Nefab's heritage. We have set the objective to create a range of packaging and logistic solutions to support the transformation of modern supply chains to become more sustainable and environmentally friendly. To set an example, by 2026, Nefab plans on saving 10 million CO2 emissions in customer supply chains", said Oscar Gestblom, EVP People and Brand, Nefab Group.
Going digital saves costs
Reducing the number of materials and resources needed to design and ship packaging is one of many ways businesses can generate savings while minimizing their green footprint. An efficient way to reduce the use of resources is to add connectivity to returnable flows and pools and this way boost efficiency by as much as 65%, hence contributing to saving resources in the supply chains. With a broad portfolio of connected devices, Nefab can trace packaging around the world in real time, measure its temperature, shock, humidity and more to assure the optimal conditions during shipment.
Another digital tool that Nefab will present during the show is GreenCALC, a Life Cycle Analysis (LCA) tool that identifies potential CO2 and cost savings of a packaging solution. GreenCALC looks at the total lifecycle of a material from cradle to grave and calculates the environmental impact for the packaging production phase, transport phase and end of life.
Sustainability refined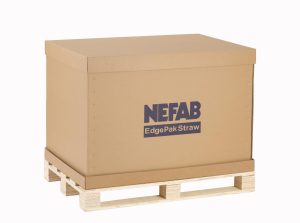 Visitors at Fachpack 2022 can also learn how to generate savings while switching to fiber-based packaging, such as EdgePak Straw, an awarded solution by German Packaging Awards 2022 that provides stacking strength and easy handling at a low carbon footprint. Comparably strong and moisture resistant as plywood, it is a reliable solution not only for light but also heavy cargo and can be used to ship products in demanding supply chains by road, sea, and air. Made from agricultural waste, it is easy to recycle in existing paper streams and minimizes the landfill. To increase safety of the working environment, EdgePak can be handled and assembled without the use of nails or tools.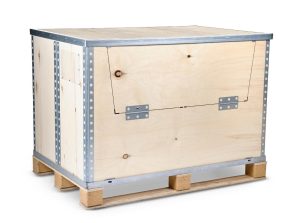 For shipments requiring stronger product protection during transportation to far-away destinations, Nefab also offers RePak, a lightweight plywood box with collapsible hinges to ensure ease of handling, assembly, and recycling. Ideal for large returnable flows, the box is equipped with steel components to reinforce its longevity and strength for multiple uses.
Committed to change
Visitors at Fachpack will also have the chance to discover Nefab's newly launched range of sustainable plastic packaging, including thermoformed trays and cushioning applications. Both made primarily from recycled plastics and 100% recyclable materials, they are an efficient alternative for both one-way flows, as well as return and circular flows. Ideal for automated lines that require precision packaging due to robotic handling, they are engineered to be highly protective and to match specific product requirements and regulations.
These product developments are a result of two important acquisitions between 2020 and 2021 – Szkaliczki and Partners Plastic Processing Ltd (Szkaliczki) and Reflex Packaging (Reflex). While Skaliczki secures Nefab's leading position in technology and engineering capabilities for thermoformed trays, Reflex secures Nefab's global leadership in sustainable cushioning solutions. Combining these new capabilities with Nefab's global footprint, the company can now support customers in managing their packaging waste and creating a truly sustainable supply chain.
"We can collect and regrind the thermoform waste into raw material that can be thermoformed again into the same or different solution. This way we can increase CO2 savings up to almost 60%. With a wide range of both digital and sustainable material packaging solutions, we are innovating to lead the way towards a more sustainable tomorrow", stressed Oscar Gestblom.
If you want to learn more, visit Nefab's booth no. 515 in hall 9 at Fachpack 2022 in Nuremberg, Germany, from 27th to 29th September.