Fachpack 2019


New dimension in pack labelling performance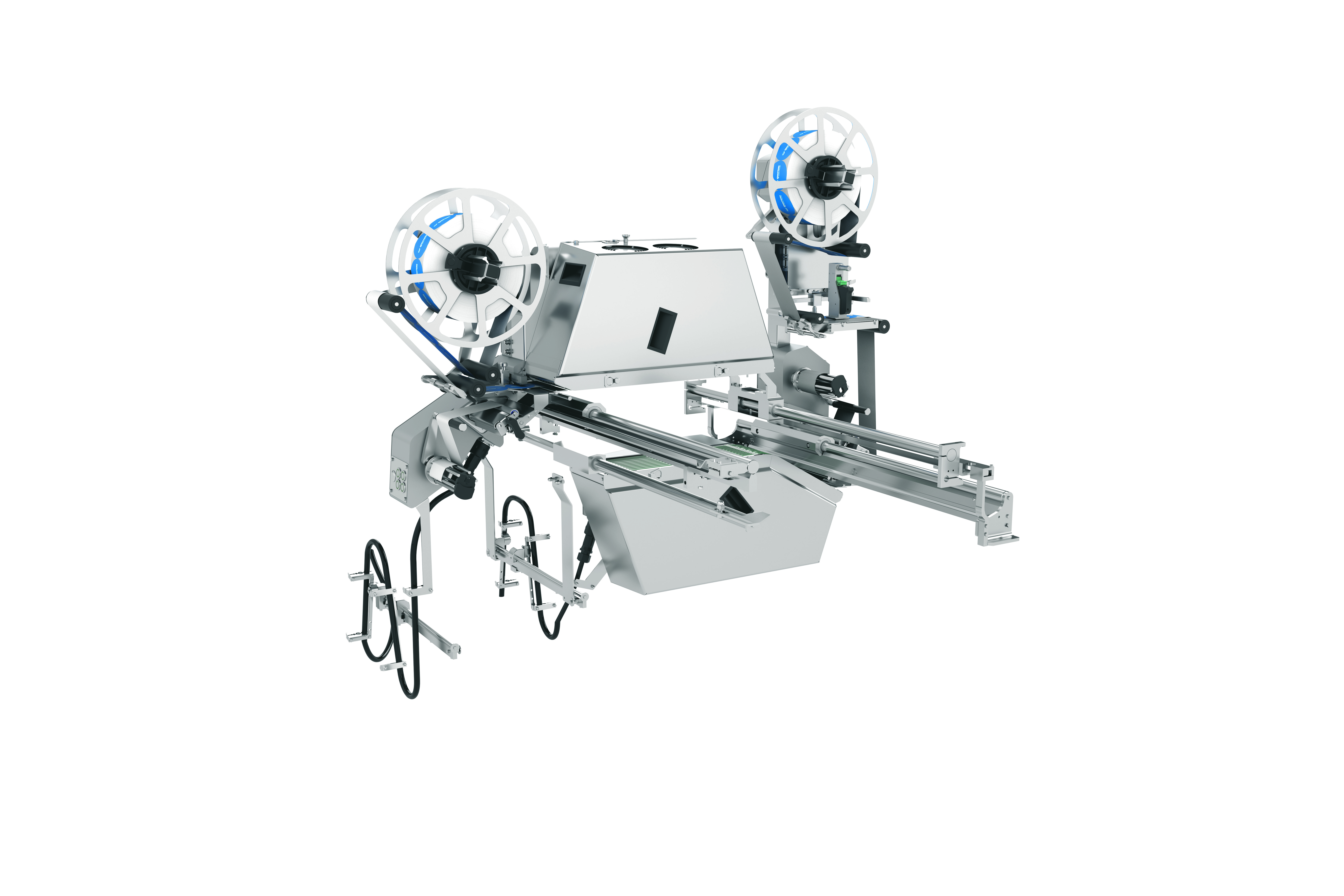 At Fachpack 2019 Multivac will be presenting a new generation of cross web labellers. In addition to improved performance and operating reliability, one of the features of the new models compared to the previous labelling solutions are their lower life cycle costs. The use of state-of-the-art communication standards such as IO-link and EtherCAT ensures that they are equipped for the future. This enables additional sensor systems for example to be used, such as those for labelling inspection or predictive maintenance.
The new cross web labellers are process-controlled. Individual movements are overlaid as much as possible, so that an optimised and therefore significantly faster labelling process is achieved. Servo drives on all axes, as well as the virtually continuous operation of the longitudinal shift unit, ensure that the cycle output is increased still further.
Higher performance, compact design
The new labellers have been fitted with the latest generation of label dispensers, which also contribute to a higher cycle output thanks to their sophisticated servo motor technology. The use of servo drives also offers the benefit, that no reference runs have to be performed before the labelling operation is begun – and this means that set-up and conversion times are reduced, so that the labellers are operational more rapidly.
The robust construction of the new machine generation also makes a contribution to increasing the cycle output. The axis of the longitudinal shift unit is for example designed with even greater torsional rigidity than previously. The machines operate with significantly less vibration, and their travel range can be completed in a shorter time. The simplified construction with its fewer number of deflection rollers accelerates label roll change and makes it even easier, so that downtime is also reduced. In addition to these benefits, the more compact design also means a reduction in space requirement.
Greater ease of operation, high level of efficiency
The new machine generation from Multivac also sets the benchmark in the market for its ease of operation. Menu guidance has been optimised and equipped with an integrated wizard function. The system only needs the required number of cycles to be entered – after that all the relevant speed and acceleration parameters are adjusted automatically. The Quick Control panel is also integrated in the labeller housing, so that the operator has less distance to cover.
Removal of the vacuum box hood and access to the pusher plate set is quick and easy, and this can be performed without any tools. The necessary service work can be carried out in a user-friendly way and above all very rapidly. The reduction in time and effort increases efficiency and makes itself felt immediately in the life cycle costs.
Maximum reliability, high level of availability
Particular importance was attached to machine reliability, especially in view of the high cycle speeds. The constant monitoring of travel speeds and torque ensures that the highest level of process and operating reliability is achieved even at maximum output.
Thanks to targeted minimisation of potential faults, Multivac has significantly increased the reliability and availability of the labelling system. The reduction in moving parts and an improvement in the cable feed also make a significant contribution.
Equipped for the future
The new cross web labellers are already designed for the demands of tomorrow. State-of-the-art communication standards such as IO-link and EtherCAT enable the machines to be equipped with the latest sensor technology. Additional solutions for labelling inspection can also be easily retrofitted, since the corresponding interfaces are already integrated. And last but not least, the labellers are designed for predictive maintenance.
Multivac at the Fachpack 2019: Hall 1, Stand 221
Vision of the future


Efficient and sustainable packaging solutions
At Fachpack 2019 Multivac will be showing a number of forward-looking innovations from its various business units. The exhibits include the new X-line machine generation, which will be presented at the trade fair in the form of the RX 4.0 thermoforming packaging machine and the TX 710 traysealer. Another focus of the trade fair will be concepts for sustainable packaging. These meet the current demands for recyclability and for minimisation of plastic consumption in the production of packs. The company's presence at the trade fair is rounded off with a presentation of its labelling and marking innovations, including a new generation of cross web labellers and new direct web printers, as well as a solution for efficient wrap-around labelling of packs (full-wrap labelling).
Multivac has expanded its X-line machine generation with the addition of a further future-proofed model, the new TX 710 traysealer. The features of this traysealer are a robust machine concept and an intelligent control system, which together provide the maximum flexibility, output and reliability. In Nuremberg the TX 710 will be the centrepiece of a fully automated packaging line, which also includes a L 310 conveyor belt labeller for the attractive wrap-around labelling of packs (full-wrap labelling).
A second packaging line will have at its heart the RX 4.0 thermoforming packaging machine, which features a range of innovative technology. Thanks to its comprehensive sensor system and seamless digitalisation, it creates a new dimension, when it comes to packaging reliability, quality and performance. At Fachpack the RX 4.0 will be equipped with a new generation of cross web labeller, which gives even greater labelling accuracy at an even higher level of output.
Another of the company's themes at the trade fair is the presentation of sustainable packaging solutions. On display will be a wide range of concepts, which contribute to reducing packaging material consumption in the production of packs, as well as other concepts for producing packs, which meet current requirements for recyclability. One example of this is the Paper Board range, which is made up of a wide variety of paper fibre-based materials for producing MAP and vacuum skin packs on thermoforming packaging machines and traysealers. This innovative packaging concept will be shown at the trade fair on the compact R 105 MF thermoforming packaging machine, an economic entry-level model for producing vacuum skin packs in small and medium-sized batches. The packs can be designed in such a way, that the end user is able to separate the cardboard backing from the plastic barrier layer and then put it into the paper recycling.
The fully automatic T 300 L traysealer is also a space-saving, entry-level model. The machine can be designed as multi-track and combined with various discharge systems. Thanks to the simple die change, it can quickly be converted for different pack sizes and shapes. All conventional trays from a wide range of materials can be run, as can pre-cut cardboard sheets.
Multivac at the Fachpack 2019: Hall 1, Stand 221
FachPack 2018


New Total Film Packaging Solutions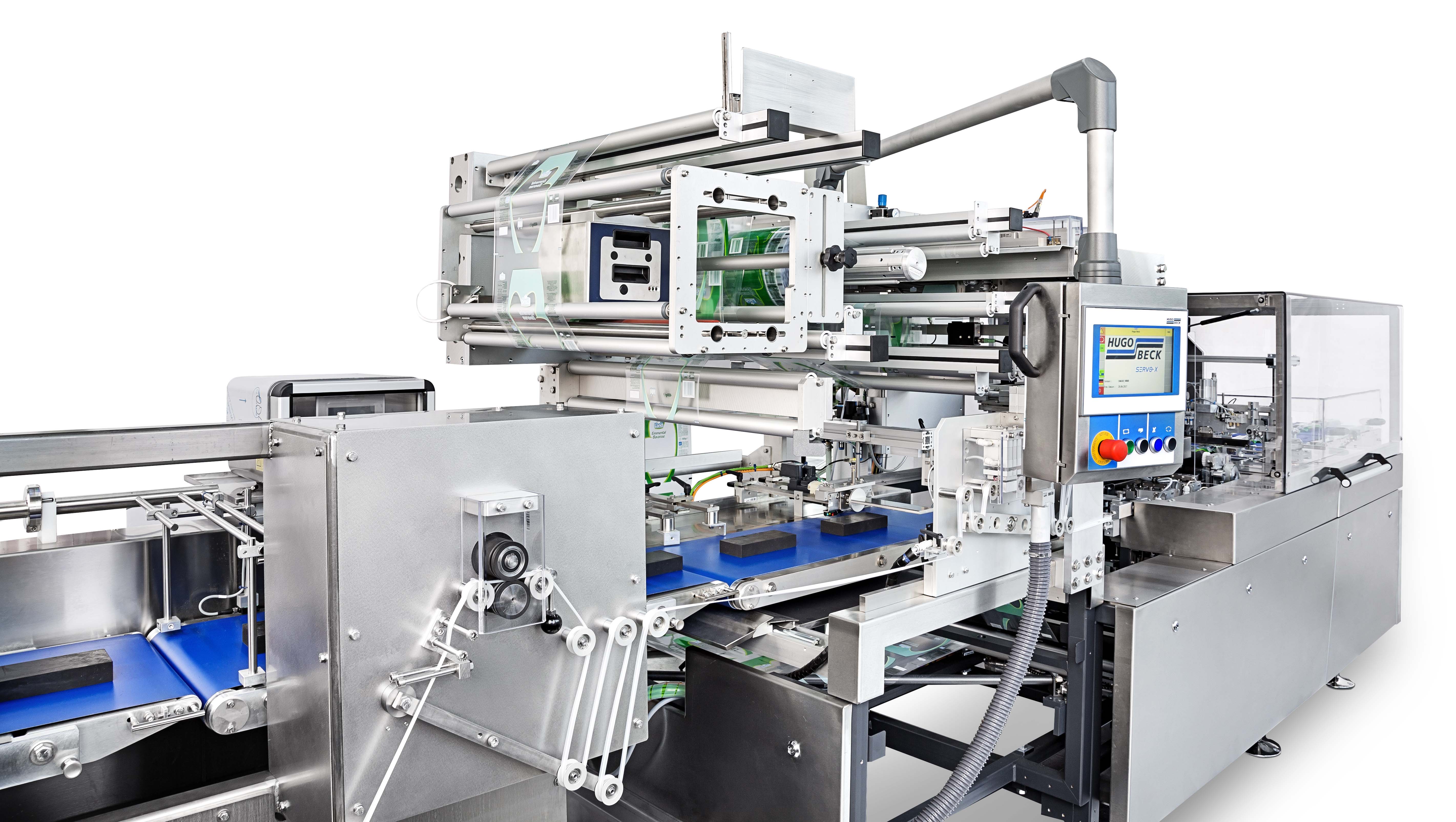 Hugo Beck, manufacturer of horizontal flowpack, film packaging and post-print processing systems, showed its latest film packaging solutions at FachPack 2018.
The flowpack X-D zip is a brand-new machine concept for film packaging and enables the production of 100% airtight standard flowpacks and three-side seal bags with a ziplock seal.
The stand was also be shared with mopack who will exhibit their complete film portfolio of polyolefin, polyethylene and polypropylene packaging and shrink film – including the world's thinnest polyolefin film at 7 microns. The Hugo Beck machines also demonstrated this film to show a total solution for packaging customers and how with the latest technology significant savings are achievable resulting in cost efficiencies and sustainability benefits through minimising material usage.
"Hugo Beck has been developing and manufacturing innovative film packaging machines for more than 60 years and our new 2-in-1 and industry 4.0 ready solutions open up a whole new dimension of flexibility and productivity for our customers."

Timo Kollmann, Sales Director at Hugo Beck
FachPack 2018


Positive business trend at Multivac
As part of a press breakfast at FachPack, Hans-Joachim Boekstegers, Director and CEO of Multivac, gave an overview of the current development of the business as well as the packaging trends at Multivac and the company's product highlights on the exhibition stand.
"Contrary to the general market trend, our business continues to develop well," explained Hans-Joachim Boekstegers. "Our production capacity is fully utilised and we are seeing very positive development in all the company's business units. Following 2017, in which our turnover reached virtually the 1 billion euro mark, we are now expecting in the current business year an increase in turnover of up to ten percent. There are however many economic and political risk factors and challenges, which will have an impact on our business in the coming year – these include the isolationist policy of the US Government, the consequences of Brexit, increasing nationalism in countries such as Italy and Poland, protectionist tariffs and highly fluctuating raw material prices."
Opening of the new production site in Bulgaria
In June the official opening of the first production facility in Eastern Europe was celebrated in Bulgaria – and this further expanded the company's global production network. The Bulgarian site, which is located close to the capital Sofia, comprises a factory building for the production of parts for the Group, a state-of-the-art warehouse and logistics centre, a training facility and an administration building. In addition to the Bulgarian Sales and Service company, an international Shared Service Centre for IT, Strategic Purchasing, Design and Service is also housed in the new complex. "Working on a treble-shift basis, our highly qualified personnel are now producing machine parts and modules. There we are using state-of-the-art turning and milling machines, just as we also use at our headquarters in Germany. All our capacity is now fully utilised," explained Hans-Joachim Boekstegers.
EU Plastics Strategy
Thanks to Multivac's existing packaging technology, it is already possible today to have pack concepts, which provide reduced consumption of resources as well as dramatically increased recyclability. "Our machines are designed in such a way, that they can run a wide range of packaging materials with ease. We are also consistently striving to reduce the packaging material used in the production of packs, by utilising specific equipment options and optimised pack design. And last but not least, we are working with leading packaging material manufacturers to develop new packaging concepts, such as for example the use of recyclable materials like mono films or fibre-based packaging materials," said Hans-Joachim Boekstegers.
MultiFresh PaperBoard vacuum skin packs
PaperBoard offers a wide range of solutions for producing packs based on paper fibre, which can fully meet the requirements of recyclability. Thje company works with leading manufacturers on suitable materials, which can be run on standard packaging machines. The thermoforming packaging machines and traysealers can be individually customised to the particular output requirements of customers. The carrier material can be run in the form of either rolls or pre-cuts, and pre-made trays can also of course be used. All the materials can be separated into their respective parts by the end user, and the paper carrier and plastic film can then be put separately for recycling.
Full-wrap labelling offers a wide range of design options
The trade fair highlights also include a labelling solution for the D labelling of packs, which is marketed under the name "Full-wrap labelling". As with a banderole or sleeve, the label is completely wrapped around the pack, and this offers many possibilities for different types of pack design, as well as increasing the attractiveness of the packs at the point of sale. In conjunction with UPM Raflatac, the company has defined a standard range of label materials, which can be run on the L 310 conveyor belt labeller as printed full-wrap labels.
Added value through digitalisation
Multivac is demonstrating its expertise in digitalisation and Industry 4.0 at the trade fair with the new X-line generation of thermoforming packaging machines. Thanks to its comprehensive sensor system, the X-line is equipped for digitalised production and future technology, and it sets a new benchmark in the market.
Packaging concept for medical and pharmaceutical products
With Snapsil the company is showing an innovative packaging concept for medical and pharmaceutical products, which is ideally suited to packing products such as syringes, tablets, plasters, injectors, catheters etc. With their integrated "snap-opening" function, Snapsil packs offer an innovative opening aid, which enables the packs to be used more easily, even by elderly or disabled persons. When it comes to the hectic activity of everyday life in hospitals and care homes, it is simple and quick to open the packs and remove the product easily in a controlled way. Snapsil packs can be produced on Multivac thermoforming packaging machines and traysealers.