Milestone of sustainability


New compact and green freezer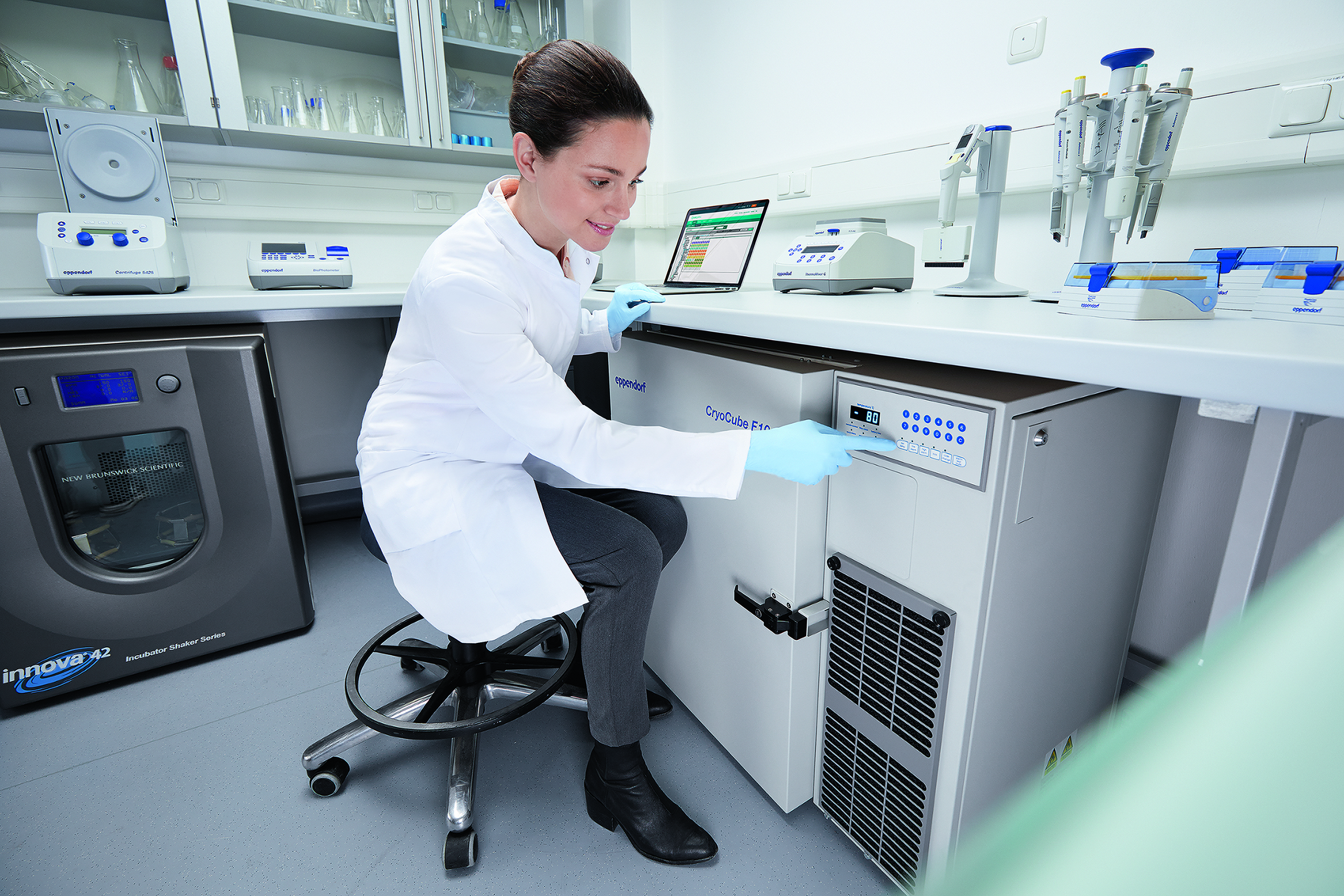 Eppendorf reached a further milestone of sustainability by re-designing the compact ultra-low temperature (ULT) freezer CryoCube F101h (230 V) on future-proof green cooling liquids and green insulation foam.
By combining longevity and quality with sustainability aspects, the CryoCube F101h is the personal below-the-bench ULT freezer. 101 L of -80°C can be filled with up to 60 freezer storage boxes. Compared to its precursor, the F101h saves up to 17% of power.
This is a further building block in a longer green Eppendorf story. Eppendorf now has more than 10 years of experience in research and development, production, logistics, and service in the field of green ULT freezers.
The CryoCube F101h, the new members of the CryoCube F740 series, VisioNize user interface and lab connectivity applications as well as the eLABInventory sample management software are further new building blocks for a smart cryo-solution of valuable samples.
Peripheral somatosensory neurons


Scientist Wins Eppendorf & Science Prize 2019
The American scientist Lauren Orefice, Ph.D., Assistant Professor at Massachusetts General Hospital and Harvard Medical School has won the 2019 Eppendorf & Science Prize for Neurobiology for her work on the causes and potential therapies for autism spectrum disorders (ASD). Dr. Orefice found that peripheral somatosensory neurons – neurons outside the brain that control the sense of touch – are key areas where autism-associated gene mutations have a critical impact. She showed how abnormal function of peripheral somatosensory neurons causes touch over-reactivity and how this over-reactivity during development contributes to altered brain function and some autism-related behaviors in mice. Dr. Orefice's work changes how we think about the causes of ASD, providing a surprising revision of widely-held views that link ASD exclusively to brain function. She highlights peripheral somatosensory neurons as a possible novel therapeutic target for improving some ASD-related symptoms.
The annual US$25,000 Eppendorf & Science Prize for Neurobiology honors scientists, like Dr. Orefice, for their ground-breaking research. Lauren Orefice is the 18th recipient of this international prize which is awarded jointly by Eppendorf and the journal Science. Researchers who are 35 years of age or younger and have made outstanding contributions to neurobiological research based on methods of molecular and cell biology are invited to apply. The next deadline for applications is June 15, 2020.
Young European Investigators Conference


Eppendorf Award Turns 25 Years
2020 will see the prestigious Eppendorf Award for Young European Investigators turn 25 years. This will be celebrated with an event welcoming back high-calibre Award Alumni to talk about their science and careers: The Young European Investigators Conference held at the EMBL Advanced Training Centre in Heidelberg, on June 25, 2020. This free one-day conference is open to all scientists in biomedical research. The scientific program is organized by former winners Simon Boulton (The Francis Crick Institute, United Kingdom) and Óscar Fernández-Capetillo (CNIO, Spain & Karolinska Institute, Sweden). The event includes networking coffee breaks and lunch and a gala buffet in the evening. It will be rounded off with a talk from the newly minted 2020 Award winner.
"I am really excited about the meeting which shows that the science done by previous winners of the EYIA is indeed outstanding!"

Jury Chairman Reinhard Jahn
The Eppendorf Award for Young European Investigators, endowed with 20,000 EUR, is granted annually to an early career scientist in Europe for outstanding contributions to biomedical research. It has been awarded, in partnership with Nature, since 1995.
To become the 25th winner of the Eppendorf Award, researchers in Europe up to 35 years with an advanced degree in the field of biomedical research can apply online between October 1, 2019, and January 15, 2020, at www.eppendorf.com/award/application
The winner is selected by an independent expert committee chaired by Reinhard Jahn (Max Planck Institute for Biophysical Chemistry, Göttingen, Germany).
Quick liquid extraction


New tube format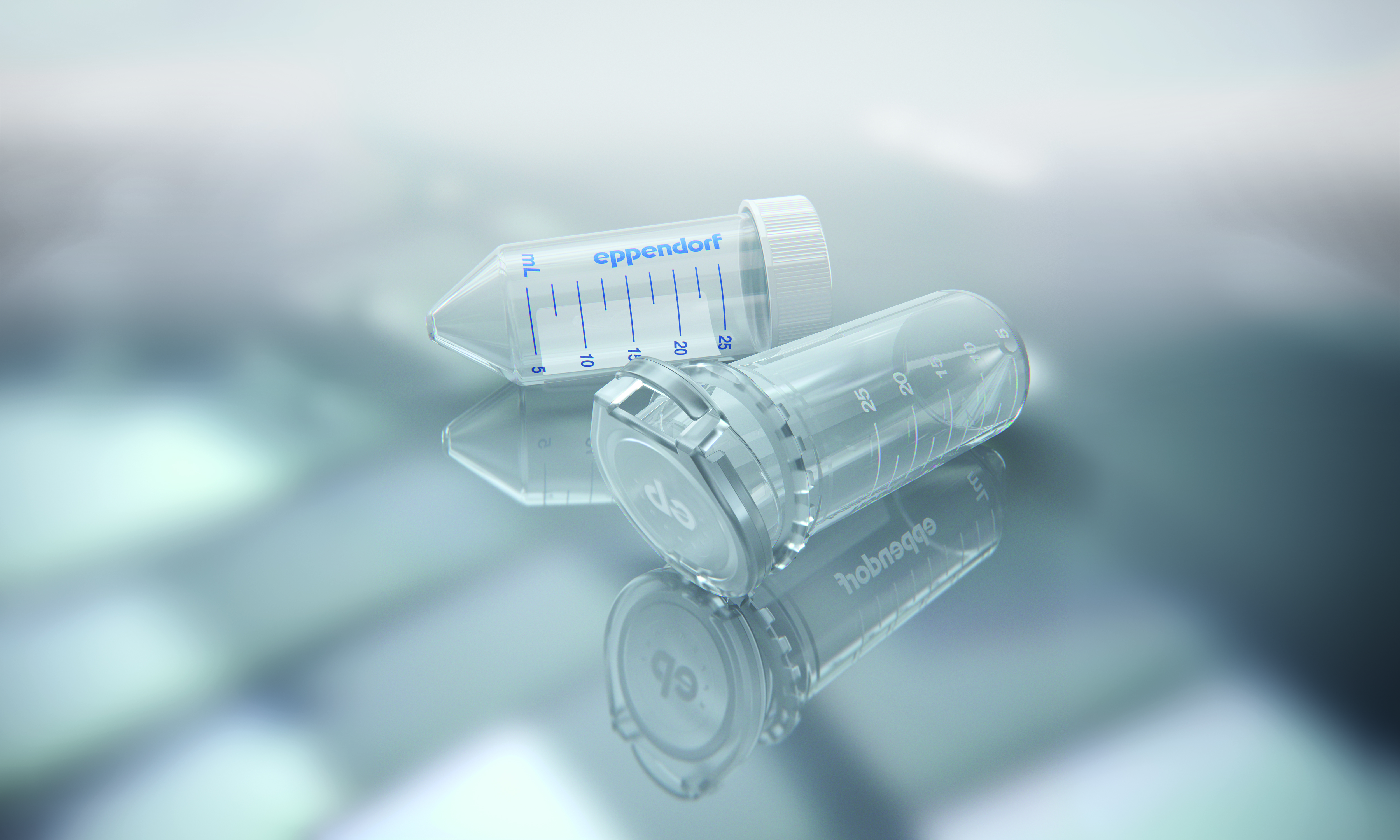 The new conical tube format of 25 mL, developed by the inventor of the "Eppi" tube, will advance the world of conical tubes. Working with sample volumes between 15 mL and 25 mL – often used in bacterial/microorganism culture as well as during purification of plasmid DNA/biomolecules, in cell culture or during assay preparation, leaves no option to researchers but to work with a traditional high-volume tube like the 50 mL conical tube. In recognition of this fact, Eppendorf has developed the Eppendorf Conical Cube 25 mL – available with either the new, patented SnapTec cap or with screw cap.
These conical tubes have the same diameter as conventional 50 mL conical tubes but a ~20 % lower height. This allows space-saving storage, for example in freezers. Additionally, the consumption of valuable raw material is reduced by 26 % for the screw cap 25 mL conical tube and by 20 % for the SnapTec cap 25 mL conical tube compared to a conventional 50 mL tube. Proportionally, laboratory waste of conical tubes will therefore also be reduced.
The wide opening, combined with the lower height, offers easy sample access. When working with low-volume pipettes and tips, the risk of cross-contamination between pipette and tube by touching the inner tube wall is reduced to a minimum. Premium raw materials, without the use of plasticizers and biocides during manufacturing, ensure highest sample integrity and optimal sample and pellet visibility.
The most innovative feature is the patented Snap Tec cap, which is unique within the conical tubes market. This cap is firmly connected to the tube. No need to put the cap on the bench, running the risk that caps from different tubes may become mixed up or contaminated.  The Snap Tec cap allows single-handed opening and closing for quick liquid extraction or addition of sample. This is particularly advantageous in multistep lab protocols.
Of course, the Conical Tubes 25 mL are directly deployable. Straightforward integration into the existing laboratory environment is ensured. Concurrently, Eppendorf provides a full system of components. Adapters for both tube variants to be used in centrifugation rotors for 50 mL conical tubes are available, as well as adapters for Eppendorf Thermo Mixer C and Thermostat C, Tube Holder for Eppendorf Mix Mate, Storage Box, Tube Rack and Single Tube Stand.