switch combination


New Circuit breaker
Improved production and batch transparency


New version of Braumat process control system
Siemens has showed a new version of the Braumat brewery process control system at the Brau Beviale 2019 in Nuremberg: The latest version 8.0 is based on the Simatic S7-1500 controller and has been optimized in the areas of reporting, weighing systems and security. Already installed Simatic S7-400 controllers can still be used, including in mixed operation. Existing Braumat installations can be expanded or modernized with Simatic S7-1500 controller. Production downtimes caused by new installations are thus avoided.
In order to enhance the reporting options, a batch report with a basic choice of process parameters has been integrated. Users can now create reports with the help of MS Excel. Braumat V8.0 is also now connected to the established PM-Quality option. This means that MES (Manufacturing Execution System) and MIS (Management Information System) functions are now available for calculating KPIs (Key Performance Indicators) such as plant availability. In the new version, storage location management is integrated together with dosage management in the recipe system, enabling the efficient and flexible automation of mixing processes. Recipes are automatically adjusted according to storage location availability and the quantity specifications of the batches to be produced. High-precision, self-optimizing weighing operations are fully automated with the integrated Siwarex weighing system. The Braumat V8.0 process control system continuously checks recipes and quantities for the individual production processes, thus reducing overdoses of malt, hops and diatomaceous earth. A combination of password protected Simatic S7-1500 controllers, encrypted communication on the terminal bus as well as extended user management and company ID registration via an RFID card reader increases security during the production sequences.
New Braumat V8.0 is available in both a standard and lean edition: With Braumat Lean, micro breweries and craft brewers can benefit from process automation from just a quantity of four units and one Simatic Open Controller. This can be expanded up to 40 units as required. Braumat Lean can also be operated as a compact, single user station or for remote areas of large breweries, such as laboratories. With the Standard edition, it is possible to create complex plant structures with redundant client-server features and server visualization. The Lean Edition of Braumat V8.0 can be expanded to the Standard Edition. After just a few days of training, users are able to configure new Braumat plants. For other food and beverage sectors such as dairies, cheese factories or soft drinks, the Sistar version 8.0 process control system is available.
As a long-term partner in the international brewing and beverages industries, Siemens is demonstrating at this year's BrauBeviale being held in Nuremberg from November 12 through 14 how its innovative brewery automation processes enable the first step into digitalization. Visitors to booth 419 in hall 7 can experience the path to digitalization themselves: Exhibits stretch from the lean version of the Braumat process control system for the automation of micro breweries, to a standard Braumat system with a Manufacturing Operation Management (MOM) solution and energy management, to cutting-edge technologies such as cloud and edge computing.
Syntegon


Processing and Packaging Technology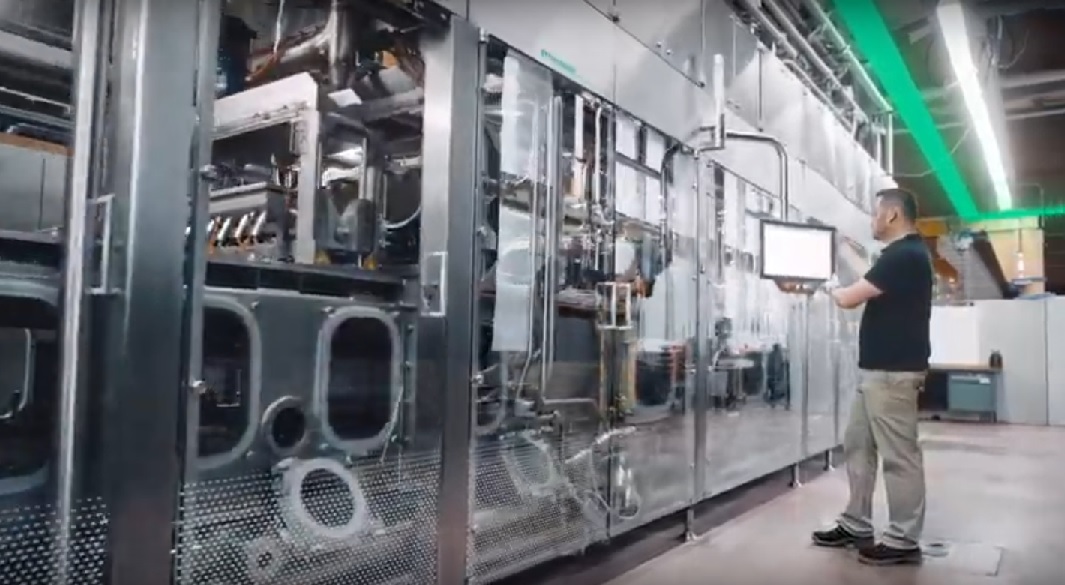 Syntegon – the new name in processing and packaging.
Formerly Bosch Packaging Technology – Today: Syntegon. Your global partner for processing and packaging technology in the pharmaceutical and food industries.
Syntegon is a supplier of process and packaging technology. Wether it is dry, liquid, aseptic, clean or ultra-clean we have the perfect solution to pack your valuable goods and if needed we track them around the world. Processing and packaging for a better life. That´s what Syntegon Technology stands for.
Expand product portfolio


New one and two-component dispensers
At productronica in Munich, Viscotec presented, among other things, its optimized dispenser series for even smaller dispensing quantities. Both one-component and two-component dispensers have been optimized for the application of very small quantities. From now on even smaller quantities can be dispensed with maximum precision. The one-component dispenser 3RD3 and the two-component dispenser Viscoduo-P 3/3 and Viscoduo-P 4/3 extend the product portfolio of the dispensing technology specialist even further. Minimum quantities of 0.002 ml for the 3RD3 and 0.005 ml for the P 3/3 can be dispensed. As with all previous dispensers, Viscotec guarantees extremely precise dispensing results with an accuracy of +/- 1 %.
Various stator materials are available for the newly developed products to meet the requirements of different applications. The dispensers are particularly effective in potting applications or for dot and bead dispensing in adhesive and sealing applications. This makes them particularly suitable for the electronics industry, automotive and similar applications.
As with all products, the proven properties of the optimized dispensing pumps are also impressive:
Suck-back option (no dripping nor stringing)
Completely linear relationship between rotor speed and output quantity
Constant dispensing volume, even with fluctuations in density and viscosity
Longer service life
Quick disassembly
Easy programming of quantity and speed
Consistent dispensing quality for low to high viscosity fluids
The two-component versions Viscoduo-P 3/3 and Viscoduo-P 4/3 guarantee the static mixing of two components of the same or different viscosity. Maximum flexibility is provided by various combinations of Viscoduo-P 4/4, 4/3 and 3/3. A parallel arrangement of the two dispensing units ensures a space-saving, compact design. Their modular construction allows a wide range of mixing ratios up to 10:1 thanks to the use of different dispenser sizes. The two-component dispensers are perfectly suited for two-component adhesive materials based on epoxy resin (EP), polyurethane (PU), silicone (Si), acrylate and many others.