SPS IPC Drives 2018


New cable technologies for factory automation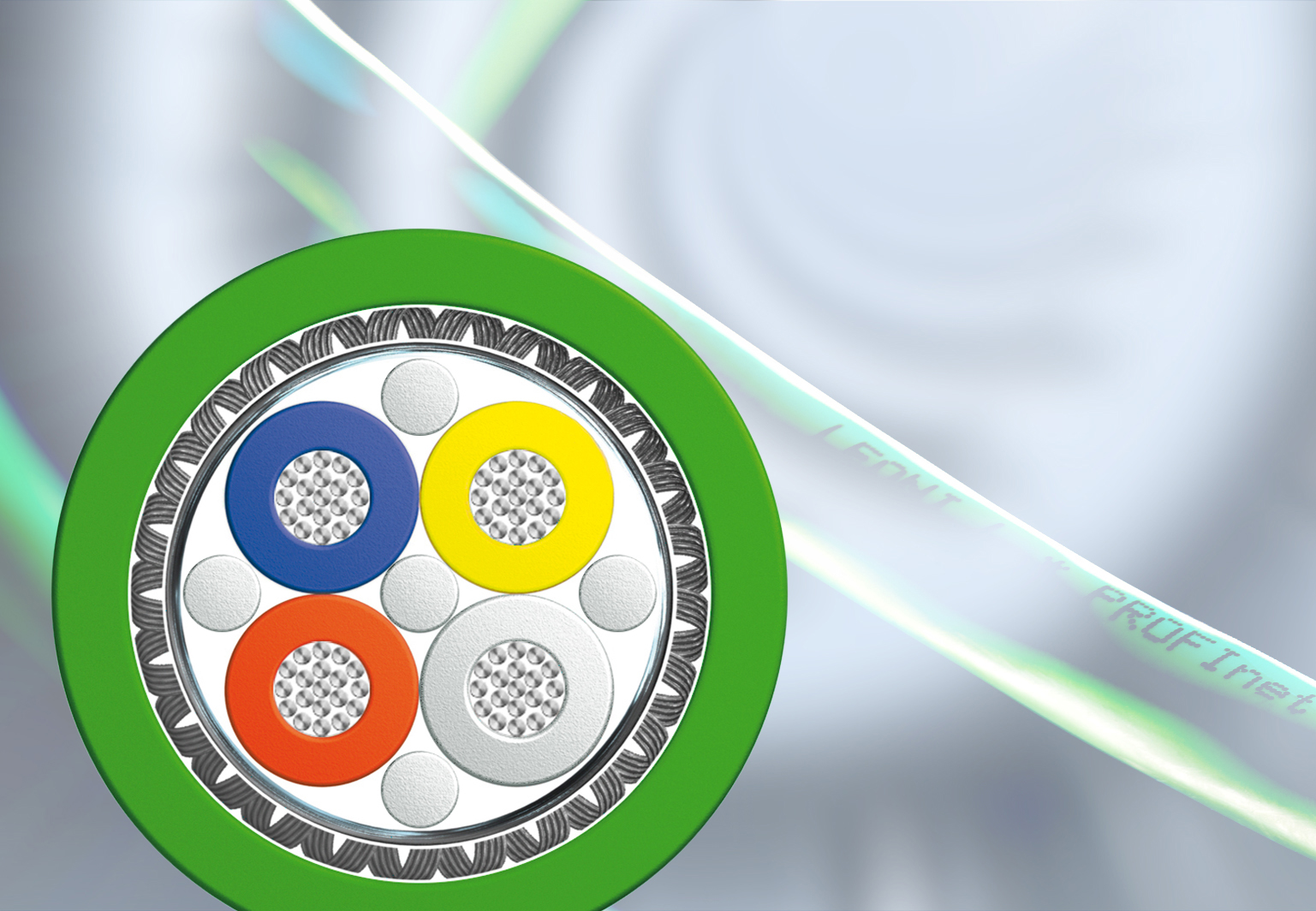 Leoni's new, Industrial Ethernet Cat 5e Profinet torsion cable withstands both 5 million flex cycles and 5 million torsion cycles, and is therefore ideally suited to applications where extreme, constant stress is the order of the day.
The cable shown at the SPS IPC Drives trade fair has a halogen-free outer jacket made of highly flexible TPU, which excels not only because of its resistance to abrasion, but also its very good resistance to grease, oil and lubricants. Thanks to flame-retardant additives, the jacket also fulfils the IEC 60332-1-2 fire protection requirements. The cable furthermore has UL Style 21198 approval and meets all requirements under the Profinet standard.
180-minute circuit integrity in the event of fire
There is constant demand for cables used in such safety-related areas as shipbuilding that are capable of transmitting all necessary power and signal values in the event of a fire. Leoni has developed various Cat 6, Cat 6A and Cat 7 cables for this purpose, which maintain the data characteristics when exposed to fire for at least 180 minutes.
The company has also developed cables for potentially explosive atmospheres that fulfil the requirements of the applicable standards. Here, the Company provides Ethernet, Profibus, CAN bus and hybrid cables that feature excellent data transmission properties. In the event of fire, they protect persons and property by reducing the possible gas flow through the cable.
Wide-ranging portfolio of fire prevention cables
Alongside such varying industrial cables as Profibus and Profinet with CPR approval (in accordance with the EU 305/2011 Construction Products Regulation), Leoni has now developed a KNX/EIB (European Installation Bus) cable that is used in such building automation applications as the control of blinds, to regulate heating and for alarm systems. This cable guarantees first-rate transmission properties for use in building automation and is classified under the highest B2ca fire reaction class. The CPR cable consists of a halogen-free FRNC jacket, which inhibits fire and prevents smoke from developing; nor does it have any corrosive components.
The product portfolio to be displayed on Leoni's fair stand will furthermore include intelligent data and power cables for industrial-robot drag chains and dresspacks, which – thanks to their LEONiQ key technology – make it possible to pin-point critical spots in the cable in good time. The Company will also display hybrid cables that combine complex supply and control tasks and thereby go far beyond copper-based transmission, as well as fiber optic solutions for industrial applications.
Bilfinger 2018


Strong order book driving profitable revenue growth
Industrial services provider Bilfinger continued to grow in the financial year 2018. Relevant key figures improved across all business segments, meeting the forecasts and in some instances even outperforming them. The Strategy 2020 stabilization phase has been completed, the set milestones have been reached: Orders received, revenue and earnings developed positively, while the Group's liquidity and return on capital employed were at levels above those of the previous year.
"We delivered on our 2020 strategy and on our commitments to both internal and external stakeholders. I am particularly pleased with the successful conclusion of the DPA and our Monitor's Certification that Bilfinger is on an irreversible course towards compliance self-sufficiency. I think we can confidently say that 2018 was a year of achievement for Bilfinger."

Tom Blades, CEO Bilfinger
The business environment continued to be robust in our six focus industries, particularly in Chemicals & Petrochem, Oil & Gas and Pharma & Biopharma. Demand for engineering and maintenance services continued to build on top of growing mechanical construction opportunities in the United States.
Strengthening the sense of purpose
Bilfinger continues to fine tune and adopt its 2-4-6 Strategy to better serve customers and drive margin development. Its engineering resources delivering both project management consulting and maintenance engineering have now been fully integrated into the regions to enhance Bilfingers end-to-end EMC capabilities. Consequently, the divisions are renamed E&M effective January 1, 2019. The technology companies delivering Energy & Emissions, Biopharma and Automation products remain grouped together and serve Bilfinger customers globally from their European manufacturing base. Together they form the Technologies division also effective January 1, 2019.
Outlook 2019
In connection with the described adjustment to its organizational structure, Bilfinger is also adjusting its reporting segments as of the beginning of 2019. The forecasts and statements related to the expected development of the Group are made within the scope of these reporting structures.
In the Technologies segment, a significant increase in revenue (2018: €499 million) is expected as a result of growth in order backlog. This is subject to continued and anticipated strong orders received in the course of the year. Bilfinger expects stable revenue development in the Engineering & Maintenance Europe segment (2018: €2,732 million). At Engineering & Maintenance International, the Group sees positive momentum in the markets and therefore expects significant revenue growth (2018: €763 million).
Smart Industrial Connectivity


Plug-in connector with electronic signal processing
The trend towards digitalisation in industry requires new solutions, this also applies for components that were previously purely electromechanical in nature. Because without a powerful, comprehensive infrastructure, digitalisation hits its limits fast. The infrastructure includes plug-in connectors and cables whose significance is set to rise and for example will be reflected in intelligent plug-in connectors.
The development of plug-in connectors is heavily influenced by three trends: digitalisation, decentralisation and miniaturisation. In decentralisation, increasing numbers of functions in the industrial environment are shifting to the device and field level, meaning that there will be an increasing demand for a comprehensive connection between devices along the horizontal and vertical axes of the automation pyramid. This also includes supplementation with intelligent functions. Integrating sensor and diagnostic functions directly into the connectors opens up completely new application fields and renders additional sensors superfluous.
Measured variables like current, voltage, power and temperature can be measured, as well as saved and evaluated with an app, an ERP/SCADA system or a cloud. Such an intelligent plug-in connector is presented by Weidmüller for the first time at Hannover Messe 2019. The smart plug-in connector was created as part of the German Federal Ministry of Education and Research (BMBF) funded project: "Intelligent electric plug-in connector and connection technology with electronic signal processing (ISA)".
Hell Energy and SEW-Eurodrive


Energy drink bottling
Hungarian drinks manufacturer Hell Energy promises customers "power like hell." Seven years ago, it built an ultramodern factory on a greenfield site. The company is now the market leader in the energy drinks segment of several countries. Krones filling lines combine with mechatronic drive units from SEW-Eurodrive to ensure a smooth power supply and material flow.