Booklet wrap-around label


More communication space on round containers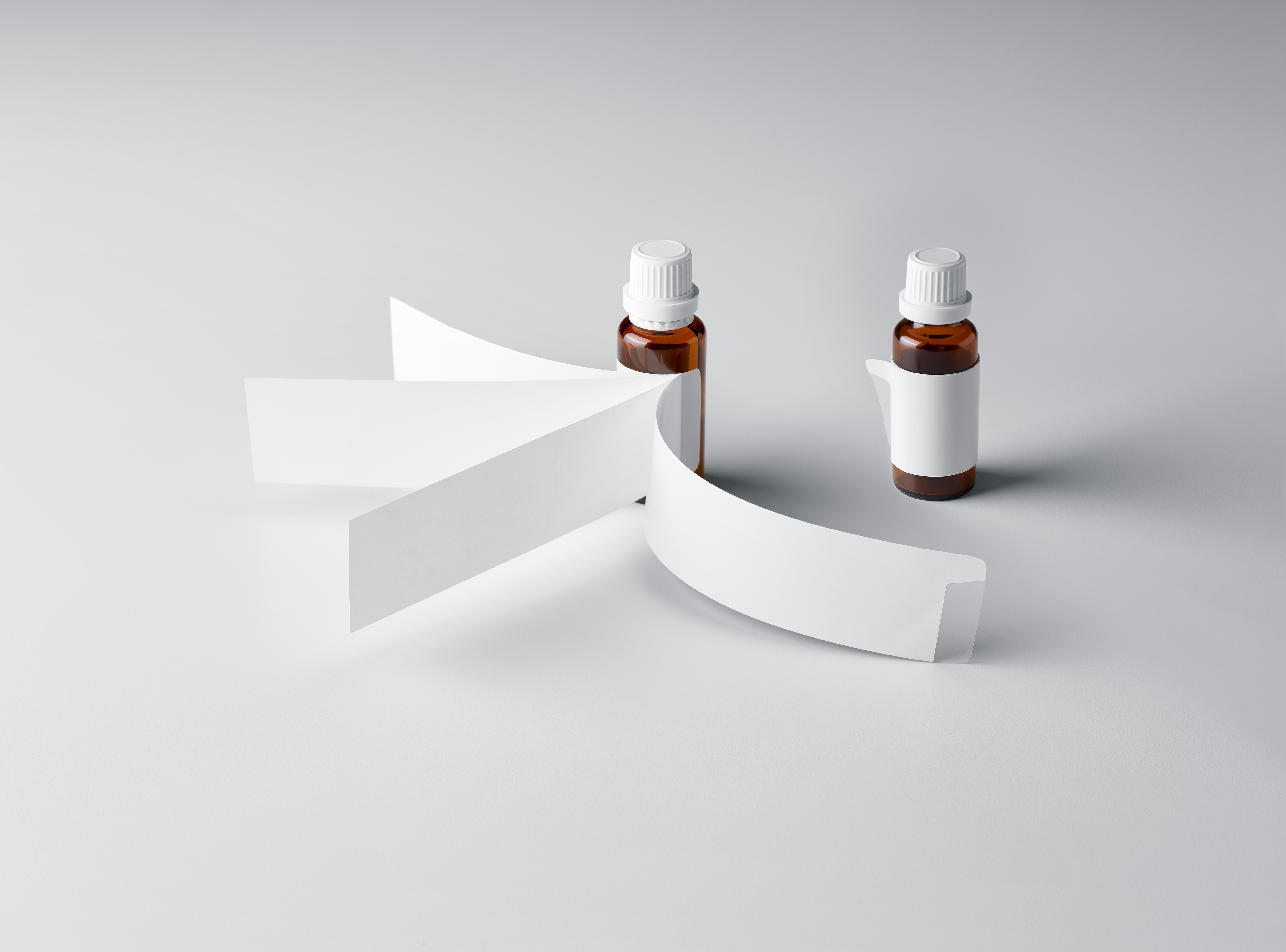 Pharma packs are now used to communicate much more than just product information. Nowadays, pharmaceutical manufacturers want to use the packaging to provide details of clinical studies, descriptions in numerous languages and information regarding correct usage. In order to provide them with additional space for this purpose, the August Faller Group has expanded its already extensive portfolio to include a new product: the new multi-page booklet wrap-around label for round containers.
It is useful for doctors, chemists and patients when pharmaceutical and healthcare product packaging contains important information. This can range from descriptions in multiple languages to details of clinical studies and marketing campaigns that offer a purchase incentive for non-prescription products. The direct communication space provided on small bottles and jars is usually very limited. The August Faller Group's new multi-page booklet wrap-around label significantly increases the space available to pharmaceutical manufacturers. The major benefit here is that the information is directly applied to the primary packaging or container – so it is always at hand.
Wide-ranging possibilities, attractive appearance
The packaging specialist is able to produce this combination of label and package insert with anywhere from two to 32 pages, according to customer needs. It is enclosed in transparent foil, which protects the label while at the same time giving it a high-quality look. What is more, it is possible to apply Braille to the top surface. The basic label itself is also made of a PP foil, in this case with a white finish. 90 g/m² coated paper is used for the booklet. Variable data, such as a 2D data matrix code can also be printed on request.
Flexible to apply, easy to open
The pharmaceutical expert also offers its customers attractive solutions for the booklet wrap label in terms of application and opening options. It can be applied to round containers both as a permanent attachment and in detachable form. If parts of the label are relevant to the patient file, these can be made removable. In all types, an opening tab and a shortened base label ensure that users of all ages can access the information conveniently.
For round containers made of glass and plastic
In order to ensure that both small-scale and large-scale manufacturers in the pharmaceutical and healthcare industry can benefit from the new solution, the label can be applied manually or by machine to glass or plastic containers. Mechanical application involves the label being affixed directly off the roll with the spine first.
Pharmapack Award


IQ-Dose for micro-tablets dosage wins Award
Convinced that the micro-pill will be growing strongly in the near future Stiplastics Healthcaring – a subsidiary of SGH Healthcaring, a rapidly growing group and a key partner for the pharmaceutical industry – has developed IQ-dose (Intuitive & Quick-dose), an adjustable device for dosing medicines in this form. The micro-pill makes it possible to sub-divide doses and therefore administer a very accurate dose with a high concentration of active ingredients and few excipients, in response to the obligation placed on pharmaceutical firms to develop paediatric forms (EU Regulation no. 1901/2006).
The easy-to-use IQ-dose first version can be used to administer 1 to 24 micro-pills without having to count or touch them, for perfect hygiene and safety! The user simply:
selects the correct dose,
fits the device directly over the bottle of pills,
tips the bottle upside down for IQ-dose to pick up the prescribed number of micro-pills, all at the same time.
The micro-pill offers several other advantages: it is easy to take, with less chance of choking and fewer risks of over/under-dosing. It also provides a solution for adults with swallowing difficulties.
Different development projects with pharmaceutical companies interested in the product are already underway.
Hell Energy and SEW-Eurodrive


Energy drink bottling
Hungarian drinks manufacturer Hell Energy promises customers "power like hell." Seven years ago, it built an ultramodern factory on a greenfield site. The company is now the market leader in the energy drinks segment of several countries. Krones filling lines combine with mechatronic drive units from SEW-Eurodrive to ensure a smooth power supply and material flow.
Eco-Canteen


Used cartons for a good cause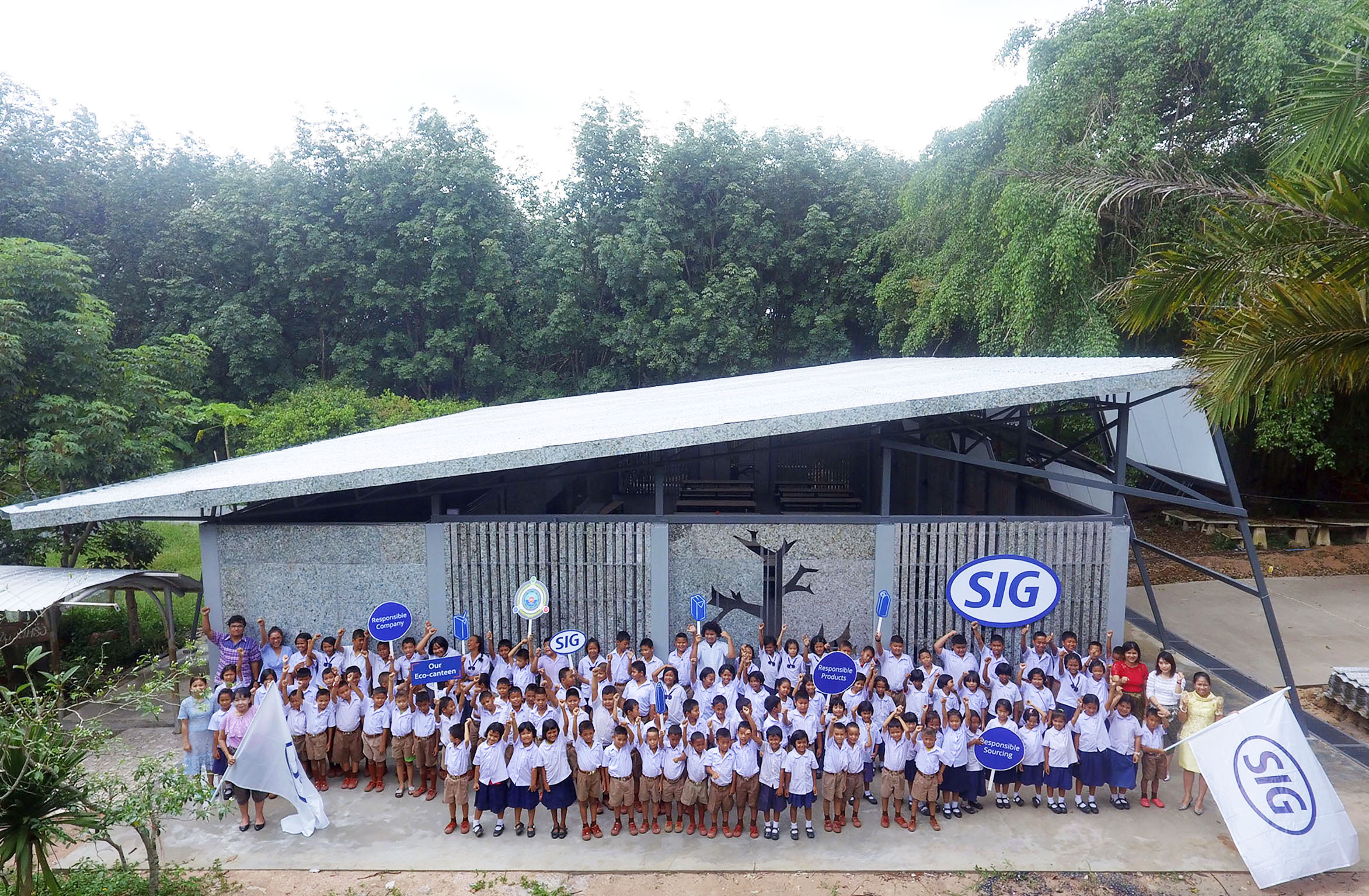 SIG is showcasing how companies and communities can come together to turn waste into value through an innovative 'eco-canteen' made almost entirely from used beverage cartons at a school in Thailand.
Opened in September 2018, the canteen is a shining example to encourage more recycling by demonstrating the value it can bring to communities. The 170 children at the school can now drink their milk from cartons in a canteen made of cartons, taking a clear message on recycling home to their families.
"The eco-canteen is a great way to bring recycling to life by showing children – and their parents – what happens to the cartons after they drink their milk. Helping children understand how recycling can help the environment is really important because they are the consumers of tomorrow."

Chatramol Intrasorn, School Director at Nikom Sang Ton Eang school
From cartons to canteen
SIG teamed up with Kasetsart University, the food manufacturer Ampol Foods and the Fiber Pattana recycling plant to design and rebuild the canteen at the Nikom Sang Ton Eang primary school near the company's production site in Rayong, Thailand.
Together with Kasetsart University, one of the leading public universities in Thailand, the company ran a competition to design a fully functional school canteen built from used and recycled beverage cartons. The next challenge was to source the materials ready for construction.
More than 1.4 million cartons went into the canteen. Fiber Pattana supplied the tiles for the roof and panels for the walls, made out of aluminium and polymers from used carton packs collected mainly from schools. The chipboard tables and chairs were produced from cartons recycled by Ampol Foods, a SIG customer that runs its own recycling plant for beverage cartons.
Increasing recycling rates is part of SIG's mission to go Way Beyond Good – to put more into the environment and society than it takes out – and awareness raising is a key focus for the company's community engagement activities.
"The eco-canteen serves as a model for SIG's cartons and collaborative approach to bring benefits to communities and raise awareness of how recycling can help the environment. This innovative approach offers exciting opportunities for similar projects to extend positive impacts in other regions."

Navapol Chuensiri, Head of Cluster Asia-Pacific South at SIG